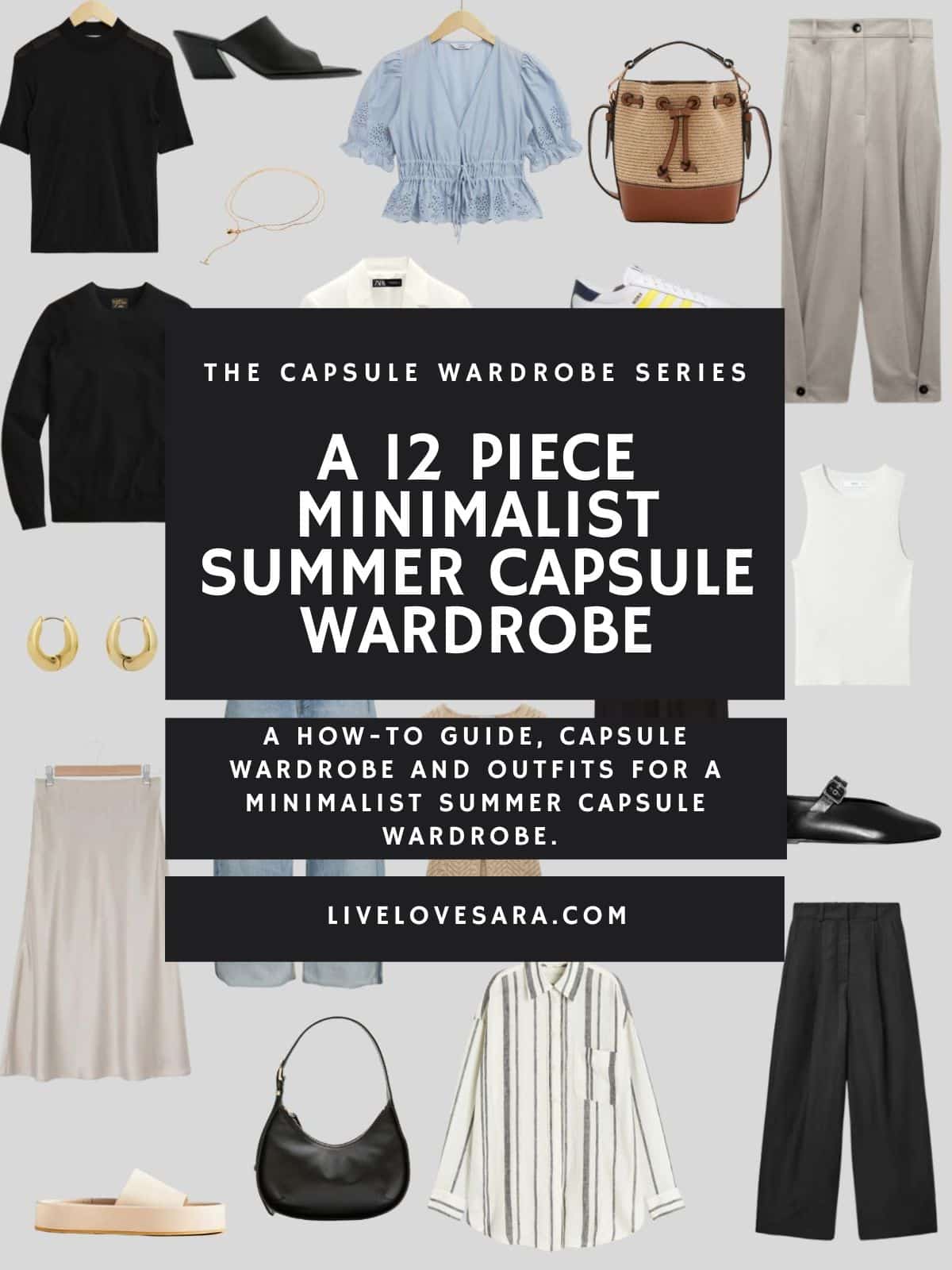 If you are anything like me, you alternate between waking up and wanting to have a maximalist wardrobe like Beth Jones, or you want to go in the opposite direction and seek out a pared back and minimalist capsule wardrobe like the epic aesthetic of 90s minimalism.
If you are unsure of your personal style this can leave you feeling frustrated or unsatisfied, and uncertain of where to begin when trying to carve out these looks.
But if you know your personal style and style adjectives, you know that both can be achieved by moving your style sliding scale back and forth.
Very rarely does someone wear the exact same style of clothes day in and day out to maintain a perfectly balanced personal style that falls under a specific category.
We jump around in looks and vibes in different variations but at our core, we still demonstrate those things that make our style truly our own.
A Minimalist Summer Capsule Wardrobe
Black T-shirt | Mules | Necklace | Blue Blouse | Bucket Bag | Grey Trousers | Sneakers | Blazer | Sweater | Earrings | Skirt | Jeans | Sunglasses | Knit Vest | Slip Dress | White Tank | Mary Janes | Black Trousers | Belt | Striped Button Up | Black Handbag | Slides

When you are comfortable with your personal style you will realize how easy it is to move that sliding scale to adapt it to your style mood.
For example, my personal style focuses on the three adjectives of classic, casual, and unexpected.
Some days I am looking for a more classic vibe, and you will see me in straight-leg jeans, a button down, and flats or boots.
On other days I am much more casual, and I gravitate toward relaxed fits, and pieces like my Adidas track pants, a slouchy sweater, sneakers, and a hat.
The unexpected comes in often in small doses or details, but sometimes my whole outfit will revolve around an unexpected combination like a slip dress over my Adidas pants.
This was something that took me a long time to figure out but once I did, it was a game changer.
When I build these capsule wardrobes they are often reflective of my mood at the time, now that I am on the other side of the weird April heatwave that we just had this is where my head was this week.
Last week I was hot, grumpy, tired, and frustrated, and I was struggling with what to wear and wondering how I was going to make it through the summer.
Going through my wardrobe was uninspiring and I kind of just didn't care last week.
Now that it is cool in here, I can now look through my clothes properly and figure out how well they will stand up this summer.
I am really considering just making a tiny summer capsule wardrobe like this 12 piece wardrobe and working around that.
I feel like I was seeking simplicity, classics, and that 90's minimalism vibe last week but was too affected by the heat to do anything about it.
How to Plan Your Summer Capsule Wardrobe
This summer capsule wardrobe has 12 wardrobe items, then I added in some shoes and accessories.
The reason that I do not include them in the number total is because shoes and accessories are the extras that we add on after.
We can layer them on and switch them around to adjust the looks, and they can be our number one tool for making an outfit look completely different, even if you are wearing the same thing as yesterday.
So when I include shoes, bags, and accessories in every single capsule wardrobe that I put together, I use it to showcase how to put together a complete outfit from top to bottom.
I use it to give you an idea of what a good variation of shoes are, or a selection of handbags for different seasons.
Please look to these capsule wardrobes as guides and templates that you use to help you piece together your own.
They are completely adaptable and not set in stone.
For some of you, this whole wardrobe will resonate and you may want to duplicate it for your own. It would also make a good summer packing list.
For others, you may find that you don't like a plain t-shirt, or skirts, or you may want to inject some more colour.
In this instance, you would plug in the pieces that worked for you like a graphic tee instead of a plain t-shirt, an extra pair of trousers, shorts, or another dress instead of a skirt.
Hate showing toes? Swap out any open-toe footwear for closed-toe.
Next, always pick a dress or two that reflects your style.
When given one option I usually go for a slip dress because:
a) I am a product of the 90s, and b) they are so damn versatile.
You can layer under them if you don't want bare arms. Layer over them and they work as a skirt. Pair them with a variety of jackets and footwear and the options are endless.
Jewellery and the accessories I included are quite minimalist as well.
The sunglasses are a popular 90s shape, the earrings are simple hoops, and the necklace can be worn a variety of ways.
You can wrap it, let it hang, loop it, and even wear it as a bracelet.
I have been looking at it for a while and purchased it last night when Jenny Bird was having a 4-hour sale and I think it will be perfect for summer. And for those that look better in cool tones, it comes in silver as well.
Summertime doesn't usually need a large selection of warmer pieces so I included one oversized cashmere sweater. I chose a men's cut because I prefer the way that they fit.
And I chose a blazer as my light jacket option, only because I like that you can use it to dress up a piece.
If blazers are not your thing another good option would be a linen jacket, an oversized denim jacket, or a lightweight bomber jacket for something trendy.
When selecting tops, since I was only picking five I wanted to make sure that they all served different purposes.
I included one t-shirt, a tank top, one feminine shirt, a vest, and a button-up. All of these shirts can be worn throughout every other season which is always an important factor when I am selecting pieces.
I am the queen of outfit repeating. I think that is an important part of every wardrobe in maintaining your style.
It forces you to get creative in ways that those who are constantly buying new items don't have to. A small wardrobe is not only practical, it is also a great learning experience.
This is where the tools that you keep stored in your style toolbox come into play. Like The Rule of Thirds from last week, colour pairings via the colour wheel, and the Third Piece Rule which is something that I often talk about with clients and in my Digital Style Guides (link below).
The Third Piece Rule:
The third piece rule is a belief that for an outfit to go from good to great, it needs three key elements. Your top and bottom (pants or skirt) are your first and second elements.
The third piece is that extra something that finishes off the whole look. They can be anything from adding a blazer/jacket, wrapping a sweater around your shoulders, adding statement jewellery, or a hat.
Even adding some fun visible socks to an otherwise basic jeans and t-shirt outfit. The third piece is the thing that ties everything together and completes the look.
If you are unfamiliar with this one, it is another good tool to store in your style toolbox so you can pull it out if you are stumped with what to wear.
Because in order to better understand our own style we should be learning about and collecting as many of these style rules/tools as we can, so we keep learning and developing it.
Minimalist Summer Outfits Ideas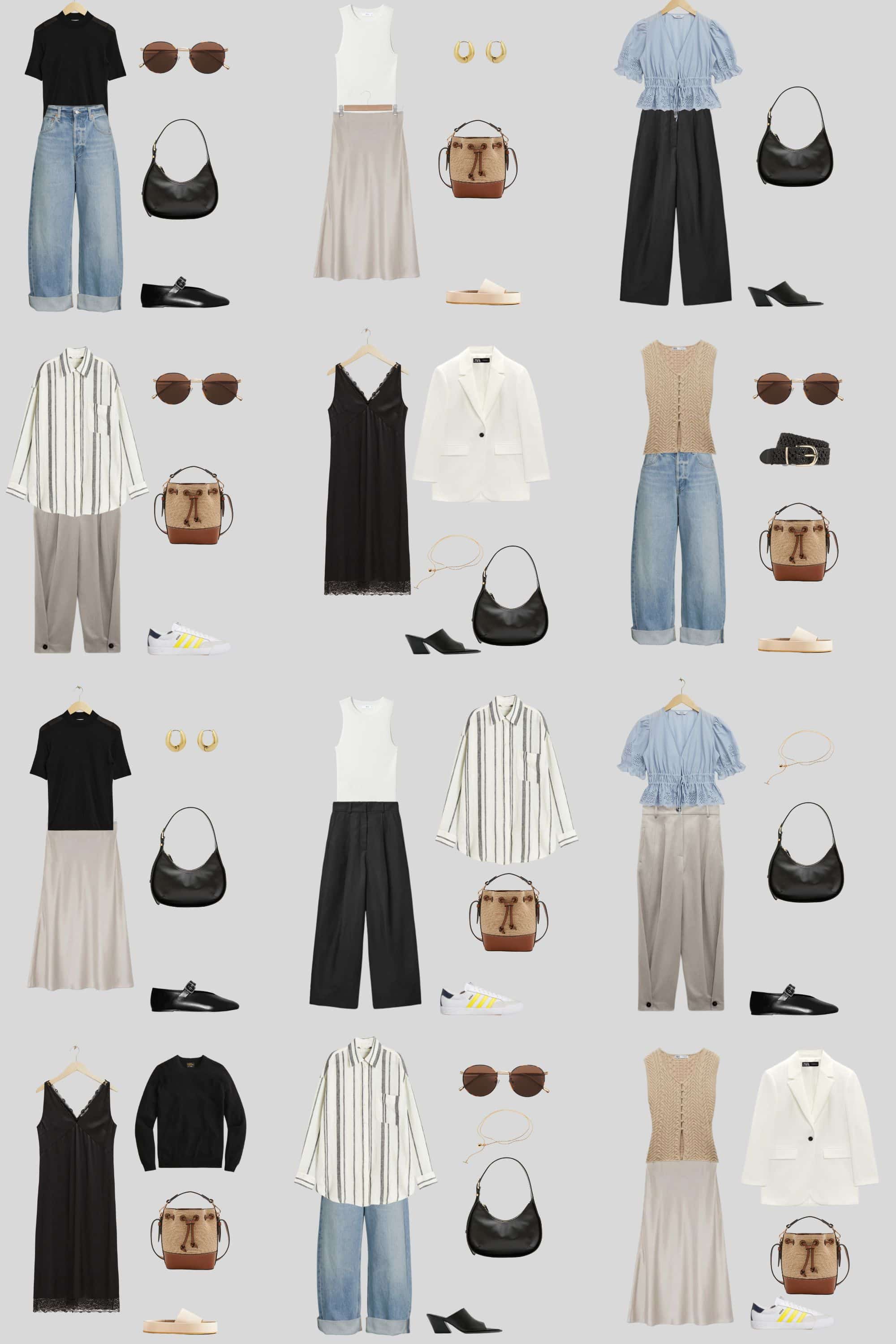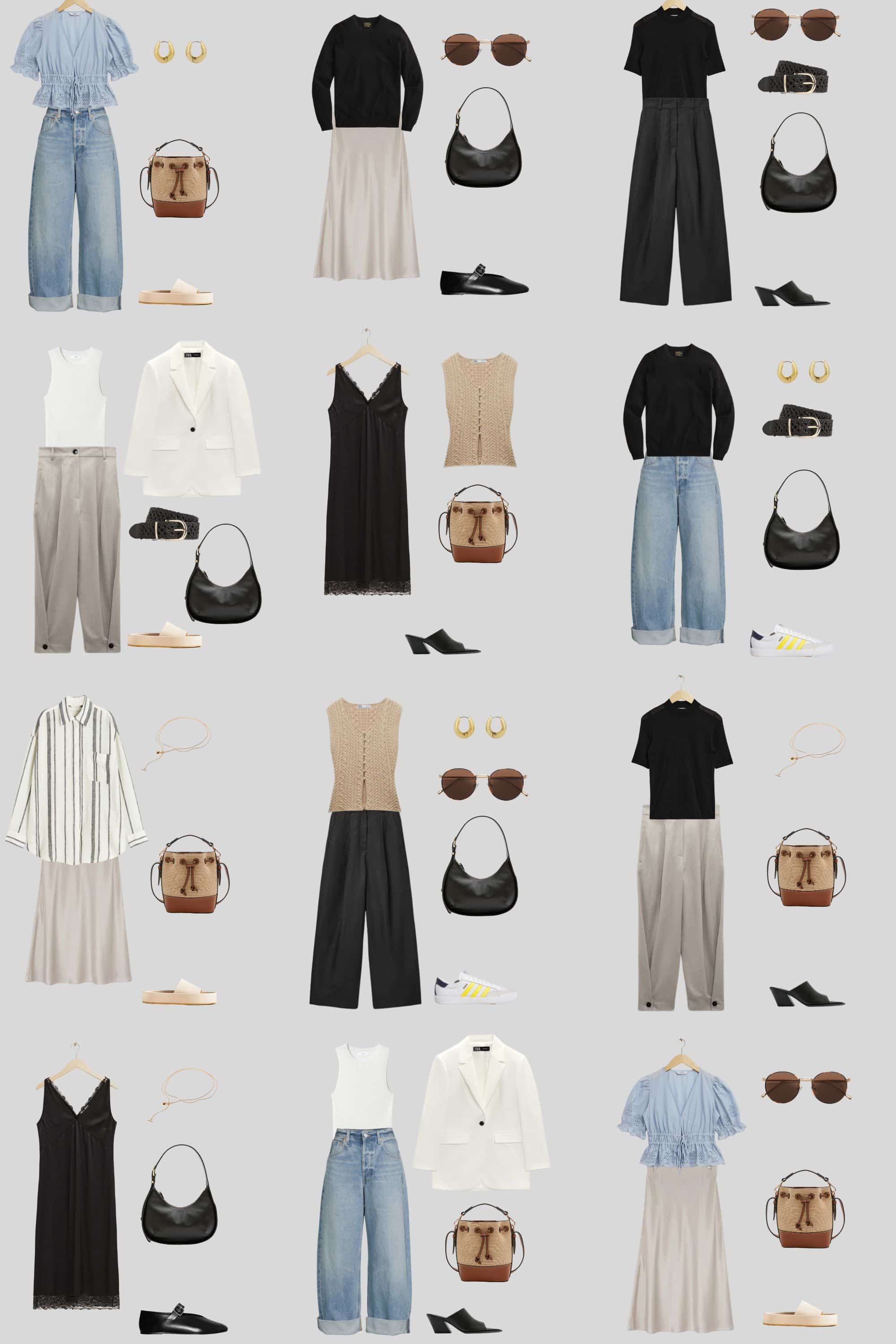 Black T-shirt | Mules | Necklace | Blue Blouse | Bucket Bag | Grey Trousers | Sneakers | Blazer | Sweater | Earrings | Skirt | Jeans | Sunglasses | Knit Vest | Slip Dress | White Tank | Mary Janes | Black Trousers | Belt | Striped Button Up | Black Handbag | Slides

You might also like:
A 90s and Y2K Inspired Summer Capsule Wardrobe
A Transitional Spring to Summer Capsule Wardrobe
The Spring Starter Capsule Wardrobe
Using Your Style Adjectives to Build a Spring Capsule Wardrobe
A Spring Capsule Wardrobe on a Budget
A Romantic Capsule Wardrobe for Spring
The Modern 90s Minimalist Capsule Wardrobe for Spring
An Edgy Spring Capsule Wardrobe With Style Adjectives
SHOP THE UK LINKS


I am now offering digital styling guides, and personal styling services. If you are looking for some styling help that is inexpensive and easy, check out my digital styling guides. If you want some one-on-one help shopping, building and editing your wardrobe, or packing for a trip, I can also assist. Check out all the styling services that I offer here.
This post contains affiliate links. By using my links to shop I may receive a small commission (at no cost to you). Thanks for supporting what I do