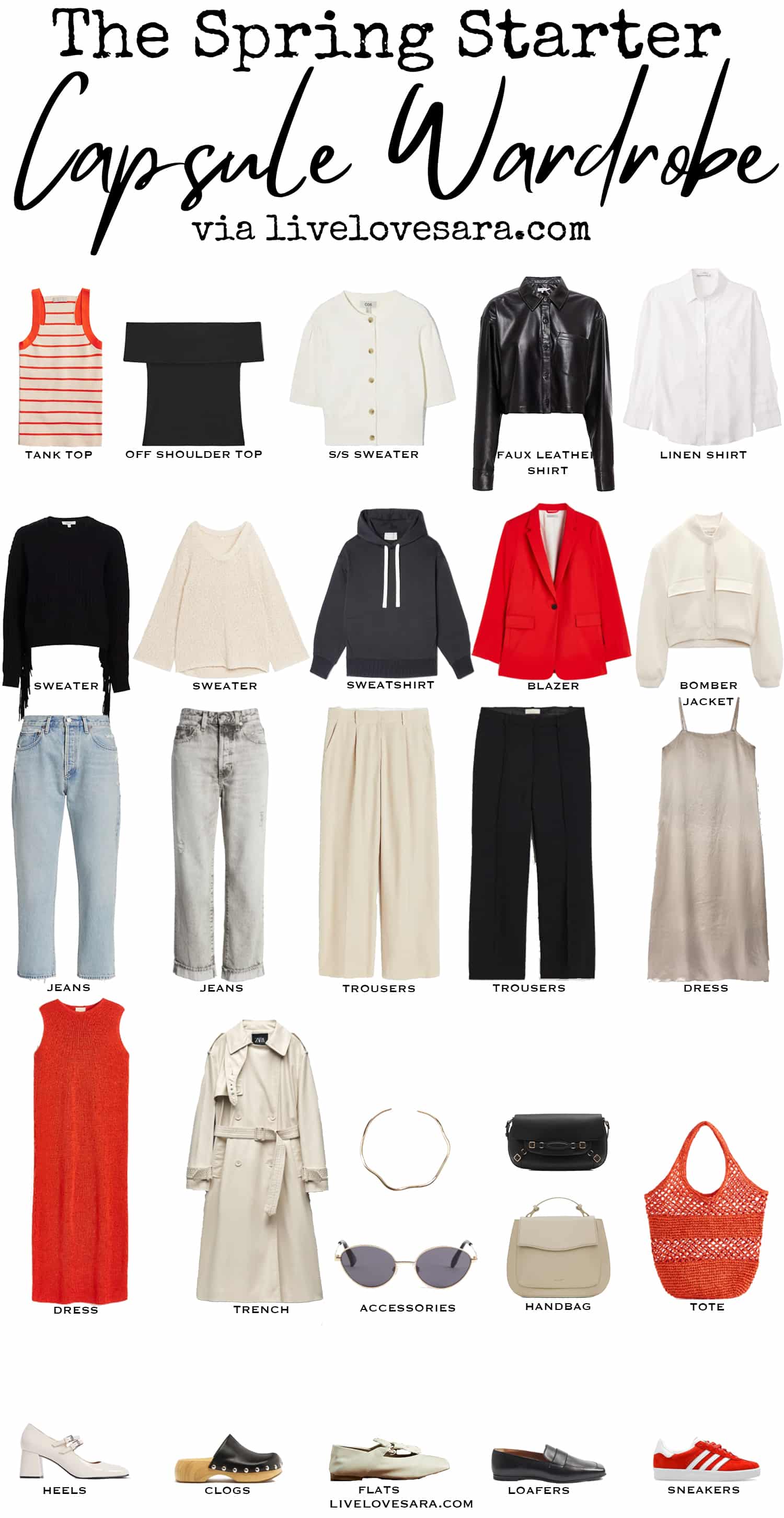 Tank Top | Off the Shoulder Top | Short Sleeve Sweater | Faux Leather Shirt | Linen Shirt | Black Sweater | Cream Sweater | Sweatshirt | Blazer | Bomber Jacket | Blue Jeans | Grey Jeans | Cream Trousers | Black Trousers | Slip Dress | Red Dress | Trench | Necklace | Sunglasses | Black Handbag | Cream Handbag | Orange Tote | Mary Janes | Clogs | Flats | Loafers | Sneakers

I get a lot of DMs and messages regarding not knowing where to begin when building a smaller or capsule wardrobe. When you look at it as a whole, it is going to be much more overwhelming than if you take baby steps.
When I first started I did a big angry purge and to this today I regret about 90% of the things I donated.
If I could have a redo I would start small.
I would focus on the current or upcoming season and go from there.
If it is something that you do each season, then by the end of a year you will have completed the process.
Moving slowly and making intentional purchases and decisions when it comes to your wardrobe is going to result in a much more focused wardrobe that is in tune with your style.
If you are just starting on your style journey, then this spring wardrobe will be a good place to begin.
Remember that you will only be focusing on spring, but that doesn't mean that you don't take summer into consideration when going through the process.
Spring and summer overlap like fall and winter do.
There are hot and cool days in spring, so chances are when summer comes around, and you repeat the process, it will be much easier since many of your spring pieces will also transition to summer.
You will actually notice this throughout the whole process. Your wardrobe will start to grow and develop, and many pieces will become your 12 monther, or your WOFs (without fails) in Tibi language.
These without fail pieces are the items that will stand the test of time becoming a 365 day a year active participant in your wardrobe.
Therefore, being carried over from season to season.
The more WOFs you have, the less new pieces you need to round out your wardrobe.
The Without Fails are the pieces that really show who you are style-wise, meaning you always feel right when you wear them, and this is the reason why you keep grabbing them.
These are the most important pieces.
They should end up making the bulk of your wardrobe.
Every once in a while you will bring in new pieces to freshen things up.
They are often trends, and you will wear them for a season or two, then they retire until you are ready to bring them back in. These are called In and Outs in Tibi.
When you have a well-built foundation of items that work for you, you will notice over time that the desire to bring in new items all the time will lessen.
And when you do bring in new pieces they will be well thought out, intentional purchases.
It cuts down on impulse buys which is a huge benefit of learning and understanding your style.
Every once in a while there will be that piece. You know the one. The one that gives you a rush and goosebumps that you can't stop thinking about.
These are known as the Had to Haves and they are also important.
They are often not wearable in every facet of your life but they are special and deserve a place in your wardrobe.
They are the special pieces that remind you of why you love dressing the way that you do.
The best way to start this is by getting a good understanding of your style adjectives. And to start that you need to really analyze your wardrobe.
Take out all of your go-to pieces in your wardrobe. The pieces that you gravitate towards and the pieces that make you feel your best.
Really go through them and see if you start to notice a trend, theme, or similarities.
All of them will have something in common and this is where your adjective discovery will start.
Make note of styles or pieces that you are drawn too. I suggest to clients to make themselves a Pinterest board and use this to gather images.
It is often easier to start seeing the commonalities and trends this way, especially if you are a really visual person.
You will also notice the words that you are using in your search to find these outfits.
Take note of the words because that may reveal the biggest clues.
I made a Style Adjective digital style guide this week for this reason.
It has examples of 12 different groupings of the three adjectives with outfits and descriptions so you can see how those adjectives play out in those outfits.
My adjectives are classic, casual, and unexpected and every time I dress, my looks have each of these elements on a sliding scale.
Some days I am more casual, others classic, and maybe I feel like upping the ante on the unexpected vibe.
I also want to point out that when you are selecting pieces for your wardrobe, each item does not have to display all three of your adjectives.
It is not necessarily about the individual pieces, it is the story that is told by the way that you wear them together.
So we are staring small. Make it your weekend project if you have some time.
The first step is to find those three adjectives. Analyze your wardrobe and Pinterest.
With those adjectives in mind along with your personal feelings towards certain pieces in your wardrobe you are going to go through and set aside anything that will work for spring.
Now isn't the time to get rid of anything unless you 100% know that you no longer want it.
Just bring the pieces you selected for the season to the front of your wardrobe and push the rest towards the back unless you have a spot to store the definitely not spring items.
Once you have them sorted it is good to go through trying everything on. Try to come up with new outfit combinations.
Try integrating the pieces that you don't wear often or are uncertain of how to wear, into your combinations.
Document them. I like photos, but you can also use apps like Style Book to help document your wardrobe and outfits.
Determine what items you may want to add to your wardrobe so that you can fill any holes, wants, or needs.
Wardrobes aren't just about utilitarian uses, there are emotional wants and needs in there too, that deserve to be acknowledged.
Maybe you want some specific sandals, a trench, wide-leg trousers, or a linen set. These are the pieces that you want to round out your season selection.
So these are the things that you will begin to source intentionally.
I put together a spring capsule wardrobe based on things that I have been drawn to lately and while they all work together as a whole, they also work individually to be added to different wardrobes.
I like to show you how a small wardrobe will work. I build outfits for you to give you inspiration and show versatility, but everything also works as a guide or template.
You can use it for inspiration to build your own based on your style and three words.
Turn it into something that is perfectly in tune to you, and your style so that you always feel your best and most authentic.
And most of all have fun with it because that is what fashion is all about.
Spring Capsule Wardrobe Outfits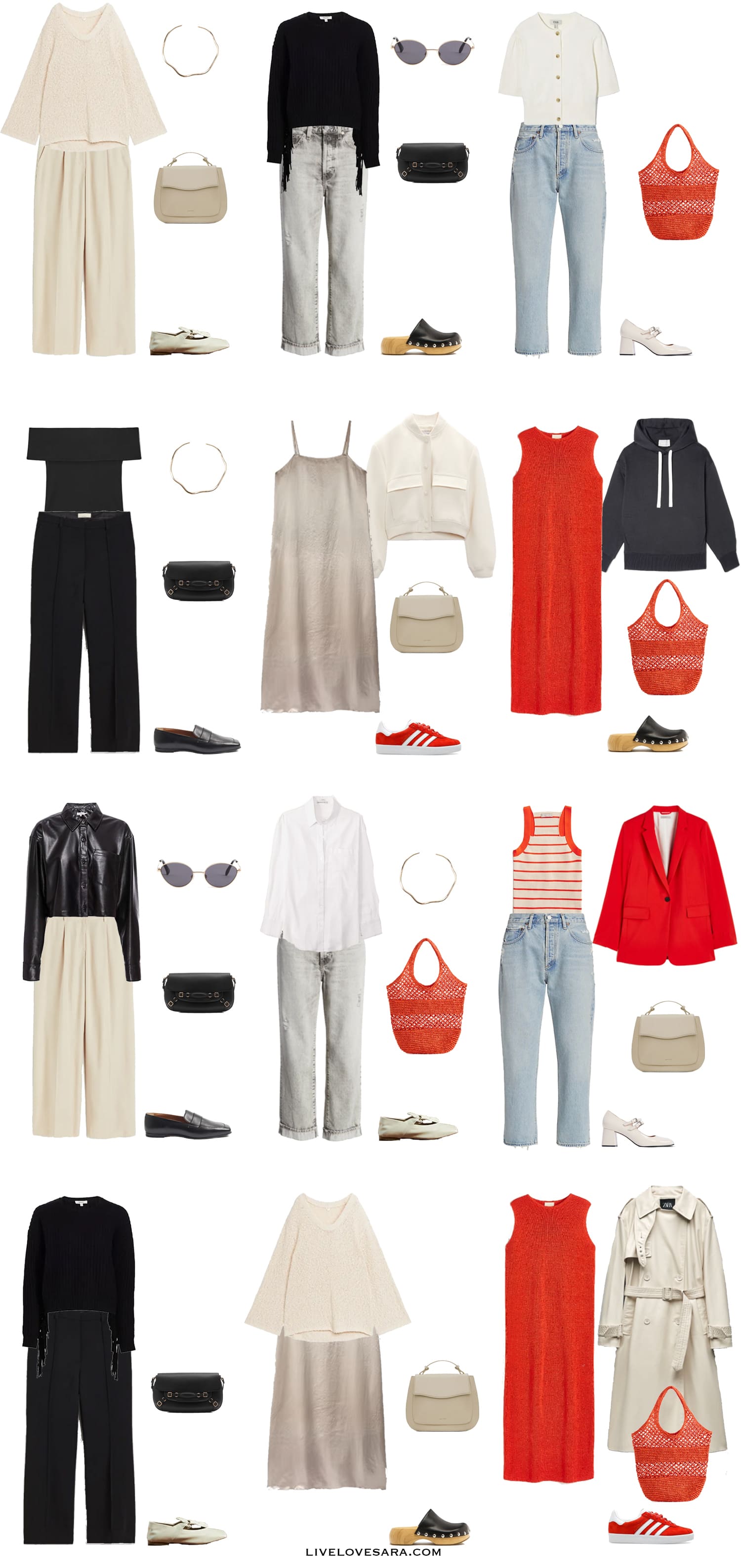 Tank Top | Off the Shoulder Top | Short Sleeve Sweater | Faux Leather Shirt | Linen Shirt | Black Sweater | Cream Sweater | Sweatshirt | Blazer | Bomber Jacket | Blue Jeans | Grey Jeans | Cream Trousers | Black Trousers | Slip Dress | Red Dress | Trench | Necklace | Sunglasses | Black Handbag | Cream Handbag | Orange Tote | Mary Janes | Clogs | Flats | Loafers | Sneakers

You might also like:
A Distorted Preppy Capsule Wardrobe for Spring
A Modern Classic Capsule Wardrobe for Spring
An 80s Inspired Capsule Wardrobe
Using Your Style Adjectives to Build a Spring Capsule Wardrobe
The Ultimate Spring Capsule Wardrobe and Spring Outfit Ideas
A Spring Capsule Wardrobe on a Budget
A Romantic Capsule Wardrobe for Spring
The Modern 90s Minimalist Capsule Wardrobe for Spring
An Edgy Spring Capsule Wardrobe With Style Adjectives
SHOP THE UK LINKS


I am now offering digital styling guides, and personal styling services. If you are looking for some styling help that is inexpensive and easy, check out my digital styling guides. If you want some one-on-one help shopping, building and editing your wardrobe, or packing for a trip, I can also assist. Check out all the styling services that I offer here.
This post contains affiliate links. By using my links to shop I may receive a small commission (at no cost to you). Thanks for supporting what I do