Tank Top | T-shirt | Long Sleeve | Wrap Shirt | Button Up | Leather Shirt | Green Sweater | Black Sweater | Vest | Denim Overshirt | Blazer | Jeans | Black Trousers | Tan Trousers | Grey Trousers | Slip Skirt | Dress | Rain Coat | Trench Coat | Sunglasses | Green Bag | Black Bag | Brown Bag | Boots | Black Flats | Green Flats | Slides | Sneakers

The budget capsule wardrobe series I do each season is always one of my favourite wardrobes to put together. I look forward to it each season because it helps to sharpen my skills.
I like the challenge of building an entire wardrobe that not only works together but also is made from pieces that work for a budget. I also like to show that it is 100% possible to build a great wardrobe without having to have a ton of disposable income.
Just like with every capsule wardrobe that I put together, I will tell you to shop your closet first.
Some people don't always get what shopping your own closet means. Shopping your own closet isn't just going in, and selecting things to wear.
That is just getting dressed.
Shopping your closet means that before you make a purchase, you go through your clothes to see if you already have any similar pieces or pieces that would work instead of buying something new.
This is a step that everyone should be doing before they make any purchases.
Not only does it cut down on impulse shopping, but it also will prevent you from buying multiples of similar items that end up never worn.
If you determine after shopping your closet that don't already own something like that, try looking secondhand next.
There are so many pieces that are in the secondhand market that will work for your wardrobe, you just need to get into the habit of checking at regular intervals.
For example, a big spring trend this year is double denim, but it is different from the 2010 chambray and skinny jeans double denim that we all know and loved.
This season is a play on the silhouette and proportions.
It is more relaxed and a looser, oversized feel. I spotted this denim shirt on Anna who I love and follow on Instagram.
But this is very much out of my price range, so I decided to look secondhand. I knew I would probably find something vintage that would check the boxes, and I was right.
Not only did I find something vintage, but it also had an alteration to it that made it just the right amount of different and unexpected that I seek.
Someone during its lifetime had cut the cuffs off and made it into more of a 3/4 length sleeve.
When I first saw it I thought either it was going to work or it is going to look terrible, but it was a good price so I thought it was worth the gamble.
Sometimes you have to take that gamble when shopping secondhand.
And I was right.
It gives the perfect touch of unexpected that make my style me.
You can see it here, I wore it today to give an example of how the double denim trend is working this season.
In this photo, the shirt, jeans, and purse are all vintage 90s. The only new piece is the boots but worn together it all looks very modern.
Third, when shopping on a budget always make sure that you have a detailed list of what you are looking for.
Include images if need be, but make sure that you know exactly what you want so you don't waste money on something that doesn't check most of the boxes.
Shopping for clothes is a lot like shopping for groceries. What happens when you go grocery shopping without meal planning and making a list?
You end up spending way more money on a bunch of food that by the time you get it back home you realize doesn't even make any meals.
It's just filler stuff, and now you have to do another grocery run to get the food that you will actually need.
The same applies to shopping.
When you go shopping without a list you may pick up things that are great, and you like, but they are usually just filler pieces and not items that are going to work well with all the other pieces in your wardrobe.
When you pre-think these purchases. And know exactly what it is you are searching for it keeps you focused, and keeps you within budget.
When I was thinking of colours and/or themes for this spring capsule my mind kept going back to a Dries Van Noten photo from their spring 2023 show. It is the 6th photo in this carousel, and the green and brown combination was my inspiration.
I currently have the mint green Zara sweater in my basket, but as per true Zara fashion it is hard for me to determine from the weird contorted photos if the sweater is cropped, and if so how much.
So it might be a sweater that I wear with my higher-waisted pants and skirts. It would also look cute over a slip dress.
Spring shoes can be all over the place since it can range from freezing to hot in a short period of time.
For this reason, I included some slides because they can be worn with socks (à la Tibi's Amy Smilovic) or without socks in warmer weather. But if I am being honest, I tend to wear socks all year.
Even when it is scorching. I'm a sock person.
They also are inexpensive, a great colour, and have some texture which elevates them.
Small details are also something to look for when shopping on a budget. The small details can make something look more expensive.
Like the pleats on the dress, cuffs on the trousers, buckles on the shoes, pockets on the denim overshirt, and the way the fabric drapes on the wrap shirt.
Select a base of neutral pieces in a variety of fabrics and textures, then sprinkle in some colour and a few spring trends to round it out.
But only the trends that you think will work for you. You don't need them all. You don't even need half of them.
In this spring capsule wardrobe I included the ballet flat spring trend, green, denim other than jeans, a vest, and a tank top. Although tank tops are also basics, so they don't really count.
So in a quick summary to see what we've learned.
When shopping on a budget we:
Shop our closet first
Shop secondhand next
Make a detailed list
Stick to the list
Only pick a few seasonal trends
And the most important one that I neglected to mention. Make sure to carry everything over from the previous season that will work during the current season.
No one starts from scratch every season. Well, most people don't.
Spring Outfits for Women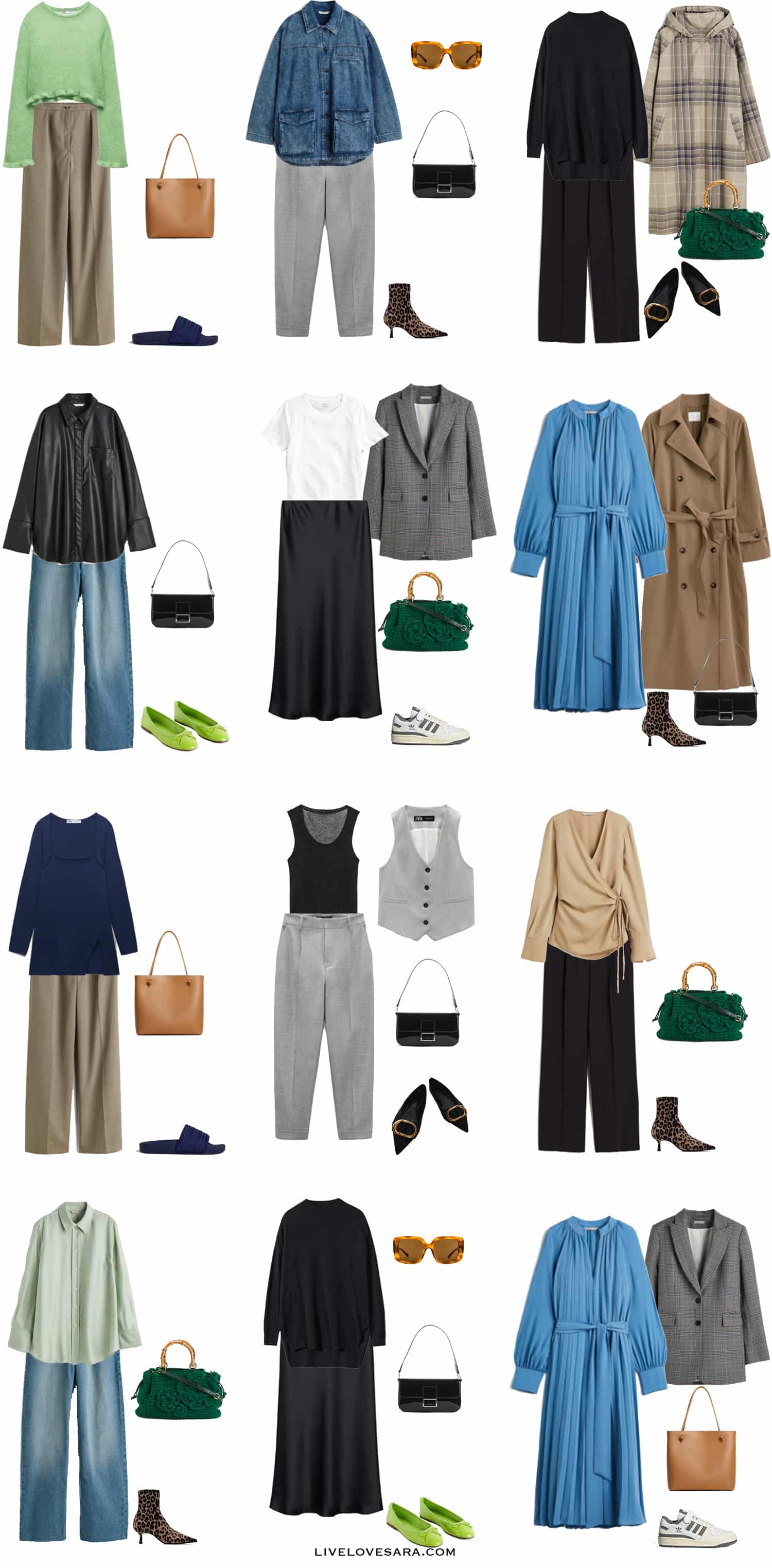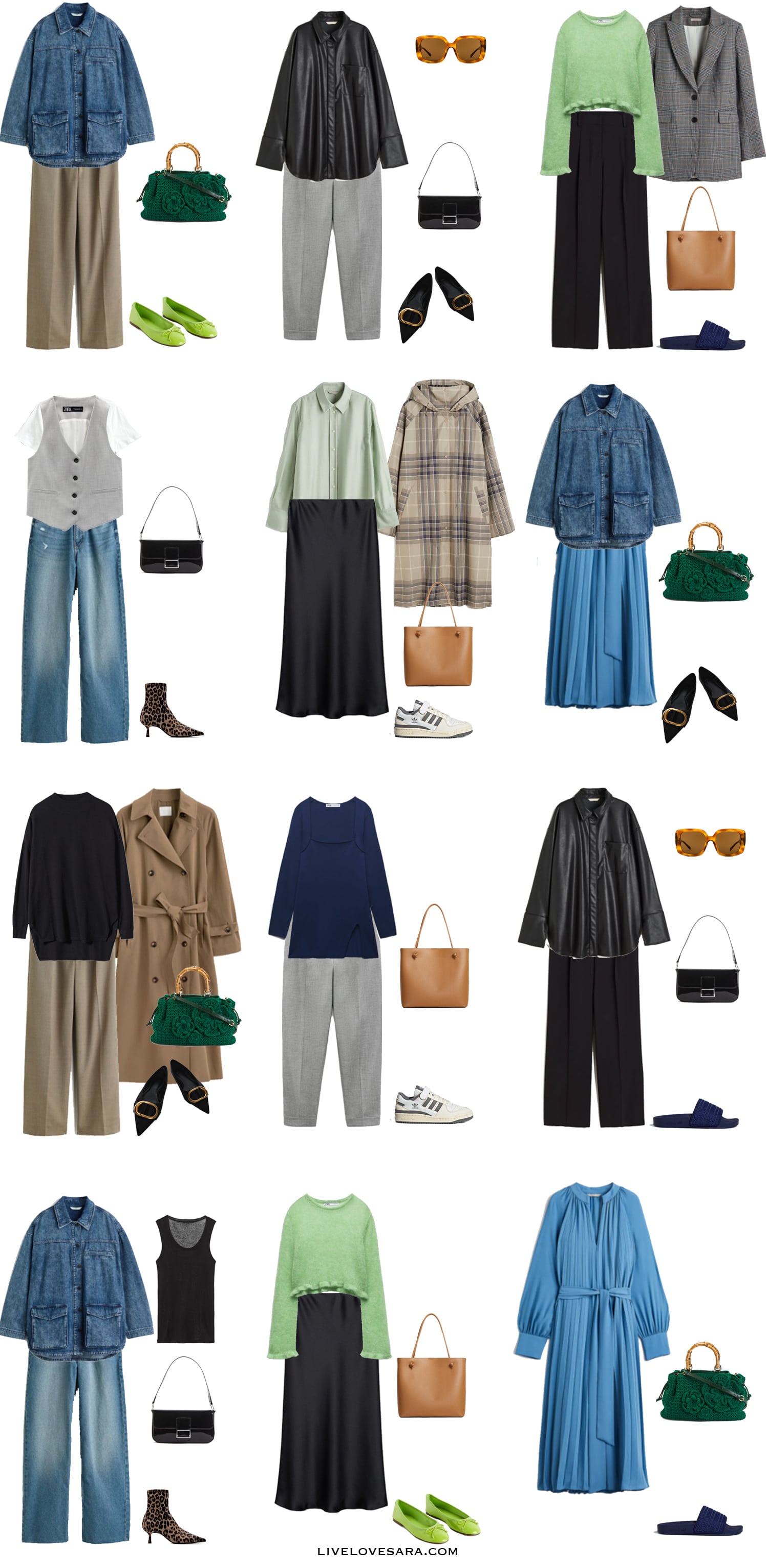 Tank Top | T-shirt | Long Sleeve | Wrap Shirt | Button Up | Leather Shirt | Green Sweater | Black Sweater | Vest | Denim Overshirt | Blazer | Jeans | Black Trousers | Tan Trousers | Grey Trousers | Slip Skirt | Dress | Rain Coat | Trench Coat | Sunglasses | Green Bag | Black Bag | Brown Bag | Boots | Black Flats | Green Flats | Slides | Sneakers

You might also like:
A Romantic Capsule Wardrobe for Spring
The Modern 90s Minimalist Capsule Wardrobe for Spring
An Edgy Spring Capsule Wardrobe With Style Adjectives
An Easy Spring Capsule Wardrobe with Some Spring Outfit Ideas
The New Year Wardrobe Overhaul and a Transitional Capsule Wardrobe
The Art of Dressing Like Yourself: A Personalized Capsule Wardrobe
A 90s DKNY Inspired Winter Capsule Wardrobe
A 90s Minimalist Fall Capsule Wardrobe
SHOP THE UK LINKS


I am now offering digital styling guides, and personal styling services. If you are looking for some styling help that is inexpensive and easy, check out my digital styling guides. If you want some one-on-one help shopping, building and editing your wardrobe, or packing for a trip, I can also assist. Check out all the styling services that I offer here.
This post contains affiliate links. By using my links to shop I may receive a small commission (at no cost to you). Thanks for supporting what I do