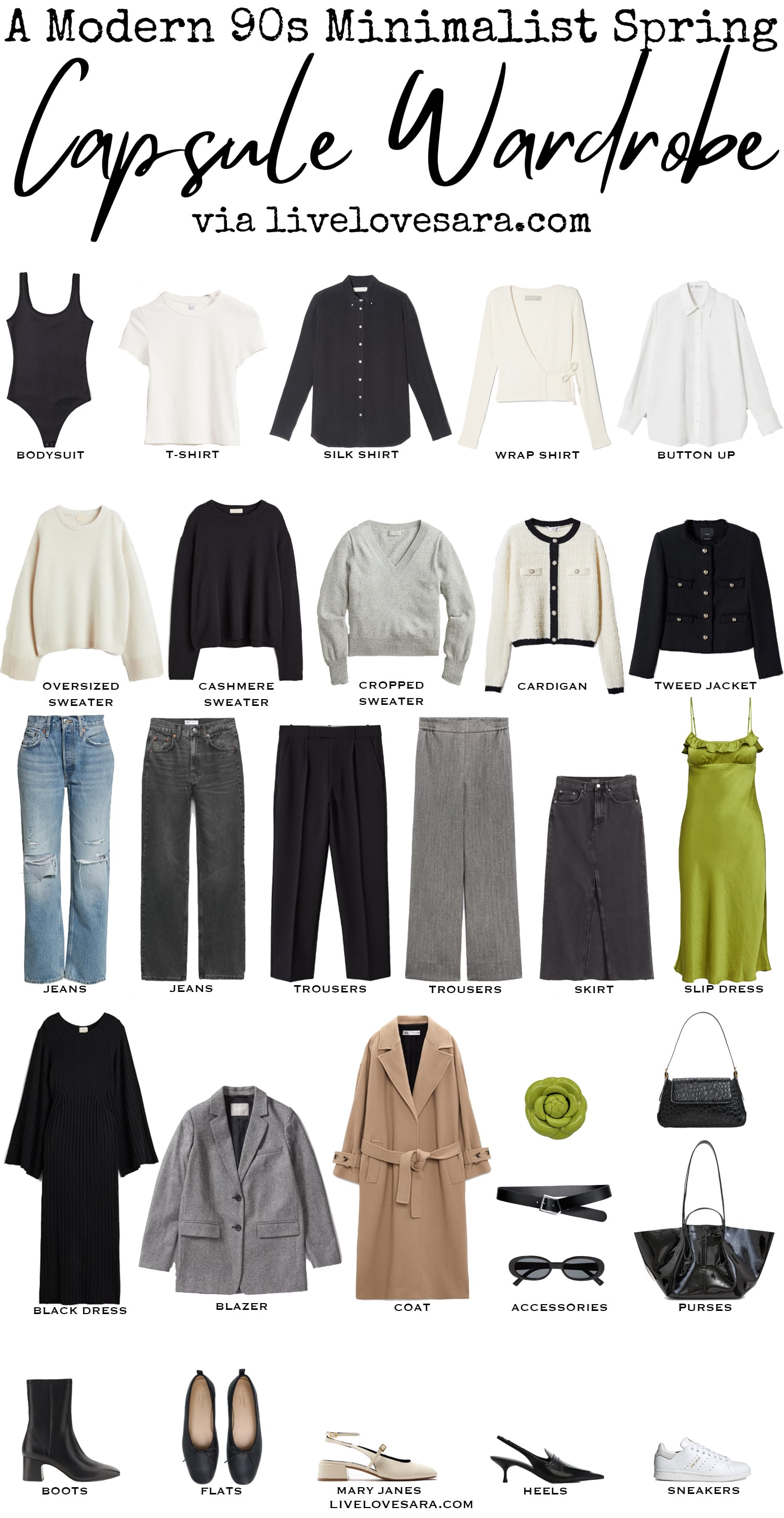 Bodysuit | T-shirt | Silk Shirt | Wrap Shirt | Button Up | Cream Sweater | Black Sweater | Grey Sweater | Cardigan | Black Tweed Jacket | Blue Jeans | Black Jeans | Black Trousers | Grey Trousers | Denim Skirt | Slip Dress | Black Dress | Blazer | Coat | Flower Brooch | Belt | Sunglasses | Small Purse | Tote | Boots | Flats | Mary Janes | Heels | Sneakers

If you couldn't tell already, I am really feeling the 90s minimalist aesthetic and have been curating a lot of 90s minimalism capsule wardrobes through 90s actresses, and 90s designers.
I feel like it just hits right in how I want the base of my wardrobe to be. Then I sprinkle in the pieces that tie it all together and make it very much my style.
It is my casual yet classic style adjectives coming forward with the versatility and unexpected to round it out.
You know when people talk about comfort food? It's like that but with clothes. I crave it and it makes me feel good. Does that make sense?
My goal this year is to find some vintage 90s Calvin Klein, Margiela, Donna Karan, Jil Sander, Helmut Lang, Miuccia Prada, and Tom Ford at Gucci.
The 90s were a heyday for these brands and if really want to get the feel of the 90s minimalist aesthetic then these brands will take you there.
Basically the only thing I have that checks that list is my Tom Ford At Gucci Jackie bag that I bought last year. It's such a 90s minimalist bag and one of my favourites.
The funny thing is that I didn't even think about that aspect of it when I bought it, I was just immensely drawn to it, and couldn't get it out of my head.
Now I know why.
What is 90s minimalism?
90s minimalism came to be when people were seeking some sartorial silence after the 80s.
They were tired of eccentric pattern-clashing and were seeking going back to the basics: simple pieces and pared-down accessories.
In other words: less was more.
There is a reason why the 90s have long been considered one of fashion's defining decades. A decade that many people have been hoping for a full reemergence.
Because it never really went away to begin with, but it is back with a bang.
The 2023 Miu Miu show is an ode to this shining era, and it is like a full-circle moment returning to their early pared-back aesthetic 30 years later.
Do we hear sleek ponytails and pared-down separates? Many modern brands have embraced 90s minimalism and made it a part of their brand aesthetic.
The Row for instance with its grey scale colouring and loose silhouettes.
If you are still trying to figure out what 90s minimalism is, watch these fashion shows from iconic 90s designers to get the idea.
Keeping your silhouette straight and streamlined is key to a 90s minimalist aesthetic.
For some inspiration watch:
Calvin Klein Spring/Summer 1997,
Gucci Spring/Summer 1997
Prada Spring/Summer 1997
1997 was a good year for fashion.
And while we would all love to have the budget to finance a closet full of vintage Helmut Lang, or Jil Sander I know that isn't feasible for most.
Good news though, you can get these looks either vintage or new without needing The Row size budget.
Because that stuff is EXPENSIVE, even secondhand.
The outfits I put together below will help you achieve the style with pieces you likely already own.
All wardrobes should have a button down. In the 90s these were a wardrobe staple and not much has changed to this day.
And while button-downs aren't a full-on trend, they are an integral part of well thought out wardrobe and continue to be styled and layered in various fresh and unique ways season after season.
Next is straight-leg jeans, which brings us back to 90s models and actresses styling their straight-leg jeans with everything from fitted baby T-shirts to leather blazers and tight black turtlenecks.
For some style inspiration search 90s off duty model outfits, or watch some of the first few seasons of Friends.
When you start paying attention to the clothes instead of the storyline you'll really start to notice the 90s minimalist aesthetic and how good it was.
I still haven't recovered from them removing it from Netflix.
Here are a few simple style tips for achieving the 90s minimalist look:
Minimalism doesn't always mean plain button-downs and white tees. Instead, try an oversized sweater in a solid colour to embrace a toned-down colour palette.
Ballet flats are back and if you are unsure how to wear them try tailored ankle-length pants. They offer a polished balance to the ballet flats that will carry from spring through summer.
A structured tweed jacket with loose trousers or jeans is a great duo for a more sophisticated look. Bonus points, it will also work in the office.
If you're serious in making the aesthetic a part of your style, a silk slip dress is key. Go for a maxi length for a twist of elegance.
An impactful coat is worth investing in because you will wear it all season over your collection of basics year after year. It will become the centrepiece of each outfit.
And finally try a sweetheart neckline. It's an interesting detail for simple knits that add a touch of subtle romance. Designers like Saint Laurent and Khaite have them, but there is a really affordable option here.
And went in doubt keep it simple but polished from your hair to your feet and you can't go wrong.
90s Minimalist Outfits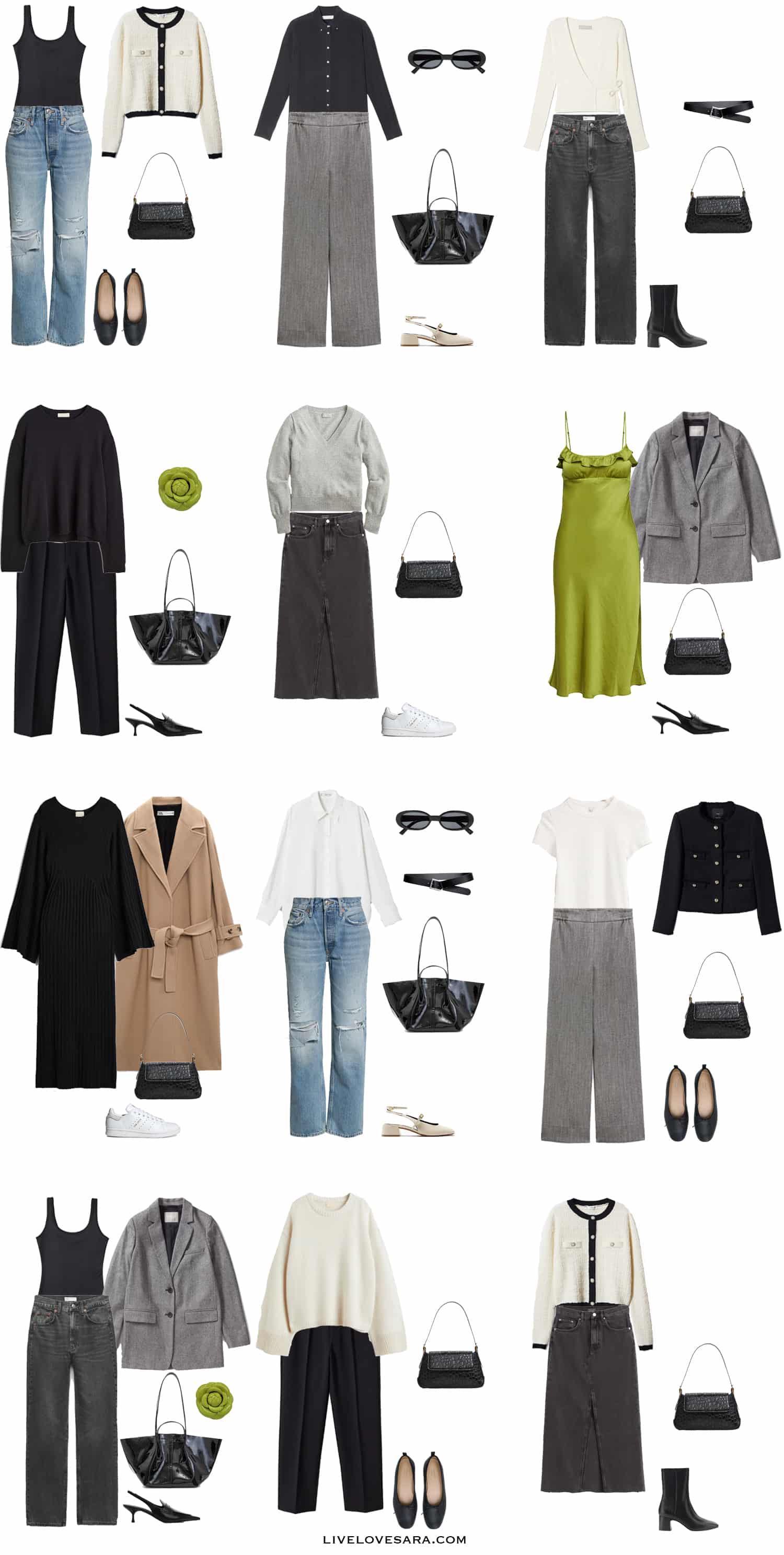 Bodysuit | T-shirt | Silk Shirt | Wrap Shirt | Button Up | Cream Sweater | Black Sweater | Grey Sweater | Cardigan | Black Tweed Jacket | Blue Jeans | Black Jeans | Black Trousers | Grey Trousers | Denim Skirt | Slip Dress | Black Dress | Blazer | Coat | Flower Brooch | Belt | Sunglasses | Small Purse | Tote | Boots | Flats | Mary Janes | Heels | Sneakers

You might also like:
An Edgy Spring Capsule Wardrobe With Style Adjectives
An Easy Spring Capsule Wardrobe with Some Spring Outfit Ideas
The New Year Wardrobe Overhaul and a Transitional Capsule Wardrobe
The Art of Dressing Like Yourself: A Personalized Capsule Wardrobe
A 90s DKNY Inspired Winter Capsule Wardrobe
How to Build a 90s Winona Ryder Capsule Wardrobe
How to Build a 90s Kate Moss Capsule Wardrobe
Styling Navy and Black in a Fall Capsule Wardrobe
A 90s Minimalist Fall Capsule Wardrobe
SHOP THE UK LINKS


I am now offering digital styling guides, and personal styling services. If you are looking for some styling help that is inexpensive and easy, check out my digital styling guides. If you want some one-on-one help shopping, building and editing your wardrobe, or packing for a trip, I can also assist. Check out all the styling services that I offer here.
This post contains affiliate links. By using my links to shop I may receive a small commission (at no cost to you). Thanks for supporting what I do