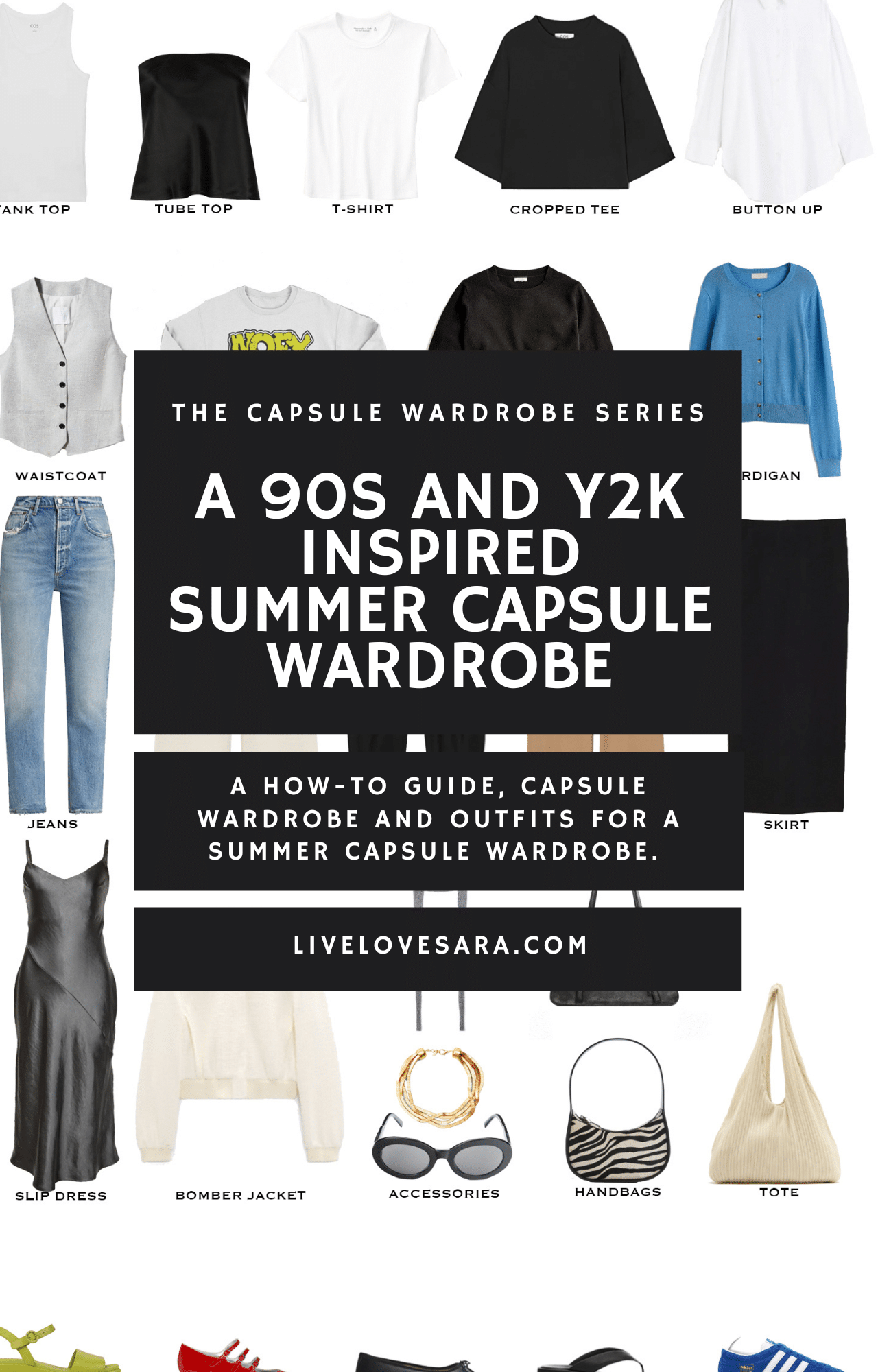 I was going in a completely different direction this week, but mother nature had a different idea. She decided to spit on my spring capsule wardrobe and bring the summer heat full force.
At the beginning of April.
My apartment is currently 29°C and I feel like the Wicked Witch melting.
This weather change sent me into a little bit of a spin because I am not ready for it.
Last week I was complaining about how much I hate the heat and it being my least favourite season, and it went full tilt Wednesday.
I feel like we got a week of actual spring weather before this, and now I have to completely rethink and plan out my summer wardrobe because I feel like it is going to be an unforgiving season.
The fashion direction that I feel is safest and most comfortable for a summer capsule might be a 90s minimalist vibe, and then use shoes and accessories to jazz it up a bit.
Maybe a little early 00s, because I am feeling the footwear and skinny scarf.
I don't know why I am drawn to those skinny scarves again, but I should have kept them.
Also, the Y2K trend of the tube top/bandeau is back.
In the days of Yore in the early 00s I used to literally wear a triangle scarf tied around my chest as a top in lieu of a tube top.
I won't be doing that, but the strapless bandeau-esque one I included today is a much more mature silk version which would look really nice layered over a tee or under a sweater, waistcoat or semi sheer blouse (once again à la y2k era).
On really hot days if you don't mind strapless, it will look nice paired with some wide-leg trousers and sandals, with your hair pulled back, minimalist jewellery and a small shoulder bag or handbag.
Anyway, now that the tube top revival shock is over we can get back to building a summer capsule wardrobe.
Tank Top | Silk Tube Top | T-shirt | Cropped Tee | Button Up | Waistcoat | Sweatshirt | Sweater | Cardigan | Jeans | Cream Trousers | Black Trousers | Tan Trousers | Skirt | Slip Dress | Bomber Jacket | Skinny Scarf | Necklace | Sunglasses | Grey Handbag | Animal Print Handbag | Tote | Platform Sandals | Mary Jane Heels | Ballet Flats | Flip Flops | Sneakers

I took the opportunity when the wind was blowing in the direction of my bedroom window to go through and start my summer capsule checklist.
I wanted to see what I already have, how things fit, how they look, what I think I need and start putting together my game plan.
Because you know there are things from last summer that just aren't going to cut it this year.
Ahem, tan trousers with the tight waist. I may have shed some tears over those.
I will premise this by stating that I am not a shorts person, or a short skirt, or short dress person.
This has nothing to do with age or how I feel about my body. I have never liked them, and have never worn them much past the age of 10.
I'm just not comfortable nor do I feel like myself in them.
I prefer a cropped length as the shortest I'll go in a pant, and for dresses and skirts below the knee is where I am most comfortable.
Usually calf/tea length.
This is lucky because the longer maxi length skirts and dresses are a spring and summer trend so they will be easier to find.
I'd like a bias cut slip dress in silk, but that leans towards quite pricey, so I will have to settle for something similar.
I also included some really fun 90s and Y2k inspired accessories and footwear.
The Adidas are a vintage style and colour, and the platform sandals I wore with any and everything many years ago.
Ballet flats are classic, and flip flops were an early 00s staple.
The Carel Kinas remind me of the 90s Miu Miu Mary Janes.
Are they expensive? Yes.
Are they one of my most favourite shoes that I own? Also yes.
Were they my splurge last year that I bought and paid off using Klarna on the Carel website? Yes, yes they were. No shame in that game. I do it often.
I was going to wear my denim maxi skirt today, but it felt a bit stifling (it's not 100% cotton), so I think I might want to find a circle skirt that is a looser fit and airier.
Maybe even a maxi pencil skirt in a lighter weight fabric than denim.
I have a lot of button downs that are cotton but none that are linen, and I think a handful of loose fitting trousers would be nice as well.
Something to pair with tees and tanks when it gets blistering out.
I was thinking about some wide leg linen pants, but I hate the wrinkles, so maybe something in a linen blend that is a little more forgiving.
I get very uncomfortable in the heat so as someone who doesn't wear shorts or little sundresses it forces me to try to get more creative with my silhouettes.
A small top with a big bottom silhouette is what it feels like I am favouring.
I try to keep the rule of thirds in mind when planning outfits because it is universally used in many different areas like architecture, photography, art, film, and fashion.
A balanced look is boring and can be automatic and expected,
But an unbalanced proportion is interesting and pleasing to look at.
I know, I know. Fuck flattering right?
But in all honesty, I like to feel my best, and my best often comes when things fit well or are proportioned well.
So while I don't seek out flattering, it just so happens that is when I am most confident in what I am wearing if that makes sense.
What is The Rule of Thirds?
Now back to The Rule of Thirds. It's generally accepted that a 1/3 to 2/3 ratio is the most aesthetically pleasing division of spaces, and that's called the Golden Ratio in artistic circles.
This was something they drove home in fashion school. The rule applies to where you put the visual break in your outfit.
This break could be done with blocks of colour, where you place your belt, and through the use of layers and tucking.
What we want is to use that visual break to divide the perception of our outfit, not our body into thirds.
For example the small top big bottom would play out in a cropped tee or tank top, and some high waist wide leg pants. The top would be 1/3 and the bottom would be 2/3 of the look.
You could reverse that and do an oversized button up on top and some ankle pants on the bottom.
A full-length dress can be broken up with the use of a jacket, blazer, sweater, cardigan and belting.
In general, I am not a fan of fashion rules as something that is written in stone.
I do not feel that rules work for everyone's personal style. But I like learning what those rules are.
Wardrobe styling is like having a toolbox, you fill it with a bunch of different things to help you take on every possible styling situation.
You don't use the same tools for every job, and more often than not there will be tools that you rarely use.
But the more tools we have in your box, the more options you will have.
The Rule of Thirds is a tool that is very useful for creating flattering outfits in seconds with minimal effort which is something that we all want right?
Putting together an outfit that we both look and feel our best in without having to try on a million different outfits to achieve it.
What I am trying to say is, not feel obligated to follow any fashion rules. Often the best outfits come when you are breaking those rules.
But keep the knowledge of these rules in your mental fashion toolbox, so you can pull them out to try something new occasionally if you are feeling uninspired or stuck.
It will make getting dressed easier.
Women's Summer Outfit Ideas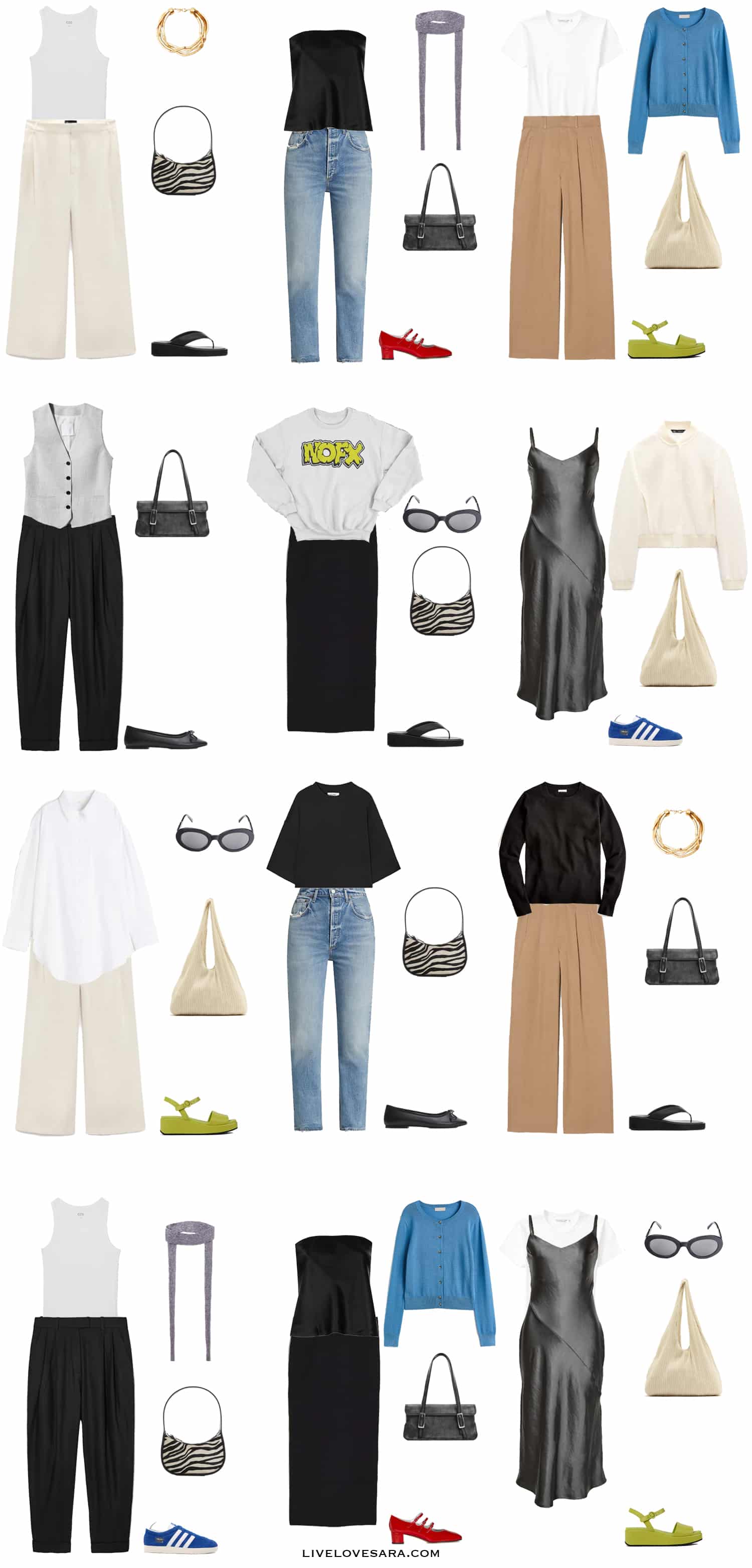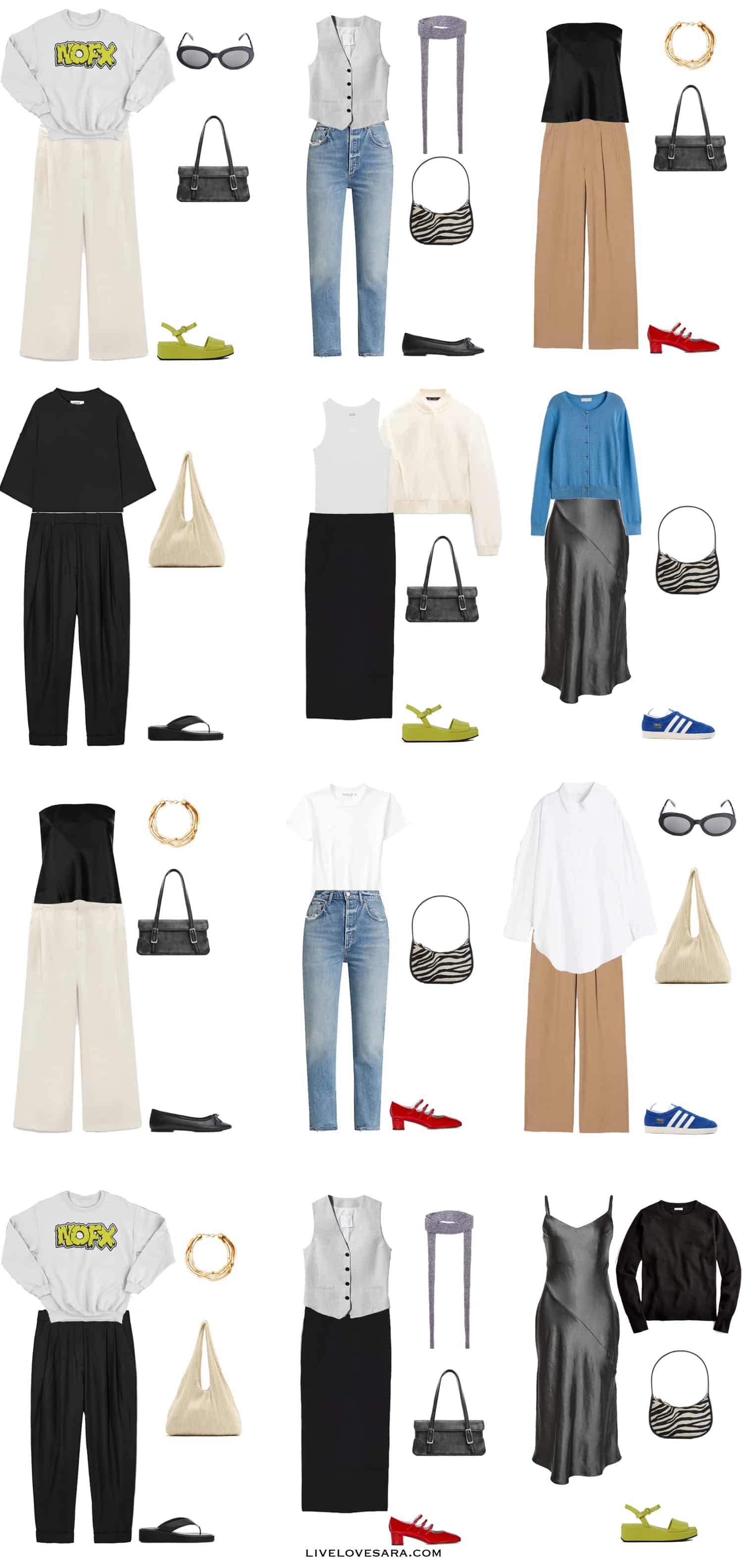 Tank Top | Silk Tube Top | T-shirt | Cropped Tee | Button Up | Waistcoat | Sweatshirt | Sweater | Cardigan | Jeans | Cream Trousers | Black Trousers | Tan Trousers | Skirt | Slip Dress | Bomber Jacket | Skinny Scarf | Necklace | Sunglasses | Grey Handbag | Animal Print Handbag | Tote | Platform Sandals | Mary Jane Heels | Ballet Flats | Flip Flops | Sneakers

You might also like:
A Transitional Spring to Summer Capsule Wardrobe
The Spring Starter Capsule Wardrobe
A Distorted Preppy Capsule Wardrobe for Spring
A Modern Classic Capsule Wardrobe for Spring
An 80s Inspired Capsule Wardrobe
Using Your Style Adjectives to Build a Spring Capsule Wardrobe
The Ultimate Spring Capsule Wardrobe and Spring Outfit Ideas
A Spring Capsule Wardrobe on a Budget
A Romantic Capsule Wardrobe for Spring
The Modern 90s Minimalist Capsule Wardrobe for Spring
An Edgy Spring Capsule Wardrobe With Style Adjectives
SHOP THE UK LINKS


I am now offering digital styling guides, and personal styling services. If you are looking for some styling help that is inexpensive and easy, check out my digital styling guides. If you want some one-on-one help shopping, building and editing your wardrobe, or packing for a trip, I can also assist. Check out all the styling services that I offer here.
This post contains affiliate links. By using my links to shop I may receive a small commission (at no cost to you). Thanks for supporting what I do