Summer Capsule Wardrobe 2022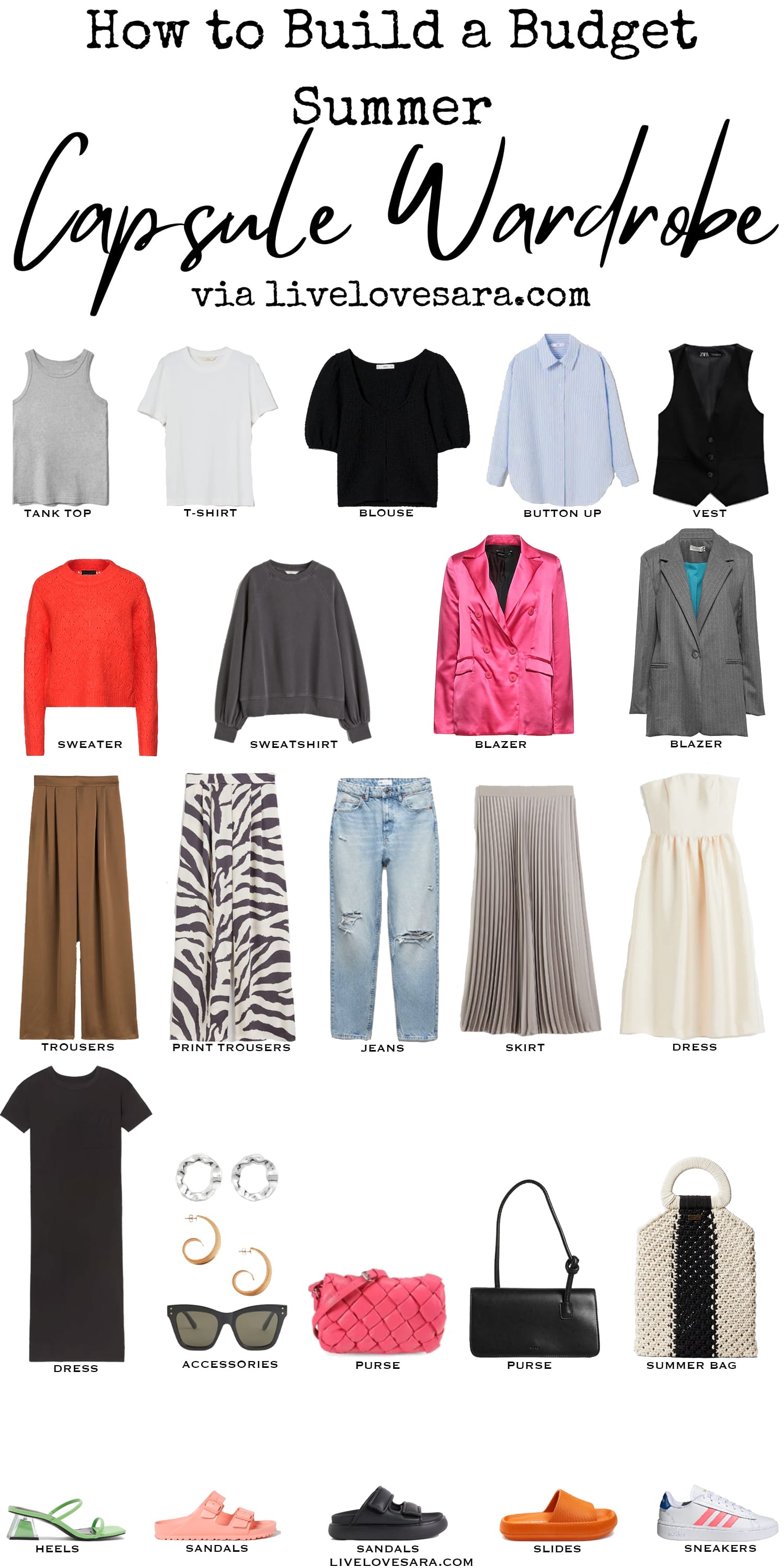 Grey Tank Top | White T-shirt | Black Blouse | Blue Button Up | Vest | Red Sweater | Sweatshirt | Pink Blazer | Grey Blazer | Brown Trousers | Print Trousers | Jeans | Skirt | Cream Dress | Black Dress | Silver Earrings | Gold Earrings | Sunglasses | Pink Purse | Black Purse | Woven Purse | Heels | Pink Sandals | Black Sandals | Orange Slides | Sneakers

I have been trying to put together a budget capsule wardrobe for a couple of months now but as I went through the process I found that I wasn't satisfied with the outcome.
The selections were usually too bland, and I just wasn't happy with it.
They were a much more minimalist wardrobe than I was going for at that time.
This week I tried again, and I was able to find selections with a nice, bold punch of colour that was missing from the last several attempts.
A budget varies greatly from one individual to the next so what is a great deal for one, might be a splurge for another.
Keep this in mind.
The best way to build a capsule wardrobe on a budget is to start secondhand.
There are so many great pieces to be had out there in the secondhand market.
The problem with that is not everyone has access to good thrift stores. And when you start to take your secondhand search online you usually end up paying more for more basic pieces.
Then factor in shipping, and it isn't always a great deal unless of course, you have found a more expensive item on your wishlist for a great deal.
Then it is worth it.
So if you have access to a variety of good thrift stores then start there.
Make a list, and spend an afternoon searching the racks. You might find some great pieces for your summer capsule in there.
That being said, my list today doesn't include secondhand items because they are usually a one of, and when they sell out they are gone which is frustrating for many.
It includes a collection of summer clothes for women that are both transitional and versatile from a variety of retailers who offer more affordable choices and often free shipping.
Also, remember that summer weather is not the same everywhere in the world so plan your capsule wardrobe according to the environment that you live in, not necessarily by what I wear in the summer.
You can use this like a capsule wardrobe checklist and move things around or swap out for items that are more suitable for your lifestyle and weather.
We had a few really hot and humid days here recently where I wore sundresses and sandals, then today the humidity dropped, so we had much more comfortable temperatures, and I was able to wear a blazer, jeans, and closed-toe shoes.
This is why I generally like to focus on items that I can wear through every season instead of strictly season based items.
I like to challenge myself with versatility to see how to wear each piece throughout all four seasons.
Which it might be interesting to point out that we have seen a shift over the past couple of years of the fashion industry starting to make their collections include more seasonless items.
Which is actually something that I am happy to see.
We have also seen fewer trends and more timeless pieces on the catwalk which also shows me a shift in the way we are starting to perceive fashion because honestly, the rapid change of the trends lately has been almost scary.
This means that when you are building a capsule wardrobe focus more on pieces that you will wear on repeat over years, versus filling your wardrobe with all the trends.
Trends come last.
Sprinkle in a couple to make things feel fresh.
There is no need to jump on every new trend because you will have whiplash by how fast they are changing.
I feel good in a trendy piece, but I find I tire of them quickly.
But when I pull out my classic, timeless pieces I always feel good no matter what.
Plus, keeping up with trends is expensive (and wasteful) so going forward buy what you love, and what makes you feel good.
That will give you the most versatile wardrobe and help to enhance your summer style.
Stay safe.
Easy Summer Outfits for Women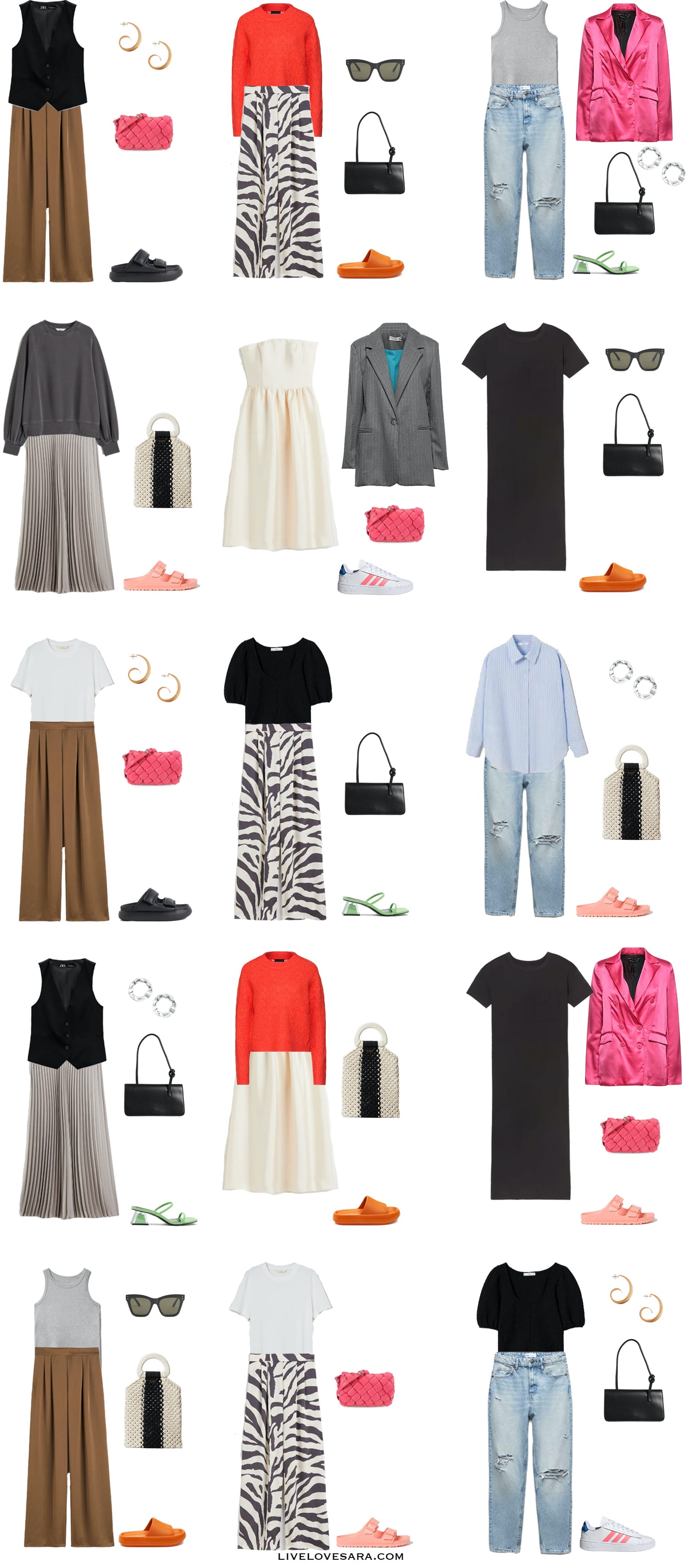 Cute Summer Outfits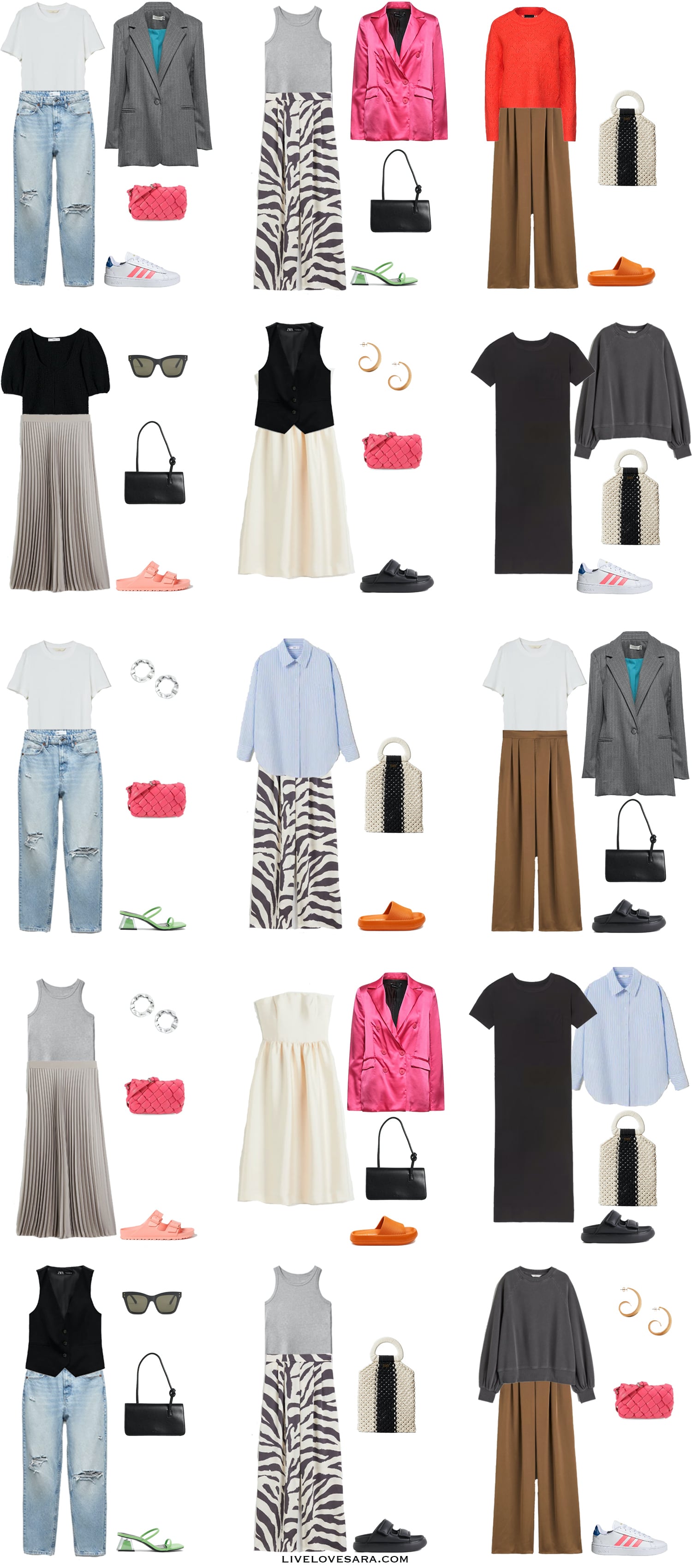 Grey Tank Top | White T-shirt | Black Blouse | Blue Button Up | Vest | Red Sweater | Sweatshirt | Pink Blazer | Grey Blazer | Brown Trousers | Print Trousers | Jeans | Skirt | Cream Dress | Black Dress | Silver Earrings | Gold Earrings | Sunglasses | Pink Purse | Black Purse | Woven Purse | Heels | Pink Sandals | Black Sandals | Orange Slides | Sneakers

You might also like:
How to Bring Dopamine Dressing into your Summer Capsule Wardrobe
How to Start Adding Colour to Your Summer Capsule Wardrobe
How to use a Colour Wheel to Help You Build a Summer Capsule Wardrobe
The Ultimate Summer Capsule Wardrobe 2022
How to Build a Colourful Summer Capsule Wardrobe
The Ultimate Spring Capsule Wardrobe
How to Build a Minimalist Capsule Wardrobe for Spring 2022
How to Build a Colourful Spring Capsule Wardrobe 2022
Spring Capsule Wardrobe Essentials 2022
How to Build a Spring Capsule Wardrobe 2022
SHOP THE UK LINKS


This post contains affiliate links. By using my links to shop I may receive a small commission (at no cost to you). Thanks for supporting what I do