Spring Capsule Wardrobe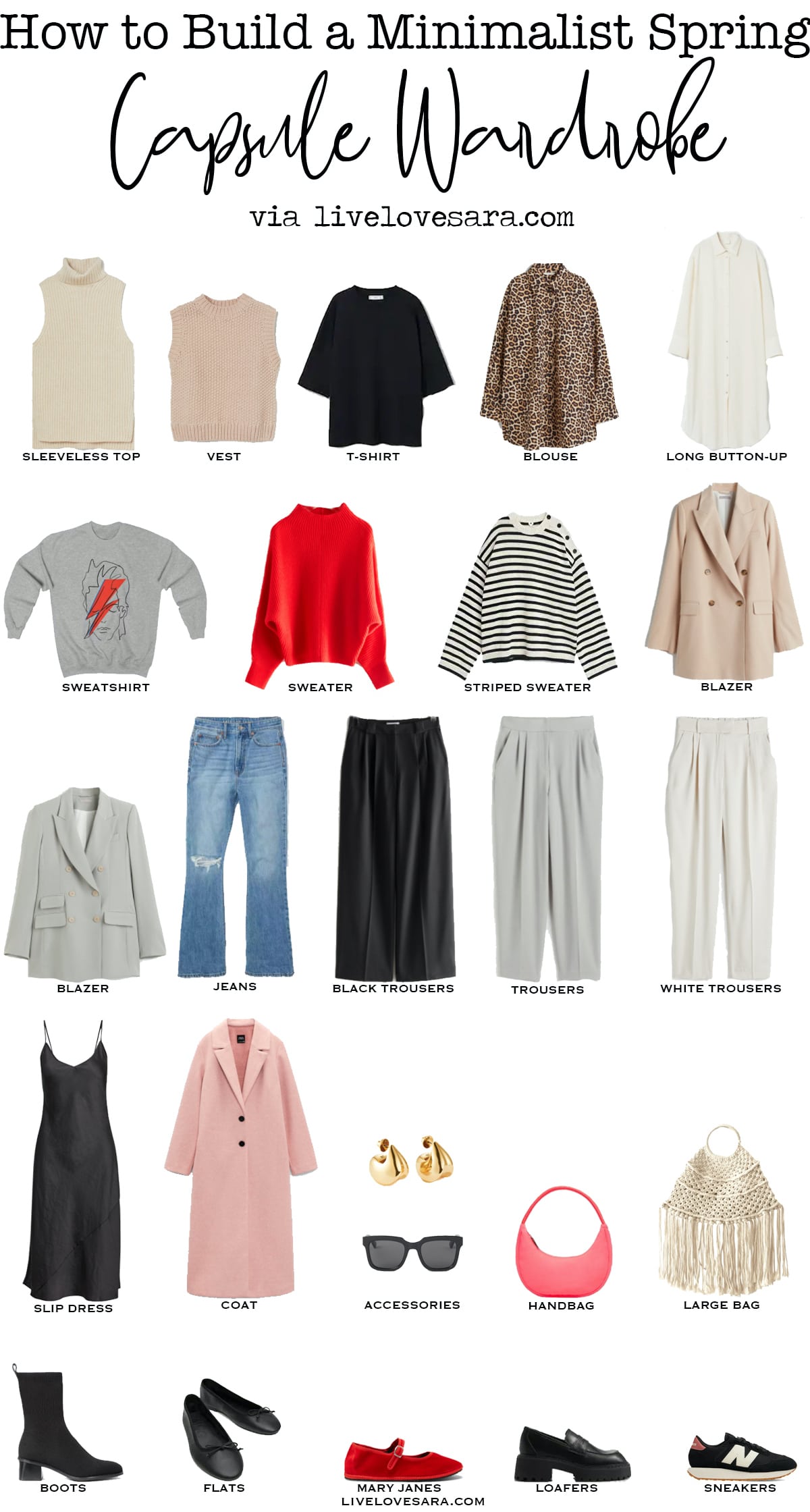 Sleeveless Top | Knit Vest | T-shirt | Blouse | Long Button-up | Sweatshirt | Red Sweater | Striped Sweater | Pink Blazer | Grey Blazer | Jeans | Black Trousers | Grey Trousers | White Trousers | Slip Dress | Pink Coat | Earrings | Sunglasses | Pink Bag | Knit Bag | Boots | Flats | Mary Janes | Loafers | Sneakers

By now, if you come here often, you will know that I don't think a minimalist wardrobe has to be completely from neutral tones.
If this is your first time here, then please remember that, so you don't get a preconceived notion of what it is supposed to be and think there are iron-clad rules.
I believe that keeping a neutral base is good for maintaining an easy and chic wardrobe, but sprinkling in some colour can do wonders for inspiration and your mental health.
Especially in seasons like spring, when we are all looking for a bit of something more with our spring wardrobe than we did with our winter one.
Last week I did a Colourful Capsule Wardrobe, and it was seemingly a hit.
This week I was going to try to make a similar look but with more budget-friendly prices, but I wasn't as inspired and was having some difficulty.
After I gave up, this one just kind of formed, so I went with it.
I still plan on doing a budget capsule wardrobe for spring, I just need a little more time to work on it.
This week I thought that I would sprinkle in some spring trends while still maintaining some classic pieces.
Spring trend one is the matching suit. We are still loving that this season.
Trend two is the Mary Jane. If you pick only one shoe this spring, make it a Mary Jane, flat or heeled it doesn't matter. It will carry you straight through to fall.
Trend three, bright red.
Trend four, five, and six, and seven…white, fringe, crochet/knit, and neon.
Two trends that I am definitely not participating in is the mini skirt, and low rise pants. But note to all who might miss this…maxi skirts and maxi dresses are back.
So if you have still got one, it's time to pull it out again.
Anyway, we ended up with a good mix of spring trends in here to keep things fresh, but the trends do not take over the entire capsule wardrobe.
They just are added to enhance it and spruce up our spring outfits.
I feel like with the colours I added, this also might make a good french capsule wardrobe, or at least a little inspired by french style.
I am still hunting for some Mary Jane's myself. That is one trend that I really want to jump on. But I also find them classic, so they really won't have a time expiration on them.
This is why I am willing to spend a little more on them.
I really, really had my heart set on these, but I also really don't want to pay quite that much.
Plus, they are really hard to find in stock.
So I am keeping my eyes open for a small block heel, red patent leather Mary Jane that will check the boxes.
My fingers are crossed that I can find something for spring.
Luckily, the weather is still horrendous, so I won't be needing them any time soon.
Below, I have included 24 easy spring outfit ideas that you can wear with the pieces from the spring minimalist capsule wardrobe above.
Stay safe.
Spring Outfits for Women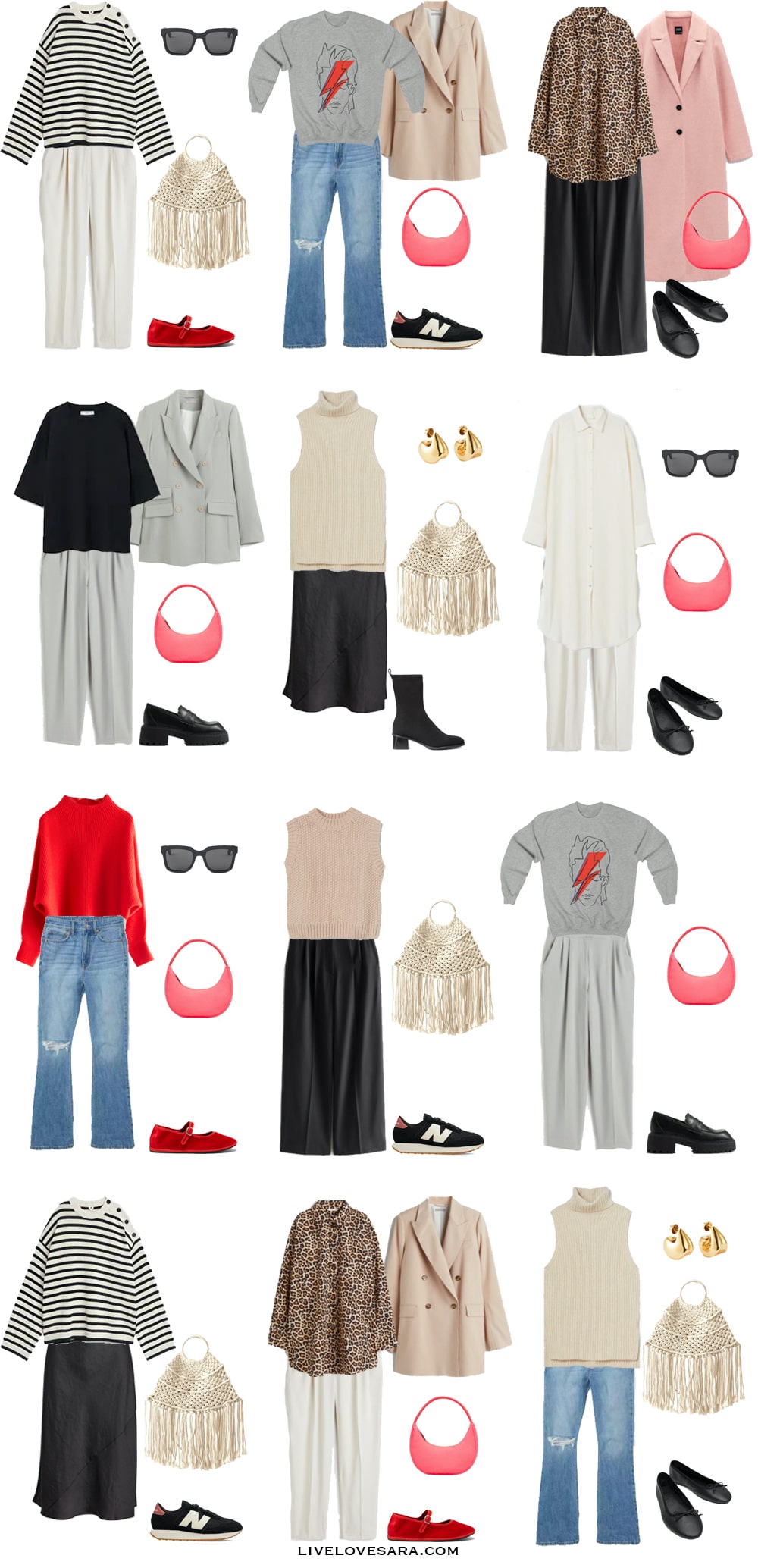 Minimalist Outfits for Women
Sleeveless Top | Knit Vest | T-shirt | Blouse | Long Button-up | Sweatshirt | Red Sweater | Striped Sweater | Pink Blazer | Grey Blazer | Jeans | Black Trousers | Grey Trousers | White Trousers | Slip Dress | Pink Coat | Earrings | Sunglasses | Pink Bag | Knit Bag | Boots | Flats | Mary Janes | Loafers | Sneakers

You might also like:
How to Build a Colourful Spring Capsule Wardrobe 2022
Spring Capsule Wardrobe Essentials 2022
How to Build a Spring Capsule Wardrobe 2022
How to Build a Stay at Home Mom Winter Capsule Wardrobe 2022
How to Build an Edgy Capsule Wardrobe 2022
How to Build a Work Capsule Wardrobe Winter 2022
How to Build a Work From Home Capsule Wardrobe on a Budget Winter 2022
How to Build a Capsule Wardrobe on a Budget Winter 2022
SHOP THE UK LINKS


This post contains affiliate links. By using my links to shop I may receive a small commission (at no cost to you). Thanks for supporting what I do