A Colourful Capsule Wardrobe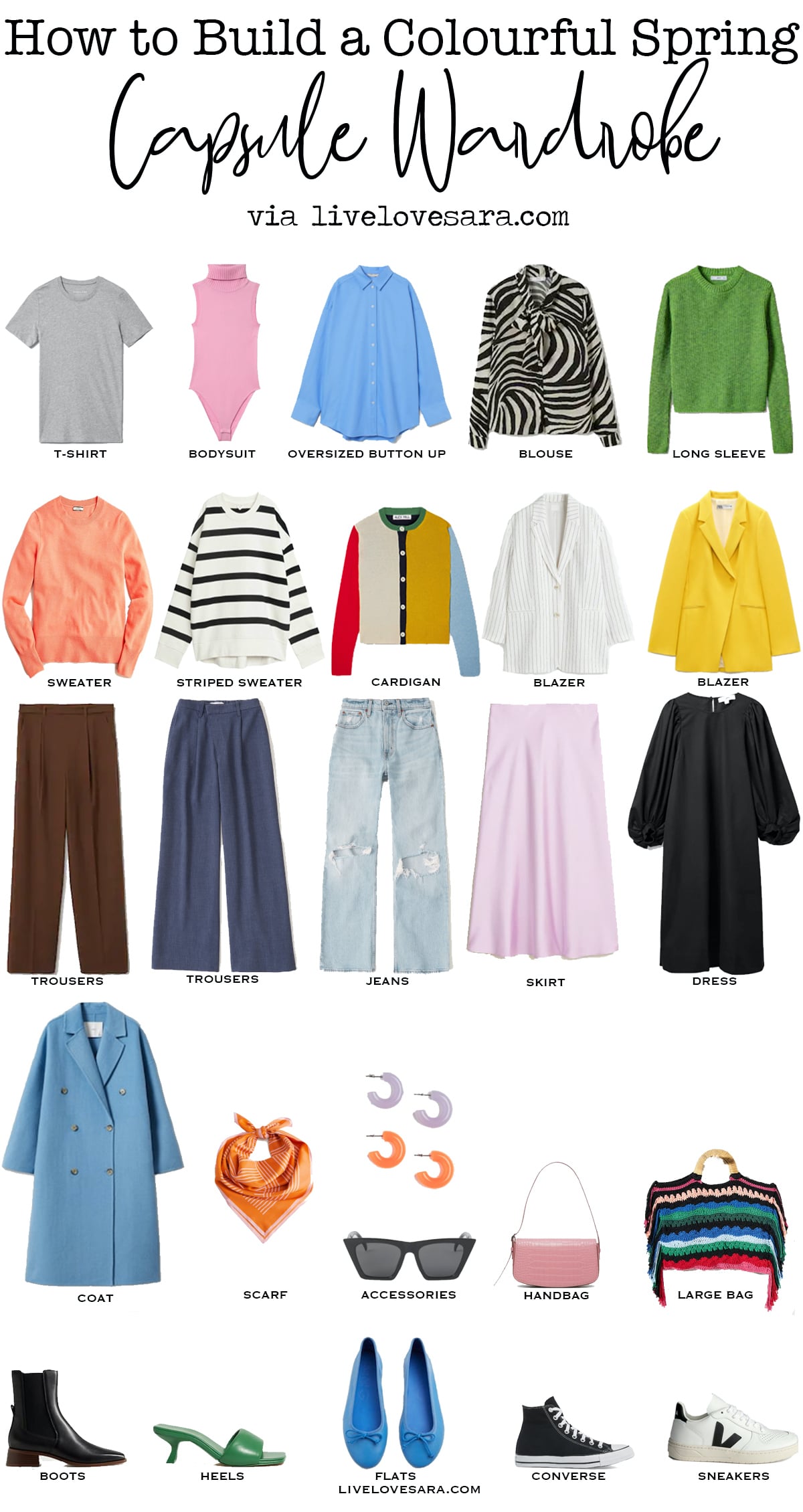 Grey T-shirt | Pink Bodysuit | Blue Oversized Button-up | Zebra Print Blouse | Green Long Sleeve | Orange Sweater | Striped Sweater | Colour Block Cardigan | Striped Blazer | Yellow Blazer | Brown Trousers | Navy Trousers | Jeans | Lilac Skirt | Black Dress | Blue Coat | Orange Scarf |
Colour Hoop Earrings | Black Cat Eye Sunglasses | Pink Baguette Bag | Crochet Bag | Black Boots | Green Heels | Blue Flats | Converse | Veja Sneakers |

You asked, and I answered. Well…hopefully, I answered. I am trying my hand at a colourful spring capsule wardrobe tonight because I have been receiving, no complaints per se, but maybe a bit of pointing out the lack of colour in my capsule wardrobes.
I am trying the best that I can for this one-woman show, and I just personally don't have a ton of colour in my wardrobe.
I am more apt to fill my closet with neutrals and then sprinkle some colours throughout. Bold and bright isn't something that would work for me as an entire wardrobe.
I feel like my personality just doesn't pull it off very well. I have more of a Daria personality, if you remember her.
She was a late 90s cartoon for those that don't.
That being said, I know things can get monotonous or repetitious, but I often work with things that I own or similar items so generating a completely new wardrobe every week isn't realistic, nor is it easy.
I try to keep the capsule wardrobe breakdown pretty generic, so you can go through and pick things that either you already own, or that you can get in your price point, or from your favourite stores, and even swap it out for another colour or print preference.
They are basically just a wardrobe outline, and you fill it in with what works for you and your lifestyle.
I'm currently in school to become a stylist (which is monopolizing my time) and I hope to be able to offer one on one services in the future to give more personalized help and options for people if they are looking for it.
In the meantime, no capsule wardrobe post here will make everyone happy, but there are hundreds of archives in here that you may find something that is more in tune with your tastes.
There are also many other women who put together capsule wardrobes with different vibes that I do, and they may offer choices that suit your tastes better.
With this wardrobe, I started with the yellow blazer and then built around that.
I saw it on the Zara and thought what a beautiful piece it was. Very spring-like and fresh, and I need fresh after walking past the piles of dirty grey snow today.
I think if you are going with bold colour, then adding in some bold prints is a no-brainer as well.
Print mixing, and matching colours together that you wouldn't normally think will work is what is going to get you the most out of this wardrobe.
If wearing this much colour strikes fear in your soul, then integrating just a few colourful pieces like these into your more toned down, neutral based wardrobe is going to allow you to dip your toes in without making a huge commitment.
It is a good way to freshen up a more drab winter wardrobe to give it a spring wardrobe refresh.
Because we all know after a long winter, we are looking for a little more excitement in our wardrobes.
This would be a great way to start.
Stay safe.
Spring Outfits for Women

Colourful Clothes for Women

Grey T-shirt | Pink Bodysuit | Blue Oversized Button-up | Zebra Print Blouse | Green Long Sleeve | Orange Sweater | Striped Sweater | Colour Block Cardigan | Striped Blazer | Yellow Blazer | Brown Trousers | Navy Trousers | Jeans | Lilac Skirt | Black Dress | Blue Coat | Orange Scarf |
Colour Hoop Earrings | Black Cat Eye Sunglasses | Pink Baguette Bag | Crochet Bag | Black Boots | Green Heels | Blue Flats | Converse | Veja Sneakers |

You might also like:
Spring Capsule Wardrobe Essentials 2022
How to Build a Spring Capsule Wardrobe 2022
How to Build a Stay at Home Mom Winter Capsule Wardrobe 2022
How to Build an Edgy Capsule Wardrobe 2022
How to Build a Work Capsule Wardrobe Winter 2022
How to Build a Work From Home Capsule Wardrobe on a Budget Winter 2022
How to Build a Capsule Wardrobe on a Budget Winter 2022
SHOP THE UK LINKS


This post contains affiliate links. By using my links to shop I may receive a small commission (at no cost to you). Thanks for supporting what I do