Capsule Wardrobe for Spring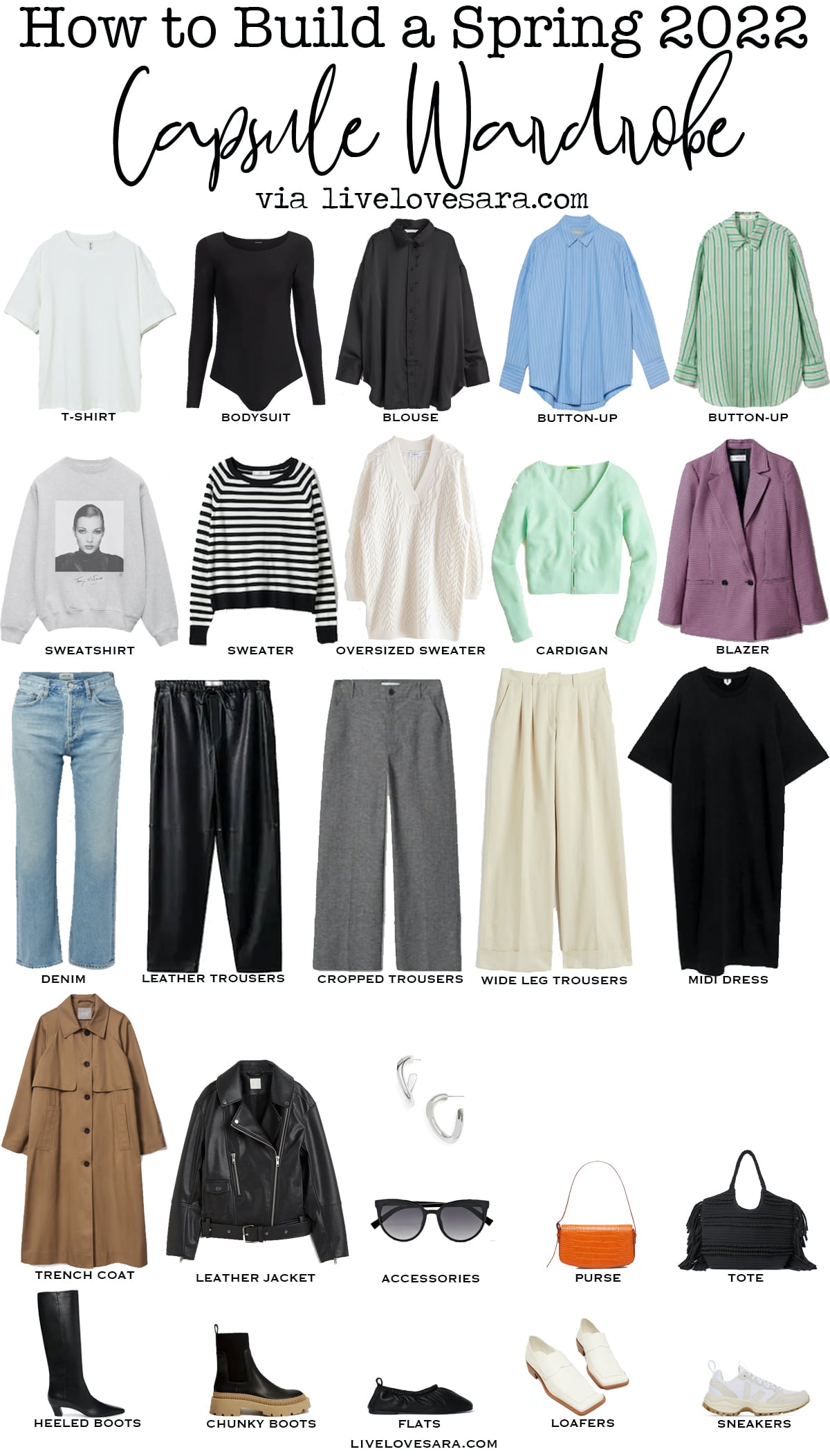 White T-shirt | Black Bodysuit | Black Blouse | Blue Button-up | Green Button-up | Sweatshirt | Striped Sweater | Cream Sweater | Green Cardigan | Purple Blazer | Denim | Leather Trousers | Cropped Trousers | Wide Leg Trousers | Midi Dress | Trench Coat | Leather Jacket | Earrings | Sunglasses | Orange Purse | Black Tote | Heeled Boots | Chunky Boots | Flats | Loafers | Sneakers

This is about the time of year that questions like, what should I have in my spring capsule wardrobe? or what spring wardrobe staples do you suggest? start rolling in. So I figured I would start answering with some capsule wardrobe ideas before I was asked them.
Sometimes I feel like I am jumping ahead with seasons too fast, but then I have to remember that this is the way the retail business works.
You have to go a full season ahead to make sure that you are in line with what is being sold in stores.
I also have to go by what blog posts people are visiting, and I noticed a trend upwards in capsule spring wardrobe related posts over the past week, so I figured it was a good time to get some new stuff out.
Plus, I feel like we are all getting a little bored with winter.
I know that I sigh every time I have to wear a puffer instead of a lighter coat.
I love layers and sweaters, but I hate winter coats and boots. Give me lightweight outerwear and regular shoes any day of the year and I will be happy.
Yesterday, I decided to live on the wild side and wore my sneakers out when I walked down to the store.
They were covered with slush and salt by the time I got home.
I had to clean them, so they didn't get ruined from the salts stains, so I probably won't do that again until more of the snow melts. The sidewalks are clear but unless it is 100% dry out you are going to get messy crap on your shoes.
There is no avoiding it.
I know that we all live in different climates and many of us do not get to experience a cold, snowy winter, and many of you already are wearing clothes that would be labelled as spring where I am, so this post might not check your boxes for spring weather where you live.
These types of capsule wardrobe lists are fully customizable to your lifestyle and climate, though. Just switch pieces out that make more sense for you.
Spring weather can be crazy.
One minute it is snowing, then the next day it is above seasonal and hot.
Luckily, it all evens out here usually by May.
I know that I have shared my college story about wearing a skirt and sandals out one April night (it was hot) and by the time I left the bar it was snowing.
I walked home in a snowstorm wearing sandals, a sarong style skirt, a tank top, and a denim jacket. It sucked.
My wardrobe is what I call a year-long wardrobe. This means that almost everything in it gets transferred to wear throughout all four seasons.
This is generally because two seasons feel relatively short in comparison to summer and winter, and I like my stuff too much to store it away.
Plus, I don't really have any spot to store it, which makes the decision easy.
The only things that don't move through all seasons are my heavy-duty seasonal pieces, like much of my winter outerwear.
If you wear a t-shirt in summer, you can still wear that shirt in winter. You just wear it differently.
So when we enter into the slightly warmer temps, then the outfit options become limitless. That same t-shirt can be worn under every single topper that you own, meaning that you can get a zillion different outfits just by styling one single piece.
Don't believe me? Try it out.
It's a true test of wardrobe versatility.
This is also leather jacket season. I love a good leather jacket. It can be the perfect finishing piece to any outfit, and I get sad when it's too cold or hot to wear it.
The tip with leather jackets is to always get them a size larger if they are a more fitted cut. You want to be able to wear more than bare arms under it.
The oversized boyfriend cut is also very in at the moment. I actually prefer it to the more fitted style.
The leather I included is a faux leather, slightly oversized style from H&M. I bought an H&M faux leather jacket about 10+ years ago and wore the shit out of it.
It lasted forever and I actually still have it. I gave it to one of my daughters because it no longer fits me the way that I like it fitting at this stage in my life.
I also feel that a nice trench coat is also an excellent option. It's easy to wear, and you can throw it over anything and still look put together.
Yes, even leggings and joggers
I have the one I included. You can see me in it here. The reviews say it fits large, but I say that it says slightly oversized, and it fits true to size.
I'm not sure why people want their jackets fitted. They are meant to be worn over clothes, therefore you should make sure there is room to do so comfortably.
As for spring capsule wardrobe colour palettes. I love how there are so many lovely colours to choose from in spring.
It is a change from the drab days of winter, and you can inject some pretty pastels, bold colours, or all of the above.
I want to mention spring bag trends, we are still visiting the late 90s early aughts with the baguette style small shoulder bags.
Think bags like the Fendi Baguette if you are into designer. And if you are, then shop secondhand because people are selling their baguettes that they wore the first time around.
It's a great time to find one.
And one of the most important things that I will mention is to never underestimate the power of a good pair of jeans.
A classic straight leg in a higher rise is a style that flatters most body shapes and never really goes out of style.
Many of us get by on jeans that make us feel meh. What you need is to find a pair that not only look great, but also make you feel great.
They can make or break your wardrobe.
Stay safe.
Cute Spring Outfit Ideas for Women

Outfit Ideas for Spring

White T-shirt | Black Bodysuit | Black Blouse | Blue Button-up | Green Button-up | Sweatshirt | Striped Sweater | Cream Sweater | Green Cardigan | Purple Blazer | Denim | Leather Trousers | Cropped Trousers | Wide Leg Trousers | Midi Dress | Trench Coat | Leather Jacket | Earrings | Sunglasses | Orange Purse | Black Tote | Heeled Boots | Chunky Boots | Flats | Loafers | Sneakers

You might also like:
How to Build a Stay at Home Mom Winter Capsule Wardrobe 2022
How to Build an Edgy Capsule Wardrobe 2022
How to Build a Work Capsule Wardrobe Winter 2022
How to Build a Work From Home Capsule Wardrobe on a Budget Winter 2022
How to Build a Capsule Wardrobe on a Budget Winter 2022
How to Build a Winter Capsule Wardrobe 2022
SHOP THE UK LINKS


This post contains affiliate links. By using my links to shop I may receive a small commission (at no cost to you). Thanks for supporting what I do