Capsule Wardrobe for Spring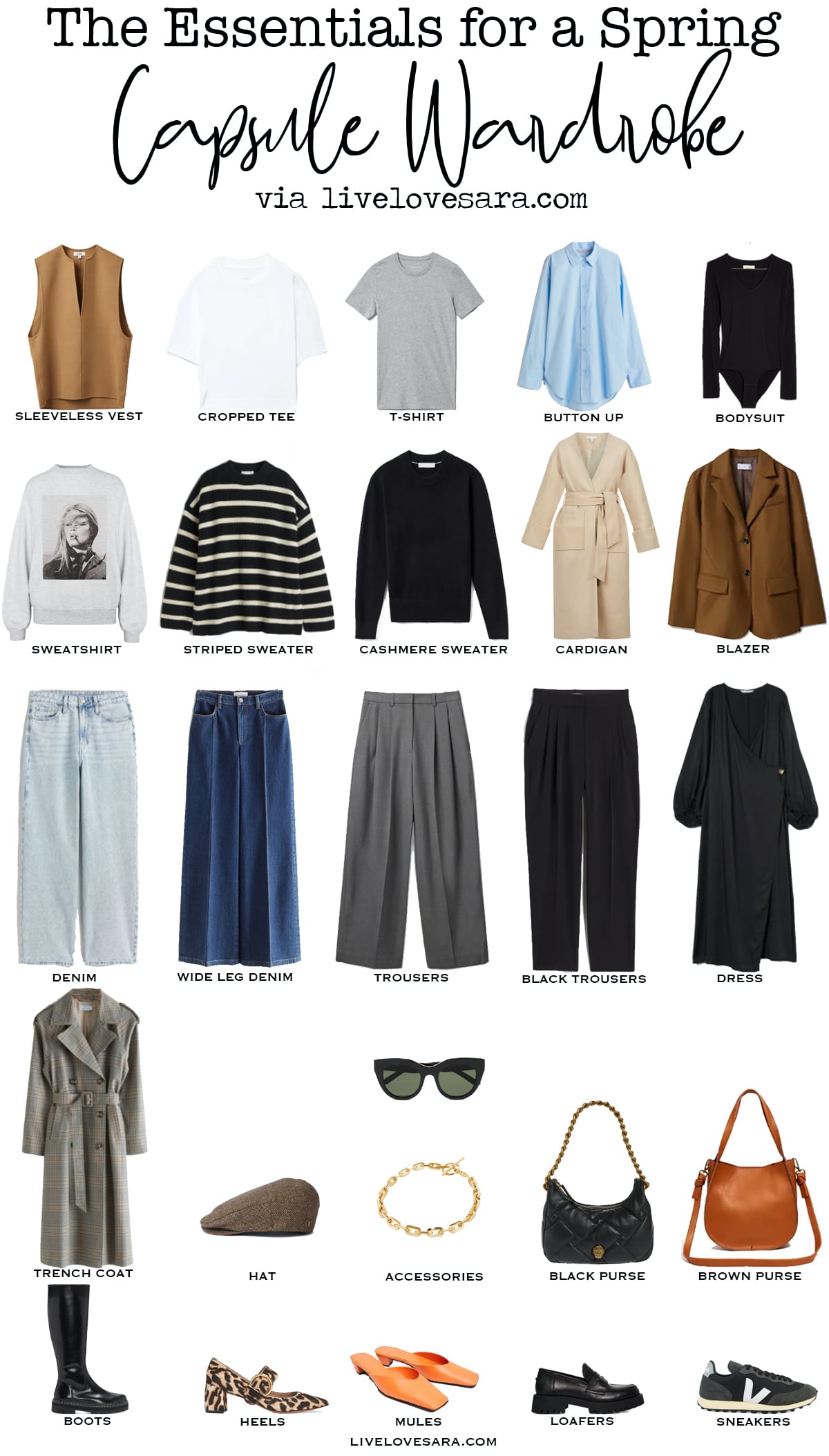 Sleeveless Vest | Cropped Tee | Grey Tee | Bodysuit | Button-up | Sweatshirt | Striped Sweater | Cashmere Sweater | Cardigan | Blazer | Jeans | Wide Leg Denim | Grey Trousers | Black Trousers | Dress | Trench Coat | Hat | Sunglasses | Necklace | Black Purse | Brown Purse | Boots | Heels | Mules | Loafers | Sneakers |

If you aren't a regular reader, you probably came by here while searching for how to create a capsule wardrobe or capsules wardrobe ideas. I hope that I can answer those questions that you have with this post or another one like it.
Every season I have a group of clothes that I consider my workhorse clothes.
These are the things that I reach for most in my wardrobe and are the pieces that I mix and match with other wardrobe items to get many different outfit ideas.
They are often seen in each outfit every day of the week and form the basis of my wardrobe.
Most of these pieces are transferable each season, so they get an excellent workout. The cost per wear on many of my items is very low because of how much I wear them.
This is why I will pay a little more for something that I love because I know that it will be worn enough that it will make the cost per wear low.
What is cost per wear?
It is when you take the total cost of an item and divide by how many times you wear it (or an estimate) to see how much it costs you every time you wear it.
I use this formula often when I want to see if buying an item will be worth the cost.
My Anine Bing sweatshirt for example was pricey for a sweatshirt. But I wear it at least twice a week all year long, so my cost per wear is around $2.11 for a year. I have had it longer than a year, though, so my cpw is even lower than that.
I share that sweatshirt a lot in my capsule wardrobes, but to me, it is so worth it. So much so that I want to buy this one too.
In this post, I went through my wardrobe and pulled which pieces I know I will be wearing all through spring (or similar pieces if sold out).
These spring capsule wardrobe essentials can easily make a full wardrobe on their own, or can be integrated with other less worn spring clothes (usually trendy items) to have a fully rounded spring capsule wardrobe.
And yes, I included a cropped t-shirt. This style is actually a bit longer than a regular crop and is something that I gravitate to even as a 42-year-old woman.
I find that pairing them with high-waisted jeans or trousers really cuts down on the croppedness.
I actually didn't think I was going to have a post this week because I started my new semester in school, and I am talking more classes than last semester.
I am having a hard time balancing out my time.
So bear with me if things seem disjointed for a bit while I try to get a better method going for myself so I don't feel overwhelmed.
Speaking of classes, I had to watch some fashion shows this week for one class and one of the videos was The Dior Men's Winter 2022/2023. I loved it.
LOVED it.
I was inspired, and I would literally wear any outfit on there. This capsule wardrobe captures the vibe of those casual spring outfits that were shown.
They were actually winter outfits but felt really springish to me.
My spring capsule wardrobe essentials mimics this list almost completely, minus a few things that are on my wish list to get for spring.
Other than that, it is pretty much done.
The spring outfits are below.
Stay safe.
Spring Outfit Ideas
Spring Clothes for Women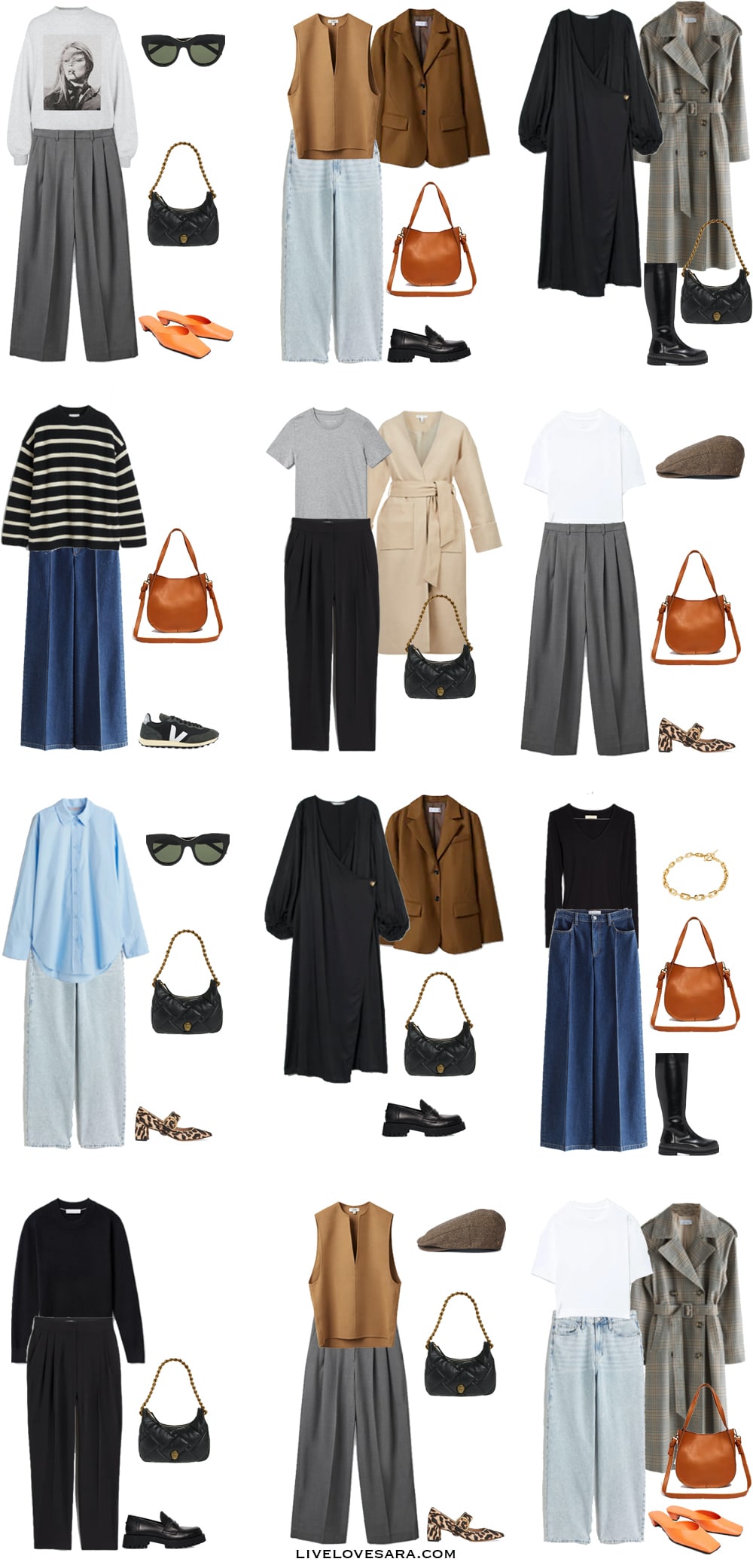 Sleeveless Vest | Cropped Tee | Grey Tee | Bodysuit | Button-up | Sweatshirt | Striped Sweater | Cashmere Sweater | Cardigan | Blazer | Jeans | Wide Leg Denim | Grey Trousers | Black Trousers | Dress | Trench Coat | Hat | Sunglasses | Necklace | Black Purse | Brown Purse | Boots | Heels | Mules | Loafers | Sneakers |

You might also like:
How to Build a Spring Capsule Wardrobe 2022
How to Build a Stay at Home Mom Winter Capsule Wardrobe 2022
How to Build an Edgy Capsule Wardrobe 2022
How to Build a Work Capsule Wardrobe Winter 2022
How to Build a Work From Home Capsule Wardrobe on a Budget Winter 2022
How to Build a Capsule Wardrobe on a Budget Winter 2022
SHOP THE UK LINKS


This post contains affiliate links. By using my links to shop I may receive a small commission (at no cost to you). Thanks for supporting what I do