Winter Capsule Wardrobe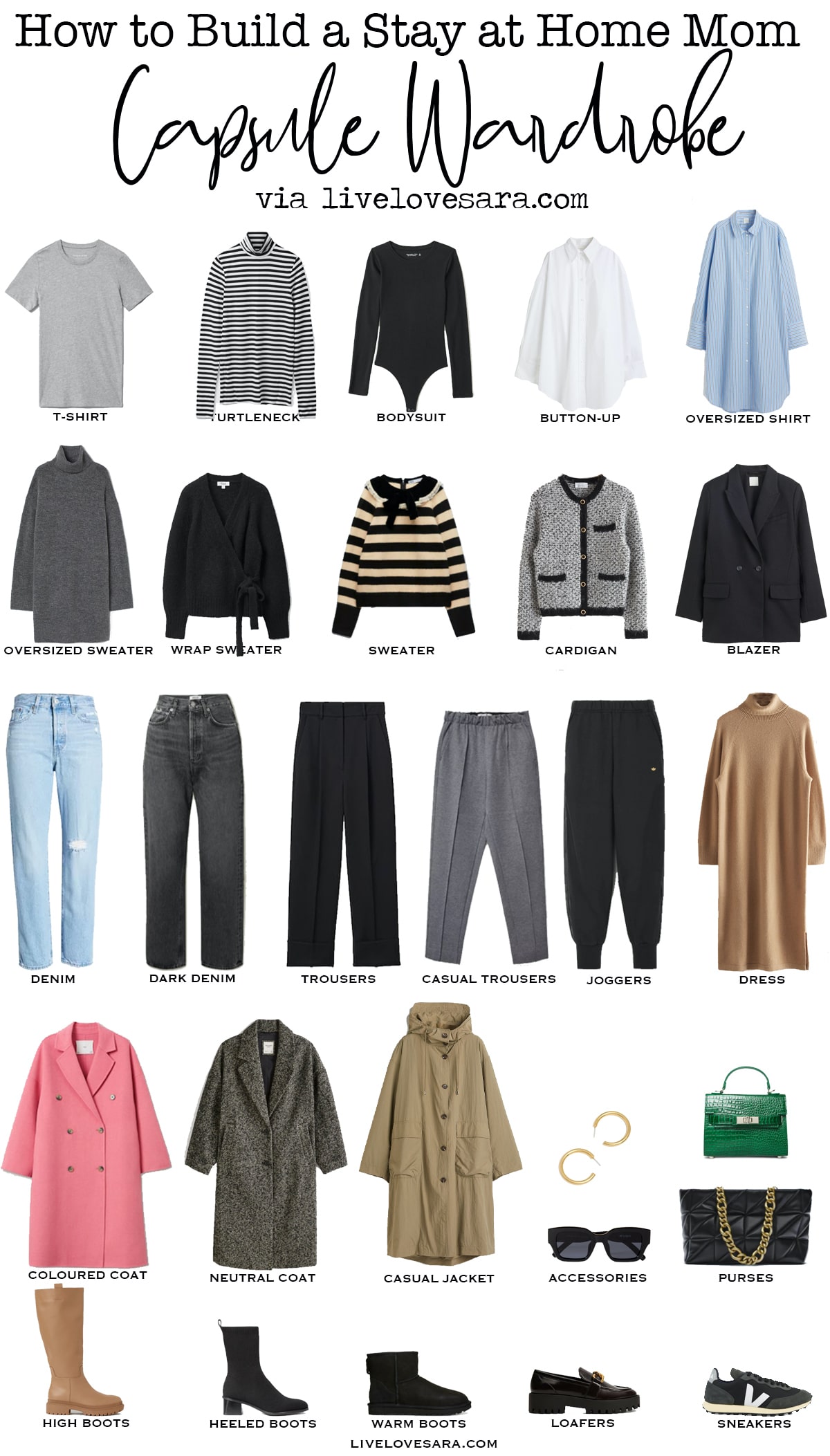 Grey T-shirt | Striped Turtleneck | Black Bodysuit | White Button-up | Oversized Blue Button-up | Grey Oversized Sweater | Black Wrap Sweater | Striped Sweater | Grey Cardigan | Black Blazer | Blue Jeans | Grey Jeans | Black Trousers | Grey Casual Trousers | Black Joggers | Camel Sweater Dress | Pink Coat | Grey Coat | Tan Oversized Jacket | Hoop Earrings | Black Sunglasses | Green Purse | Black Tote | Tan High Boots | Black Sock Boots | Black Ugg Minis | Burgundy Loafers | Black Vejas

I have done quite a few stay at home mom capsule wardrobes over the years, and it wasn't until this week that I realized something. It's a big thing too and maybe because it is such an ingrained part of our lives that I never really thought about it, but I definitely should have.
One of the top messages I get is from mothers at various stages of their motherhood journey who have lost their sense of self when it comes to style and dressing.
It's like a before kids and after kids way that they think they should be dressing, which is super unfair because how many men do you know that have gone through this after having children?
Absolutely none.
I feel like it is one of those things that everyone experiences and yet no one talks about because we think it is frivolous.
They warn us about all kinds of things before having children, but the complete loss of who you are isn't ever one of them, and that is what brought me to where I am and what I do today.
The epiphany I had this week is that many women are waiting until later to have kids than what they used to, and with that comes a whole other element of the loss of self and style.
So now we are not only dealing with this new world of "I just had a kid, and now I am expected to dress like a mother" (whatever the hell that means), but now you are getting older, society also tries to dictate what we can and cannot wear as women age.
This is bullshit, people. I'll let you know that now.
Scrape it from your mind and forget it.
I just turned 25 when I had my first child. It was 2004 and the internet was not even a fraction of what it is now, and I still felt and heard the shaming of how I should be dressing.
When I got pregnant, I was a manager of a skateboard shop.
I wore low rise pants, paired with a 3 row studded belt, tight t-shirts, and sneakers.
And I wore that pretty much my entire pregnancy, except I wore larger tees. There were no good maternity shops where I lived, and online shopping was shit.
I swear that Victoria's Secret was the only women's retailer that shipped to Canada at that time.
After having my daughter I was one of those women who were lucky to get to my pre-pregnancy weight pretty quickly, and I distinctly remember the feeling of embarrassment and shame that I had, that the only thing that I had to wear were the clothes that I wore beforehand.
In my previous life.
It was like I had to hand in my cool card and move on to a new stage where I was only allowed to wear polo tops and cargo pants.
And no shame to those that wear and like that, but if it wasn't my style, then why did I feel like that was the only acceptable option for me?
Why do women feel like they have to completely sacrifice every single thing that they were pre-children in order to be a mother?
Why do we do this to ourselves, but mostly, why does society do this to us?
I floated for years wearing things that were kind of meh and fraudulent to who I was until I reached a point after my second child at 31.
With her, I suffered from minor postpartum. She was perpetually attached to me and would never sleep unless I was sleeping right beside her…and I just felt completely tired, alone, and lost.
I would stay up really late when everyone else was sleeping, just holding her and mindlessly scrolling the internet to escape.
It was at that point that I came across a site called Polyvore.
This was a site that allowed to build wardrobe boards, and it had a huge following.
It was something that let me dream and get creative with clothes, in a no-risk way, that I had never been able to do before.
It inspired me, challenged me, and gave me hope.
It was with these creative boards I was making that I decided that I needed to change, and the first thing I bought that made a huge difference in how I felt about myself and my clothes was a leather jacket.
To this day, a leather jacket is a wardrobe staple for me.
It was like my eyes opened to the power of how the right clothes can make you feel.
This was the start of the healing process and was when I realized that I hadn't really lost myself, I had just buried her really deep inside.
Through this process, I chose to share it online in hopes that it would help someone else.
The first step is to accept that your body has changed, and with that, your body shape may have changed as well.
Learning how to dress for your body type is an important part of feeling your best in clothes.
I put together a post for each shape that I will link below, just in case you need some help in determining what you are.
How to dress for your body type posts:
How to Dress an Hourglass Body Shape and Capsule Wardrobe
How to Dress an Apple Shaped Body Capsule Wardrobe
How to Dress an Inverted Triangle Body Shape Capsule Wardrobe
How to Dress a Triangle Body Shape Capsule Wardrobe
How to Dress a Rectangle Body Shape
Remember that you can be more than one shape depending on various factors, so you may benefit from borrowing dressing tips from a couple of shapes.
Here are 9 things that I learned about my style over the years.
1. I can't really wear anything higher than a kitten heel anymore. I can also do a block heel that is a bit taller (block heels are more stable) but I absolutely cannot do high heels or large wedges anymore.
This is why I love my Isabel Marant boots. Many of her boots have a shorter heel that is very easy to walk in.
2. I prefer my dresses and skirts to hit below the knee. I'm just more comfortable in something a bit longer.
3. I still love thrift shopping as much as I did in the 90s, except this time I have a better eye.
4. I understand why it is important to invest in at least one perfect pair of jeans. There is a noticeable difference in how they fit and feel. I love and have these.
5. I still love Levi's 28 years later.
6. The sentiment of quality over quantity makes sense to me now. I love having a wardrobe that is small but filled with things that are perfect for me and my lifestyle.
7. A great classic pair of black sunglasses can really change your whole mood and vibe. I have these, I really want these more expensive ones, but this inexpensive pair from Amazon are also fab.
8. Don't adopt every trend. It is an endless carousel ride. I don't even think trendsetters can keep up with them anymore.
9. You don't have to choose a particular style that you want to be. You can borrow from any style that you want whenever you want, depending on your mood or the situation.
The point is to just make whatever you choose to wear, your own and wear it with confidence.
In this SAHM Capsule Wardrobe post, I included a collection of pieces that I feel are wardrobe musts for their ease of wear, and yet still put-together vibe.
They are important musts for any mom.
For whatever reason that you found this post, I hope that it helps you start your own healing process and style journey.
Take care, and stay safe.
Winter Outfits for Women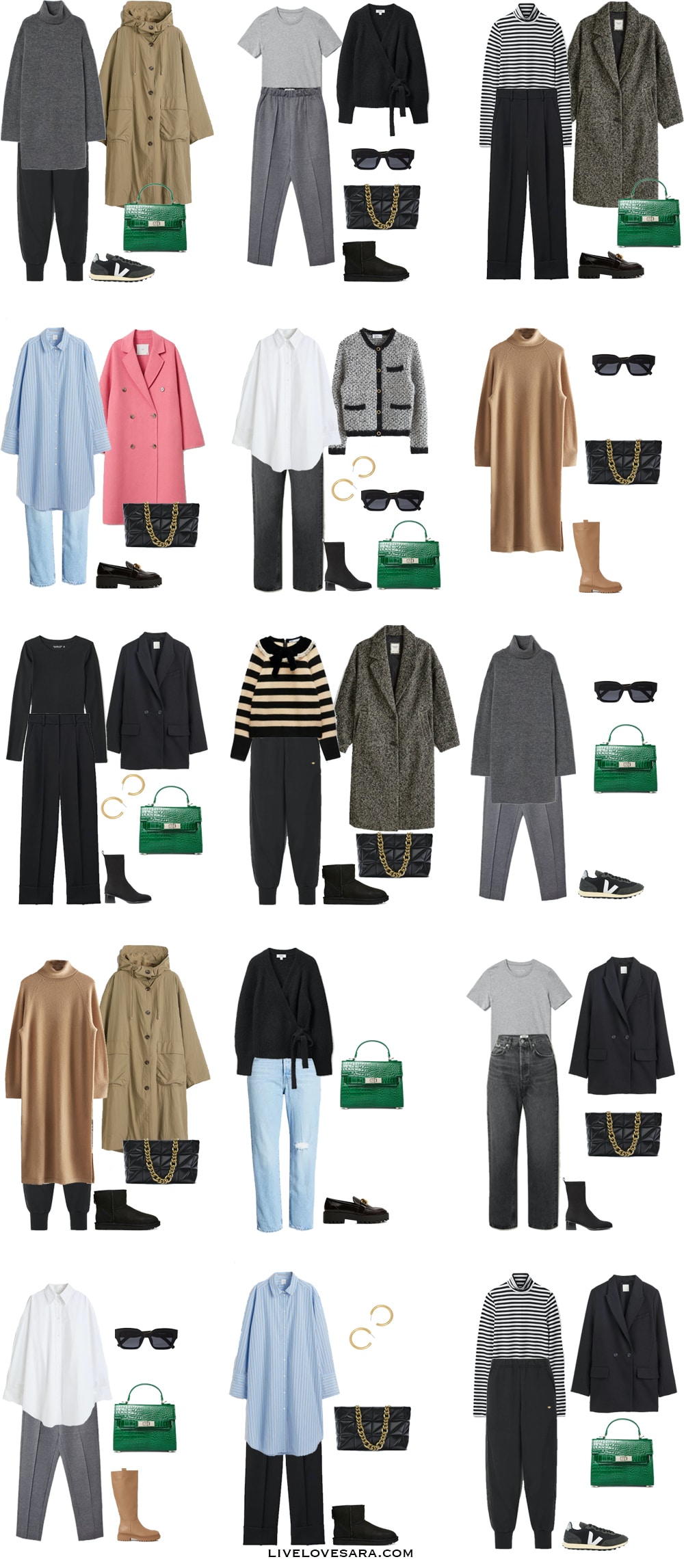 Casual Winter Outfits for Women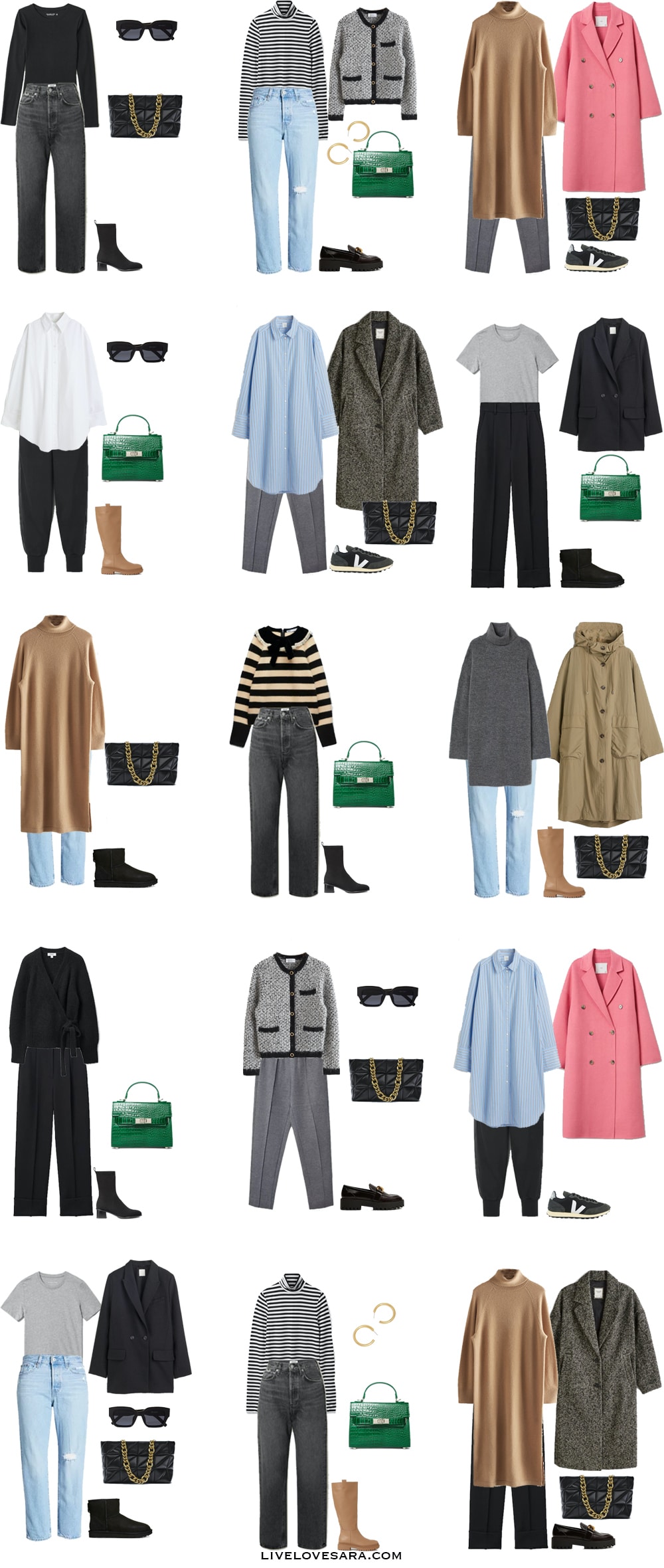 Grey T-shirt | Striped Turtleneck | Black Bodysuit | White Button-up | Oversized Blue Button-up | Grey Oversized Sweater | Black Wrap Sweater | Striped Sweater | Grey Cardigan | Black Blazer | Blue Jeans | Grey Jeans | Black Trousers | Grey Casual Trousers | Black Joggers | Camel Sweater Dress | Pink Coat | Grey Coat | Tan Oversized Jacket | Hoop Earrings | Black Sunglasses | Green Purse | Black Tote | Tan High Boots | Black Sock Boots | Black Ugg Minis | Burgundy Loafers | Black Vejas

You might also like:
How to Build an Edgy Capsule Wardrobe 2022
How to Build a Work Capsule Wardrobe Winter 2022
How to Build a Work From Home Capsule Wardrobe on a Budget Winter 2022
How to Build a Capsule Wardrobe on a Budget Winter 2022
How to Build a Winter Capsule Wardrobe 2022
SHOP THE UK LINKS


This post contains affiliate links. By using my links to shop I may receive a small commission (at no cost to you). Thanks for supporting what I do