Winter Capsule Wardrobe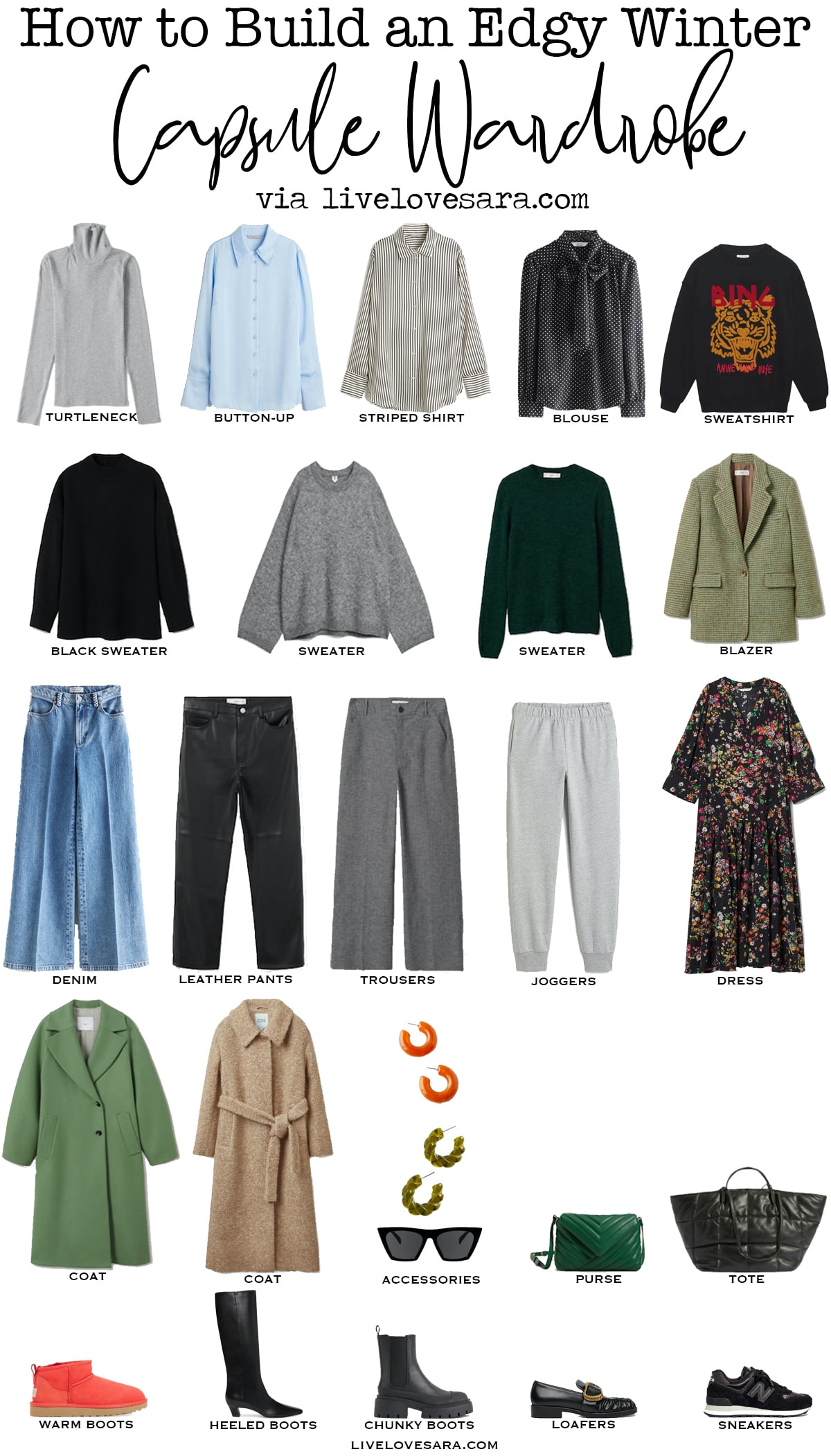 Turtleneck | Button-up | Striped Shirt | Blouse | Sweatshirt | Black Sweater | Grey Sweater | Green Sweater | Blazer | Denim | Leather Pants | Trousers | Joggers | Dress | Green Coat | Tan Coat | Orange Earrings | Green Earrings | Sunglasses | Green Purse | Tote | Uggs | Heeled Boots | Chunky Boots | Loafers | Sneakers

Due to the grey weather blahs, I am feeling a little more colourful again this week with an Edgy capsule wardrobe. It is also making me want to dig deep into the depths of my wardrobe and pull out everything I have to inventory it, instead of just grabbing the easiest things at the front of the closet every day.
This will involve switching a couple of shelves around, which is my plan over the next couple of days.
I put together this edgy capsule wardrobe to also help me breathe some new life into my own wardrobe.
Fun fact, according to my Google Analytics, many of you find me by searching "capsule wardrobe blog". That makes me happy.
Another fun fact. I don't consider a minimalist wardrobe as a wardrobe full of neutrals, like many people perceive it. To me, a minimalist wardrobe is having a small collection of clothing that reflects your style.
Minimalist doesn't mean bland, it means really knowing your style and having a very well curated capsule wardrobe that reflects that.
Anyway, back to business.
When I start playing around with colours, textures, and patterns every time I put together my building a capsule wardrobe posts, it inspires me to do the same within my own closet.
Sometimes it involves buying a couple of new (or used) things to act as wardrobe refreshers, to get excited about getting dressed again.
Especially when the world is in crisis mode, and all I want is to wear pyjamas every day and hide.
As part of the wardrobe refreshers, I am really drawn to the earrings that I included in this post.
I have favourited about 50 pairs of vintage Bakelite earrings on Etsy, but I find that people always want an exorbitant price for shipping something so small.
Shipping to Canada is often higher than the cost of the earrings, which has been preventing me from taking the plunge.
My hopes are to find a pair at Value Village, but in the meantime, these earrings have that same retro yet edgy vibe that I am looking to add to my winter capsule wardrobe and are priced well.
When creating a capsule wardrobe you always want to start with the type of style you are trying to channel.
Over the years I have noticed that women, especially after they have children, really lose their identity.
This trickles down into so many aspects of their life, but because I am in fashion, I know how easy it is to lose your style.
And because I have also experienced it myself, I know how hard it is to find it again.
This is why when you take the leap to create a capsule wardrobe it is so important to find your "thing".
Your "thing" can be anything from being Goth, to uber preppy.
Maybe your thing is to always wear black, but pair it with colourful accessories and shoes.
Today, I am focusing on how to dress edgy…or at least a little edgy.
That is the style that I like, and I enjoy wearing, and I went with that.
Next, I figured out a colour palette.
I decided that the colour I wanted to add was shades of green, with a few sprinkles of other colours and prints to tie it all together.
I want to note that since the Uggs are the brightest thing in this winter capsule wardrobe, that yes they are back. The early aughts style has returned and Uggs are at the forefront.
Although this time around we are doing the Ugg mini. I recently bought a black pair that you can see me wearing here.
They are comfortable, warm, and these add the perfect amount of edgy casual to your look.
It's crazt how fast the trends are cycling through. At this rate we'll have to go back way further to get something different.
The middle ages haven't been done in a while…
Now on to outfits.
When planning the edgy outfits I focused on colour and pattern mixing with a polka dot blouse, stripe shirt, green houndstooth blazer, a floral dress, a green coat, and some fun shoes.
Then I brought in the basics and neutral capsule wardrobe pieces to help balance it out so that it is totally effortless to make outfits.
You should be able to mix and match any piece in here to get an outfit. This takes away a lot of the thought process of dressing, which is an important aspect when building a capsule wardrobe.
By making everything work together, you know that you can reach in and grab anything and never have to worry whether you can make an outfit with it.
A lot of time people think of edgy as black and greys, and leather. Something chic and so effortlessly cool.
But edgy can also involve bold colour combos, standout pieces, or things that people would never think of pairing.
Don't be scared of colour.
Don't be scared of wearing something that you think that you can't pull off.
Anyone can pull off anything with the right confidence.
It's really boring right now, so take this time to dust off things that you have been saving for special occasions, items that you don't know how to wear, pieces that you are scared to wear…
And just wear them.
Have fun with your wardrobe. You will be amazed how freeing it feels, and how confident it will make you once you nail down who you are.
There is no time like the present.
Stay safe.
Capsule Wardrobe Women Outfits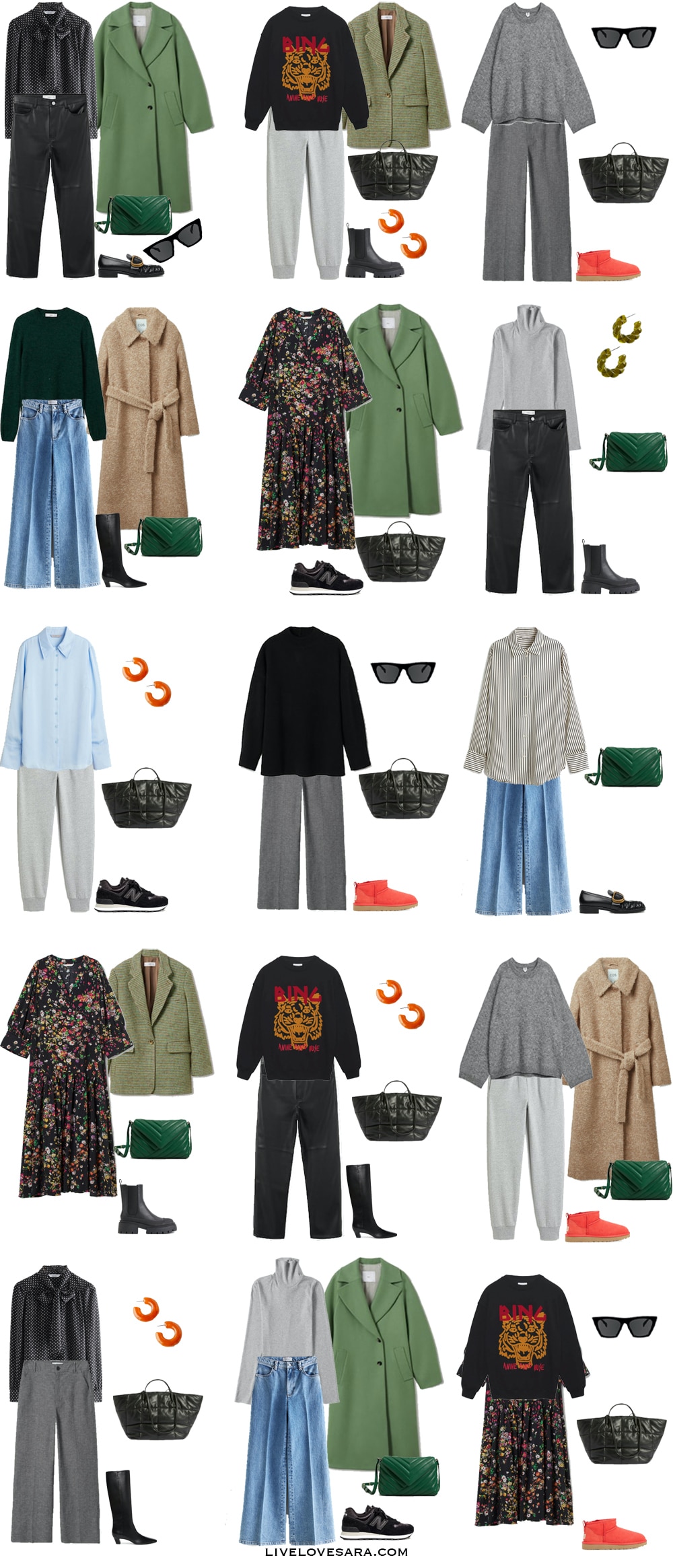 Edgy Capsule Clothing Outfits
Turtleneck | Button-up | Striped Shirt | Blouse | Sweatshirt | Black Sweater | Grey Sweater | Green Sweater | Blazer | Denim | Leather Pants | Trousers | Joggers | Dress | Green Coat | Tan Coat | Orange Earrings | Green Earrings | Green Purse | Tote | Uggs | Heeled Boots | Chunky Boots | Loafers | Sneakers

You might also like:
How to Build a Work Capsule Wardrobe Winter 2022
How to Build a Work From Home Capsule Wardrobe on a Budget Winter 2022
How to Build a Capsule Wardrobe on a Budget Winter 2022
How to Build a Winter Capsule Wardrobe 2022
How to Dress an Hourglass Body Shape and Capsule Wardrobe
How to Dress an Apple Shaped Body Capsule Wardrobe
How to Dress an Inverted Triangle Body Shape Capsule Wardrobe
How to Dress a Triangle Body Shape Capsule Wardrobe
How to Dress a Rectangle Body Shape
SHOP THE UK LINKS


This post contains affiliate links. By using my links to shop I may receive a small commission (at no cost to you). Thanks for supporting what I do