Hourglass Body Capsule Wardrobe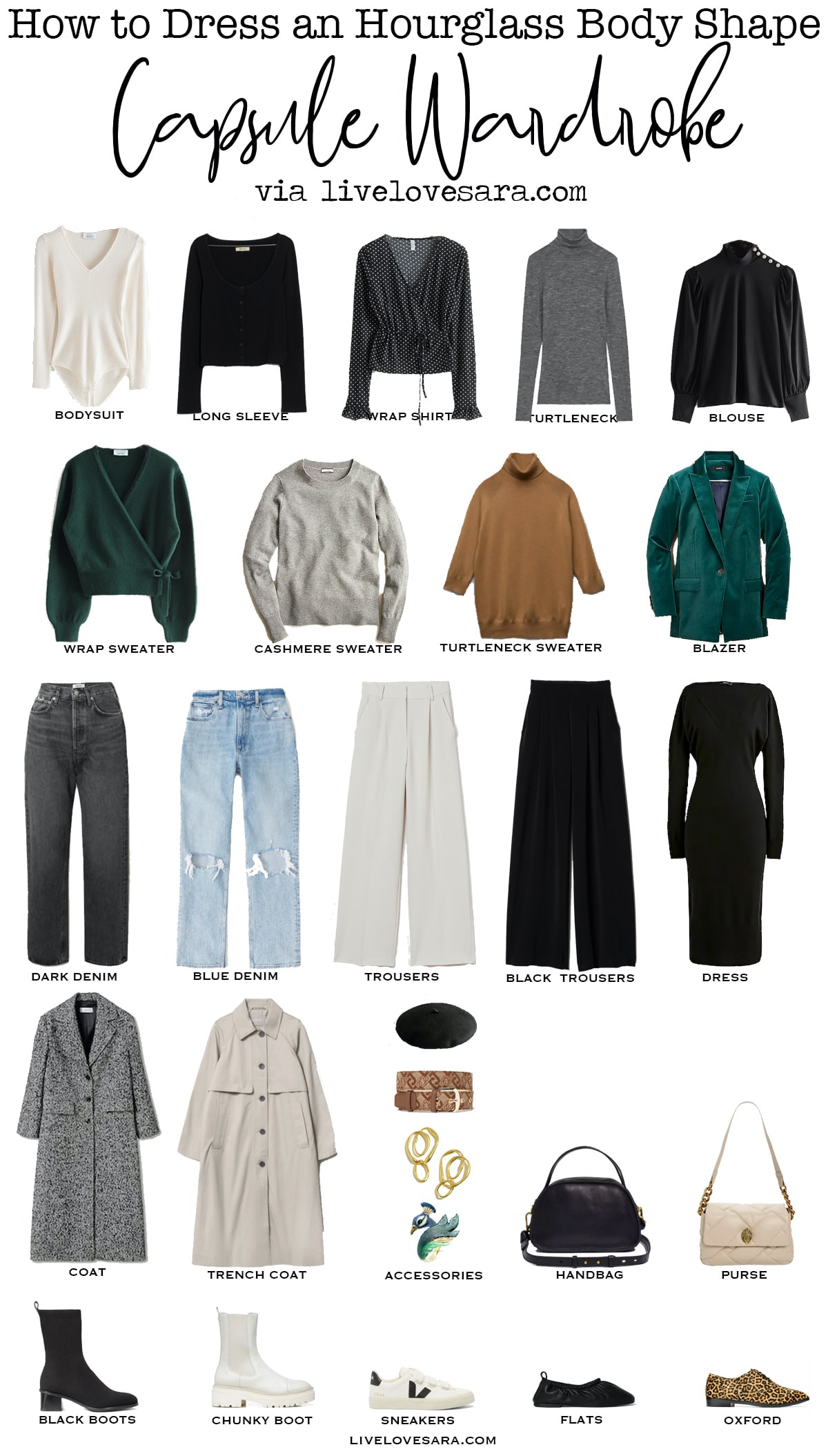 Bodysuit | Long Sleeve | Wrap Shirt | Turtleneck | Blouse | Wrap Sweater | Cashmere Sweater | Turtleneck Sweater | Blazer | Dark Denim | Blue Denim | Trousers | Black Trousers | Dress | Coat | Trench Coat | Beret | Belt | Earrings | Ring | Handbag | Purse | Black Boots | Chunky Boots | Sneakers | Flats | Oxford

An hourglass body shape is synonymous with curvy feminine idealism. It is the shape that is deemed most "womanly" throughout a lot of history, and it is also the body shape that is most naturally balanced.
With the other body shapes aside from the rectangle, we dressed to balance the silhouette. With the hourglass figure, we have a body that goes out-in-out in relatively balanced measurements to give the appearance of an hourglass.
Our goal with this shape isn't to balance the upper and lower sections, but to maintain its already balanced proportions, and enhance the hourglass figure.
I have mentioned this in every body shape post, but I will repeat it in case this is the only one you are reading. You can be more than one body shape at a time. One may be the dominant shape, and you may have characteristics of another shape that you need to take into consideration.
For example, the hourglass figure that gains extra weight in the bottom and hip area may start to have a pear body shape lean. This means that you are an hourglass shape with a pear lean or secondary shape (also known as triangle shape).
Characteristics of an Hourglass Body Shape
A narrow, well defined waist
Round butt and hips
Curvier, shapely thighs
Bust and hips have the same width measurements (or pretty damn close)
Shoulders tend to be softer and more rounded
Weight gain tends to distribute evenly bewteen the upper and lower body.
Bust and hips can be large
Tips for Dressing an Hourglass Figure
I feel like this might be the most important part, but get a good bra and fitting. It will make all the difference.
Define that waist
We want to show off the hourglass shape not mask it
Avoid boxy cuts because it will hide your waist
No shapelessness or loose fitting clothing
If you add volume to the top you must add it to the bottom to keep it balanced
Simple is best, we don't need anythign drawing the eye away from the figure
Belts are good for defining the waist
Dark tops will make the waist look smaller
Tops for the Hourglass Figure
Let's think about the neckline first. In order to maintain a balanced silhouette avoid wide necklines. They will widen the shoulders making you look broader on the top than the bottom.
Also avoid neckline clutter like frills, lace, big collars, and bows or ties.
Keep it simple with V-necks, scoops, square, sweetheart necklines, and a sexy off shoulder that looks fabulous on your rounded shoulders and bust area.
Sleeves are also important factors in balancing a body shape. We want to choose fitted over flouncy. No extra volume is needed in this area so sleeveless, cap sleeve, 3/4 length, fitted, and bishop sleeves are all good choices.
A Bishop sleeve is a long loose sleeve that has a fitted or elastic cuff so that the fabric softly billows. It's a very feminine sleeve style.
Stick with fitted t-shirts versus boxy cuts.
Styles that nip in at the waist to draw attention to your petite waistline like wrap shirts or belted styles.
To play down hips opt for styles that extend past your waist and hit the hip area.
If you choose tops with embellishments or volume, then make sure to mirror that look with some volume on your lower body otherwise you will look top-heavy.
If you have a smaller bust then a little embellishment around the bustline can help enhance that.
Stick with styles there are a fitted wrap, belted, or have a peplum.
Fit the boobs and elongating the waist is the goal.
Sweaters for Hourglass Figures
This is where you may struggle with volume since most of us love a good oversized sweater. Predominantly you need to gravitate towards lighter, more fitted knits.
That doesn't mean that you can't wear an oversized sweater if you want. It will just hide your hourglass shape but that is okay, just balance it with a looser, more oversized bottom like wide-leg trousers.
A light form-fitting sweater is a wardrobe staple for you since they will hug your curves, show off your waist, and can be easily tucked into any bottom.
Jackets and Coats for the Hourglass Figure
This also includes blazers. Look for a style that follows the shape of your body, so a style that goes in at the waist versus a boxier, oversized fit.
A well-structured blazer that nips the waist and hits just above the hips are going to accentuate your body. Choose single breasted over double-breasted styles to keep the bulk and clutter down.
Belted styles are always a good choice because no matter how voluminous the coat or jacket is, once you belt it, it will cinch in at all the right places.
Fitted leather jackets will always look great, as well as trenches.
Keep them simple, but small details like shoulder puffs or epaulettes will be a nice touch. If you have details at the top it is important to try to balance that below.
Trousers for the Hourglass Figure (and skirts for hourglass figure)
Trousers should keep everything in balance so pick the shape of your trousers to go with your top. Wide leg, or loose styles that hang from the hips to the floor are some of the best styles.
Anything that flares, or have a bootcut also give that visual curve to the lower half. We like a mid to high waist to show off that waistline you have. Anything lower will make the hips look wide.
Avoid too much extra stuff around the top of the trousers, keep it simple. A nice belt is always a great accessory to add though.
For skirts first and foremost the pencil skirt. Hourglass body types are meant for pencil skirts. We want a style that accentuates the waist and curves without adding a lot of bulk.
Take a trip to the 1950s and embrace a voluminous skirt since they will show off your small waist nicely. Knee length or longer are the best lengths for you since you want everything to go over the hips then hang versus stopping right below the hip area.
We don't want lots of extras like pockets, pleats, ruffles, tiers. Keep them embellishment free. You want the skirt to hit the waist not below.
Dresses for the Hourglass Figure
Hourglass women always look great in dresses. Remember to choose styles that accentuate the waist.
Styles that go in at the waistline, are belted or have a waist panel. Wrap dresses look phenomenal. Something that goes in at the waist and then goes our to a more voluminous bottom is flattering.
Avoid straight-line dresses or boxiness. The length should hit at or below the knee.
You can make yourself more pinup girl curvy by adding more detailing like a ruffled collar balanced with a voluminous skirt. To downplay the curve you can choose styles in darker hues, or with patterns in a vertical stripe.
The best dresses for hourglass figures are wrap style, peplum (with a fitted bottom), shift dresses, panelled waist, and bias-cut dresses.
Jeans for the Hourglass Figure
Jeans should follow the same guidelines as trousers. We want it to coordinate and to balance with the upper part of your outfit/body.
Mid to high rise will emphasize the waist and elongate the body. Anything shorter will widen your hips and make your legs appear shorter.
The best jeans for an hourglass figure are wide leg, straight leg, loose fit, and even slightly tapered.
Accessories and Shoes for the Hourglass Figure
You can wear any shoe, but if you really want to play up your curves, then opt for a shoe with a more rounded toe. Ankle straps are great for showing off a slender ankle but can make you appear shorter.
Any height of heel will lengthen your legs, and play up your shape.
Be careful if wearing a scarf as an accessory since it can add unwanted bulk to your upper half. Choose a small square style that can be tied delicately around your neck.
Bags should wither hit at your slim waistline, or be carried in the hand. A shoulder bag that ends at the bust or hip will widen the area.
Belts are a fantastic accessory for you. You can use them with everything, so have a few different styles to try out.
Necklaces are a good way to enhance the bustline and are a good way to add some detailing when you are wearing a simple top (like over a slim fit turtleneck).
Remember that rules are meant to be broken.
Fashion is supposed to be fun.
And this is just meant as a guideline if you are lost and need some help dressing your body type.
Stay safe.
Hourglass Figure Clothes

Hourglass Figure Outfits

Bodysuit | Long Sleeve | Wrap Shirt | Turtleneck | Blouse | Wrap Sweater | Cashmere Sweater | Turtleneck Sweater | Blazer | Dark Denim | Blue Denim | Trousers | Black Trousers | Dress | Coat | Trench Coat | Beret | Belt | Earrings | Ring | Handbag | Purse | Black Boots | Chunky Boots | Sneakers | Flats | Oxford

You might also like:
How to Dress an Apple Shaped Body Capsule Wardrobe
How to Dress an Inverted Triangle Body Shape Capsule Wardrobe
How to Dress a Triangle Body Shape Capsule Wardrobe
How to Dress a Rectangle Body Shape

SHOP THE UK LINKS


I am now offering digital styling guides, and personal styling services. If you are looking for some styling help that is inexpensive and easy, check out my digital styling guides. If you want some one-on-one help shopping, building and editing your wardrobe, or packing for a trip, I can also assist. Check out all the styling services that I offer here.
This post contains affiliate links. By using my links to shop I may receive a small commission (at no cost to you). Thanks for supporting what I do
This post contains affiliate links. By using my links to shop I may receive a small commission (at no cost to you). Thanks for supporting what I do