The Inverted Triangle Body Shape Capsule Wardrobe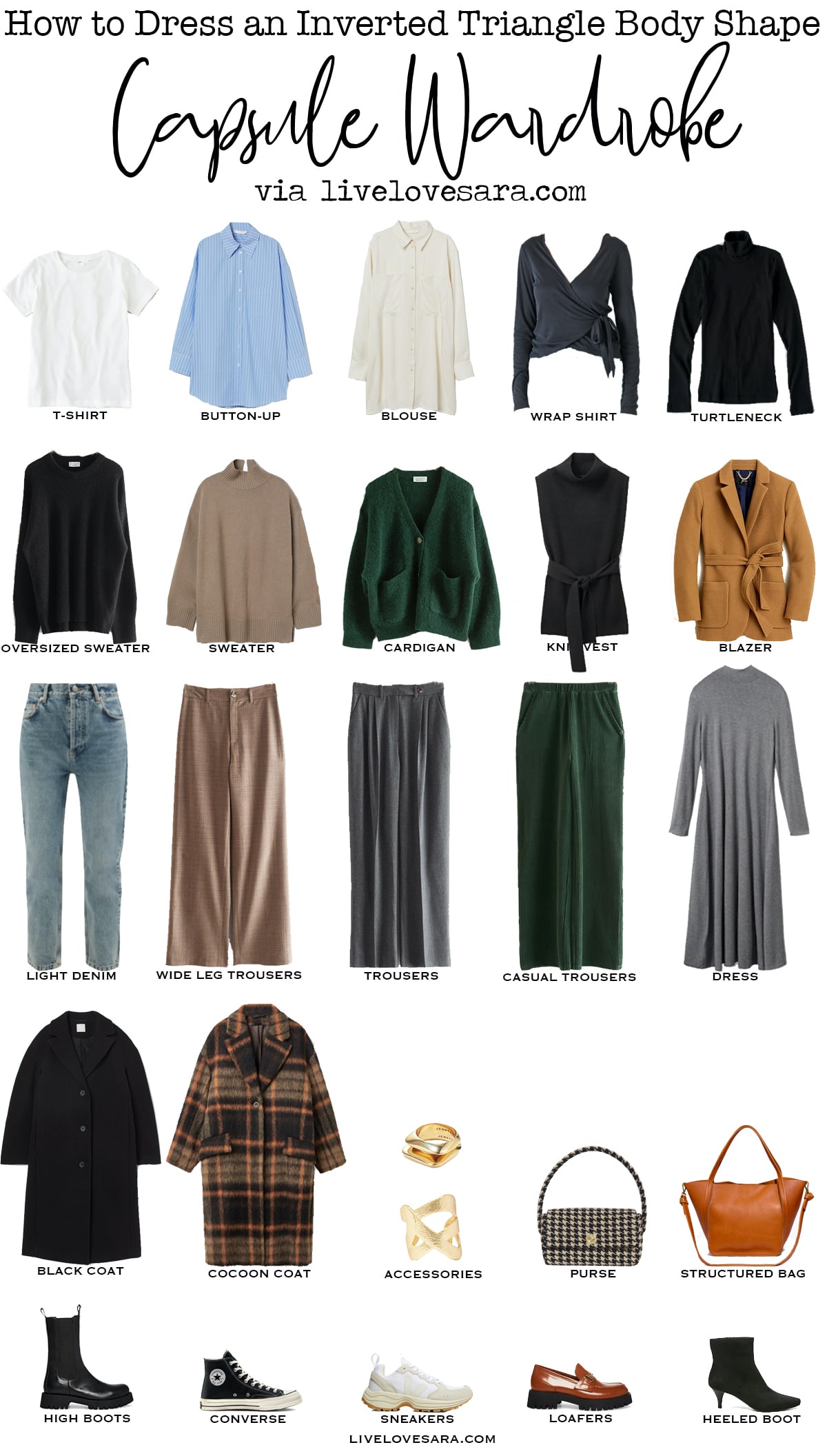 T-shirt | Button-Up | Blouse | Wrap Shirt | Turtleneck | Oversized Sweater | Sweater | Cardigan | Sweater Vest | Blazer | Light Denim | Wide Leg Trousers | Trousers | Casual Trousers | Dress | Black Coat | Cocoon Coat | Ring | Bracelet | Purse | Structured Bag | High Boots | Converse | Sneakers | Loafers | Heeled Boot |

The inverted triangle body shape is the focus of this week's post. The inverted triangle is basically the opposite of last weeks pear body shape/triangle body shape post. This is considered the most athletic looking body shape and it is often seen on athletes like gymnasts and swimmers.
Characteristics of the Inverted Triangle Body Shape
Shoulders are wider than the hips
Often shoulders are square or strong looking
The bust is often large, but can range anywhere from small to large
Hips are narrow with little to no waist definition.
Flatter butt
You likely have great legs
Usually wear a larger size on top than bottom
Many models are often this shape (along with the rectangle) and it is seen as quite desirable. This is the body shape of Angeline Jolie. If you are looking for how to dress an inverted triangle body shape then this post may help.
Keep in mind that while the Inverted triangle body type might be your main shape, you may also have characteristics of other body shapes that may influence some of your clothing choices.
This body shape is considered top-heavy, if you have heard that term before. That means that the upper portion of the body is wider in comparison to the bottom and you may appear unbalanced.
The key to dressing the inverted triangle is to focus on balancing the broad shoulders with the narrow hips.
This is done by picking clothes that add volume, curves, or make it visually wider. To help with that we want to create a more defined waist which will give the illusion of a larger waist to hip ratio.
While we work on adding curves to the bottom half we also have to make sure that we are keeping the top half, toned down and more minimal. We don't want to add volume in areas that already have some, we want to detract the focus from there and bring it downwards.
Tips for Dressing an Inverted Triangle Body Shape
Keep the shoulder area softened. It is already broad, and wider across the back. We want to minimize that by using more lightweight/flowy fabrics.
Avoid necklines that are too wide. It will just emphasize the area.
No shoulder pads. Your shoulders are already the stars.
Deter from too much upper body clutter. Keep it minimal. No bold patterns, accessory scarves (weather scarves are fine), no large necklaces, big brooches, large earrings. Keep the jewellery on the daintier side.
No horizontal stripes on the upper half. Verical is okay because they create long lines.
Tops for the Inverted Triangle Body Shape
The first step is to determine which necklines are the most flattering. As a general rule, you should stay away from wide-cut necklines as they will widen your shoulder area.
No boatneck, off shoulder, square, or Sabrina necklines since are wide.
Stick with a scoop, deep v, and any other deep and narrow neckline. The idea is to keep the area slim and long which we can do with the right type of neckline.
One-shoulder tops (and dresses) look fantastic on this shape so keep it in mind if you are looking for a dressier option.
Sleeves? In order to keep the upper body looking slim, the sleeve choices make a difference too.
When shopping for short sleeves keep them tight, fitted, and/or tapered. Anything poofy or flowy will just draw all the attention to the shoulders.
With long sleeves, loose is better than fitted.
We want to emphasize the waist and lessen the upper body and broad shoulders. Wrap shirts or peplums styles are great options.
Tops should extend past the hip so avoid cropped since they will make you look very top-heavy due to their boxiness.
Sweaters for the Inverted Triangle Body Shape
Large, chunky knits are less desirable than finer knit, straight fitting sweaters. Chunky necklines and upper body embellishments should be avoided.
If you like chunky knits then keep them to the darker colours.
Knitwear will add volume regardless of the knit gauge so keep it simple in flat knits. Slim turtlenecks, crew neck, or v-neck sweaters that either are tucked into a waist-defining bottom or fall below the hipline.
You can also create volume with a sweater by doing partial or half tuck. Lighter knits tuck in easier and will create some volume around the lower portion of your body.
Coats and Jackets for the Inverted Triangle Body Shape
Double-breasted styles add too much bulk so stick with single-breasted when possible. Blazers look great when they have a tailored defined waist, but you can also pull off a more oversized longer style as long as you keep it open.
It will cause a straight line from the widest point of the shoulders all the way down to where the blazer stops causing it to visually widen the hip and waist area balancing the look. Then your legs become the stars.
Darker colours are usually best, but as long as the cut is right you should be okay.
A-line or cocoon style jackets and coats are also great for widening the lower half and balancing your shape.
Keep away from large collars/lapels or breast pockets. Keep the embellishments to the lower half.
All coats and jackets should hit below the hipline and flare slightly at the bottom. Belted styles are also great as they give you a waistline and the gathered waist will flare out to volume for the bottom half which is what we are looking for.
Bottoms for the Inverted Triangle Body Shape
We want to create both volume as well as a great leg line for the inverted triangle body type. Keeping your bottoms less fitted and more loose or relaxed will help to achieve that.
Wide leg, palazzo, flare style are all good for visually widening. Straight leg or cigarette leg style pants are also good choices.
Don't wear fitted trousers unless it is fitted in the waist and butt and flow out into a wider leg.
Any kind of pleating, pockets, creases, belt loops will all add some volume to the lower half. Colours are better kept lighter than on top, but a head to toe tonal look is also very balancing to a silhouette.
Skirts for the inverted body type go from one extreme to another and can either be very short to long, as long as they are flared out or flowy. Avoid tight fitted skirts.
We want to add volume to the hips so look for styles that flare outwards. A-line cuts, tulip, ballerina, straight cuts are good options. As well as more details that come with pleats, tiers, and panels.
Dresses for the Inverted Triangle Body Shape
This body shape needs dresses that flare out from the waist and hips because this will add volume and cause a balancing of the shoulders.
A simple dress like a shift dress, or a-line looks great with their straight lines.
Colour blocking or pattern blocking with more visual interest on the bottom half of a dress will add volume and draw the eyes down.
Look for defined waists that go in, or are belted to bring an hourglass look into play. We want to make sure to stay away from large wide shoulders, shoulder padding, epaulettes, or any other type of decorations around the upper half of the dress.
Strapless dresses or asymmetrical one-shoulder dresses are beautiful choices for formalwear.
Jeans for the Inverted Triangle Body Shape
Jeans for inverted body shapes follow the same rules as other bottoms listed above. We want to add volume to the bottom half so we are first off avoiding skinny jeans. They don't do anything positive for this body shape.
This shape looks much better in straight leg, mid-high rise fit, relaxed boyfriend styles, bootleg, flare, and wide leg. Stright leg ankle-skimming jeans also are a great alternative to skinnies.
Keep jeans lighter wash with pockets, distressing, or any other embellishments to bring the eyes down.
Shoes and Accessories for the Inverted Triangle Body Shape
While you can wear any kind of accessory, the body needs to be broken into upper and lower halves with different rules for each.
Keep the upper half lightweight, simple, and dainty. Bring the heavier, chunkier pieces lower down like great belts, big bracelets and rings since they hang around the waistline.
Scarves are too much unless they are tied or woven through the hair.
Handbags do well to have crossbodies that hit the hip or structured handbags. Try not to have large purses and totes over your shoulder. keep those small and anything larger should be held in your hand or hanging lower down your body.
As for shoes, anything that draws the eyes down. It is a good way to play with some bright colours or patterns. Block heels, chunky soles, or slouchy boots all bring the volume down and help balance your figure.
There isn't any type of shoe that will look terrible on you though so go for it and remember to have fun. That is the point of fashion.
Stay safe.
Inverted Triangle Bodyshape Outfits

Clothes for Inverted Triangle Body Shape

T-shirt | Button-Up | Blouse | Wrap Shirt | Turtleneck | Oversized Sweater | Sweater | Cardigan | Sweater Vest | Blazer | Light Denim | Wide Leg Trousers | Trousers | Casual Trousers | Dress | Black Coat | Cocoon Coat | Ring | Bracelet | Purse | Structured Bag | High Boots | Converse | Sneakers | Loafers | Heeled Boot |

You might also like:
How to Dress a Triangle Body Shape Capsule Wardrobe
How to Dress a Rectangle Body Shape
How to Dress an Apple Body Shape Capsule Wardrobe
How to Dress an Hourglass Body Shape Capsule Wardrobe
SHOP THE UK LINKS


I am now offering digital styling guides, and personal styling services. If you are looking for some styling help that is inexpensive and easy, check out my digital styling guides. If you want some one-on-one help shopping, building and editing your wardrobe, or packing for a trip, I can also assist. Check out all the styling services that I offer here.
This post contains affiliate links. By using my links to shop I may receive a small commission (at no cost to you). Thanks for supporting what I do
This post contains affiliate links. By using my links to shop I may receive a small commission (at no cost to you). Thanks for supporting what I do