Budget Capsule Wardrobe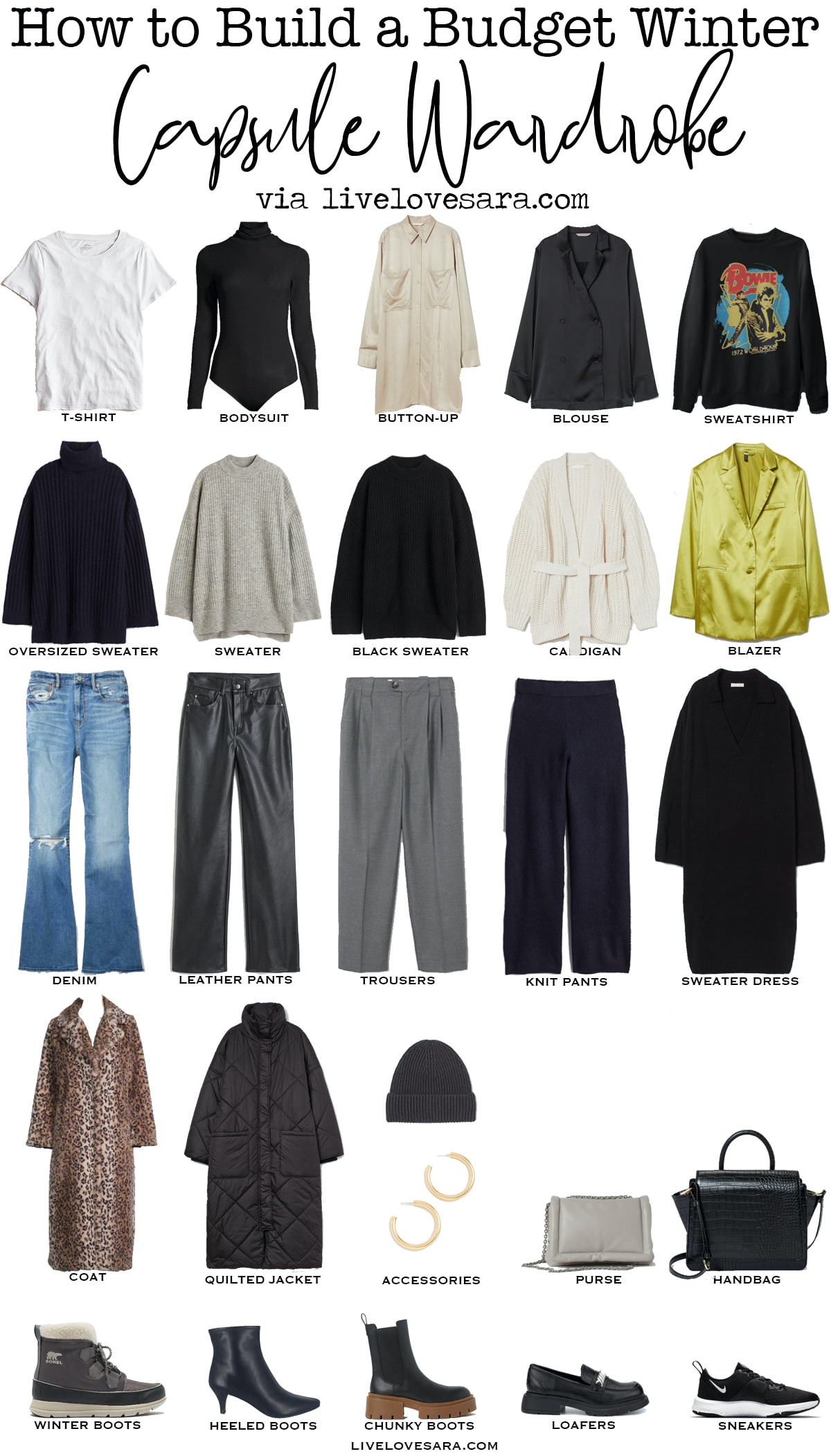 T-shirt | Bodysuit | Button-up | Blouse | Sweatshirt | Oversized Sweater | Grey Sweater | Black Sweater | Cardigan | Blazer | Denim | Leather Pants | Trousers | Knit Pants | Sweater Dress | Coat | Quilted Jacket | Knit Hat | Earrings | Purse | Handbag | Winter Boots | Heeled Boots | Chunky Boots | Loafers | Sneakers

This time of year is tough because the holidays always tend to be a financially tight time for most people, even if you plan way ahead. It is also the time of year where you are expected to spend the most.
This means that there is little to no money left in the budget for refreshing your winter wardrobe, and winter tends to be the most expensive season to dress for.
Budget isn't the dirty or shameful word that many people feel it is.
It just means keeping things financially within your means which is both smart and responsible.
This amount is ebbs and flows and will be completely different for everyone.
For clothes shopping, there seems to be the stigma that lower priced items can't make you look fashionable and that you need to spend a fortune in order to look chic.
We will stop right there to say that this train of thought is bullshit and you can look chic at any income level with very little work.
First and foremost, you can find some real gems at lower-priced, fast-fashion retailers. Don't let anyone tell you otherwise.
You can also build your entire wardrobe from secondhand shopping with some time and dedication…I say dedication because it really takes patience to go through everything to find a handful of items that you feel encapsulate your style and tastes.
I like to recommend that you stick with a more neutral palette. I generally go with the belief that "when in doubt, buy it in black" when it comes to more budget-friendly items because a darker colour can usually make anything look more elevated and chic, and it is harder to notice wear on darker items.
That's not always the case, but it is often one that I find works best for me.
I stuck with neutrals here but then added one bold blazer. I think every wardrobe needs one of those eye-catching pieces.
Especially in winter when you can feel a little drab.
I want to keep this winter capsule wardrobe chic but casual. Realistic for day to day life, but allowing you to feel put together.
It should cover most situations including some work, and work from home outfits.
Instead of a jogger set which has been the uniform of the last two years, I opted for a knit set which is much more elevated but yet retains the relaxed vibe.
It is a navy blue oversized turtleneck sweater that can also be worn with every single other bottom in this collection. Paired with navy blue wide-leg knit pants.
Loungewear just got a new makeover. Throw on some earrings and a little makeup and it is 100% Zoom worthy. Pair it with sneakers and an oversized jacket and you have a beyond comfortable running errands vibe.
For the denim, I included a pair of flares which is a very universally flattering style. I have them and love them, and you can see them on me here, and here.
Can you really build a capsule wardrobe on a budget?
Absolutely you can. Capsules are more about planning and identifying and unlearning the habits of impulse shopping.
Would it be nice to have unlimited income to fill your wardrobe with anything and everything you want?
Yes? Kind of?
I mean, I would love to be able to just buy whatever catches my eye without any financial worry, but honestly, that would also be so overwhelming.
I can't imagine having a closet that was so expansive that you didn't have to rewear your clothes.
I love rewearing. I think that besides being what a wardrobe is all about, it also is what really gives you your individual style.
It forces you to get creative in coming up with ways to rewear items and this is where real style comes out.
Wearing something new every day is so uninspiring. I like people who make me think outside the box on how to wear what I already own.
1. Take inventory of what you already own and love.
Start with what you have and love. Set aside anything that doesn't make you feel your best when you wear them. I would rather have 5 items that I feel fantastic in than 2 items that make me feel meh.
Don't panic if you end up with barely anything left. That just means that your wardrobe wasn't working for you and you are going to take the steps to remedy that.
Women statically wear 20% of their wardrobe, 80% of the time so what may feel like a very tiny wardrobe after clearing things out, might actually be what you have been wearing all along with all the background noise removed.
It is a lot easier to see what you have when you remove things that are just making up space.
You want cohesiveness. You want to be able to grab and top or sweater and wear it with any bottom you own. Mixing and matching is what makes a capsule wardrobe effective.
2. Plan. Palette? Numbers? Pieces?
This is where you make you make a game plan.
Decide on a colour palette. It's okay to veer away from this though because you may miss out on the perfect pieces. If you decided that you wanted a grey coat, but found a vintage secondhand cashmere coat in pristine condition that looks fab on you…but it is camel, not grey.
Buy the bloody coat.
Read the universe. It is meant to be. Never pass up a secondhand item that you absolutely love and works for you of you can, because you will regret it forever.
Seriously.
You don't need an exact number of items to have in your wardrobe, just an idea of where you want to be when you are feeling finalized. This will help keep things in perspective.
What are you looking for? What gaps in your wardrobe have been identified, and do you have a gameplay to fill it?
Building a capsule wardrobe isn't something that is completed in a few days. It is an ongoing process so don't rush to fill these gaps.
Wait for the right pieces or you will just end up with a closet full of meh pieces again.
3. What is your budget?
This is where you need to be really honest with yourself.
I am always in the mindset of buying the best quality that you can for your budget. But I also think that saving up to buy more expensive pieces (even if they are secondhand) is also worthwhile and teaches you a great financial lesson.
This step will help you to prioritize your capsule wardrobe shopping list. This way you won't feel like you need to go out and get everything off of your list.
Maybe if you like lists and spreadsheets you can even make one that will help you to spread out the cost of filling these wardrobe holes.
4. Start filling those wardrobe holes.
This step is fun because you get to start the search for the pieces that are going to become part of your final wardrobe.
Shop sales, thrift stores, eBay, Poshmark, Thredup, online consignment shops.
Leave no rocks unturned because if you do that will be the rock that has that magical piece and someone else will buy it because you missed it.
I hate thrift shopping and seeing a fantastic piece in someone else's cart. Often I will visually stalk them to see if they end up ditching or buying it.
Not in a creepy way, but in a "please, please do buy it, I want it" kind of way.
5. Become the professional remixer
This is my favourite step because you get to see the results of your hard work.
Learn your new wardrobe.
Start planning outfits, trying things on. Document and photograph outfits. Pull out those accessories and shoes to get the remix even more detailed.
Find out what works and what doesn't. Learn to hone your style to give you the best version of what you are trying to project out.
Lose the fear and take some risks. This is usually where you get your most creative and come up with the best outfit ideas.
Admit if something isn't working. It's okay to swap things out if it just doesn't vibe with what you are trying to achieve.
Learn the proper care of your items to make them look their best and last you a very long time.
Download apps that help you to document your wardrobe. There are so many out there now and they will really help you to plan out and come up with other outfit ideas.
Stylebook App is one that I have used and liked. And while it might feel. a little outdated it is also really useful in giving you stats about your closet like how many times you have worn something.
That stat really puts things into perspective, especially if you are a person who used the cost per wear formula.
6. Have fun
This is the most important part.
If you are not having fun, then it becomes a burden or something that you dread which is the antithesis of what a casual wardrobe should d bring to your life.
If it is starting to feel overwhelming then you might want to reevaluate and go back to step one because it should make your life easier, not harder.
Stay safe.
Budget Outfit Ideas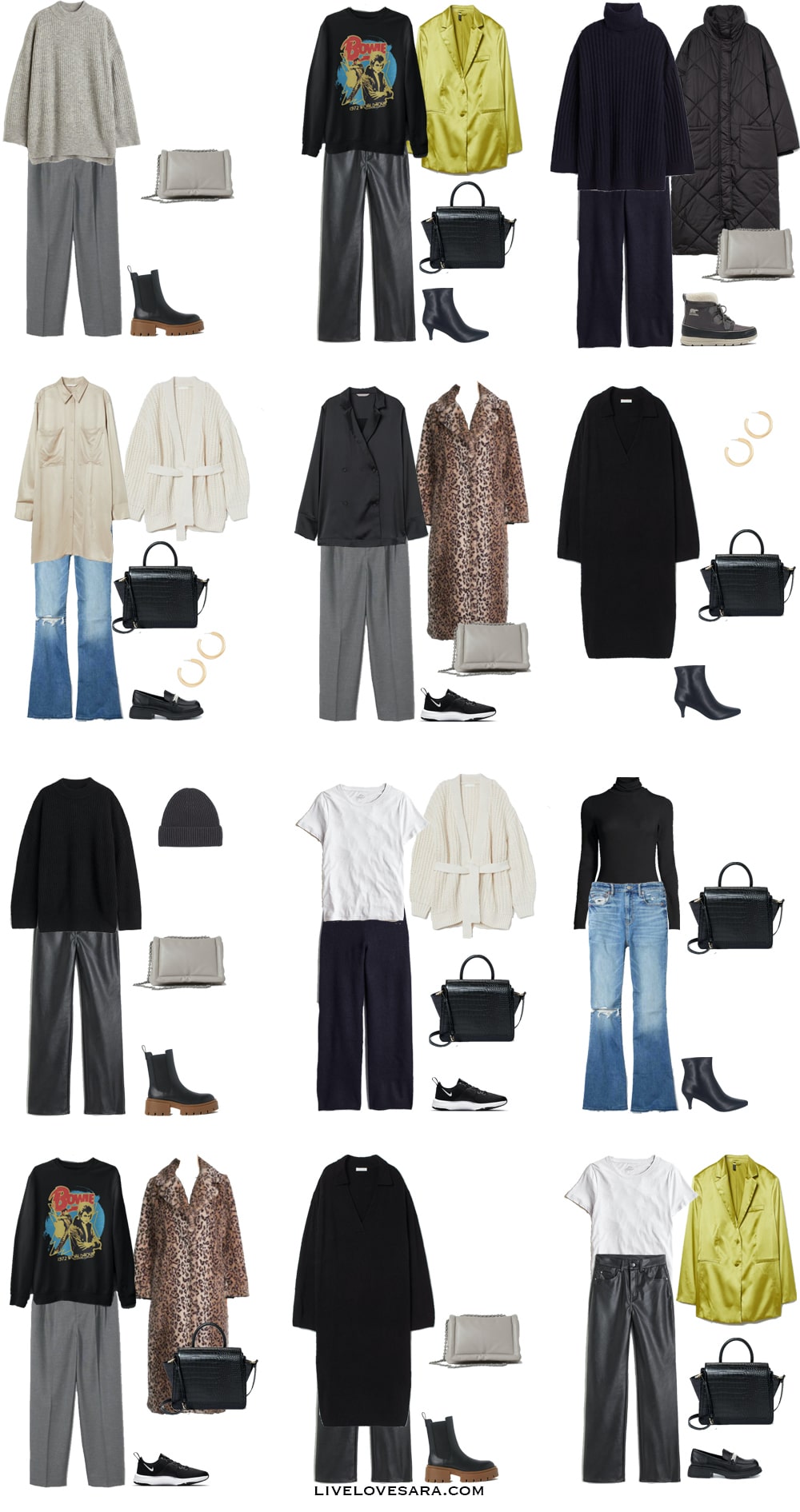 Women's Winter Outfits Ideas
T-shirt | Bodysuit | Button-up | Blouse | Sweatshirt | Oversized Sweater | Grey Sweater | Black Sweater | Cardigan | Blazer | Denim | Leather Pants | Trousers | Knit Pants | Sweater Dress | Coat | Quilted Jacket | Knit Hat | Earrings | Purse | Handbag | Winter Boots | Heeled Boots | Chunky Boots | Loafers | Sneakers

You might also like:
How to Build a Winter Capsule Wardrobe 2022
How to Dress an Hourglass Body Shape and Capsule Wardrobe
How to Dress an Apple Shaped Body Capsule Wardrobe
How to Dress an Inverted Triangle Body Shape Capsule Wardrobe
How to Dress a Triangle Body Shape Capsule Wardrobe
How to Dress a Rectangle Body Shape
SHOP THE UK LINKS


This post contains affiliate links. By using my links to shop I may receive a small commission (at no cost to you). Thanks for supporting what I do