Winter Capsule Wardrobe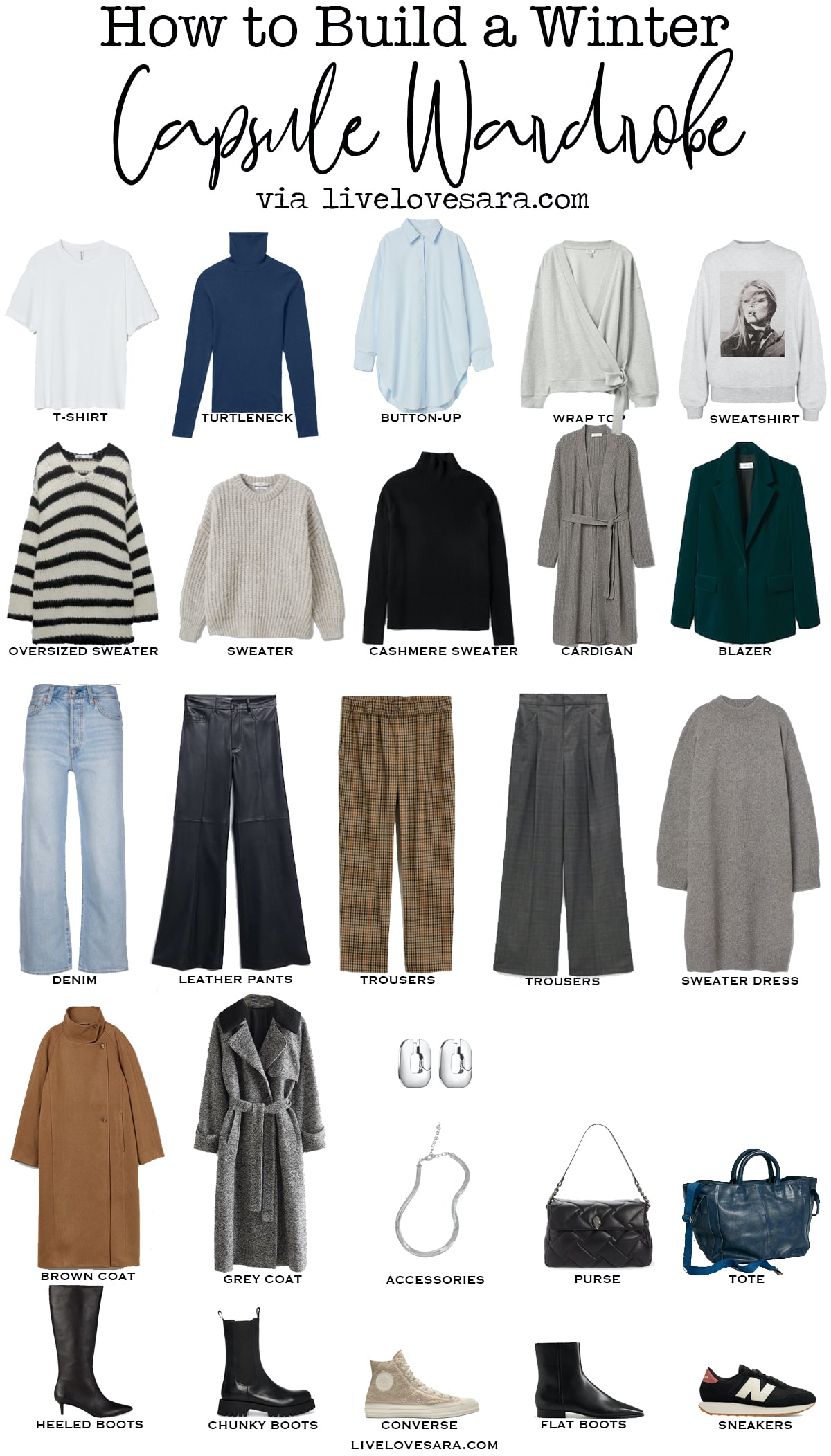 T-shirt | Turtleneck | Button Up | Wrap Shirt | Sweatshirt | Oversized Sweater | Grey Sweater | Cashmere Sweater | Cardigan | Blazer | Denim | Leather Pants | Brown Trousers | Grey Trousers | Sweater Dress | Brown Coat | Grey Coat | Earrings | Necklace | Black Purse | Tote | Heeled Boots | Chunky Sole Boots | Converse | Flat Boots | Sneakers

This is my first winter capsule wardrobe for the season because even though it is technically still autumn, it's the beginning of December, Christmas is creeping faster than I can wrap my head around, and the weather is something different every time I look out the window.
Welcome to winter.
Which most people hate, but I actually really love. Maybe not the stab you in the face ice winds, but when the wind is calm and the day is cold, I truly love it.
My favourites clothes in my wardrobe are all colder weather clothes which thankfully I can wear for most of fall, winter and spring.
Too bad summers are getting longer and hotter.
It's 6 pm as I write this and I have yet to even finish my selections for this capsule wardrobe. I just brewed my second pot of coffee because I think this may be a long night.
My right eye is starting to tic so I should probably dial back the caffeine, but I'm not going to.
In this winter capsule wardrobe I chose some pieces that are favourites from my own wardrobe.
First off the Anine Bing sweatshirt. I have three Anine Bing sweatshirts and this one is my favourite. I love the other two as well, but I find myself grabbing this one over and over as you can see on my Instagram.
It's just so nicely oversized, soft, and goes with everything. It was expensive but the cost per wear is pretty low since I wear it all year long.
Well worth it to me.
I always think about cost per wear when making more expensive purchases.
This turtleneck is fantastic. I have it in black, but now I wish that I bought it in the blue instead because this blue paired with grey, denim, or camel looks incredible.
Wide leg leather pants. Mine are from Zara and are more cropped in length, but this style from Mango is a full length which would be a better fit on anyone taller than 5'4″.
They are so easy to wear, comfortable, and add some edge to everything you pair it with.
A black cashmere turtleneck sweater. I think that this is my most worn sweater of the season so far. What I love about it aside from the softness and the quality, is the cut.
It isn't a fitted sweater, it is boxier. The neck doesn't fold over either it is like an extra tall mock neck.
It is so easy to wear and it does the whole "hair tucking season" very well. It comes in a camel colour as well as dark brown, and a grey-brown or greige as it's known.
The jeans are Levi's and they have a high rise and are very soft denim. I love these jeans, and I wore them yesterday. You can see them here.
I bought my velvet blazer off of Poshmark last year but it is one of those pieces that are timeless and you keep going back to season after season.
Mine is from Zadig & Voltaire and is more blue than green, but this one here is such a lush colour with a great cut. J. Crew also has a gorgeous one.
You'll want to wear it with everything and you probably will.
And finally, the New Balance 237. I actually have the 327's but these are almost identical. I have two pairs of them, one black and one white, and I wear them all of the time.
They are my most worn shoes.
So now that we have covered what I own and love, we can jump forward to what kinds of things you need in your capsule wardrobe for winter.
If you live in a climate that has four distinct seasons and the temperature drops below 10°C then you will want to learn to layer well in the colder months.
You can wear the majority of your entire wardrobe throughout the whole year if you layer.
The only items of clothing that I deem seasonal are heavy winter jackets and winter boots. Everything else just stays in my wardrobe with the potential of being worn in any season with the right pairings.
I didn't include a heavy-duty winter coat or winter boots in this post because those will vary wherever you live. But speaking of winter boots, I would like a shorter less hardcore pair for this winter when there is less snow.
My main pairs for when there is a lot of snow are both by Sorel, and they are the Joan of Arctic and the Winter Carnival. I'm thinking that something like the Explorer II Carnival will be more suitable for the less snowy days.
They plow the roads and sidewalks really well here so very rarely do. I have to trudge through deep snow unless it is freshly fallen. The shorter version will be less clunky and easier to walk in.
I'm a big fan of Sorels.
I think when possible it is a good idea to have at least two winter coats in opposite palette neutrals. I like a classic camel or grey. I am also a fan of black but I find that black wool attracts A LOT of fuzz and animal hair and you are forever lint brushing it before you leave the house.
If you can only afford one jacket I would either go with the black because it goes with every single colour, or I would focus on whether you are warm tone or cool and pick one that belongs to that family to have the most flattering.
And once again if you cannot afford a decent quality coat and you live in a cold climate make sure to check out any and all thrift stores.
Pay special attention to the men's section when it comes to coats because not only do they seem to price men's stuff lower, I find that it isn't as picked over and vintage men's cut wool jackets fit really nicely on a woman's body since vintage sizing is so different than modern.
Also, check out the winter boots because each and every time I go they have Sorels for sale. Pick a pair up for $10 and if you can afford to replace the liners they are $30-$50. If not, just wash, dry, and de-lint them if you have bobble remover.
They will look almost new.
Dressing for winter is expensive so never underestimate what you can find in a thrift store.
Remember that each seasonal capsule wardrobe is meant to be added to your base of staples that you wear from season to season. T-shirts, long sleeves, denim, everything that you wear regular will be integrated into the seasonal capsule.
Every season you carry over all the prices that will work in the next season.
There will always be a lot to move over which will cut down on the need to buy, but it is always a good idea to buy a couple of refreshers so that you don't get wardrobe fatigue and hate getting dressed each day.
This is how you build a truly functional wardrobe
Stay safe.
Capsule Wardrobe Winter Outfits for Women
Casual Winter Outfits for Women

T-shirt | Turtleneck | Button Up | Wrap Shirt | Sweatshirt | Oversized Sweater | Grey Sweater | Cashmere Sweater | Cardigan | Blazer | Denim | Leather Pants | Brown Trousers | Grey Trousers | Sweater Dress | Brown Coat | Grey Coat | Earrings | Necklace | Black Purse | Tote | Heeled Boots | Chunky Sole Boots | Converse | Flat Boots | Sneakers

SHOP THE UK LINKS


You might also like:
How to Dress an Hourglass Body Shape and Capsule Wardrobe
How to Dress an Apple Shaped Body Capsule Wardrobe
How to Dress an Inverted Triangle Body Shape Capsule Wardrobe
How to Dress a Triangle Body Shape Capsule Wardrobe
How to Dress a Rectangle Body Shape
This post contains affiliate links. By using my links to shop I may receive a small commission (at no cost to you). Thanks for supporting what I do