Rectangle Body Shape Capsule Wardrobe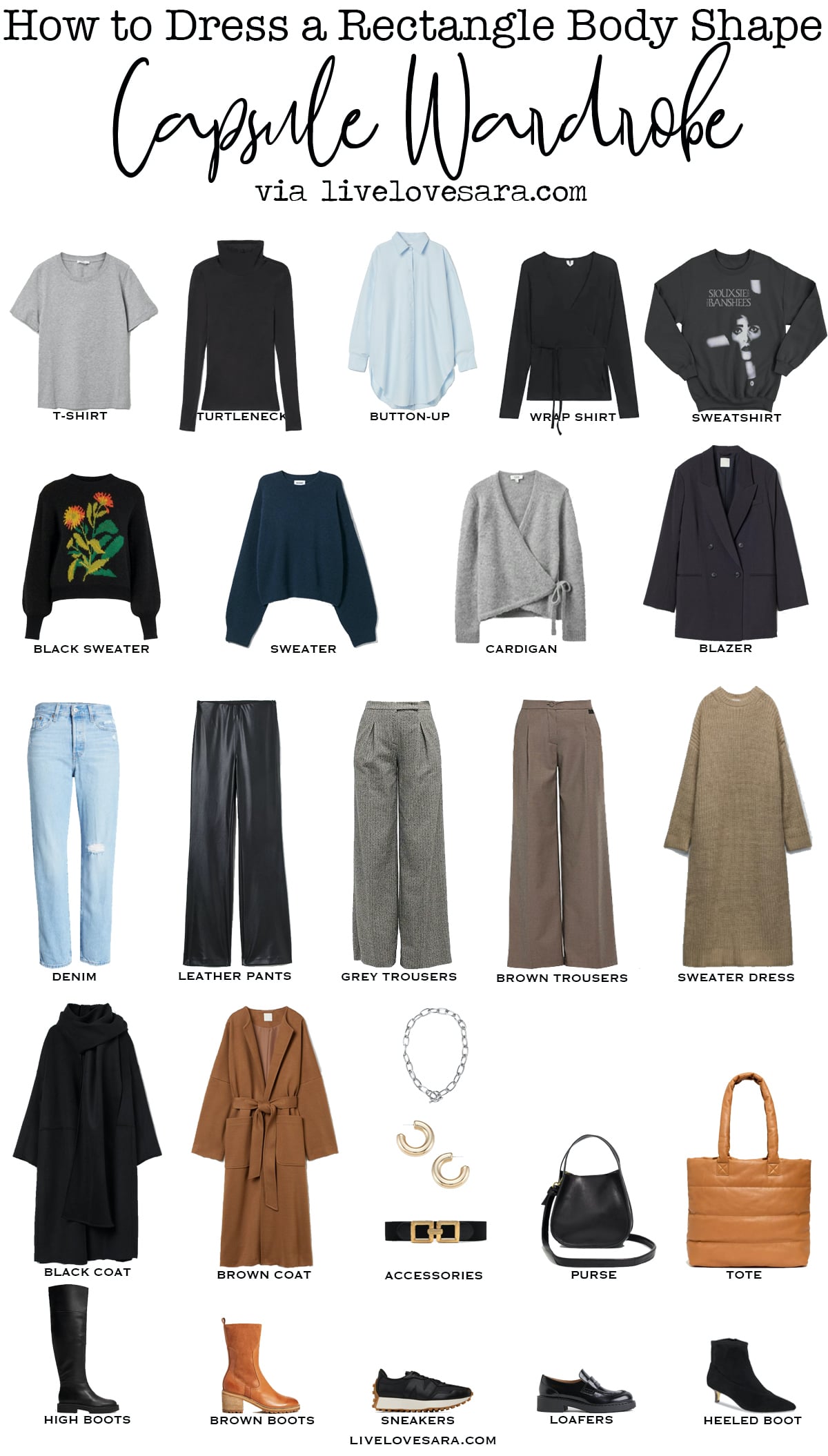 T-shirt | Turtleneck | Button Up | Wrap Shirt | Sweatshirt | Black Sweater | Blue Sweater | Cardigan | Blazer | Jeans | Faux Leather Pants | Grey Trousers | Brown Trousers | Sweater Dress | Black Coat | Brown Coat | Necklace | Earrings | Belt | Purse | Tote | High Boots | Brown Boots | Sneakers | Loafers | Heeled Boots |

If you are looking for the best clothes for a rectangle body shape then this post may be for you. I honestly wasn't going to go down this road because I knew that it would take a lot of time and might not be something that I could get together in less than a week.
But I thought I would start with the easiest body shape, the rectangle body type. I say easiest for a couple of reasons. One is that it is my own shape so I have a pretty good idea of how to dress it (with a few mishaps here and there), and secondly, it is not a shape that needs to be balanced out.
If you are wondering what I mean by that, a rectangle is basically straight up and down with minimal curves so the upper and lower portions of your body present an already balanced silhouette.
Whereas an inverted triangle body shape for example is broader on top so you try to balance the appearance of the wider upper half by bringing the illusion of or fullness to the lower half.
Often with rectangles, we try to give the illusion of a defined waist or try to avoid looking entirely boxy but in general, we have it fairly easy.
There are a few tips or ideas to try in order to minimize the boxiness of a rectangle body shape and I am breaking them down by clothing category below.
What are the Characteristics of a Rectangle Body Shape
Your waist is not well defined. This is usually because rectangels tend to have a ribcage that goes lower towards the waist so there actually isn't much room for a wasit to curve inwards. I wasn't even aware of this until I stood up and looked. My teen is a triangle (or pear-ish) and her rib cage stops way higher than mine and she has a much more defined waist.
It's a straight line from shoulder to ribs.
Very narrow hips, and less round butt.
Small to average bust.
Weight gain is usually pretty even throughout body.
While a rectangle might be your dominant body shape you may also show characteristics of others in areas, like slightly pear-shaped, or shoulders a little broader like the inverted triangle.
Those additional characteristics will be minor and may affect some clothing choices but will not your overall selections.
Now if you are petite this will change things up a bit. Petites are a subcategory, meaning that everybody shape can be a petite. If that is the case then you also have to take that into consideration.
Being 5'3″ I would technically classify as petite but since my limbs lean towards being long-ish for my height I give the visual impression of being taller than I am, and I cannot wear petite clothing.
Tops for the Rectangle Body Shape
First and foremost investing in a good bra will make the most out of what you have and will help to bring out some curves. I really like this one from Soma because it gives the effect of an underwire without actually having an underwire.
Choose a neckline. Your options are pretty substantial like a wide scoop, deep scoop, or jewel neckline which are good for adding some roundness. Lower and wider necklines like a V or the deep V, sweetheart, a wide boatneck are also good options.
Try some embellishment around the neck like large collars, ruffles, ties. It's a great time to find shirts with large collars. Then we have necklines that emphasize the slenderness but also elongate the body like victorian necks, or turtlenecks, halters, funnel necks, and even a higher cut crew neck.
Necklines to avoid would be the square and Sabrina neckline. They emphasize the rectangle shape.
Now on to what style of shirts.
Shoulder padding is a welcome choice in shirts as well as blazers and jackets. Embellishments at the top (above the bustline) will widen the top. Keep the embellishments away from the waistline.
Assymentrialc cuts tops belted or tied waists like a good wrap top with a v-neck.
Having sleeves with a wider cut or are fuller around the upper arms, and 3/4 length sleeves look great on this body shape.
A good crisp button-down can be worn out, tucked in, or the half tuck. Tucked in works best with a higher waist pant.
You are actually a good candidate for a crop style top even though it is a boxy cut. The visual difference between the boxiness of the shirt and the visible waistline gives the illusion of a defined waist.
Pockets on the bust can help to enhance a smaller bustline.
Sweaters For the Rectangle Body
This is an easy one because honestly there aren't many styles that you can't wear. Fitted or looser, it doesn't matter.
If you really want to define a waist then a slimmer cut that hits at the waist or a bit lower and has shoulder detailing (like a small puffy shoulder) will do the trick.
Longer and chunkier styles will give more curves to your shape, as well as different patterns. On the sweater with the flower that I included in the capsule wardrobe, the flower is in the center with black negative space surrounding it which visually draws the eye to the middle giving you the look of a waistline.
I always tend to go up in a sweater size especially if it is a fitted cut. I also really like the look of men's basic merino or cashmere sweaters. I go up 1-2 sizes in these and with the oversized fit and drop shoulders I find it gives a little more shape than a regular fitted style.
Sweaters should go past the waistline.
Bottoms for the Rectangle Body Shape
You will read a lot saying that a low to midrise looks best on a rectangle but I disagree. Aside from the fact that I don't think a lowrise looks really good on anyone, I find that it really brought the lack of curve/hips to attention.
BUT, if you are short-waisted then this is a good way to bring proportion to your upper and lower body.
I much prefer a mid to high rise, especially a high rise that dips in at the waist making it look like there is some definition. I also find it lengthens my legs.
So all of the pants that I am going to talk about with be a mid to high rise.
I'll start with jeans. Cuts that go out like a wide leg, flare, or bootcut bring volume below. A straight cut that just skims over the legs is classic and usually universally flattering.
Even though they are not considered in style anymore, the skinny leg jean was never one that I loved. I always felt limited in my footwear with them. Unless I was wearing a boot then it didn't feel flattering to me, especially with flats.
Skinnies also are a style that emphasizes the rectangle shape.
In leather, you can do a straight, wide, or even legging style. The best bet is to get a cut the skims the ankle.
Trousers are my current favourite. Look for a pair that has some detailing like pleats, pockets, cinched waist. This gives the look of the waist going in then the hip going out.
A nice wide trouser leg in a heavier fabric like wool or tweed, and nice deep pockets will add some fullness and definition to your lower half.
Best Dresses for a Rectangle Body Shape (and Skirts)
I don't really love wearing dresses, but when I do it is a mid-length. I don't do anything shorter because I feel like I am spending too much time worrying that my butt is going to hang out and that isn't conducive to being comfortable in your clothes.
Look for a shift dress or A-line cut (in skirts too). Belted waist. or wrap dresses with a deep V and tie at the smallest part of your waist.
Tulip skirts add fullness to the bottoms, as do pleated styles, but remember since your figure is already balanced then you need to add some fullness to the upper area as well otherwise you will look bottom-heavy.
This body shape also looks really good in a slip dress that just skims over your silhouette. Embrace the long lines of your body.
Jackets for the Rectangle Body Shape
Jackets cover everything from blazers to winter coats.
You can choose a belted style in a long coat that will draw attention to the middle while becoming fuller on the top and bottom giving an hourglass look.
A blazer can be fitted that draws in at the waistline giving a curved waistline, or oversized and worn loosely open.
You can kibosh the needing to define the waist look and just go loose-fitting, especially in a winter coat. It isn't very comfortable wearing a fitted winter jacket. No one is going to look at you and think that you look like Spongebob (a perfect square).
Longer coats are a good way to visually lengthen the body and look fabulous when left open over a great outfit.
Shoes for the Rectangle Body Shape
This probably shouldn't even be a section because shoes aren't really going to be an issue with this body type.
Colour blocking is a good way to add shape to a rectangle body, and shoes in a nice pop of colour will draw the eye down your legs which are usually one of your best assets.
If you have slimmer calves and ankles then a sock boot is a perfect style, but you also can rock the knee-high over the trousers look. Tucking your pants in will cause volume in the lower half.
Accesories for the Rectangle Body Shape
Be as minimalist or bold as you want. Drawing the eye upwards can add some nice embellishments if your top is plain.
Big earrings or chunky necklaces add volume to the top and draw the eye to the neck area. Many rectangles have a long slender neck that they should show off.
There aren't any tried or true rules with this body shape when it comes to accessories so just have fun with it.
Just have fun with dressing too. Try not to fret about body shape too much, it's just a nice list to have when you are shopping. It helps to know what kinds of styles will help you to look and feel your best.
And that is the whole point, isn't it?
Stay safe.
Clothes for a Rectangle Body Shape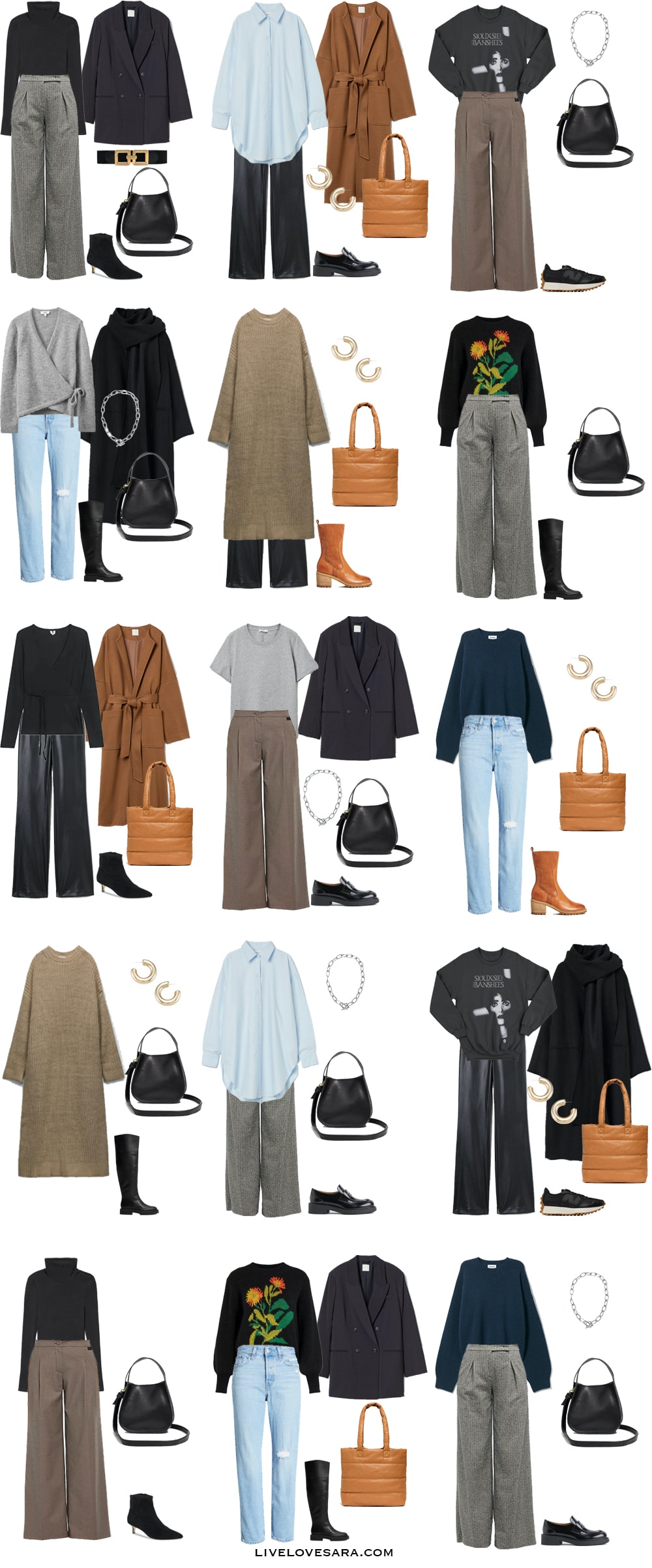 Rectangle Body Shape Outfits

T-shirt | Turtleneck | Button Up | Wrap Shirt | Sweatshirt | Black Sweater | Blue Sweater | Cardigan | Blazer | Jeans | Faux Leather Pants | Grey Trousers | Brown Trousers | Sweater Dress | Black Coat | Brown Coat | Necklace | Earrings | Belt | Purse | Tote | High Boots | Brown Boots | Sneakers | Loafers | Heeled Boots |

You might also like:
How to Dress an Hourglass Body Shape Capsule Wardrobe
How to Dress an Apple Shaped Body Capsule Wardrobe
How to Dress an Inverted Triangle Body Shape Capsule Wardrobe
How to Dress a Triangle Body Shape Capsule Wardrobe
SHOP THE UK LINKS


I am now offering digital styling guides, and personal styling services. If you are looking for some styling help that is inexpensive and easy, check out my digital styling guides. If you want some one-on-one help shopping, building and editing your wardrobe, or packing for a trip, I can also assist. Check out all the styling services that I offer here.
This post contains affiliate links. By using my links to shop I may receive a small commission (at no cost to you). Thanks for supporting what I do
This post contains affiliate links. By using my links to shop I may receive a small commission (at no cost to you). Thanks for supporting what I do