Work Capsule Wardrobe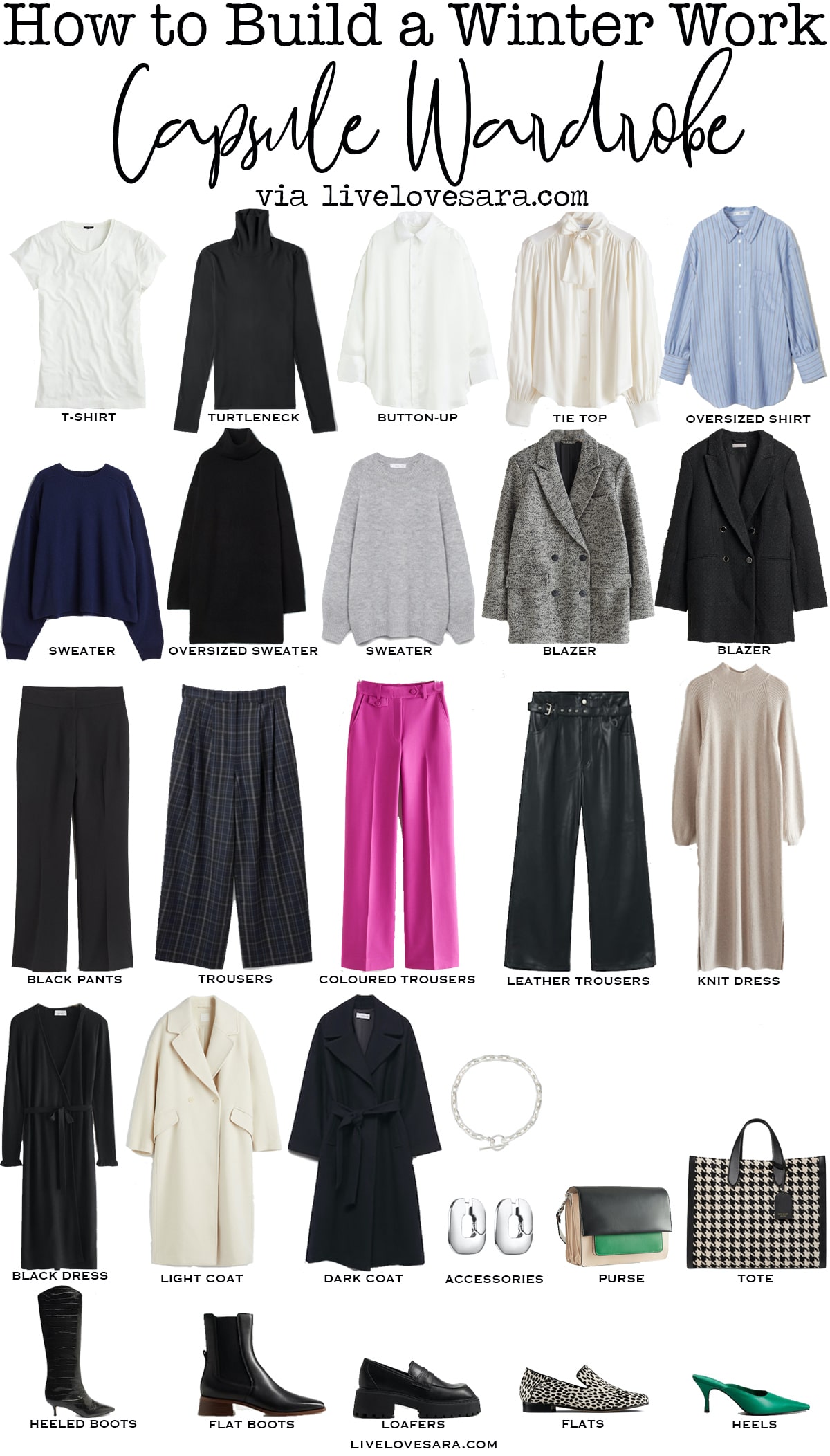 T-Shirt | Turtleneck | White Button-up | Tie Neck Blouse | Blue Button-up | Navy Sweater | Oversized Black Sweater | Grey Sweater | Grey Blazer | Black Bouclé Blazer | Black Pants | Check Trousers | Pink Trousers | Leather Trousers | Knit Dress | Black Wrap Dress | Light Coat | Black Coat | Necklace | Earrings | Purse | Tote | Heeled Boots | Flat Boots | Loafers | Flats | Green Heels

I had a big plan on putting out a budget work capsule wardrobe post first, but there are so many sales going on right now that every time I made a selection, it sold out.
I try my damnedest to include things for things that have a full stock of sizes and check the same day as posting as well just to make sure because I know how frustrating it is to like something only to see that it is not available.
Sometimes things go really fast, and this after Christmas sales period is a huge one in retail, so things go really fast.
I will put up the budget work capsule wardrobe post possibly next week when the sales start to dwindle and stock is more stable.
Work wardrobe is a pretty vague term that can mean a lot of different things to different people, depending on what your job is.
This post is focusing on the slightly dressier business casual end of things when putting together some winter office outfits.
Work outfits that are versatile and can be made more dressy or casual depending on how you pair them.
My list of work clothes today contains a pretty standard collection of pieces that most people who have to dress up for work already have in their wardrobes.
It's easy to get in a work uniform type of rut. And by work uniform, I mean something that works for you, looks, good, and you wear a variation of every day.
Not like a standard work uniform that they make you wear.
These go to work outfits can get monotonous and boring, so sometimes you need a little refresher to spice up your wardrobe.
And sometimes you need an outside perspective that can give you some new ways to wear things.
Sometimes you need a little of both.
When it comes to a winter work wardrobe, this is a season where things can get even more boring, even quicker.
The weather is drab, which can reflect in your clothing choices, so this is a great season to try and inject a little bold colour into your work wardrobe.
Even just adding one pair of bold trousers, or shoes can make a huge difference. This is why today I opted for a vibrant pink trouser to elevate the neutrals, as well as some green shoes.
Hello, statement pieces.
Don't be scared of mixing colours or patterns. It is so chic and full of visual interest. Bold can go with bold. There are no rules.
Not feeling brave enough for that yet? Opt for a bright colour earring, necklace, scarf, or maybe even a shirt that you can layer under something else, so you only get a tiny peek of bold colouring.
Whatever you choose, just try it. It is a game changer…and a mood changer.
Which is something that we all need in the winter, especially this year.
Now on to dresses.
A winter work dress does best to have a little texture.
A knit sweater dress is a basic that is both easy and comfortable to wear, and a wrap dress in a ribbed fabric is one of the most universally flattering styles for any body shape.
Usually, you can adjust the wrap slightly up or down to accommodate and emphasize the slimmest part of your torso.
It is important to have one to two blazers in your work wardrobe, and take into consideration that because of the season you should probably go for slightly oversized, or at least go up a size to accommodate for knits and bulkier fabrics.
Cramming a sweater into a sleeve that is tight-fitting neither feels good nor looks good. Going up in size will help remedy this.
If your place of work leans towards casual, you can still absolutely use this office wardrobe, just make a few tweaks.
Add some dark, straight leg denim in a mid to high rise that skims the ankle, more flat footwear, and just keep mixing and matching until you get a desired level of casual work outfits that you are comfortable with.
Casual work outfits don't mean that you have to wear jeans and t-shirts.
Swap the tee for a turtleneck or button-down, trade the sneakers for some fun flats or chunky loafers or boots. Keep the accessories to a minimum, and you should be good to go.
Speaking of accessories, I have a thing for Jenny Bird. I have the silver-tone necklace that I included in this work capsule, but mine is in gold.
I wear it ALL the time, and it was well worth the cost.
I've worn it so much that my price per wear over the last year has been knocked pretty low, since I wear it 3-4 times a week.
Let's talk footwear for work.
If you live in an area that gets cold weather and snow, you are already well versed in the outdoor shoes being swapped for the indoor office shoe concept.
This is why I included shoes that would not be considered winter-friendly. You don't want to schlep around your office in clunky winter boots, which is why you bring another pair to switch to once you arrive.
This opens up all kinds of outfit possibilities because you do not need to compensate for your hardier winter footwear.
When it comes to heeled boots, I always opt for a kitten heel.
Anything higher is not something that I can manage for an extended period of time, and I think after the last two years many women are saying F–k it to high heels anyway.
Why waste your time and ruin your feet when you don't have to.
Even though the heeled boots that I included can be worn underneath your trousers, if you are looking for a kitten heel boot in a shorter option, I have these and love them. They remind me of the 80s slouchy boots.
They are true to size, comfortable, and are different enough that they will add some visual interest to your winter work outfit.
They are pricier but were something that I saved for because I really, really wanted them. It actually took me so long to save that they kept selling out in my size, but they restocked, and I rejoiced.
You can see them here and here.
Sometimes it's nice to treat yourself if you can afford it. Never put yourself into debt in order to buy something. My advice when buying something more expensive, always look to see if you can find it secondhand first.
You don't know how many times I have found unused, or unworn pieces that people just never wore, and didn't manage to return on time so they decided to sell it to try to recoup some of the cost.
There is so much great stuff out there if you look.
Lastly, put together outfits beforehand to see how versatile your work capsule wardrobe really is. You may need to make some changes once you see everything on, and that's okay.
This isn't set in stone, you can switch pieces in and out based on your style, comfort level and even your mood.
If you are a beginner, I usually suggest a tool like StyleBook App to help you get things together. You can make outfits, as well as document ones that you have worn, and it will lay it all out in a calendar, so you can see when the last time you wore a certain combination was.
It also really helps you to see what you are wearing and what you are not, so you can hone your wardrobe down to include pieces that work for you.
No one wants a closet full of visual clutter. You want every piece you pull out to be something that you can easily integrate into whatever outfit you plan that day.
The point of a capsule wardrobe, to cut out the crap so that getting dressed isn't scary or a chore.
Office clothes are pretty standard in the realm of what you should and shouldn't wear.
Keep it tidy and put together.
Even the most basic work outfit can be completely polished looking and professional.
It is all in the details.
Especially the details like ironing or steaming your outfits to ensure that you don't rumpled and dishevelled.
A steamer is a good investment, and you can find one on Amazon for under $20. (And this one has over 60,000 reviews and is $30)
Hanging your clothes in the bathroom while you are showering does not count as steaming.
Stay safe. Like seriously. It is rough out there right now.
Work Outfits for Women
Winter Work Outfits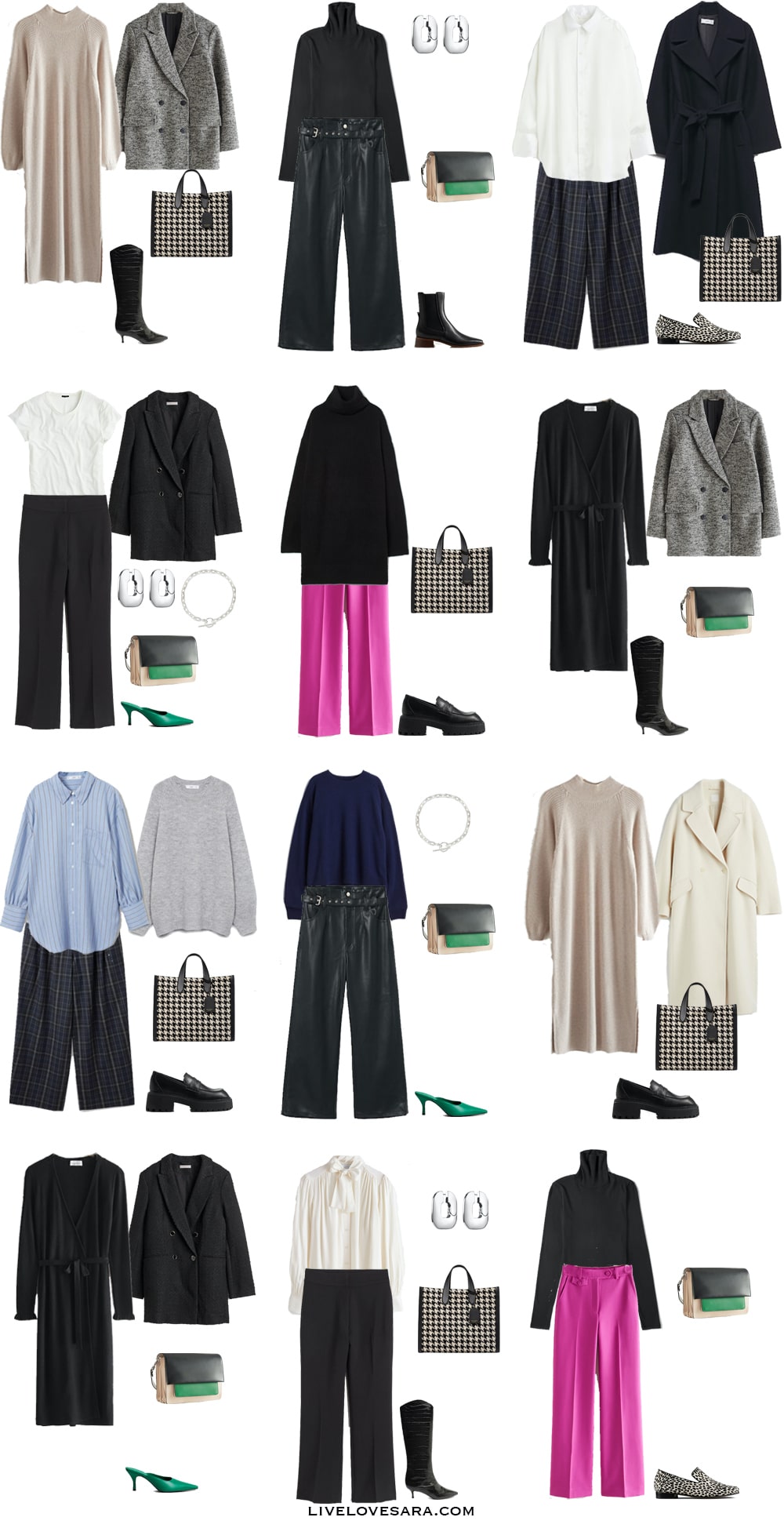 T-Shirt | Turtleneck | White Button-up | Tie Neck Blouse | Blue Button-up | Navy Sweater | Oversized Black Sweater | Grey Sweater | Grey Blazer | Black Bouclé Blazer | Black Pants | Check Trousers | Pink Trousers | Leather Trousers | Knit Dress | Black Wrap Dress | Light Coat | Black Coat | Necklace | Earrings | Purse | Tote | Heeled Boots | Flat Boots | Loafers | Flats | Green Heels

You may also like:
How to Build a Work From Home Capsule Wardrobe on a Budget Winter 2022
How to Build a Capsule Wardrobe on a Budget Winter 2022
How to Build a Winter Capsule Wardrobe 2022
How to Dress an Hourglass Body Shape and Capsule Wardrobe
How to Dress an Apple Shaped Body Capsule Wardrobe
How to Dress an Inverted Triangle Body Shape Capsule Wardrobe
How to Dress a Triangle Body Shape Capsule Wardrobe
How to Dress a Rectangle Body Shape
SHOP THE UK LINKS


This post contains affiliate links. By using my links to shop I may receive a small commission (at no cost to you). Thanks for supporting what I do