How to Dress a Pear Shaped Body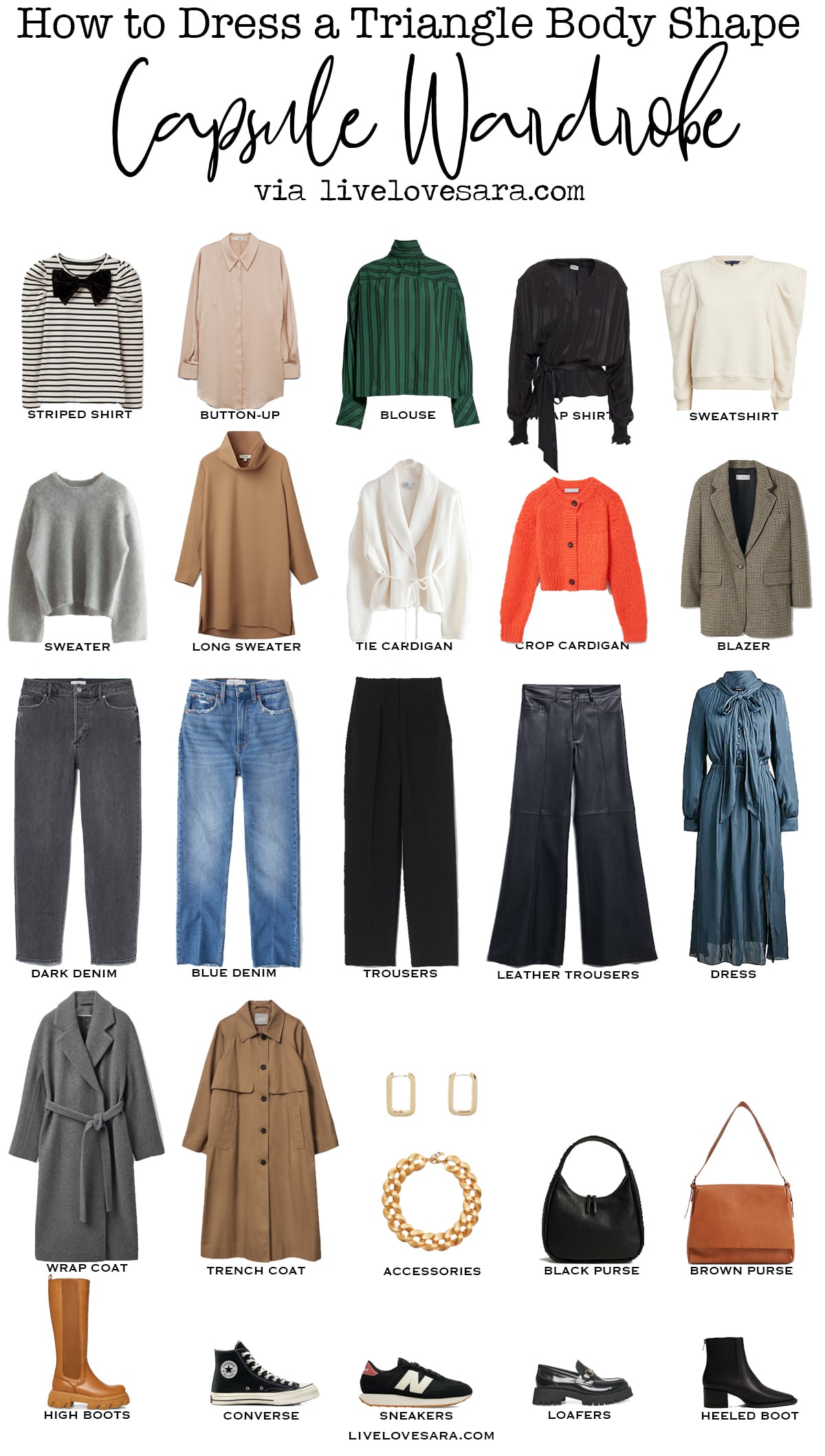 Striped Shirt | Button Up | Blouse | Wrap Shirt | Sweatshirt | Sweater | Long Sweater | Tie Cardigan | Crop Cardigan | Blazer | Dark Denim | Blue Denim | Trousers | Leather Trousers | Dress | Wrap Coat | Trench Coat | Earrings | Necklace | Black Purse | Brown Purse | High Boots | Converse | Sneakers | Loafers | Heeled Boot

Do you have a pear shaped body type? This post is for dressing that shape in the fall and the winter. The pear body shape as it is commonly known as is also referred to as the triangle body shape. So if you hear either term, both on here or anywhere else, they are interchangeable.
Some women do not like to have their body compared to a fruit shape so they gave it the alternate term of a triangle.
So both the pear figure, and the triangle body type have the same meaning. They both have a wider bottom half than the bust and shoulders. This mimics the shape of both namesakes.
Unlike last week's post on How to Dress a Rectangle Body Shape the pear body shape isn't balanced in its upper and lower halves.
The goal of dressing a pear or triangle shaped body is to visually balance the top and bottom of the body by drawing the attention away from the hip area and bringing it up to the top half of the body and showing off the defined waist.
To achieve this it is all about illusion. This is done by creating volume or at least the appearance of volume on the upper half which will, in turn, bring the attention upwards. We will keep that attention by highlighting the waist and deemphasising the lower half of the body.
This will create the balanced look that you want to have when dressing any body shape.
Pear Body Shape Characteristics
Wide hips
Narrow, defined waist
Small bust and narrow shoulder-width
Weight gain tends to be around hips, thighs, and lower midriff
Tips for Dressing a Triangle Body Shape
Try accentuating the waist.
Bold colours and prints on tops while keeping the lower half darker and minimalist.
Invest in a good bra.
Try bulking up the upper half by layering.
Avoid boxy tops. They will not accentuate your waist.
Structure. Think wide or padded shoulders.
Tight bottoms aren't the best choice. Avoid skinnies.
Keep the butt and pocket detailing to a minimum.
Keep in mind that many people actually have more than one body shape. You may in fact carry characteristics from other shapes that you need to take into consideration when dressing.
Below are some tips for clothes for a pear shaped body broken down by category.
Tops for the Pear Shaped Body
Like last week, investing in a good bra will make a huge difference. Not just investing but also getting yourself fitted for a bra if you have not been fitted before or it's been a few years.
The right fitting bra is a huge gamechanger.
Since you are narrower on top you will want to go for wider necklines. Lower cut or wider like the square, bateau, Bardot or Sabrina neckline.
Off the shoulder is also a good choice for you.
Cowl necklines add a nice bulk to the upper body, as do collars, lace trims, and ruffles.
Choose shirts with volume at the shoulders like a cute puff accent. It will visually broaden that area to balance out with the hips which is what you want.
For sleeves you want something that is more close-fitting or straight all the way down, avoid a flare sleeve.
Focus on bold colours, prints, and details in the upper bust and shoulder area. Tops should not go past the hips (in most circumstances), so tucking or half tucking is a good solution.
Sweaters for a Pear Shaped Body
You should keep sweaters shorter, hitting at the waistline or hip area as a general rule. BUT, a longer sweater that hits mid-thigh (or longer) looks great on this triangle-shaped body as long as it is nice and loose. Bonus point if it has a large cowl or bulky neckline.
We like horizontal stripes to widen the upper half, but we want to avoid sweaters that are too tight or clingy and that hit right at the hips. If you want to wear a fitted sweater then tuck it in.
Choose cardigans that tie at the waist, hit the waist, or are long enough to skim over the hips.
Jackets for a Pear Shaped Body
There are two choices when it comes to jackets or blazers for a pear shaped body. Since we want to avoid them stopping right at the hip area we can either go cropped above the hips or longer which will skim over the hips.
Cropped jackets will give structure to the shoulders, but also show off the waist. You should avoid any detailing on pockets if they are located in the hip area.
A short jacket in a bright colour draws the attention up, but a long jacket in a dark colour will slim the pear silhouette.
You also have the option for belted blazers
Coats for a Pear Shaped Body
When it comes to coats for a triangle shaped body the most important factor is length. You want it to hit at the right spot. If a coat is too short you are going to run into the problem of it emphasizing the hips.
If a coat is too long it might be overwhelming.
When in doubt, the mid-thigh to knees length is always a no-fail choice.
Dark colours will give an overall slimming effect, and a well-structured shoulder or details in the upper area that enhances the bust area like large collars, wider lapels, pockets, double-breasted styles, and waist belts.
A belted waist jacket is usually a great choice because the bulk of the jacket gives a fuller upper and lower half that will balance proportions mimicking an hourglass figure.
We want to avoid anything that is too boxy.
Bottoms for a Pear Shaped Body
This also includes skirts for a pear shaped body. With trousers, we want to keep in minimal. No bulky or fancy waistbands and pocket areas. We want it flat and plain. For fit keep it straight leg, or relaxed so there is a straight line that hangs from the widest part of the hip all the way down.
Avoid tapered legs, skinny fit and lowrise. Stick to a mid to high waist that is fitted in the waist area.
Keep the colours darker (although rules are meant to be broken) and the details like pleats, large belt loops, creases and large pockets to a minimum.
For skirts, we want to stay away from any big pleating or gathering, although a light-gathering is usually flattering.
We want to focus on skirt shapes that go out at the bottom, and skim the figure not cling in a knee to midi length. This length will visually lengthen the body.
No ruffles, tiers, or full cut skirts.
Dresses for a Pear Shaped Body
Since a dress is one piece we need to look for a style that will balance the proportions of both your upper and lower body.
This can be done by focusing on the waist. We want a dress to skim the figure so avoid fitted style and bulky fabrics. Going out at the bottom will help to keep the hips balanced.
A few dress shapes that will work are the wrap dress which brings emphasis to the waist and flows out and over the hips.
An a-line cut starts off small and goes out wide at the bottom which minimizes a larger midsection, hips, and thighs.
The tulip-shaped dress is good at accentuating your waist while giving you a feminine shape at the hips and bust.
An empire cut dress. These tend to be seen more often in formal settings and in Jane Austen movies. This style of dress has a fitted bust that drapes outwards from directly under the bustline. It's pretty much every dress that you saw on The Bridgertons.
And finally, the x-line which shows off the smaller waist, bringing emphasis to the shoulders and full bottom which gives it an X shape. The style of dress can mimic an hourglass figure.
Jeans for a Pear Shaped Body
Jeans will follow a similar directive to trousers. First, avoid skinnies and tapered styles. They play up the widest part of your body. Straight leg, wide leg, flares (they are back in style again) and bootlegs are all safe choices.
The rise should be kept once again from mid to high, and in a darker wash.
An issue that a lot of pear shaped bodies have is in order to get the jeans to fit in the hips, then the waist will gap. Any good tailor or seamstress can fix this for you.
Although now there are many companies that are putting out a curved option in their jeans which has a more fitted waist than the regular fit.
Two off the top of my head are Abercrombie which has curved, and Agolde does a pinched waist. Both are very flattering at two different price points.
Shoes and Accessories for a Pear Shaped Body
Keep belts on the waist not on the hips.
Crossbody bags should hit higher than the hip line. Maybe try one with an adjustable strap.
Accessories are good for drawing the eyes up so embrace them, using them to your advantage. Things like necklaces, and scarves emphasize your upper body.
A chunky heel even if it is low will help to elongate the legs, but ankle straps can shorten the leg. Trial and error is usually needed since every single body is different.
I love a good block heel whether it be in a boot, sandal, or pump. I find them pretty universally flattering and easier to walk in than most other heels styles.
Remember that you can wear whatever you want without fear of being told that you are not dressing right for your body. As long as you feel good and are comfortable then that is all that matters.
These tips are just here if your focus is to downplay your hips. I love hips thoughts so don't be scared to rock them if you've got them.
Stay safe.
Pear Shaped Body Outfits
Pear Shaped Outfits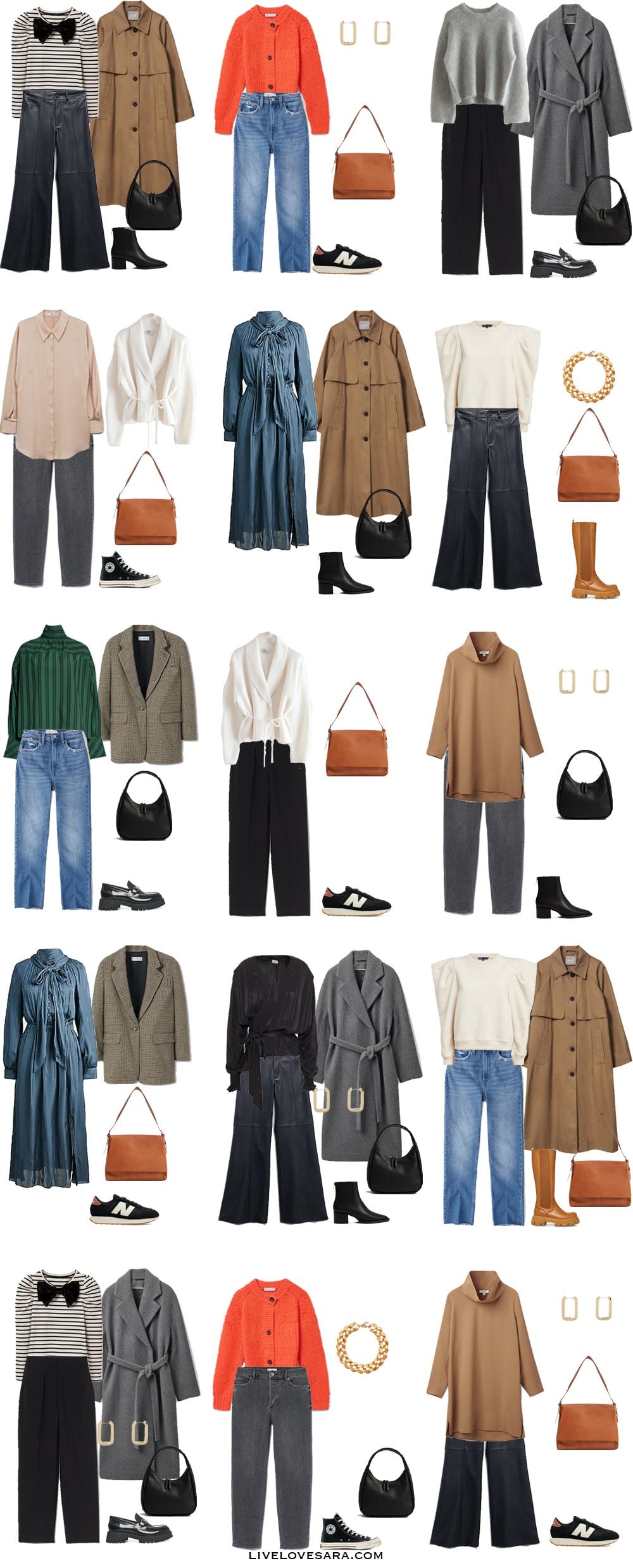 Striped Shirt | Button Up | Blouse | Wrap Shirt | Sweatshirt | Sweater | Long Sweater | Tie Cardigan | Crop Cardigan | Blazer | Dark Denim | Blue Denim | Trousers | Leather Trousers | Dress | Wrap Coat | Trench Coat | Earrings | Necklace | Black Purse | Brown Purse | High Boots | Converse | Sneakers | Loafers | Heeled Boot

You might also like:
How to Dress a Rectangle Body Shape
How to Dress an Inverted Triangle Body Shape (Pear Body Shape)
How to Dress an Apple Body Shape Capsule Wardrobe
How to Dress and Hourglass Body SHape Capsule Wardrobe
SHOP THE UK LINKS


I am now offering digital styling guides, and personal styling services. If you are looking for some styling help that is inexpensive and easy, check out my digital styling guides. If you want some one-on-one help shopping, building and editing your wardrobe, or packing for a trip, I can also assist. Check out all the styling services that I offer here.
This post contains affiliate links. By using my links to shop I may receive a small commission (at no cost to you). Thanks for supporting what I do
This post contains affiliate links. By using my links to shop I may receive a small commission (at no cost to you). Thanks for supporting what I do