Apple Shape Body Capsule Wardrobe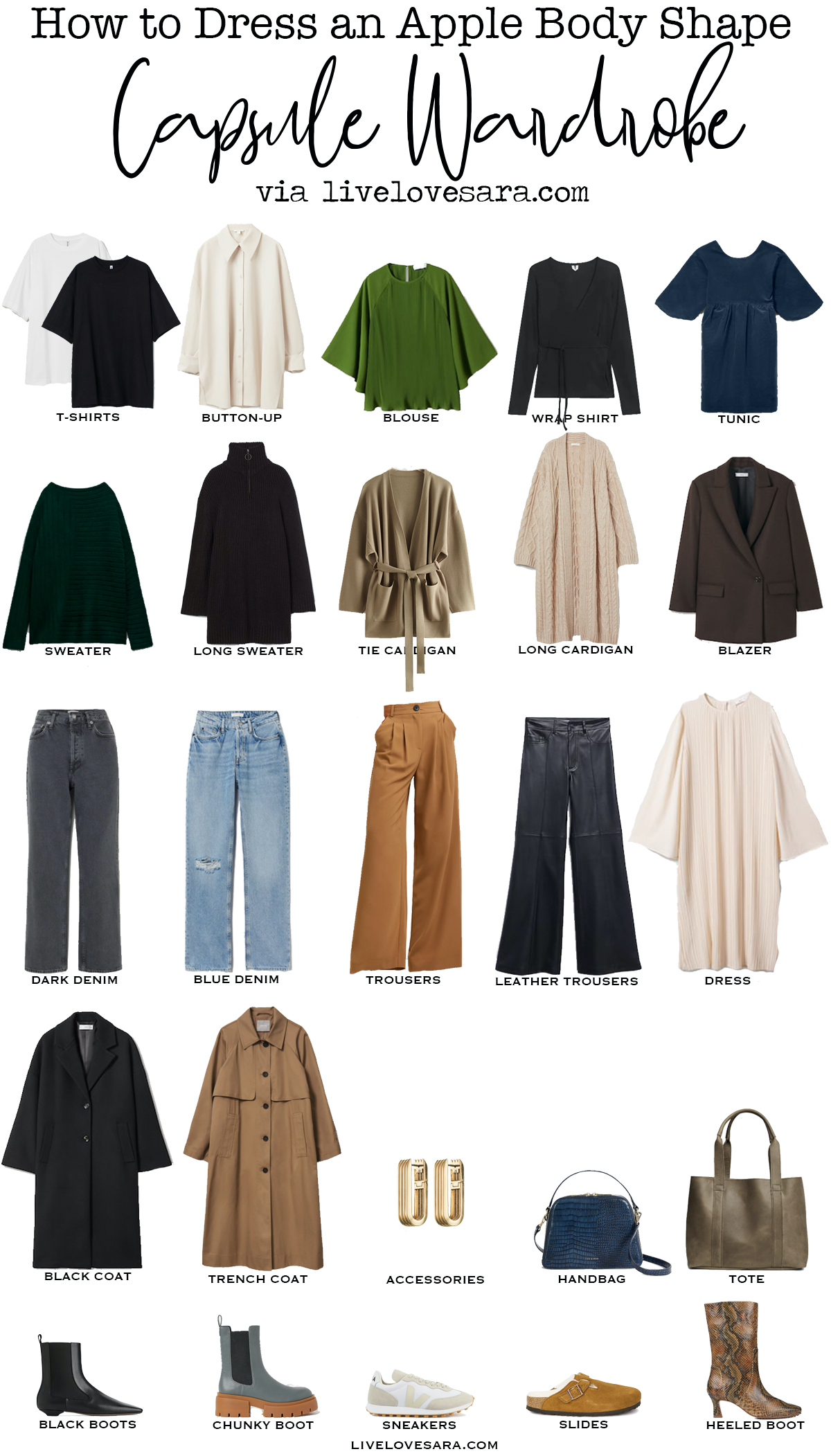 Black and White T-shirts | Button Up | Green Blouse | Wrap Shirt | Tunic | Green Sweater | Long Sweater | Tie Cardigan | Long Cardigan | Blazer | Dark Denim | Blue Denim | Trousers | Leather Trousers | Dress | Black Coat | Trench Coat | Earrings | Blue Handbag | Tote | Black Boots | Chunky Boots | Sneakers | Slides | Heeled Boots |

I think of all the shapes, the apple body shape is the one that most women can relate to because as we get older we often are prone to gaining weight in our middle and it rounds the figure giving us apple shape qualities.
Also known as the circular or round body shape.
It is common to be more than one body shape at once, or your shape can change over time and circumstance. We call this secondary body shape, the leaning shape.
So for example, if you are a rectangle body shape, but you gain some weight in the midsection, you may consider yourself a rectangle with apple leaning.
Does that make sense? If not feel free to comment below and I'll answer any questions.
After childbirth, we are also often a different shape than what we were before, which is why so many women have trouble dressing for their new bodies after they have children.
That is a huge deal to us and often one that is not acknowledged or downplayed by people. It leads to a lot of self-image and confidence issues, and many of us end up feeling like we lose ourselves.
I hope that I can help with that on here.
That being said, it is good to familiarize yourself with other body shapes so you can take tips and tricks from them if you ever need to.
What are the Characteristics of an Apple Body Type?
There is a uniformness between your shoulders, bust, waist, and hips giving the roundish shape.
You have undefined waist.
Your bust is average to large size.
Weight gain is predominantly in your midesection.
Shoulders tend to be roundish while your butt leans towards flattish.
Wider back and ribcage.
Narrow hips.
Slim legs which are usually a great feature.
Tips for Dressing Apple Shaped Women
This shape can be top heavy so we want to balance out the shoulder, bust, waist, and hips.
Get a good bra. A good bra will give you nice separation between bustline and belly.
Lets keep to straight lines that fit well.
Not to fitted or clingy because it will emphasize everything.
The idea is to draw the eyes up or down…or both.
Keep the details above the bust, and below the hipline. Everything in the middle needs to be simple.
Bring attention to your legs by shorter hemlines, and brighter colour bottoms.
Nothing too bulky especially around the midsection.
Define the waist.
Tops for the Apple Shape
Let's focus on necklines first. we need to visually break up the torso into sections. What I mean by that is that necklines need to be lower and wider in order to create a visual separation between the bust area and the middle/tummy.
Wide necklines will broaden the shoulders, while a low neckline will elongate the body. Both will lessen the round appearance. High and narrow necklines will have the opposite effect.
Details around the neckline will draw the eyes up so collars, ties, lace, pleats, embroidery, etc.
Avoid fitted sleeves, and opt for looser, or flared styled sleeves. Details on the shoulders like a puff or shoulder pad will work wonders.
Wrap style shirts have a nice deep V front, as well and a slight flare at the bottom, just make sure that you can wrap it around at your "natural waistline" which is the area that is the smallest part.
If you carry extra weight in your midsection than avoid horizontal stripes, instead look for diagonal stripes, big prints, or fabric with texture.
Do not tuck your tops. You can get away with a half or partial tuck as long as there isn't fabric bunching.
Avoid anything too cropped or fitted, and we don't want embellishments on our middle. Stick with hip line length, or shirts with splits up the side to visually add a waistline and curves.
We like trapeze style, wrap, tunics, empire, peplum (if the peplum is low enough), and side splits to name a few.
Sweaters for the Apple Shaped Body
Knitwear can be difficult since it tends to be bulky and can add excess to where you do not want it. Focus on lighter weight knits, open cardigans draped styles.
I chose a mid-length sweater that has a higher neck which can sometimes be a no for apple shaped women, but in this instance, it has a zipper so you can control how much of an open neckline you want.
Then I chose a long open cardigan because it skims over the figure and gives a slimming effect. The other cardigan is a drapey wrap style that can also be left open, but when closed you can adjust the V front, and play with the volume at the bottom so that you get a visually curvier hip area.
This green sweater option is from Zara has a great open look and it has a slightly lower back. If you like something with a wider neck and off-shoulder style then this is a nice option in a great colour.
Coats and Jackets for the Apple Shaped Body
We want to focus on structure. Structure gives lines to a rounder silhouette. The shoulders should be snug with shoulder pads if that is an option.
Blazers, coats, and jackets should all go past the hipline.
Stay away from belted unless the belt is high enough to create an empire style.
Double-breasted can accentuate the midsection so stay with single-breasted, or leave it open. We also want to stay away from too much detail on the torso like large pockets, extra buttons, and flaps.
A-line cut coats, asymmetrical buttons/front, straight cut, trench coats, and empire styles are all good options.
Trousers for the Apple Shape Body (and skirts for apple shape)
A wide or flowy leg trouser is a flattering style for an apple shape because it hangs straight from the hip balance out the wider middle with the slimmer legs.
Large pockets add curves, but the fronts should be flat and free from pleats, ruching, and detailing to avoid extra bulk to the midsection.
Avoid tapered and skinny cuts, as well as high waisted. A low to medium waist works better on wider middles but the right high rise can give you a great silhouette so it is worth a try.
This body shape likes bootcut, wide leg, flowy (palazzo style), flares, and cargo style pants.
With skirts, you can go from above the knee to the calf. You have great legs and you should show them off, but while doing this your skirt cuts should be straight cut, a-line, it flares slightly at the bottom.
Avoid ruffles and tiers as they will add too much bulk where you don't want it. Anything that is slightly fuller and skins away from your body will give you the appearance of a curvier hip area. Small pleats also work but they need to start below the belly.
Focus on a flat front, and side or back fastening. Styles that flatter the apple shape are bias cut, asymmetrical hems, trumpet, and a-lines.
Dresses for the Apple Shape
There are so many styles of dress to be found so don't worry, there is something for everyone.
Best dresses for apple shape are wrap styles, bias cut, a-line, shift dresses, and empire.
An apple shape needs a dress that skins over your figure and doesn't cling to your midsection. Dresses that are wrap style will give you the v-neck and waistline that you want.
A-line dresses go outwards as do empire cuts which start under the bustline.
Patterns, texture, and colour love can help to disguise areas that we want to downplay. While key details like necklines, sleeves, and shoulders can ensure that the eye is drawn upwards where we want it.
Belts are also good options as long as they are high enough, on the skinniest part (which is often just above the natural waistline on an apple shape).
Pay attention to fabric choices as well since jerseys can be clinging and thin, delicate fabrics can cause too much volume.
We want to balance not overdo it.
Jeans for the Apple Body Shape
Jeans generally follow similar guidelines to the trousers section above.
The best jeans for apple shape are boot cut, flares, wide leg, and straight leg. Avoid tapered and skinny jeans as these will make your upper body look larger
Mid-rise is a good choice but you can also do low or high. Zippers over buttons will lessen the bulk, and keep the front flat, and fuss-free with clean lines.
You want a cut that either goes straight down from your widest hip area or goes down then out at the bottom adding some width and balance to your lower half.
Shoes and Accessories for the Apple Body Shape
Generally, when choosing accessories like jewellery and handbags we go with shapes that are opposite to our body shape. So for instance, if you are a rectangle you may want something curvier or rounder.
An apple shape will suit something more angular and structured.
Keep the bags either directly under the arms or held in hand, we don't want bags hanging right in our middle area.
Use accessories to draw your eye up. This can be a necklace, scarf, earrings, even hair accessories and hats.
Footwear can be a good way to draw the eye down or accentuate your legs so play around a little bit. As per all body types, a pointy toe will lengthen the body, as will a v-shaped vamp (the throat of the shoe).
Go for bold, sparkly, chunky, whatever.
Don't let your shape define you. When it comes down to it you make the terms and get to decide what makes you look and feel your best.
Stay safe.
Apple Body Shape Outfits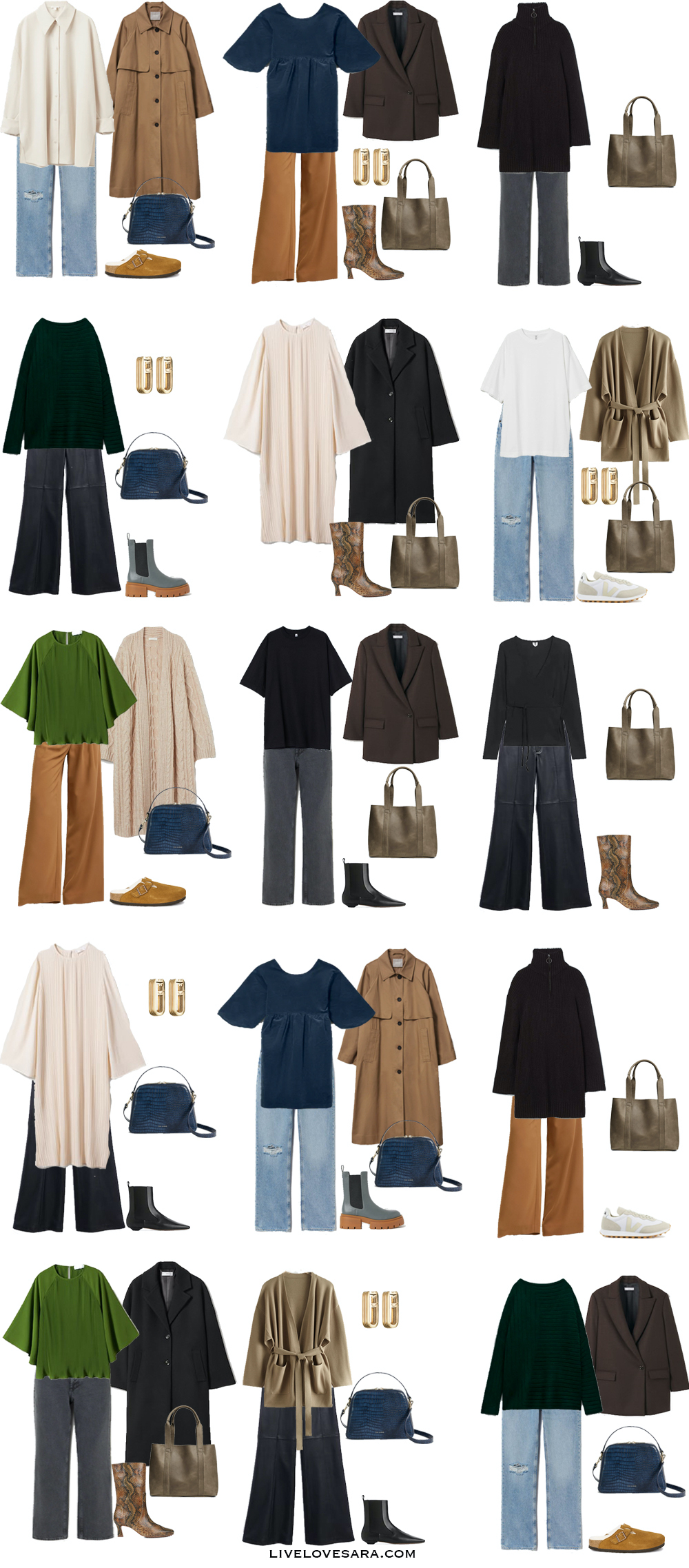 Apple Body Shape Clothes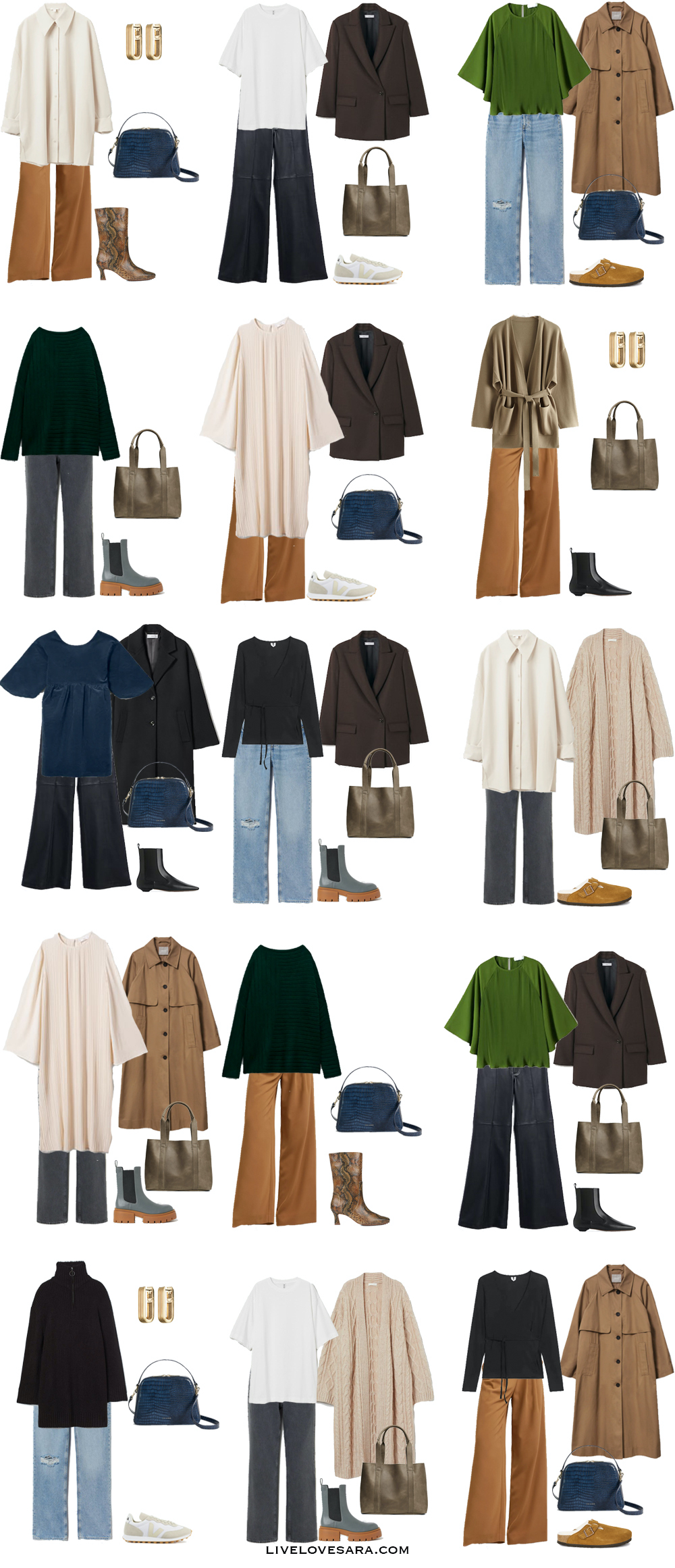 Black and White T-shirts | Button Up | Green Blouse | Wrap Shirt | Tunic | Green Sweater | Long Sweater | Tie Cardigan | Long Cardigan | Blazer | Dark Denim | Blue Denim | Trousers | Leather Trousers | Dress | Black Coat | Trench Coat | Earrings | Blue Handbag | Tote | Black Boots | Chunky Boots | Sneakers | Slides | Heeled Boots |

You might also like:
How to Dress a Triangle Body Shape Capsule Wardrobe
How to Dress a Rectangle Body Shape
How to Dress an Inverted Triangle Body Shape (Pear Body Shape)
How to Dress an Hourglass Body Shape Capsule Wardrobe
SHOP THE UK LINKS


I am now offering digital styling guides, and personal styling services. If you are looking for some styling help that is inexpensive and easy, check out my digital styling guides. If you want some one-on-one help shopping, building and editing your wardrobe, or packing for a trip, I can also assist. Check out all the styling services that I offer here.
This post contains affiliate links. By using my links to shop I may receive a small commission (at no cost to you). Thanks for supporting what I do
This post contains affiliate links. By using my links to shop I may receive a small commission (at no cost to you). Thanks for supporting what I do