Small Fall Capsule Wardrobe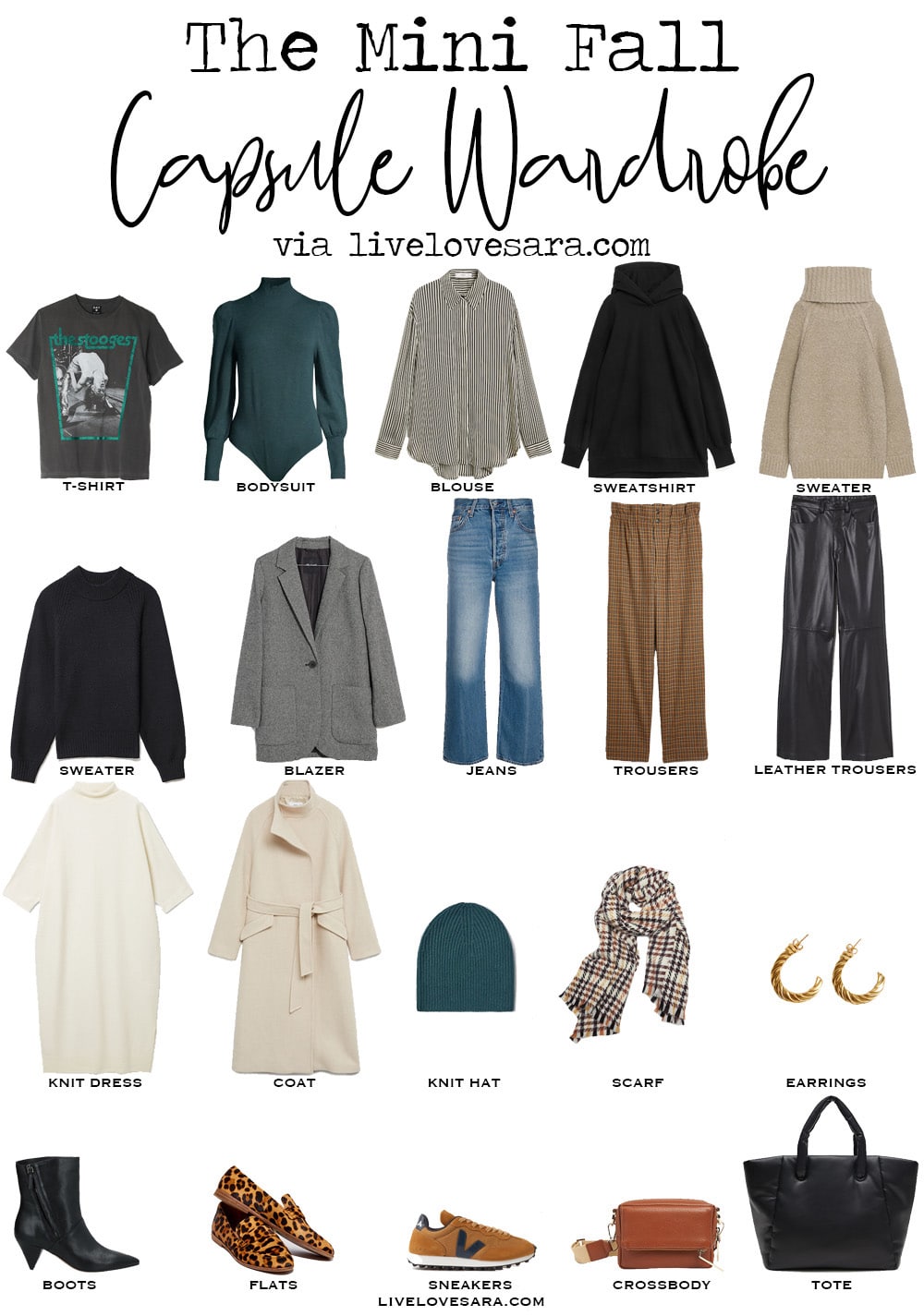 T-shirt | Green Bodysuit | Striped Blouse | Oversized Sweatshirt | Tan Sweater | Black Sweater | Blazer | Jeans | Check Trousers | Leather Trousers | White Knit Dress | Coat | Knit Hat | Scarf | Earrings | Black Boots | Animal Print Flats | Brown Sneakers | Crossbody | Tote |
SHOP THE POST


This week I have a fall wardrobe refresher. It is a mini fall capsule wardrobe that contains a group of clothes that I would consider fall wardrobe essentials.
They were picked in a colour palette and style that allows you to have a fully versatile mix and match wardrobe.
I feel that the smaller the wardrobe the more it forces you to dress creatively.
It allows you to tap into that part of your brain that wouldn't get as much use if you had a large number of clothes to choose from.
I took a picture of my "closet" last week and posted it onto my Instagram stories.
This was because I had been asked quite a few times whether everything I wear on Instagram was my entire closet, or if I have a large number of clothes that remain unseen.
I do not have a large closet.
I mean, I wouldn't complain if I had a large walk-in to call my own.
But honestly, I wouldn't have enough clothes to fill even a fraction of that, so I would probably just load it up with my books and turn it into a library.
I'd much prefer a library anyway.
Is a closet library a thing?
Anyway, I live in a small condo. I am not sure of the exact square footage. I think between 650-700 sq ft which is pretty average around here.
So no, I do not have room for a large closet.
My girls even share a room that is really, really tiny.
We actually didn't even get a storage locker with this unit.
I hindsight we totally should have asked, but I think we just assumed since every condo comes with at least one storage locker.
We rent though, so often landlords will also rent out the locker to make even more money.
This leads to a severe amount of lack of storage space in here so my actual closet is used for storage and my clothes closet consists of one freestanding rack beside my bed and two shelves on my bookshelf that is beside my bed.
One shelf for jeans, and one for t-shirts and sweaters.
It's a free-standing shelf about 36″ across. Hats and purses go on top, and shoes down below.
That's it.
Which is more than enough.
So today's small capsule wardrobe is going to show you how much you can actually get out of a tiny wardrobe.
The pieces I selected are items that are the fall wardrobe essentials that I would select if I had to pick a few must-have fall items.
I am VERY into sweater dresses at the moment, as well as layering pants under dresses…especially knit dresses.
I can't get enough of it.
And creams. I love the colour cream too. I used to avoid wearing whites and creams but there is something so very chic about it.
At the top of the post is the fall capsule wardrobe list of fall wardrobe essentials (in a great colour palette). The better to mix and match.
On the bottom just below are 24 quick and easy fall outfits that I put together from the pieces above.
Even if you don't like fall, you can't deny that it has the best clothes.
Stay safe.
Easy Fall Outfit Ideas
Casual Fall Outfits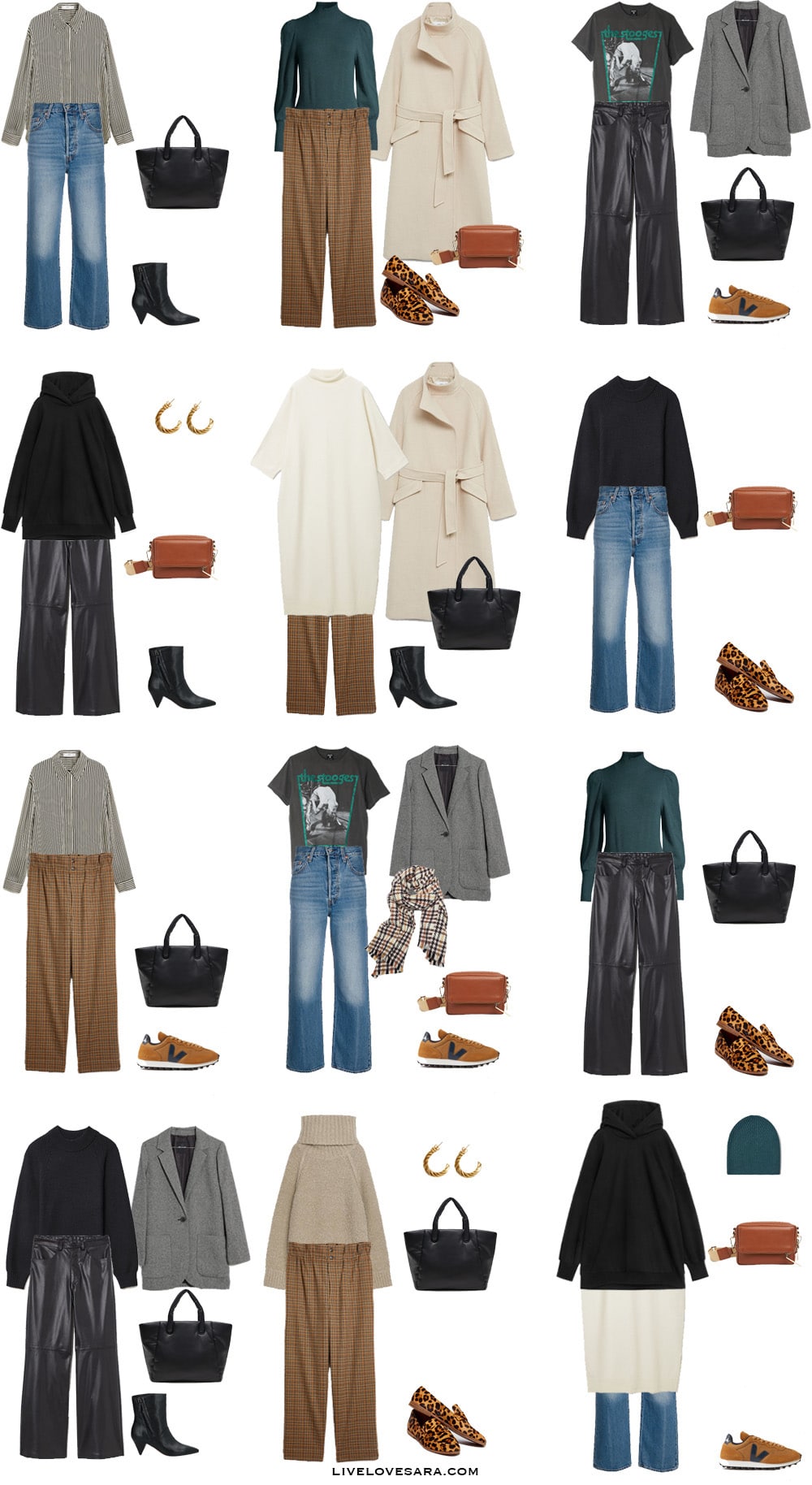 T-shirt | Green Bodysuit | Striped Blouse | Oversized Sweatshirt | Tan Sweater | Black Sweater | Blazer | Jeans | Check Trousers | Leather Trousers | White Knit Dress | Coat | Knit Hat | Scarf | Earrings | Black Boots | Animal Print Flats | Brown Sneakers | Crossbody | Tote |
SHOP THE POST


You might also like:
How to Build a Casual Fall Capsule Wardrobe
The Ultimate Fall Capsule Wardrobe
How to Build a Fall Capsule Wardrobe with Neutral
How to Build a Fall Work Capsule Wardrobe
Fall Capsule Wardrobe Essentials
How to Build a Fall Capsule Wardrobe: Shopping on a Budget
How to Build a Retro Inspired Fall Capsule Wardrobe
How to Build a Rock Chic Fall Capsule Wardrobe
This post contains affiliate links. By using my links to shop I may receive a small commission (at no cost to you). Thanks for supporting what I do