Fall Work Capsule Wardrobe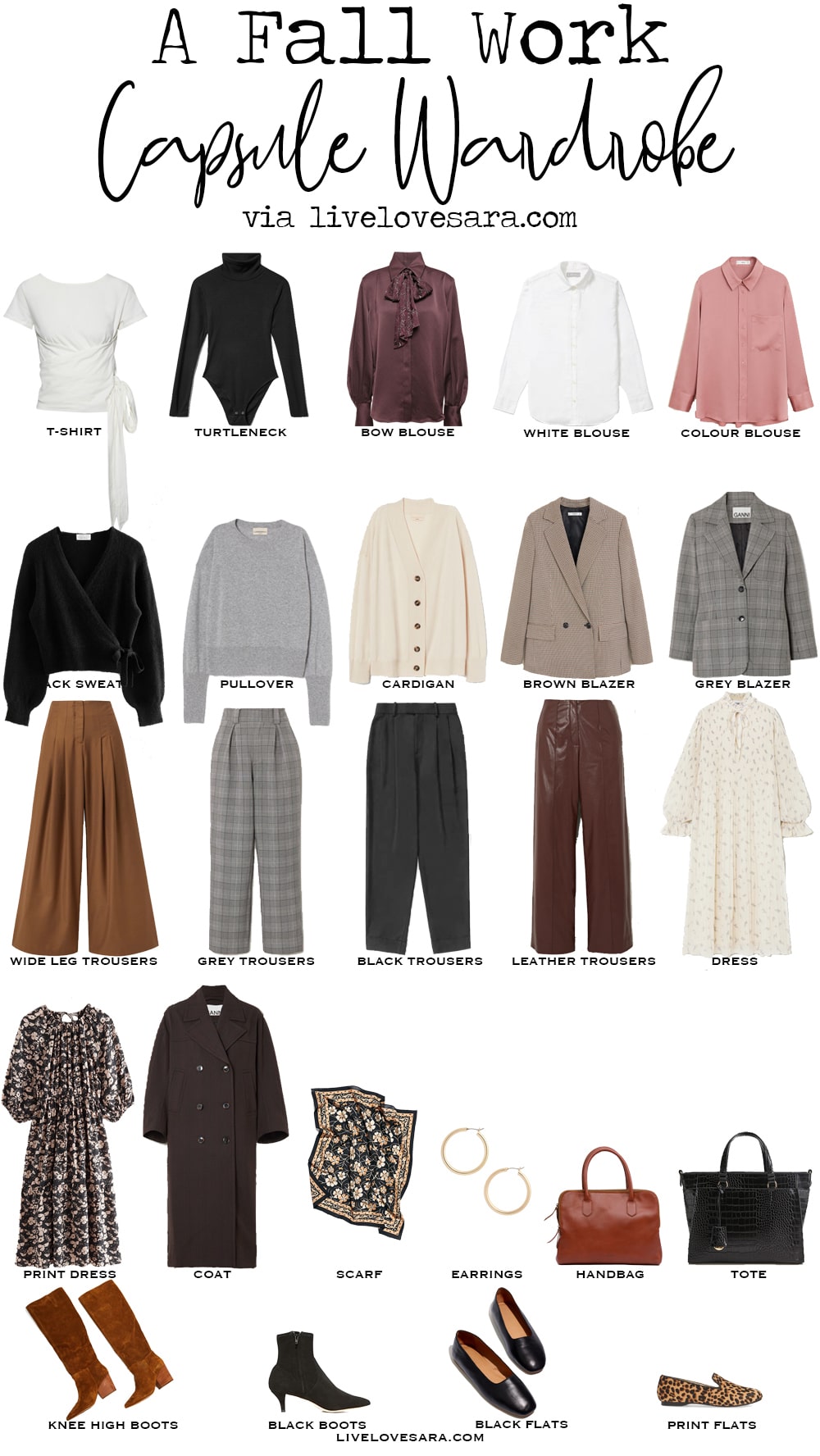 White T-shirt | Turtleneck Bodysuit | Bow Blouse | White Blouse | Pink Blouse | Black Sweater | Grey Sweater | Cardigan | Brown Blazer | Grey Blazer | Wide Leg Trousers | Grey Trousers | Black Trousers | Leather Trousers (a less expensive pair)| Light Dress | Dark Print Dress | Coat | Scarf | Earrings | Handbag | Tote | Knee High Boots | Black Boots | Black Flats | Animal Print Flats |
SHOP THE POST


It is that time again for the seasonal work capsule wardrobes. It has almost been a year now that I started this series and it is something that I look forward to putting together every few months.
Although it feels like the spring and summer work capsules were probably pointless due to the last 6 months, I enjoy doing them and I figured\ they might be useful for future reference.
Now that a lot of people are returning to work (although many will continue to work from home), this fall work capsule wardrobe might come in useful for somebody.
Last week put together a post on how to build a fall capsule wardrobe with essentials/wardrobe basics.
This week I borrowed several pieces from that capsule and brought them forward to this one to show you how you absolutely do not need an entirely separate work and weekend wardrobe.
If you have a strong foundation in your non-work wardrobe you will always be able to use pieces from that in your work wardrobe.
That is rule #1 when it comes to building a work capsule wardrobe.
Shop your own closet first.
Sometimes you can easily tell what is work appropriate.
For other pieces, you may have to do some trying on in different work outfits to see it's potential.
This will actually get easier each season once you have established your first work capsule.
If this is your first time building a work capsule wardrobe it is going to a little more time-intensive. Head over to How to Build a Teacher Capsule Wardrobe in 5 Steps to see it broken down.
Yes, it is based on a teacher wardrobe but the steps will work when building any work capsule wardrobe.
After shopping your wardrobe you need to think of a colour palette you want to work with.
It doesn't all have to be matchy-matchy or monochromatic but having pieces in colours that complement one another will make your wardrobe much more versatile and will make it easier to get dressed.
Next, you will make a list of key pieces that are missing that you would like to include.
If you have no idea what to include on your list look around online for inspiration.
Note the key pieces they are wearing that you feel really brings the outfit together and look for similar options.
Look for a variety of fabrics, textures, knits, and patterns. This will give you a beautiful visual and make getting dressed with a smaller wardrobe less monotonous.
Instead of 5 pairs of black dress pants, maybe have two. One tailored pair, and maybe one in leather or a wide-leg wool trouser.
Variety is key.
If this isn't your first time building a work capsule wardrobe then your task is easy.
Bring forth everything from the previous season that will work, and sprinkle in a few new pieces to freshen it up and round it out.
Wardrobe fatigue is real and leads to impulse shopping. Buying a few pieces that you love to freshen up a seasonal capsule will help to combat that.
I put together 30 work outfit ideas using all of the pieces in the fall work capsule above. They can be seen at the bottom of this post.
Don't underestimate the power of shoes and accessories.
Note: I received the knee-high boots in this post in the mail today and they are BEAUTIFUL. Exactly what I was hoping for and super quick arrival, even from the US to Canada.
You might also like:
How to Build a Winter Work Capsule Wardrobe
How to Build a Spring Work Capsule Wardrobe
How to Build a Summer Work Capsule Wardrobe
Fall Outfits For Work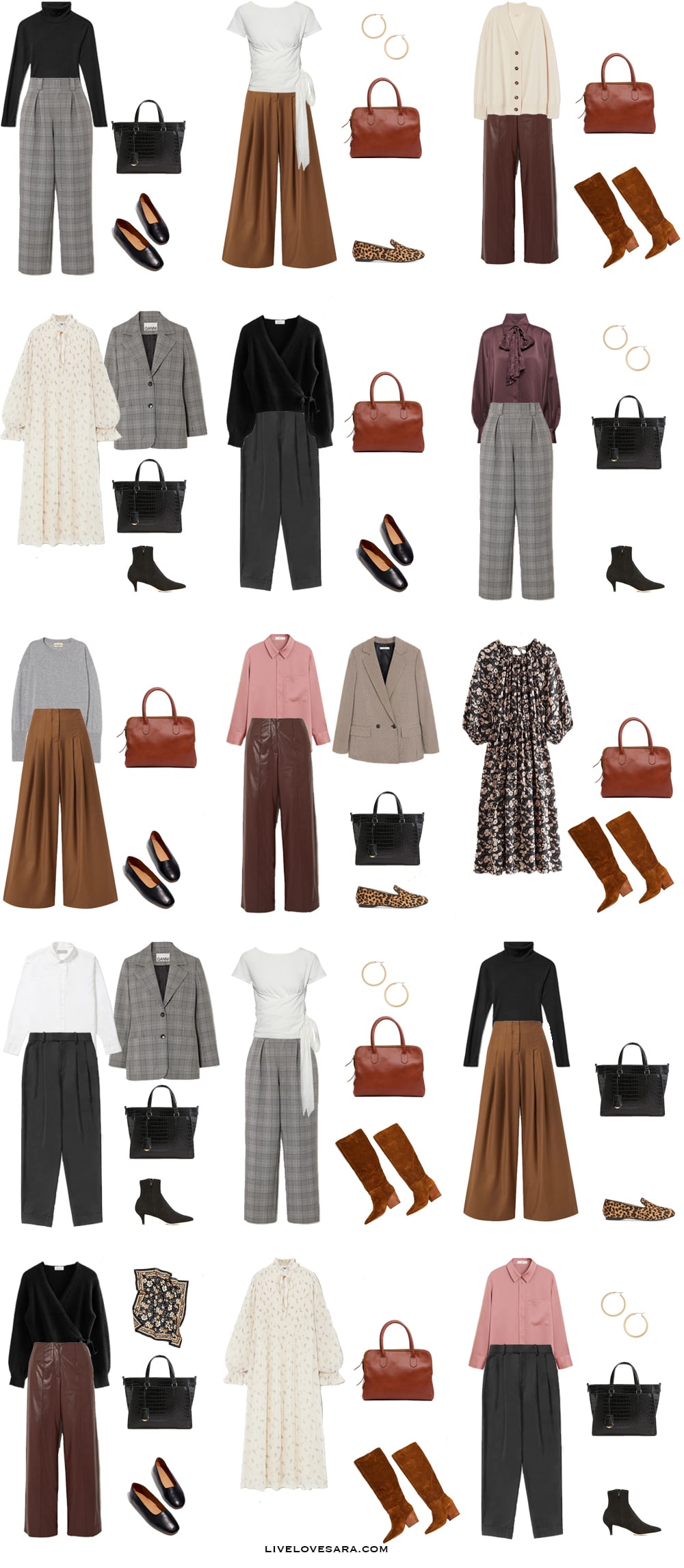 Fall Work Outfits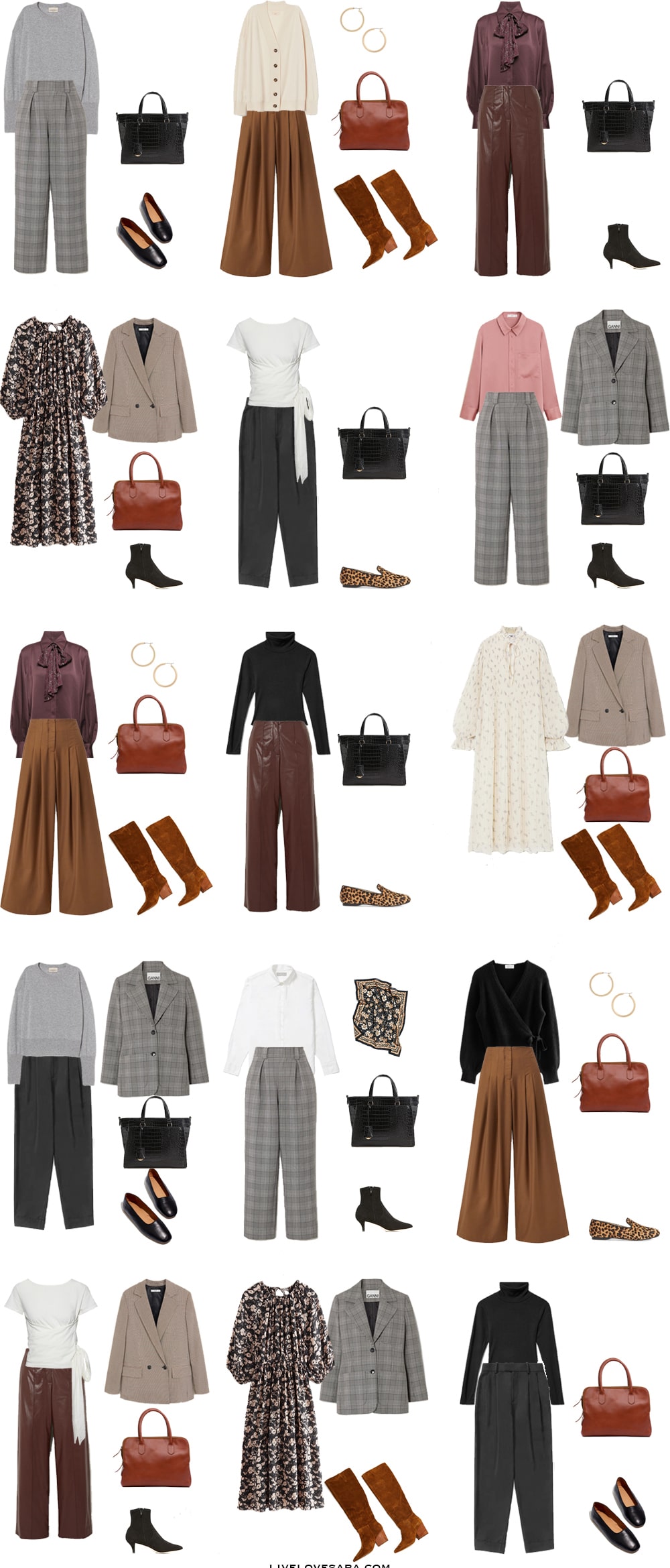 White T-shirt | Turtleneck Bodysuit | Bow Blouse | White Blouse | Pink Blouse | Black Sweater | Grey Sweater | Cardigan | Brown Blazer | Grey Blazer | Wide Leg Trousers | Grey Trousers | Black Trousers | Leather Trousers (a less expensive pair)| Light Dress | Dark Print Dress | Coat | Scarf | Earrings | Handbag | Tote | Knee High Boots | Black Boots | Black Flats | Animal Print Flats |
SHOP THE POST


This post contains affiliate links. By using my links to shop I may receive a small commission (at no cost to you). Thanks for supporting what I do