A Casual Capsule Wardrobe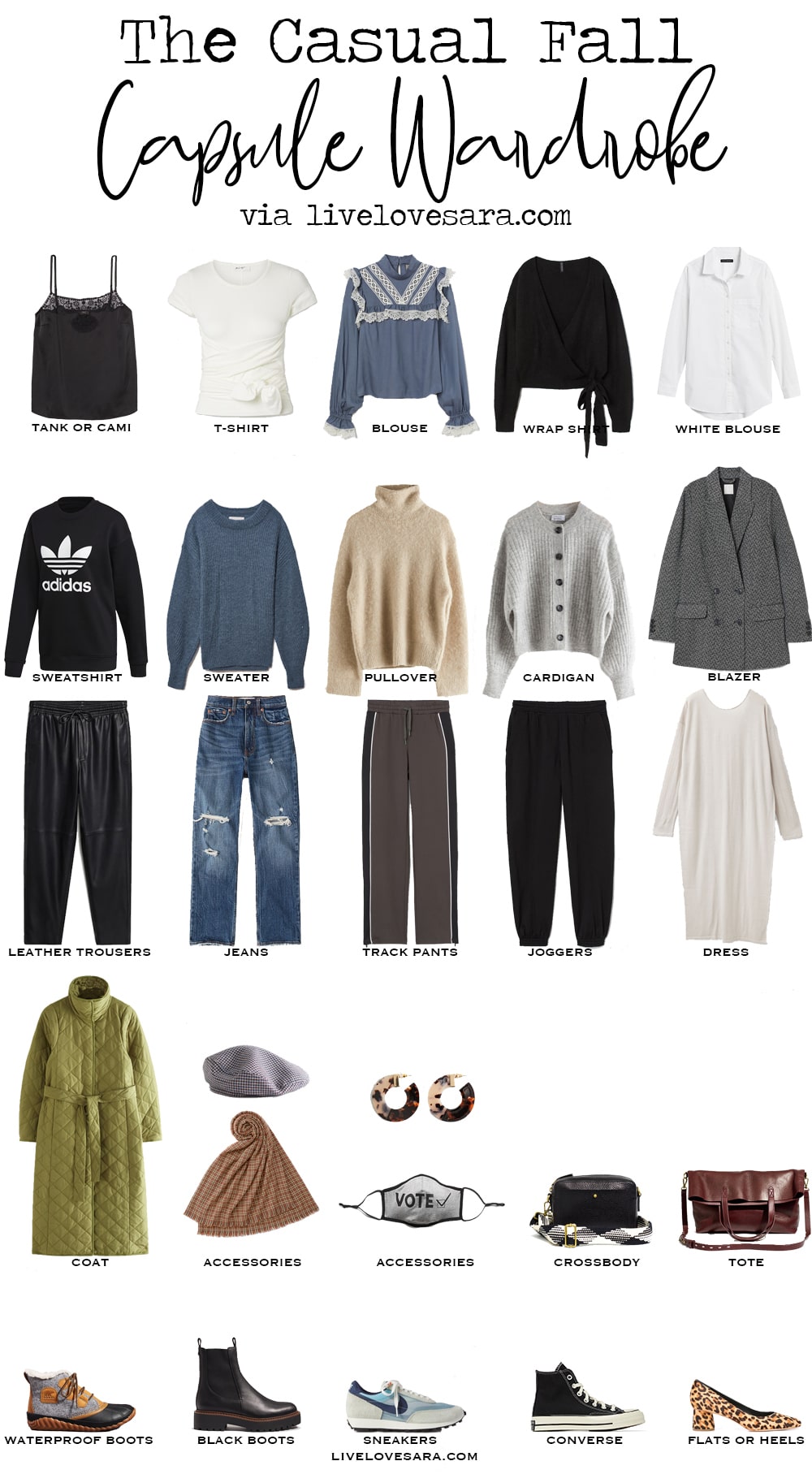 Camisole | T-shirt | Blue Blouse | Black Wrap Shirt | White Blouse | Adidas Sweatshirt | Blue Sweater | Turtleneck Sweater | Grey Cardigan | Blazer | Leather Trousers | Jeans | Track Pants | Black Joggers | White Dress | Green Coat | Hat | Scarf | Earrings | Face Mask | Black Crossbody | Tote | Waterproof Boots | Black Boots | Sneakers | Converse | Heels |
SHOP THE POST


Let's face it, it seems that 2020 has become the year of the casual wardrobe out of default. I mean, there were literally months where people wore strictly stay-at-home loungewear.
Many still do.
There was no point in getting dressed, even if you were going to the grocery store.
I think there was uncertainty, panic, fear, and a little bit of the sense of giving up during that period.
Now that we are still in the thick of it, we are realizing that a huge mental shift has taken place right across every aspect of our lives, even the way that we dress.
I think this time has really shown a lot of us how nice it is to have truly comfortable clothes to wear all the time.
I thought it would be fun to take the concept of an all loungewear wardrobe and elevate up just enough so that you still feel put together and dare I say…somewhat chic?
Not like you are running around in your pyjamas or exercise gear.
And while there is no shame in that, it is nice to get dressed in an actual outfit periodically.
I am a casual dresser 99% of the time, but even I would like to embrace and even more casual-chic look.
There were a few things that I kept in mind when I was selecting the pieces.
First, elastic waist is the key to comfort in pants.
Every pair of pants in this capsule wardrobe has an elastic waist (except the jeans, but they have elastane in them so they have stretch), even the faux leather joggers/trousers.
Balance with chic details.
For example: If you are going to wear joggers on the bottom, then you want your t-shirt to be a little less casual, so I picked one with a tie waist detail.
You want to wear a sweatshirt and joggers? Then layer a white button-down under the sweatshirt and slightly push up the sleeves.
Change your earrings, put on a necklace, wear dressier shoes.
Simple touches like that will take a really casual outfit that you bum around the house in, to something that you feel good wearing out as well.
It was really hard for me not to include my regular fall capsule wardrobe staple…the leather jacket.
I opted for an oversized blazer instead simply because it brings out a more elevated look than the leather does.
I would go up a size in the blazer if you like a good oversized look that allows you to layer sweaters and sweatshirts underneath.
Otherwise, it will end up to constricted in the arms which neither looks good nor feels good.
I kept to darker neutral for the most part since black tends to make everything look chicer.
This would also work if and have the same affect if you did the opposite and included a lot of creams or off white.
I find pure white too harsh in large doses, cream and off-white is a softer look if you are wearing it head to toe.
Don't forget to include a long, soft dress that you can both climb into bed wearing, or throw a blazer over the top for a polished going out look.
Damn, I love a good versatile piece.
This casual fall capsule wardrobe, would also make a good fall packing list (minus a couple of pairs of shoes because you don't need to pack that many).
I put together 24 outfits from these pieces but you can make so many more.
I just want to showcase how easy it is to dress casual but still look chic.
You might also like:
The Ultimate Fall Capsule Wardrobe
How to Build a Fall Capsule Wardrobe with Neutral
How to Build a Fall Work Capsule Wardrobe
Fall Capsule Wardrobe Essentials
How to Build a Fall Capsule Wardrobe: Shopping on a Budget
How to Build a Retro Inspired Fall Capsule Wardrobe
How to Build a Rock Chic Fall Capsule Wardrobe
Casual Outfit Ideas
Casual Fall Outfit Ideas
Camisole | T-shirt | Blue Blouse | Black Wrap Shirt | White Blouse | Adidas Sweatshirt | Blue Sweater | Turtleneck Sweater | Grey Cardigan | Blazer | Leather Trousers | Jeans | Track Pants | Black Joggers | White Dress | Green Coat | Hat | Scarf | Earrings | Face Mask | Black Crossbody | Tote | Waterproof Boots | Black Boots | Sneakers | Converse | Heels |
SHOP THE POST


This post contains affiliate links. By using my links to shop I may receive a small commission (at no cost to you). Thanks for supporting what I do