How to Build a Capsule Wardrobe
T-shirt | Navy Turtleneck | Blue Button Up | Black Blouse | White Long Sleeve | Green Pullover | Cream Oversized Sweater | Blue Cardigan* | Long Cardigan | Blazer | Brown Trousers | Blue Jeans | Black Jeans | Leather Trousers | Sweater Dress | Coat | Knit Hat | Hoop Earrings | Plaid Scarf | Crossbody | Green Tote | Heeled Boots | Flat Boots | Green Flats | Animal Print Desert Boots | White Converse |
SHOP THE POST


I wasn't sure what to call this one since it isn't based on a particular style or theme so I went with the words that both Google and Pinterest love.
Honestly, though, this is the ultimate fall capsule wardrobe if you are looking for a collection of pieces that are very versatile and will take you through the winter and spring as well.
While this could actually be a seasonal stand alone wardrobe, in reality, most of us have seasonal wardrobes that are much larger than this.
If you use this to cover your bases include at least one piece from each of the categories, you will have a well-rounded wardrobe.
I put together 30 outfits at the bottom fo this post so that you can see how versatile it is.
Keep scrolling.
What are Capsule Wardrobe Basics?
This answer will vary between people but there are a handful pieces that are an important part of any wardrobe.
T-shirts – Whether it is your favourite plain white tee or a vintage band t-shirt, there is no denying that these are one of the workhorses in any capsule wardrobe.
Jeans – I love jeans. I have a bunch of styles in various washes in my collection. They can be dressed up or dressed down, and even if jeans are not your favourite thing to wear every wardrobe should include at least one pair.
A button-down -Once upon a time I viewed button-downs as strictly office wear. Boy was I wrong. They have become one of my favourite items to wear when I want to have a classic cool vibe…they are also great for the office which would make them a truly versatile piece if you can wear them to work and at home.
Sweaters – I can't get enough of sweaters. Sweater season is my favourite and bringing them to the front of my wardrobe after summer thrills me to no end. Creatively dressing is so much easier when you can layer a sweater.
A Blazer – Lots of people think that blazers are overrated but I follow the philosophy to "just throw a blazer over it". This has never failed me when I am stumped with what to wear. It instantly elevates any outfit.
Sneakers/Boots/Flats – At least one of each should get you through any regular dressing situation.
Yesterday was the first day of fall/autumn and although this week is hotter than I like, I know that it will be cold in no time.
Layering is one of my favourite parts of the colder seasons.
Not only does it look great but it also lengthens the life of your knits.
When you layer a camisole, t-shirt, long sleeve, or button-down underneath a knit you don't have to launder the knit as often because it isn't directly touching your body.
Laundering knits less frequently keeps them in top shape.
I don't launder 100% cotton jeans very often either which probably grosses people out, but you aren't supposed to launder them after each wear.
I find the longer they go in between washes, the better they fit.
If you need to freshen them up you are supposed to put them in an airtight Ziploc and place them in the freezer overnight. It kills any bacteria and freshens them up.
If you have stains then use a small toothbrush to spot clean.
And when you do wash them be sure to use cold water and hang them up to dry.
We all know how upsetting it is when our favourite pair of jeans begin to fall apart.
My goal this weekend is to swap the shelves of my sweaters and jewellery boxes so that my sweaters and sweatshirts are in a more accessible area.
I ordered this sweater dress yesterday. My hope is to be able to wear it layered over jeans and trousers.
I don't often wear a dress in the winter so this will be a great alternative if it works out.
Happy fall capsule wardrobe planning.
*You can see what the blue button up cardigan looks like on me here.
You may also like:
How to Build a Fall Capsule Wardrobe with Neutral
How to Build a Fall Work Capsule Wardrobe
Fall Capsule Wardrobe Essentials
How to Build a Fall Capsule Wardrobe: Shopping on a Budget
How to Build a Retro Inspired Fall Capsule Wardrobe
How to Build a Rock Chic Fall Capsule Wardrobe
Easy Fall Outfit Ideas
Autumn Outfit Ideas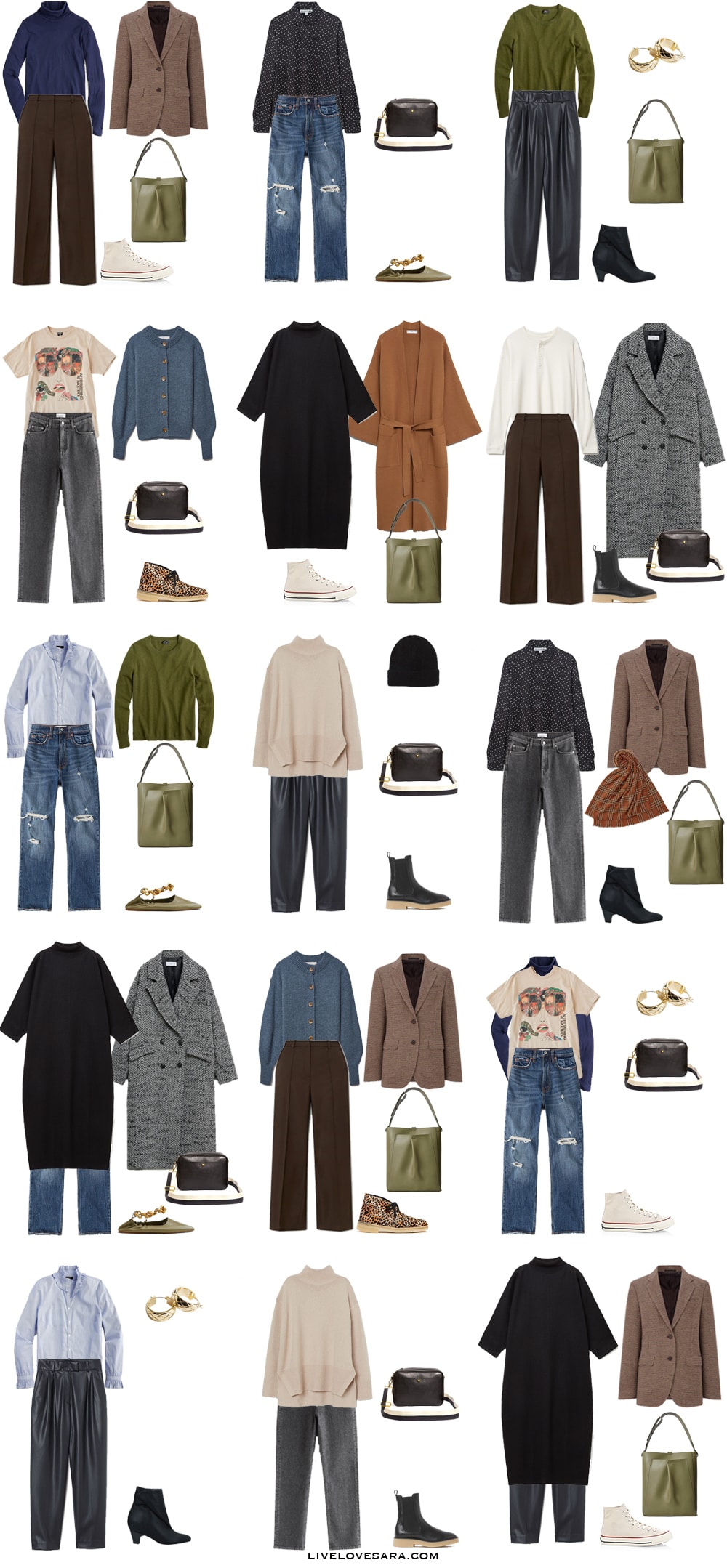 T-shirt | Navy Turtleneck | Blue Button Up | Black Blouse | White Long Sleeve | Green Pullover | Cream Oversized Sweater | Blue Cardigan | Long Cardigan | Blazer | Brown Trousers | Blue Jeans | Black Jeans | Leather Trousers | Sweater Dress | Coat | Knit Hat | Hoop Earrings | Plaid Scarf | Crossbody | Green Tote | Heeled Boots | Flat Boots | Green Flats | Animal Print Desert Boots | White Converse |
SHOP THE POST


This post contains affiliate links. By using my links to shop I may receive a small commission (at no cost to you). Thanks for supporting what I do