Neutral Fall Capsule Wardrobe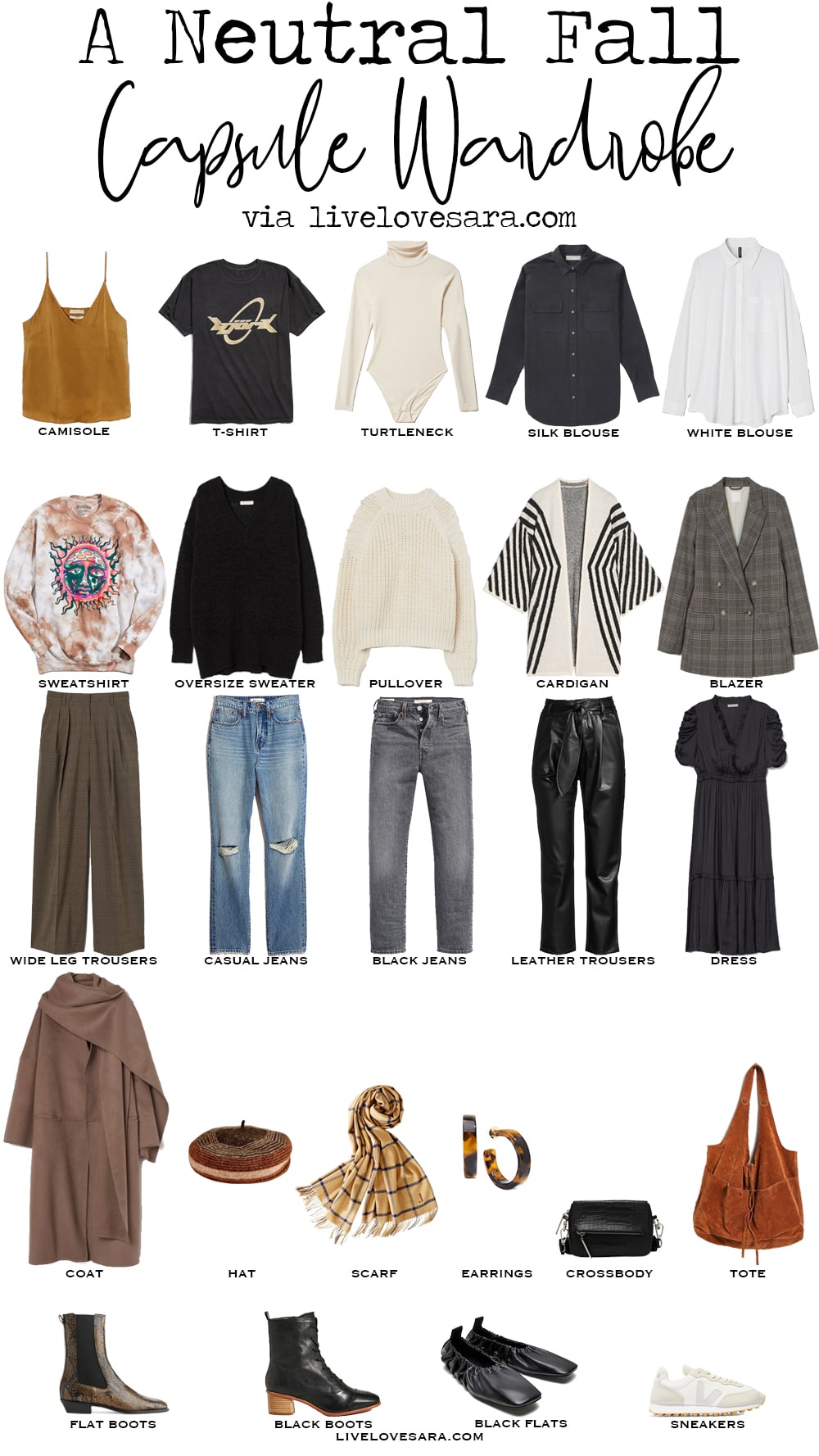 Camisole | Bjork T-shirt | Turtleneck Bodysuit | Silk Blouse | White Blouse | Sublime Sweatshirt | Oversize Sweater | Cream Pullover | Striped Cardigan | Plaid Blazer | Wide Leg Trousers | Casual Jeans | Black jeans | Faux Leather Pants | Coat | Hat | Scarf | Earrings | Crossbody | Tote | Flat Boots | Black Boots | Black Flats | Sneakers |
SHOP THE POST


You may have found yourself here if you were searching "how to build a capsule wardrobe". That seems to be the way that a lot of people find themselves here for the first time.
In order to break down how to build a capsule wardrobe, you have to first figure out…
What is a Capsule Wardrobe?
Capsule wardrobes have been around fora long time.
The concept even before they were called capsule wardrobes.
Essentially, it is a small collection of wardrobe staples that can be mix and matched interchangeably throughout the seasons.
Depending on where you live, your capsule may not have to change that much to accommodate different seasons.
Or like many women choose to do if they live in places with huge temperature fluctuations throughout the year is to build a strong foundation of a small collection of pieces.
This will be your base that you carry through to each season.
From there you will flesh it out with your favourite seasonal items.
If you have a strong foundation this should work out well for you season after season.
Capsule wardrobes help you to pare down your wardrobe to make getting dressed an easier and more creative experience.
With less shopping going on it allows you to save and spend more on the singular pieces of a higher quality that will last you years.
Wouldn't you rather buy one really nice silk blouse instead of 3-4 polyester blend trendy blouses that you won't like next year?
One of the first steps is determining what your capsule wardrobe colour palette is going to be.
Today is all about the neutral capsule wadrobe.
While I am very much about colour, I am also very much about the colour brown.
I think it may be my favourite colour to wear which is another reason why I love fall.
If you are a cooler palette person then you can build your neutral capsule wardrobe leaning towards greys.
I also love grey, and wear it all the time.
But I look better in brown.
When determining how to build a capsule wardrobe always take note of your favourite items.
The items you wear the most are the pieces that will get the most use in your capsule so make these part of the foundation and build it around them.
Building a capsule wardrobe doesn't have to break the bank.
If you shop your own wardrobe first and purge all the items that are just adding physical and mental clutter it will be a great way to start.
From there you can start adding in pieces as you come across them or save up for them.
A real wardrobe isn't ever fully complete.
There will always be things that need replacing or freshening up with a few trendy items in a season.
But there will come a point where you feel it is almost complete.
This is the point where you are satisfied with getting dressed each day.
You have managed to cut down (or cut out) impulse shopping.
You won't feel like you have nothing to wear even with much less clothes.
That is where you should strive to be.
As for where to find items for your capsule?
Everywhere.
My closet is a huge combination of budget fashion, ethical fashion, and thrifted fashion via thrift stores, vintage stores, and Poshmark.
You can find treasures anywhere if you look hard enough.
Note: use stores yearly sales times to stock up on wardrobe staples. There are a ton of deals going on right now.
You may also like:
How to Build a Budget Summer Capsule Wardrobe
The Stay at Home Mom Capsule Wardrobe
How to Build an Edgy Capsule Wardrobe
How to Build a Fall Work Wardrobe

Neutral Fall Outfit Ideas

Camisole | Bjork T-shirt | Turtleneck Bodysuit | Silk Blouse | White Blouse | Sublime Sweatshirt | Oversize Sweater | Cream Pullover | Striped Cardigan | Plaid Blazer | Wide Leg Trousers | Casual Jeans | Black jeans | Faux Leather Pants | Coat | Hat | Scarf | Earrings | Crossbody | Tote | Flat Boots | Black Boots | Black Flats | Sneakers |
SHOP THE POST


This post contains affiliate links. By using my links to shop I may receive a small commission (at no cost to you). Thanks for supporting what I do