Rock Chic Capsule Wardrobe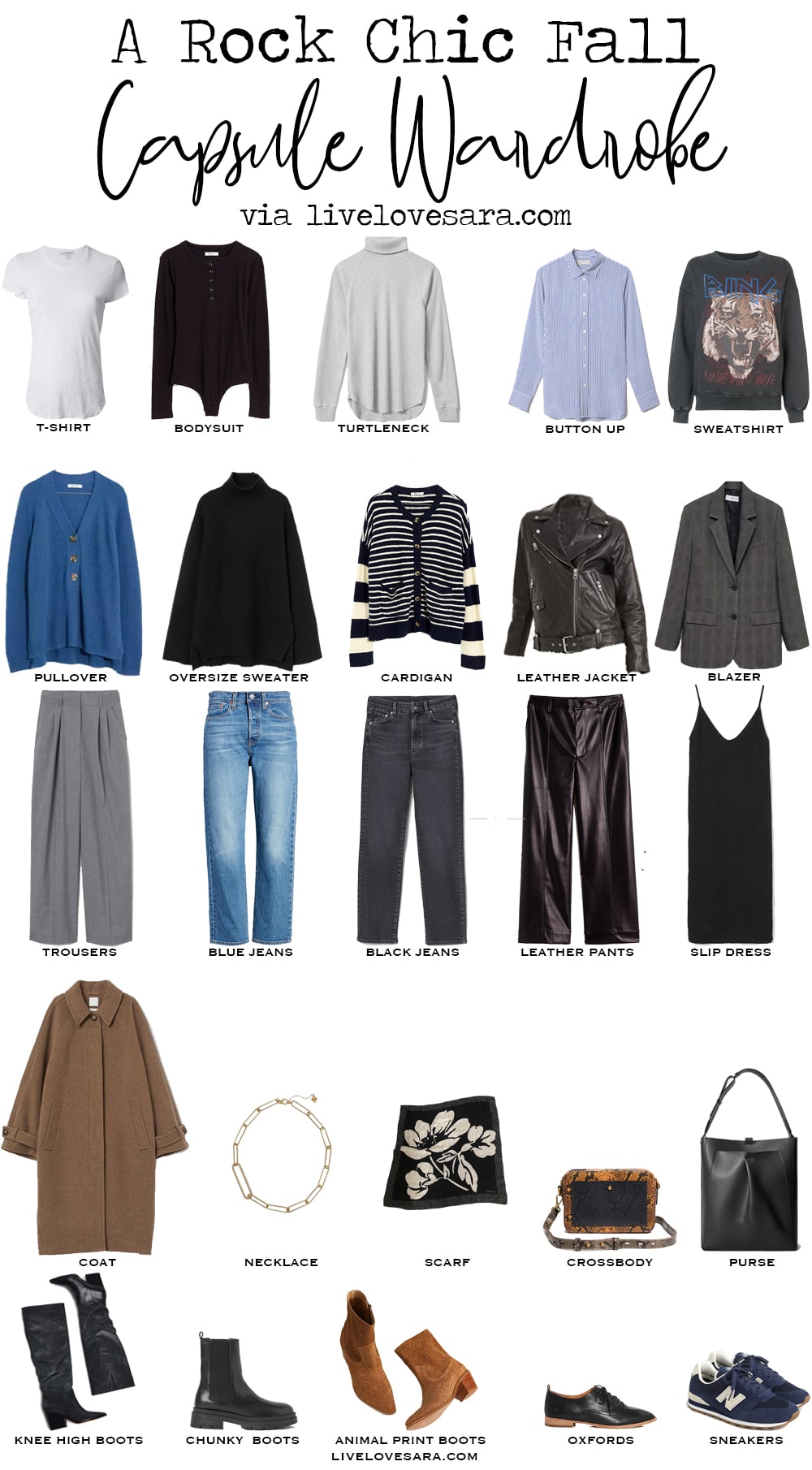 T-shirt | Black Bodysuit | Grey Turtleneck | Button up | Sweatshirt | Blue Pullover | Black Sweater | Striped Cardigan | Leather Jacket | Blazer | Grey Trousers | Blue Jeans | Black Jeans | Leather Trousers | Slip Dress | Coat | Necklace | Scarf | Crossbody | Purse | Knee High Boots | Chunky Boots | Animal Print Boots | Oxfords | Sneakers |
SHOP THE POST


It's that time again, time for a fall capsule wardrobe that is a reflection of my own wardrobe. I find that I gravitate towards the "rock chic" look more often than not.
Although, I was in Uniqlo today and I am in love with this collection. All of it. Every piece I saw was great.
I'll take the whole thing, but this blazer (in the brown and orange check), this striped sweater, and this blouse are exceptionally nice.
I tend to focus a lot on black, grey, and blue in this type of wardrobe since these colours tend to be edgier and easier to wear.
I'm taking the rock chic summer capsule wardrobe and carrying it over for what I would wear in the fall in a similar style.
I still love Anine Bing and find that she does this style of clothes really well.
My Serpent sweatshirt is still one of my most worn items still after buying it a year and a half ago.
It's not easy to find new anymore, but I have often seen it listed on Poshmark or eBay.
You can find the tiger print that I included in today's post a lot easier. I love it too. This was the one that I originally wanted but it was not available at that time.
Then the cobra print came out and I grabbed it while I had the chance.
It was more expensive than I tend to pay for individual pieces since I had to pay taxes and border fees on top of the exchange rate.
But I use cost per wear and it has earned it's keep 😉
What would be included my rock chic fall capsule wardrobe staples?
So in other words, if I had to choose a handful of pieces to integrate into my wardrobe what would be the 5 pieces I selected that would give me the rock chic vibe I was looking for?
1. A leather jacket: This would be my main piece. I wasn't even going to include one in this fall capsule wardrobe because every single one that I liked was very pricey.
So if price was no object than I would probably buy the Anine Bing moto, or this one from Acne Studios (I saw it years ago and fell in love).
Mine is from Zara. I bought it about 5 years ago and have worn the shit out of it.
It was $179 at the time which was around my budget and I have no complaints about it.
I do wish that I went up a size in it because I actually like my leather jackets to be a bit oversized and roomy since I enjoy layering underneath it.
When it is too fitted I find that if I try to wear a sweater underneath I end up with stiff, robotic sausage arms.
It doesn't feel cute, nor does it look cute.
2. Jeans. I'd say a great pair of jeans is key. A great pair of jeans also depends on fit, wash, style etc. that is your preference.
I have been wearing Levi's pretty religiously for the last few years, but I recently bought a pair from Abercrombie that I really like.
They come in a curve fit too which is great since women with curvier hips, and smaller waists tend to have a difficult time finding a good fit in jeans.
3. A slip dress. I tend to gravitate towards black, but they come in a whole plethora of prints and colours.
Slip dresses aren't just for summer anymore. Embrace your inner 90s (I'm perpetually 90s) and layer over and under it.
Dress it up with heels, dress it down with chunky boots.
One of my favourite looks is a slip dress with a leather jacket. Simple but perfect.
4. A Graphic tee…and by graphic tee I mean a band tee.
There are a lot of band tees out there now. And a lot of people wearing band tees of bands that they don't even listen too which can be annoying.
I tend to find my band tees in thrift stores, but honestly, they aren't that easy to come by unless you know specifically what you are looking for and search online second hand.
I have had Heart band tee on my wish list for a million years to no avail.
5. Black Boots. High, low, or both it doesn't matter. A great pair of black boots go far.
The style right now is a chunky-soled Chelsea boot, which I like, but if you are looking for something classic instead of a trend I would suggest some ankle booties or knee-high boots.
I have the black knee-high boots in the cognac colour from the sustainable company Able that I love and can't wait to wear them now that the weather is colder.
I'll add an extra necessary item to this list because they are a staple and my favourite ones are on sale right now.
The perfect white Tee. I LOVE James Perse tees. They are expensive but I found mine at Nordstrom Rack for more than half off.
They seem to have restocked many of the styles and colours.
I linked the one that I have which I also included in this capsule wardrobe post.
Those are my five key pieces that you can add any wardrobe to add a little rock chic to it.
You may also like:
How to Build a Fall Capsule Wardrobe with Neutral
How to Build a Fall Work Capsule Wardrobe
Fall Capsule Wardrobe Essentials
How to Build a Fall Capsule Wardrobe: Shopping on a Budget
How to Build a Retro Inspired Fall Capsule Wardrobe
Fall Outfit Ideas
Easy Fall Outfits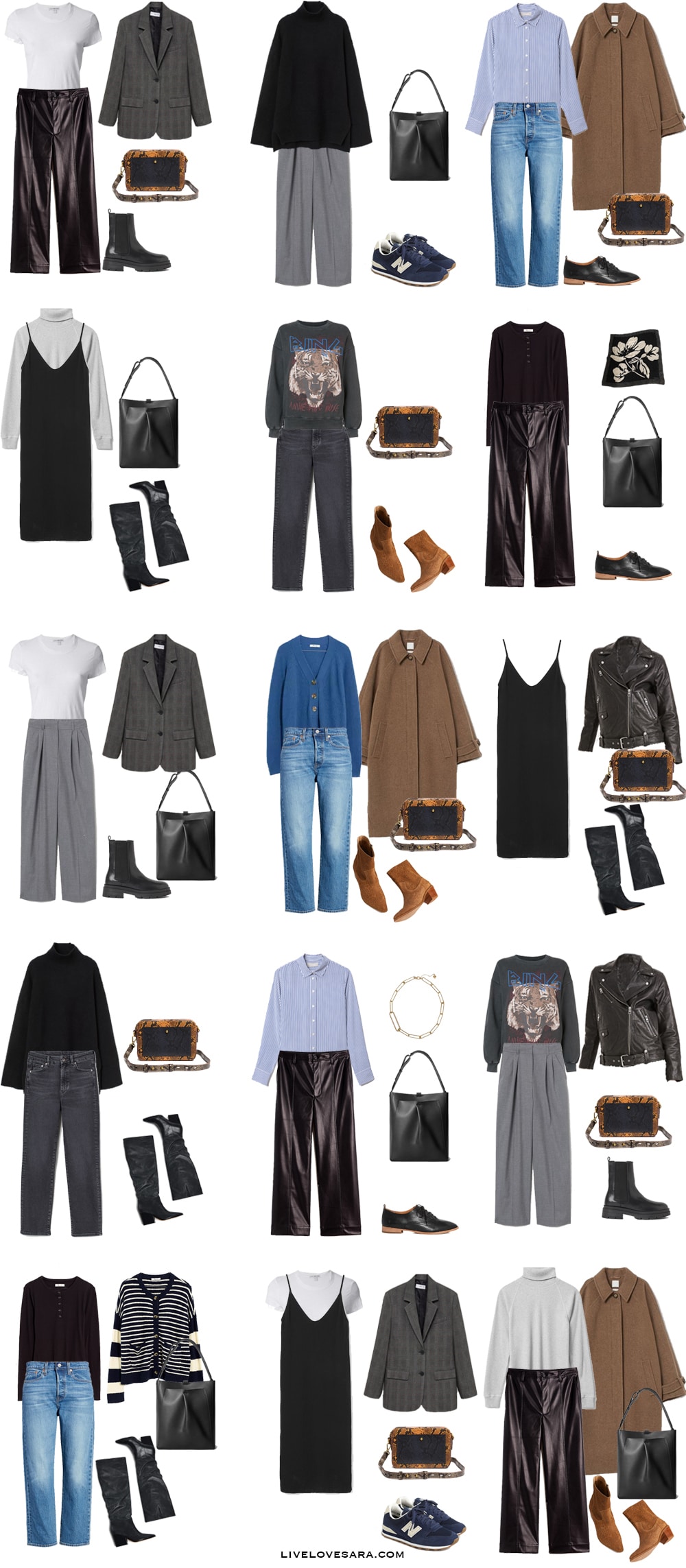 T-shirt | Black Bodysuit | Grey Turtleneck | Button up | Sweatshirt | Blue Pullover | Black Sweater | Striped Cardigan | Leather Jacket | Blazer | Grey Trousers | Blue Jeans | Black Jeans | Leather Trousers | Slip Dress | Coat | Necklace | Scarf | Crossbody | Purse | Knee High Boots | Chunky Boots | Animal Print Boots | Oxfords | Sneakers |
SHOP THE POST


This post contains affiliate links. By using my links to shop I may receive a small commission (at no cost to you). Thanks for supporting what I do