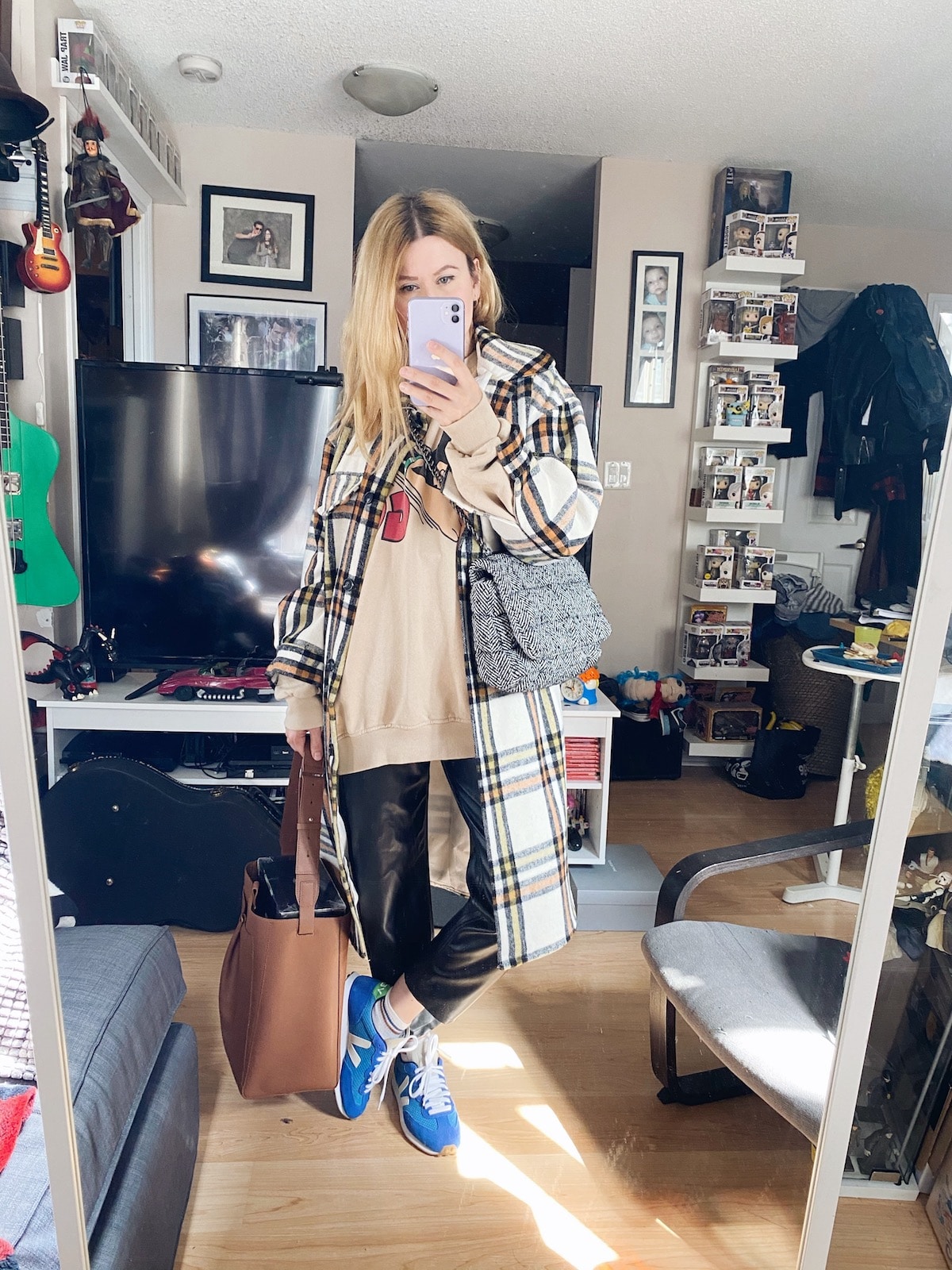 Outfit 1 – Black Camisole | Trousers | Blazer | Sandals | Purse |
Outfit 2 – Blue Button Down | Trousers | White Sneakers | Bag |
Outfit 3 – Sweatshirt (sold out) | Shacket (similar) | Trousers | Veja | Tote | Zara Bag |
Outfit 4 – Turtleneck Dress | Leggings | Sneakers | Purse |
Outfit 5 – Turtleneck Bodysuit | Trousers | Vintage Leather Jacket | Boots | Bag |
SHOP THE POST


Another weekend down, another feeling of absolutely accomplishing nothing. Ugh. I did buy some socks.
Does that count as scratching something off my list?
Technically I needed new socks.
I also bought two Christmas presents for the girls.
This sign for Roo, and this super creepy vintage Alvin for Merle. She won't think it is creepy though.
I've also been going to bed super late, as have the girls and it is really starting to wear me out.
I miss the days when I could crawl into bed at 8 pm if I wanted to. There is just way too much to do at night now, and it doesn't help that I get my burst of energy in the evening hours.
Like right now.
It's 9:30 on Sunday night and I finally feel clear-headed and like I can accomplish all kinds of things.
I'm not going to, but I feel like it.
Aside from that Tom found me that plaid-leather hybrid jacket above from a vintage shop downtown.
It was handmade from vintage pieces and I love it.
My Sisyphus mountain of laundry is pretty damn high too, and I didn't manage to throw a load in this weekend.
I also misplaced my AirPods in the apartment.
I wore them out on Thursday afternoon and when I came home I distinctly remember putting them in the case.
I usually toss them onto my desk after so they are there when I want them again, but this time I must have walked around with them and put them god knows where.
The annoying thing is that while I can use Find my iPhone to determine they are in fact in the apartment, I can't use it to get them to make a noise since they are in their case.
They should change that.
I'm sure I am not the first person to say that.
Stay safe and wear a mask.
You might also like:
What I wore last week.
This post contains affiliate links. By using my links to shop I may receive a small commission (at no cost to you). Thanks for supporting what I do