Affordable Capsule Wardrobe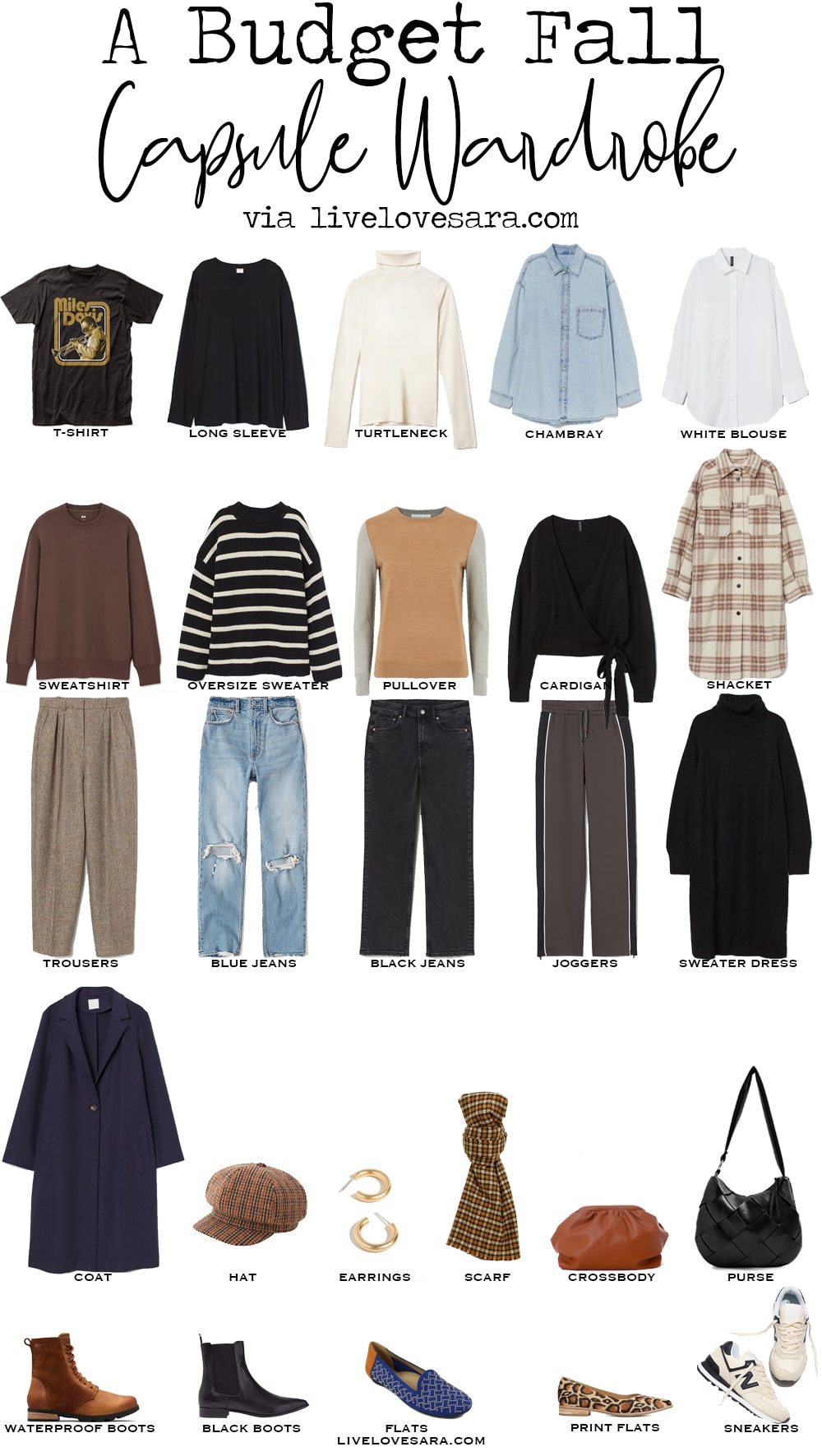 T-shirt | Long Sleeve | Turtleneck | Chambray | White Blouse | Sweatshirt | Oversize Sweater | Pullover | Cardigan | Shacket | Trousers | Blue Jeans | Black Jeans | Joggers | Sweater Dress | Coat | Checkered Hat | Hoop Earrings | Check Scarf | Crossbody | Black Purse | Waterproof Boots | Black Boots |Blue Flats | Animal Print Flats | Sneakers |
SHOP THE POST


I think it is safe to say that we have all been there, or are currently there right now…living on a budget. Or at least limiting a budget to certain areas in your life either out of necessity or wanting to save money.
There is a reason why shopping on a budget is a highly searched term.
This week I am focusing on shopping for a wardrobe on a budget.
I have been living within a budget for as far back as I can remember.
When I was little my mother sewed many of my clothes (she is a great seamstress and made many of my dolls clothes too which are some of my best memories).
When I was a teenager it was during the grunge time period so a few dollars could go a long way in a thrift store.
Remember fill a bag for $1?
Those were the days.
In my early adulthood, and into my early 30s budgeting came out of necessity and I became really good at honing my thrifting skills during this time.
Now, while we are better off than we have been for our entire marriage, I still thrift, shop sales and save for things that I want.
Both out of habit, and because I like to.
And although I know they exist, I don't know anyone that can go out and purchase anything they want, whenever they feel like it.
It almost seems like an Urban Legend at this point, although it's obviously not.
So if you are looking to create a capsule wardrobe, this week I am focusing on how to build an affordable capsule wardrobe on a budget.
The first step is figuring out:
What is your wardrobe budget?
This is going to vary right across the board. No one's budget will be the same.
Next, you need to find a way to make that work the best for you.
And just because you have to work within a certain budget does not mean that you will look like you are.
There are so many options today in finding great bargains on amazing pieces.
I recently found a black slip dress on Poshmark for $20 and it looks like it cost me a lot more than that.
What do you already have?
Go through your closet thoroughly.
Closet cleanouts or wardrobe purges are great for going through everything that you own with a critical eye.
It removes the clutter from your closet so that you can really see what you already own, and what you might like to add.
Start making a closet wish list.
Most of us already have those. Things that we need, want, dream to own one day.
Take that list and really focus on what would be realistic purchases for you.
Things that would really work to enhance the versatility of your wardrobe.
Make sure that you write it down.
Seriously though, I always think of something that I am looking for and then never remember what that is when I am actually shopping.
If I have a quick reference list it helps me to pay close attention so that I don't miss something that would fill one of those wardrobe holes, or check off a wish list item.
Depending on your shopping preferences and budget, second-hand shopping might be your best friend.
There are really good second hand and vintage items out there people.
Don't neglect this area of shopping.
Poshmark is a good one, as is eBay, and Thredup if you like online shopping.
Other ways to save money are to shop off-season sales.
As long as you are sticking with basics or classic pieces and not trendy items, you can't tell if something is from "this season".
Everything in this fall capsule wardrobe is within a reasonable price range.
The blue jeans that I added are currently on sale throughout this weekend and are amazing on. I ordered them after I ordered this pair and loved them.
I'm not sure why I haven't tried Abercrombie jeans before.
It definitely pays to try things on.
There are capsule wardrobe examples of outfits that can be made with these pieces at the bottom of this post.
Stay Safe.
You may also like:
How to Build a Fall Capsule Wardrobe with Neutrals
How to Build a Fall Work Capsule Wardrobe
Fall Capsule Wardrobe Essentials

Budget Fall Outfit Ideas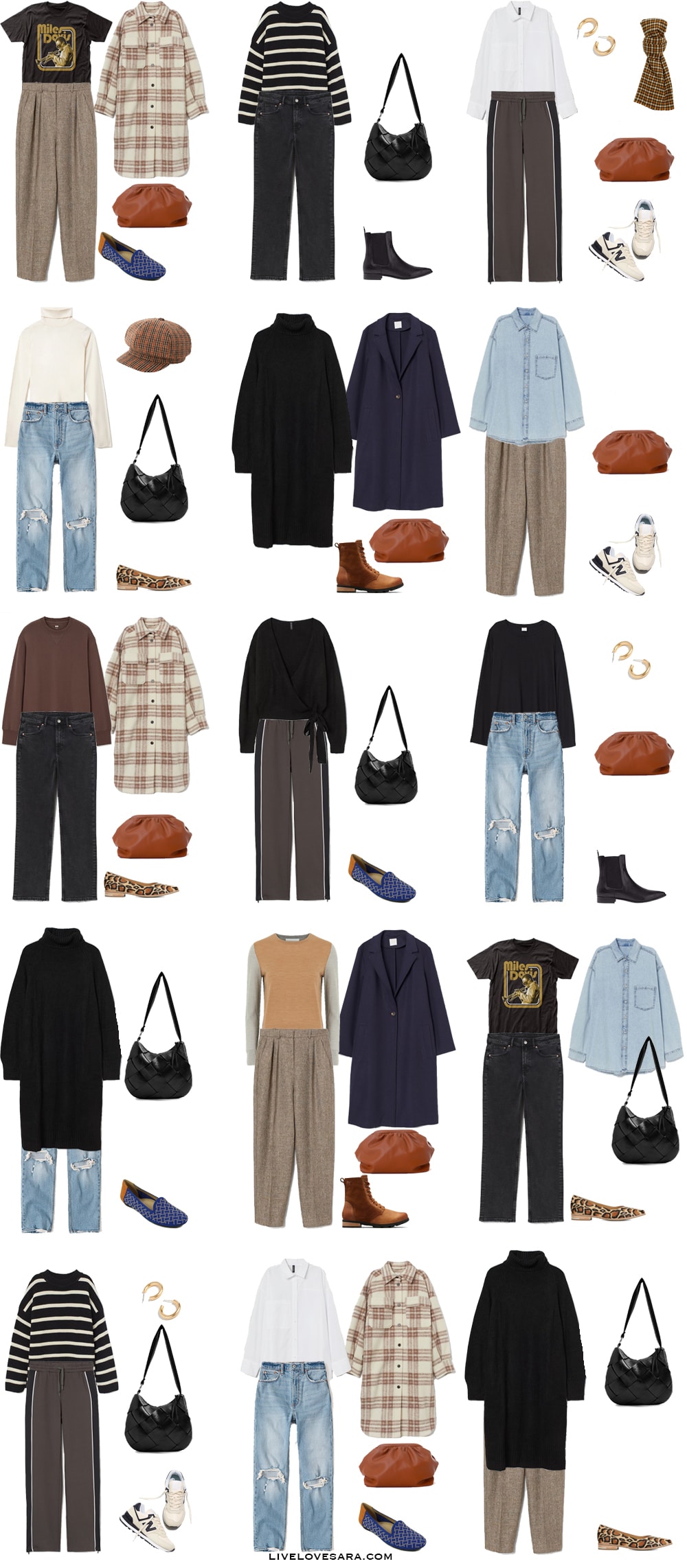 Affordable Fall Outfits
T-shirt | Long Sleeve | Turtleneck | Chambray | White Blouse | Sweatshirt | Oversize Sweater | Pullover | Cardigan | Shacket | Trousers | Blue Jeans | Black Jeans | Joggers | Sweater Dress | Coat | Checkered Hat | Hoop Earrings | Check Scarf | Crossbody | Black Purse | Waterproof Boots | Black Boots |Blue Flats | Animal Print Flats | Sneakers |
SHOP THE POST


This post contains affiliate links. By using my links to shop I may receive a small commission (at no cost to you). Thanks for supporting what I do