Fall Capsule Wardrobe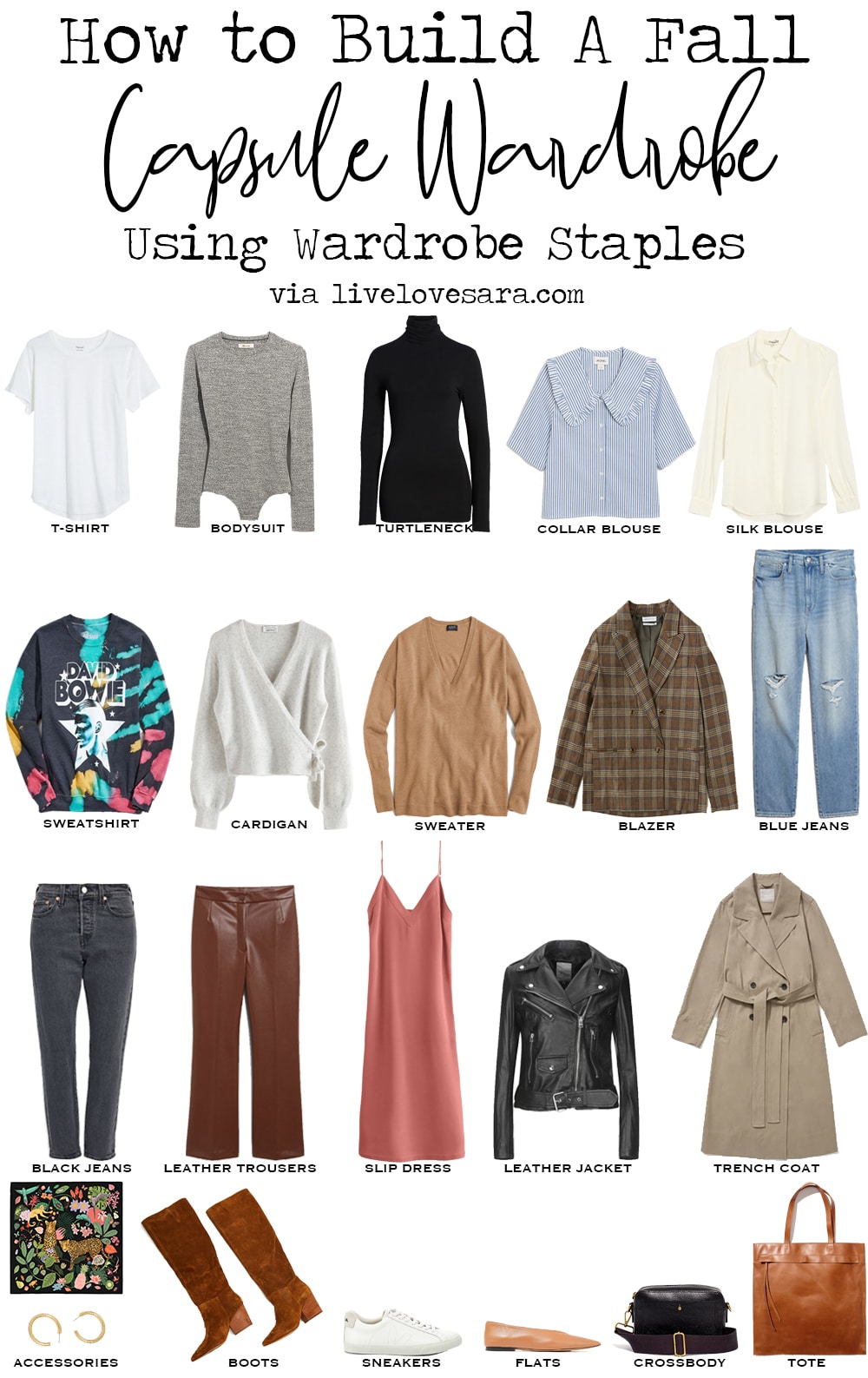 White T-shirt | Grey Bodysuit | Black Turtleneck | Striped Collar Blouse | Silk Blouse | Bowie Sweatshirt | Wrap Cardigan | Camel Sweater | Check Blazer | Blue Jeans | Black Jeans | Leather Trousers | Pink Slip Dress | Leather Jacket | Trench Coat | Scarf | Hoops | Knee High Boots | White Sneakers | Brown Flats | Black Crossbody | Brown Tote |
SHOP THE POST


I frequently get asked the question, "what are YOUR capsule wardrobe essential?" I put your in capitals because I don't believe there is a universal list of capsule wardrobe essential that would work for absolutely everybody.
It depends on your lifestyle, tastes, climate, and even your income.
I have mixed in a few pieces here that are true classic wardrobe staples that you will carry through every year through multiple seasons, and a few pieces that I love that can really liven up your current fall capsule wardrobe if you already have one.
If you feel like it is too early to be talking about fall wardrobes, it's not. Stores are starting to roll out their fall merchandise.
It is actually a perfect time to start looking because we are now entering the Back to School season which means sales. Big ones.
When I worked retail it was our biggest selling time of year and I don't think much has changed since then except the addition of being able to buy anything and everything online.
And not that you want to hear it, but the Nordstrom sale is in August. They have a preview online, and while I am not overly impressed with what they have out this year they do have some basics listed that are worth buying.
Bras, underwear, and leggings are things that I like to buy when I find quality styles on sale.
Back to the capsule wardrobe staples. I am a huge proponent on buying the best quality that your money can buy. That amount will differ for everyone.
Luckily we have a lot of options when it comes to shopping, and you will find versions of the same items across all prices ranges.
In general terms, the better quality an item is the longer it will last, so you will not have to replace it often.
Cost per wear is a good way to determine whether something is worth the extra money.
I use cost per wear whenever I consider buying something that is more expensive than at my regular shopping haunts.
What are some fall capsule wardrobe staples?
A great pair of jeans. Jeans do not have to cost an arm and a leg to be good. I have had H&M jeans that have lasted me for years.
I know that H&M has had complaints about fit issues but I personally feel over the last 18 months or so they seemed to have corrected the issue.
They fit well, have classic cuts (like these vintage cut), and keep their shape well which can be frustrating with less expensive jeans.
My current favourite jeans are this style by Levi's. They are 100% cotton and get better with every wear. Get your regular size, they will be snug at first but will shape to your body in no time.
And the wash is perfection.
A moto jacket. A black leather jacket is my go-to pairing with everything. One of the things that I hate most about summer is that it is too to wear it.
My current jacket I bought from Zara about 5 years ago was the best that I could afford at that time and I will continue to wear it.
For my next leather jakcet I would like to maybe go up a size so it is easier to layer sweaters underneath. The sleeves can be a tight fit if it is too bulky.
A leather jacket, doesn't even have to be leather. There are a lot of incedble vegan options to choose from, and also a multitude of colours.
If you don't like black leather, a nice cognac brown (or some other colour) might be for you.
A black turtleneck. Nothing say chic quite like a nice slim black turtleck.
It is funny becasue I actually used to loathe turtlenecks. It wasn't until the last couple of years that they have become a mandatory closet staple for me.
I have one in black, grey, camel, and black & white stripe. I bought a couple from Simons, and a couple from Kotn.
A slip dress. I have been a fan of slip dresses since 1994. And now that the 90s trends came back I get to enjoy wearing slip dresses over t-shirts again.
I am partial to a black slip dress but whatever colour floats your boat will work. The pink I chose is absolutely lush.
Pale pink, or a nice burgundy are lovely. I also love this powder blue.
A cashmere sweater. I am not going to lie. when I bought my first cashmere sweater a couple of years ago I felt like such a grown up.
You can find cashmere sweaters in every colour imaginable. I tend to stick with the classics of black, grey, and camel but a deep green is on my wish list.
Now that I have seen how nice they are, and how great they wear I am a converted cashmere lover.
An oversized blazer. My motto is when in doubt throw a blazer over it, and that is a rule that I live by.
I have a multitude of blazers and think that every wardrobe needs at least one. They even make yoga pants, and sweatshirts look dressy.
If I had to pick only one blazer for my fall wardrobe it would be a brown checkered/plaid pattern.
A Variety of t-shirts. A great quality white tee can go a long way. But you don't just want a white t-shirt in your wardrobe.
My wardrobe collection consists of white, black, grey, and a huge amount of band tees.
I love to layer and t-shirts are very easy to layer under anything. Layering a t-shirt under your sweaters will also cut down on the wear and amount of times you need to wash the sweaters, therefore, increasing their shelf life.
Those six items are my fall capsule wardrobe essentials.
Now for the fun pieces to mix in after you have your capsule wardrobe basics nailed down.
A bodysuit.
An oversized sweatshirt.
Leather trousers.
Knee-high boots. (I actually just ordered these)
A large collar button down for layering.
An easy to wear crossbody.
Jewellery simple or statement pieces.
I put together 18 outfit ideas from to top pieces so you can see how versatile having a select number of wardrobe staples can be. They are at the bottom of the post.
Stay Safe.
If you were searching for how to build a fall capsule wardrobe and enjoyed Fall Capsule Wardrobe essentials please feel free to share it via Pinterest, Facebook, or Twitter. Thank you.
You may also like:
How to Build a Capsule Wardrobe for Fall.
A Plus Size Capsule Wardrobe For Fall
A Few Fall Fashion Outfit Ideas
Fall Outfit Ideas

White T-shirt | Grey Bodysuit | Black Turtleneck | Striped Collar Blouse | Silk Blouse | Bowie Sweatshirt | Wrap Cardigan | Camel Sweater | Check Blazer | Blue Jeans | Black Jeans | Leather Trousers | Pink Slip Dress | Leather Jacket | Trench Coat | Scarf | Hoops | Knee High Boots | White Sneakers | Brown Flats | Black Crossbody | Brown Tote |
SHOP THE POST


This post contains affiliate links. By using my links to shop I may receive a small commission (at no cost to you). Thanks for supporting what I do