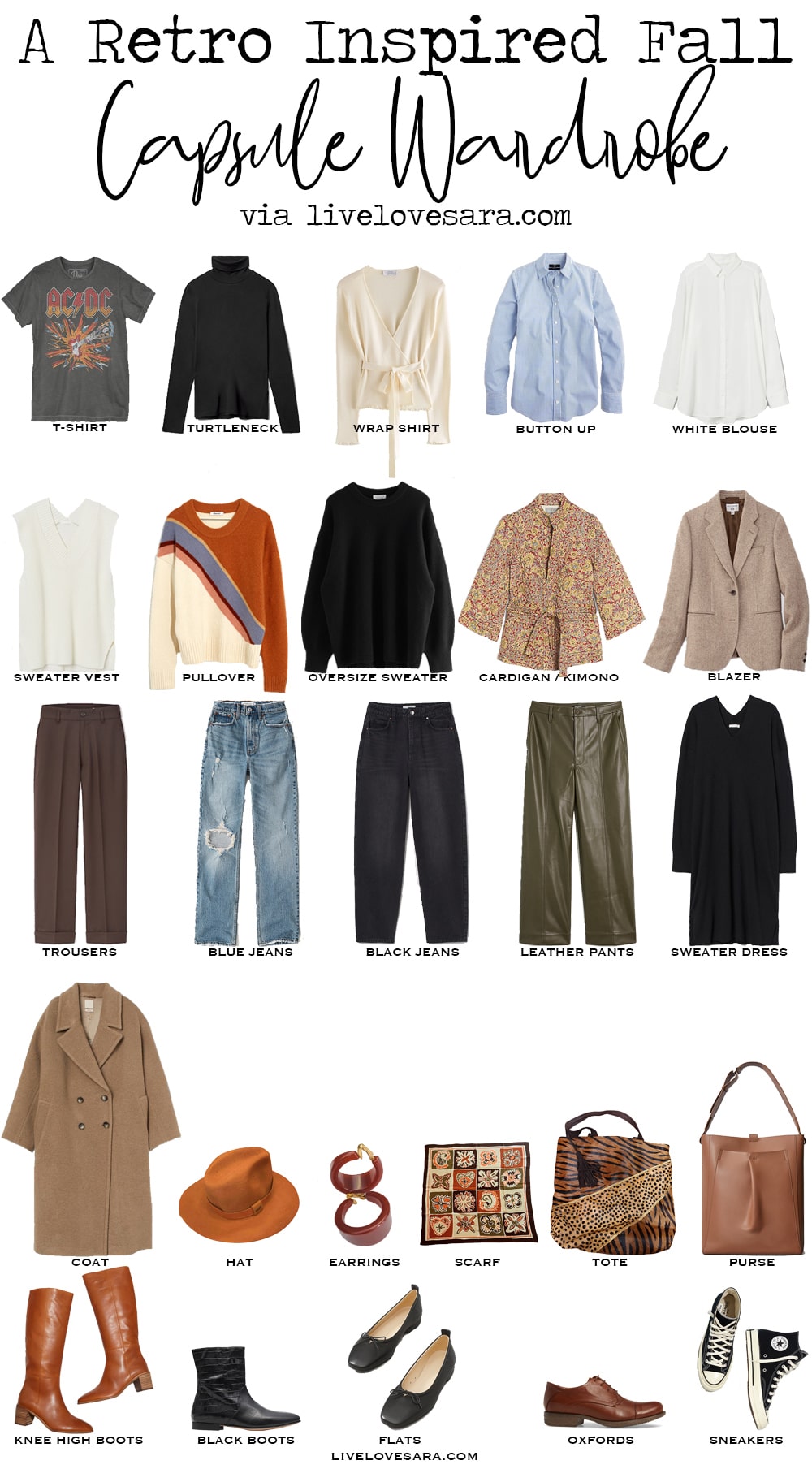 AC/DC T-shirt | Black Turtleneck | Wrap Shirt | Striped Button Up | White Blouse | Sweater Vest | Pullover | Black Oversize Sweater | Wrap Kimono | Blazer | Brown Trousers | Blue Jeans | Black Jeans | Green Leather Pants | Sweater Dress | Coat | Hat | Bakelite Earrings | Scarf | Tote | Purse | Knee High Boots | Black Boots | Flats | Oxfords | Sneakers |
SHOP THE POST


This was a fun one. I love a wardrobe that is so versatile that you can wear looks that are inspired by different decades. I tried to achieve that with this fall capsule wardrobe.
It was "back to homeschool" this week so bear with me. I didn't have a lot of free time to work on this, and actually didn't start it until Tuesday night :/
In high school, I used to be able to write my best papers when I was under a time constraint.
For some reason, I work better under pressure, but I don't know how well it applies to this area of my life.
How I start the capsule wardrobe process:
When I am building a capsule wardrobe, at the very beginning I will often choose one or two pieces as the inspiration pieces.
These pieces will either define the colour palette, or the style of the capsule wardrobe.
Often times they will do both.
These will be the items that I build the entire wardrobe around.
I tend to find my inspiration for dressing in pieces versus people.
I highly recommend this if you have an item that you absolutely love.
It helps you to wear that piece more often since you have ensured the versatility of the piece by building the capsule around it.
Some may find it limiting. I think it makes the most of what you have. (this is where I would insert the shrug emoji).
I really depends on what your capsule wardrobe endgame is.
And on behalf of Secondhand September, I included several pieces that are second or vintage items.
Mostly the accessories.
I would have chosen more, or even built a whole capsule around a secondhand sustainable wardrobe but it would take me a while and I didn't have time this week.
I just wanted to show how easy it is to integrate secondhand pieces into your wardrobe.
I try to include at least one secondhand items in my outfit each day, although I often fail because I need to really pay attention to what I am choosing to make sure that I do.
It is also 100% possible to build an entirely sustainable capsule wardrobe for any season.
It would be a slow process, and some seasons are much easier than others but it is possible.
One of my favourite things to do is to look through the clothes, shoes, and accessories at antique flea markets.
It brings me immense joy.
I find antique jewellery more often than most other things because I tend to have bigger feet and a bigger head than women of the Days of Yore (A friends reference if you don't get it) 🙂
I did find my favourite 1950s pristine condition, old man fedora in the men's section though, so hats aren't completely off the table for me.
They just leans towards the masculine vibe.
I'm all about menswear anyway.
I like to imagine that the fedora belonged to some dapper old man, but honestly it doesn't look like it was ever worn.
If you want to add a touch of retro menswear vibe, sweater vests are back in style and I included this one in the post.
This retro-inspired capsule could have been a real retro capsule versus inspired by including actual pieces from those decades.
I believe that the earrings are 1950s bakelite. Maybe earlier.
Finding a pair of them in that 70s green shag carpet colour is one of my wardrobe goals at the moment.
I'm still looking.
I have 30 outfit ideas built from this capsule wardrobe down below.
Keep scrolling.
Stay Safe.
You may also like:
How to Build a Fall Capsule Wardrobe with Neutral
How to Build a Fall Work Capsule Wardrobe
Fall Capsule Wardrobe Essentials
How to Build a Fall Capsule Wardrobe: Shopping on a Budget
Easy Fall Outfit Ideas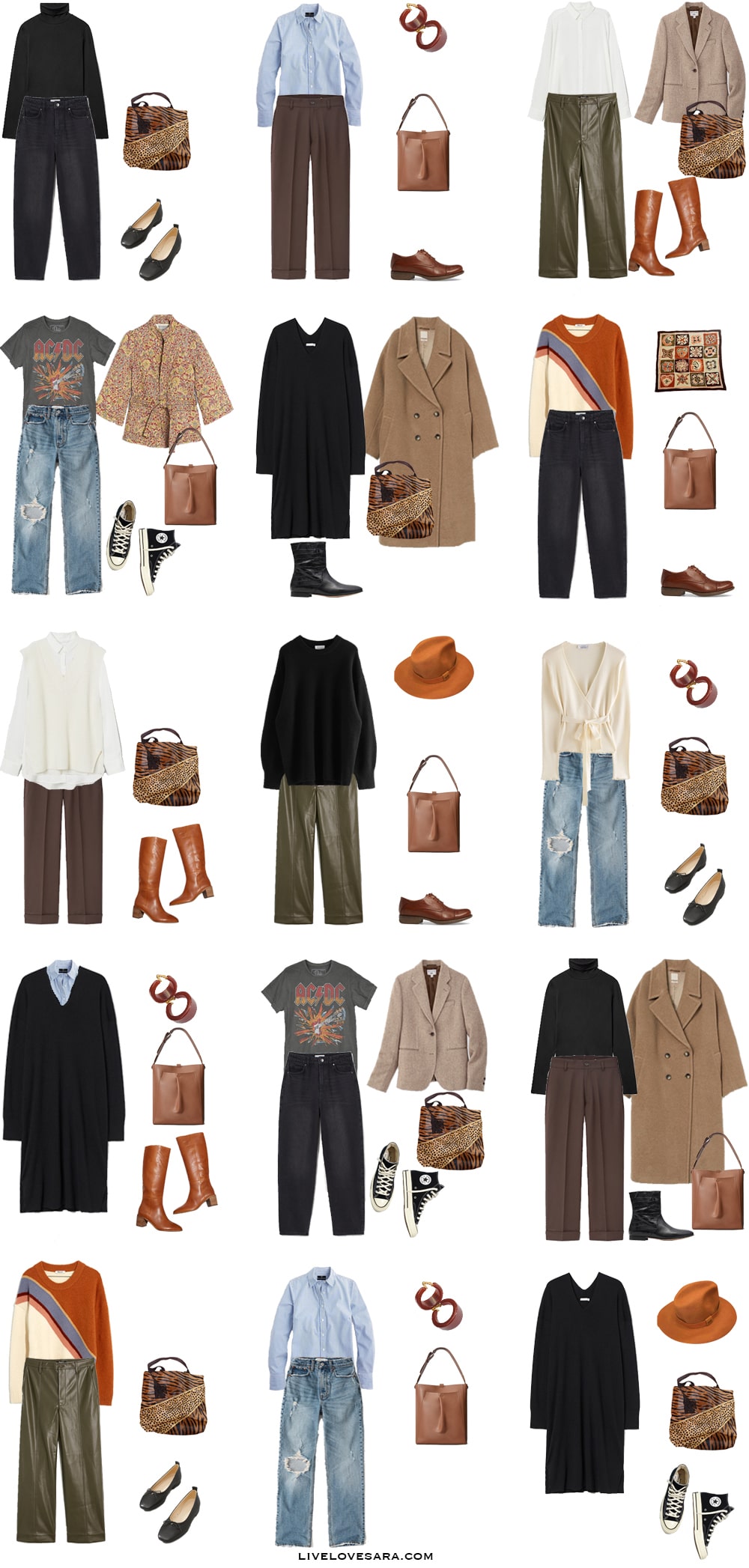 Simple Outfits for Fall
AC/DC T-shirt | Black Turtleneck | Wrap Shirt | Striped Button Up | White Blouse | Sweater Vest | Pullover | Black Oversize Sweater | Wrap Kimono | Blazer | Brown Trousers | Blue Jeans | Black Jeans | Green Leather Pants | Sweater Dress | Coat | Hat | Bakelite Earrings | Scarf | Tote | Purse | Knee High Boots | Black Boots | Flats | Oxfords | Sneakers |
SHOP THE POST


This post contains affiliate links. By using my links to shop I may receive a small commission (at no cost to you). Thanks for supporting what I do