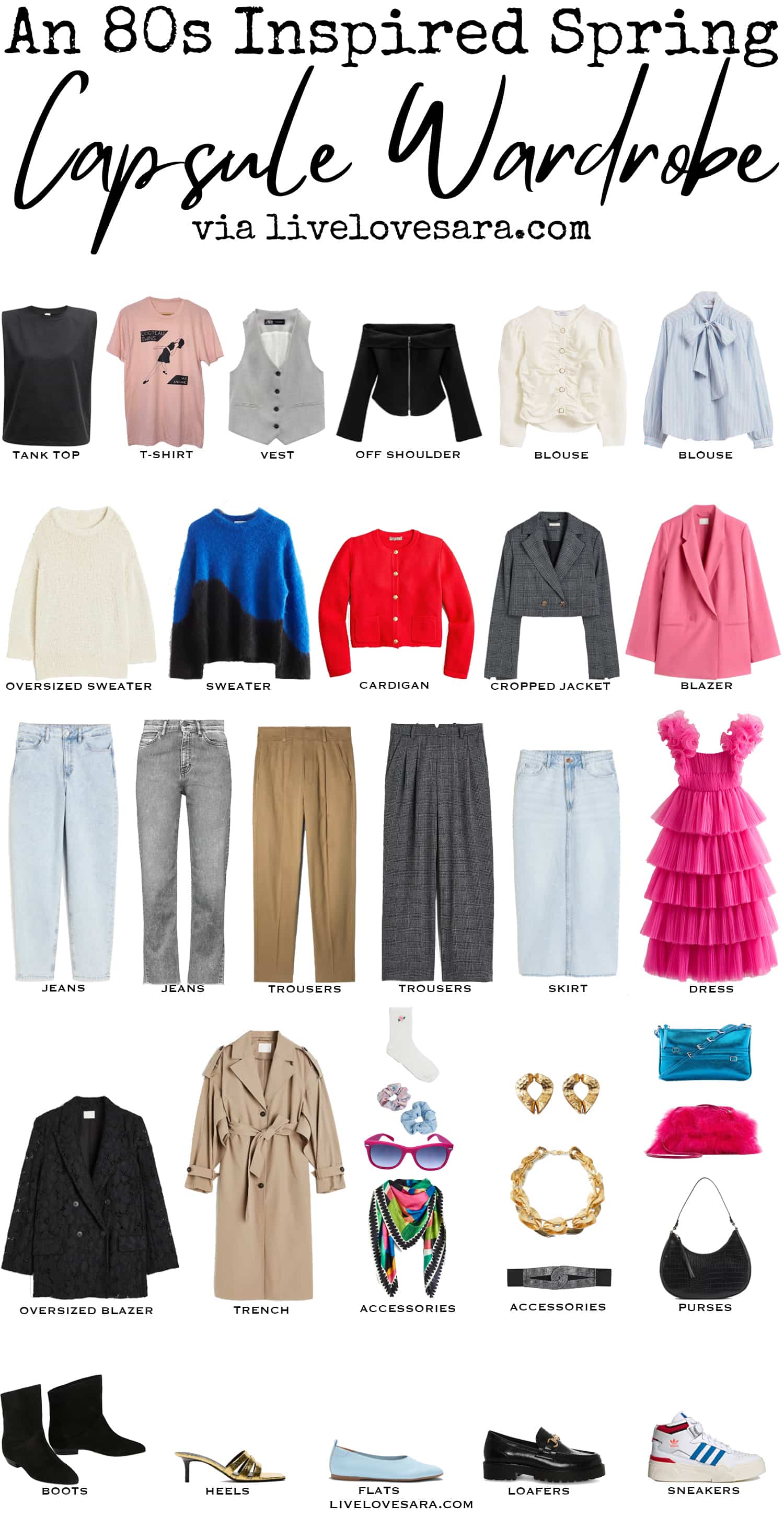 Tank Top | T-shirt | Vest | Off Shoulder Shirt | White Blouse | Tie Blouse | Oversized Sweater | Blue Sweater | Cardigan | Cropped Jacket | Pink Blazer | Blue Jeans | Grey Jeans | Tan Trousers | GreyTrousers | Denim Skirt | Tulle Dress | Black Blazer | Trench | Socks | Scrunchies | Sunglasses | Scarf | Earrings | Necklace | Belt | Blue Bag | Pink Bag | Black Handbag | Boots | Heels | Flats | Loafers | Sneakers

I tried something fun this week. I transported back to the maximalist fashion of the 80s and put together an 80s capsule wardrobe, or at least inspired by it.
First and foremost, this one was incredibly enjoyable to put together. I would wear any and all of these pieces and have a lot of similar inspired items in my wardrobe already.
I literally just ordered an 80s cropped, bright red suede jacket with fringe that I am ridiculously excited to get.
There are also a lot of accessories in this spring capsule wardrobe, but we wore a lot of accessories in the 80s, so it is an important part to include.
And the tulle dress…is it super over the top and expensive? Yes.
But did I feel the need to include it anyway because it is totally 80s? Also yes.
When it comes to fashion, minimalism has been the popular look for quite a while now, but there is a shift happening.
Maybe we are feeling a bored and looking for more than a simplistic style. We are starting to see a new wave of maximalist fashion coming right out of the '80s.
It's amazing how many 80s influenced fashion items are actually out there if you are searching.
The 80s is part of the spring trends this year, but it is usually shown in subtle ways. Like a puffy sleeve, acid wash, or sneaker style.
Not this time though, this time there are styles and prints that you would see Molly Ringwald wearing circa 1985.
It's super fun and so opposite the 90s minimalism vibe that I often seek.
A small fashion tip: denim skirts are huge this season and if you find one in stock grab it because they are selling out as fast as they are coming out.
The one I included in this 80s capsule wardrobe will probably be sold out soon or immediately after posting, but you can sign up for notifications when your size comes back in.
They often do, so I sign up for email notifications frequently when I really want something and have found success grabbing one when it comes back.
The 1980s was a decade that brought significant changes to fashion.
The style was characterized by bold colours, voluminous silhouettes, and an eclectic mix of influences that came from music, movies, and popular culture.
Here are some of the defining trends of 80s fashion:
Shoulder pads
Neon colours
Leg warmers or slouchy socks
Acid wash jeans
Layered and exaggerated accessories
Punk fashion
Power suits
Oversized clothing
80s fashion was all about making a statement, pushing boundaries, and having fun with style.
Which seems like it should be rules to live by.
Yes, 80s fashion is popular once again, but you can't just throw on an outfit from 30 years ago and look great.
Well, you can actually, and it would be very fashionably interesting but most of us don't want to jump right in, we like to retain our personal style while bringing in 80s fashion elements.
To wear this look, you need balance.
You need to understand which pieces you are bringing back from the 80s, and how you are going to aesthetically balance these vintage looks with modern aesthetics.
Big Shoulders
Try a blazer or jacket with bold shoulders. A cinched waist will often exaggerate the look of the shoulders even more giving a very 80s vibe.
Left open and loose you end up with the oversized boyfriend look of the 90s.
Try a Bold Colour
The easiest way to integrate this trend is by choosing a bright colour.
This was a predominant characteristic for an entire decade. We even saw the bold colours carry into the early 90s before shifting to minimalism.
Invest in a few pieces in shades such as cobalt, fuchsia, magenta, green, and gold, and work them into your regular wardrobe. It will be a fun addition and a clever statement piece for an otherwise less maximalist outfit.
Ruffles
The fun thing about ruffles is that there are so many options. You can go lightweight and breezy for a more romantic feel. Or structured and large for evening glam.
Not a 100% certain about wearing ruffles? Try them on an accessory like a purse, or shoes, or even a removable topper like a jacket or cardigan.
Off The Shoulder
This is the perfect time of year to bring out the off-the-shoulder looks. As the weather transitions you can try and oversized off the shoulder sweater à la Belinda Carlisle.
Pair it with some modern trousers and some large statement earrings.
Statement Jewellery
Like I always say, if you don't want to fully commit to a trend, try it with accessories.
It is a simple and more subtle way to try without going all in. A good place to start is by trying some statement jewellery.
And if you really want to be authentic you can find tons of 1980s jewellery at thrift stores, on Poshmark, and Etsy.
You could even do a pair of Ray Ban Wayfarers in an 80s bold coloured style.
The 80s had opposite style rules than Coco Chanel's infamous quote,
"Before you leave the house, look in the mirror and take at least one thing off."
In the 80s you were more apt to look in the mirror and add something extra, or two, or three…
So try throwing on an extra necklace, bracelet or ring. Wear those frilly socks with your loafers. Or gasp, try a scrunchie, (which is actually better for your hair than an elastic).
And if the thought of this frightens you, take this same concept and apply it using your style aesthetic. No one says you need to wear neon, so instead try a puffy sleeve top in black.
Layer that extra delicate chain, wear a black scrunchie instead of floral print.
It is the way to adopt these trends in more digestible ways.
It is the same way that fashion week works.
You see the extreme version of these looks on the runway and by the time they get to the mainstream store level for the masses, they have diluted enough that it makes them wearable versus the exaggerated art versions you see in the original form.
The 80s fashion trend will infuse your wardrobe with a new and glamorous sense of style. You should give it a try.
80s Outfit Ideas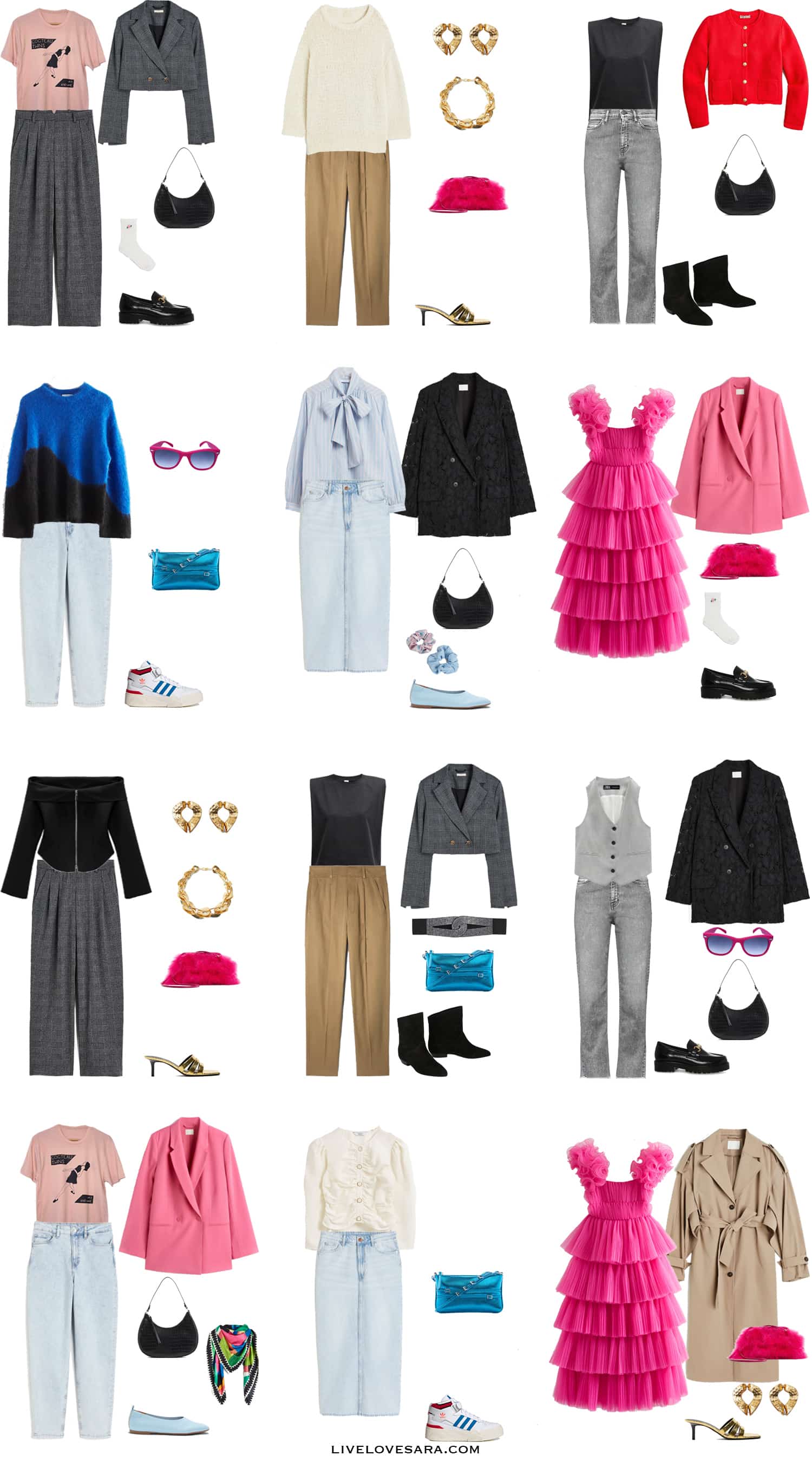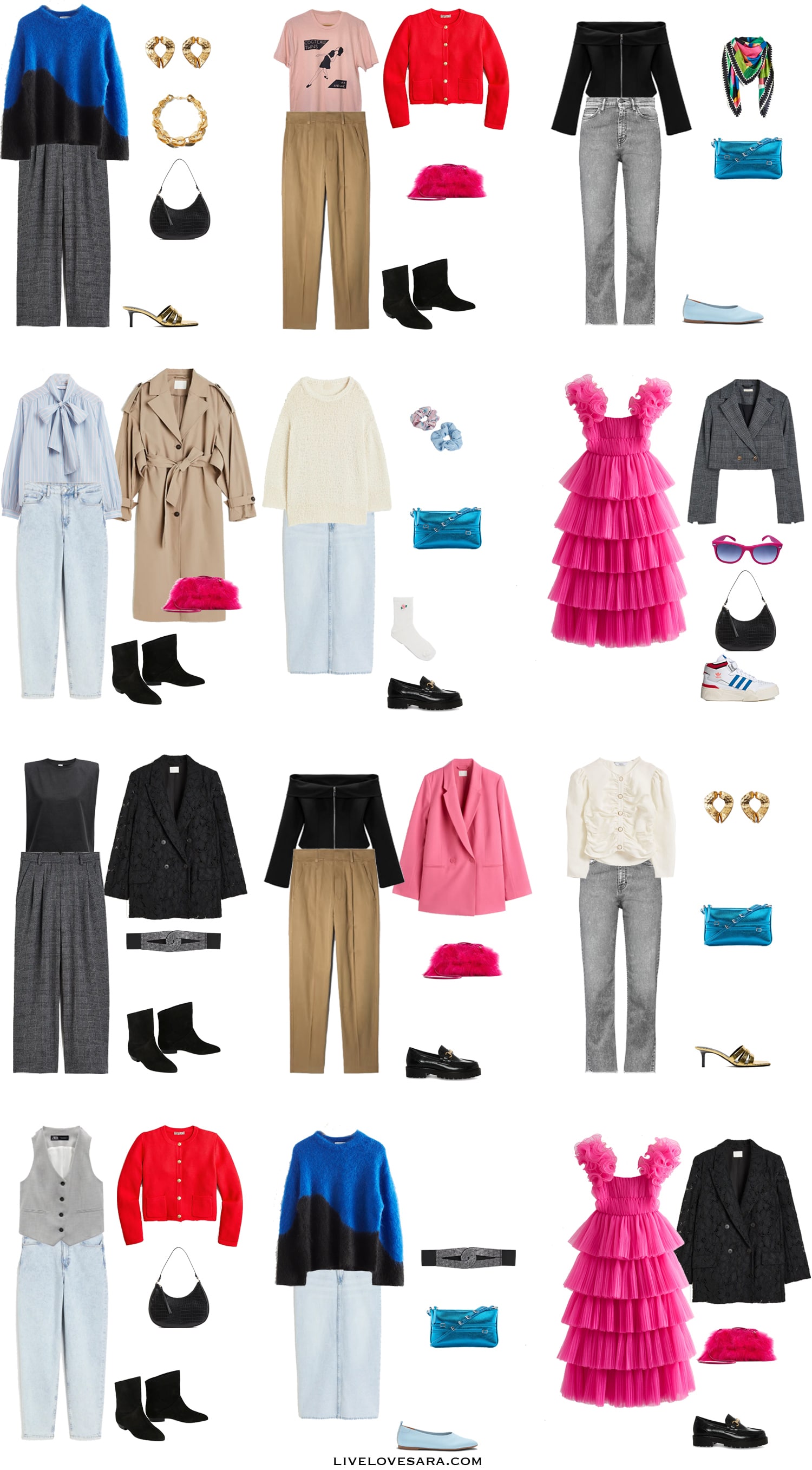 Tank Top | T-shirt | Vest | Off Shoulder Shirt | White Blouse | Tie Blouse | Oversized Sweater | Blue Sweater | Cardigan | Cropped Jacket | Pink Blazer | Blue Jeans | Grey Jeans | Tan Trousers | GreyTrousers | Denim Skirt | Tulle Dress | Black Blazer | Trench | Socks | Scrunchies | Sunglasses | Scarf | Earrings | Necklace | Belt | Blue Bag | Pink Bag | Black Handbag | Boots | Heels | Flats | Loafers | Sneakers

You might also like:
Using Your Style Adjectives to Build a Spring Capsule Wardrobe
The Ultimate Spring Capsule Wardrobe and Spring Outfit Ideas
A Spring Capsule Wardrobe on a Budget
A Romantic Capsule Wardrobe for Spring
The Modern 90s Minimalist Capsule Wardrobe for Spring
An Edgy Spring Capsule Wardrobe With Style Adjectives
An Easy Spring Capsule Wardrobe with Some Spring Outfit Ideas
The New Year Wardrobe Overhaul and a Transitional Capsule Wardrobe
The Art of Dressing Like Yourself: A Personalized Capsule Wardrobe
A 90s Minimalist Fall Capsule Wardrobe
SHOP THE UK LINKS


I am now offering digital styling guides, and personal styling services. If you are looking for some styling help that is inexpensive and easy, check out my digital styling guides. If you want some one-on-one help shopping, building and editing your wardrobe, or packing for a trip, I can also assist. Check out all the styling services that I offer here.
This post contains affiliate links. By using my links to shop I may receive a small commission (at no cost to you). Thanks for supporting what I do