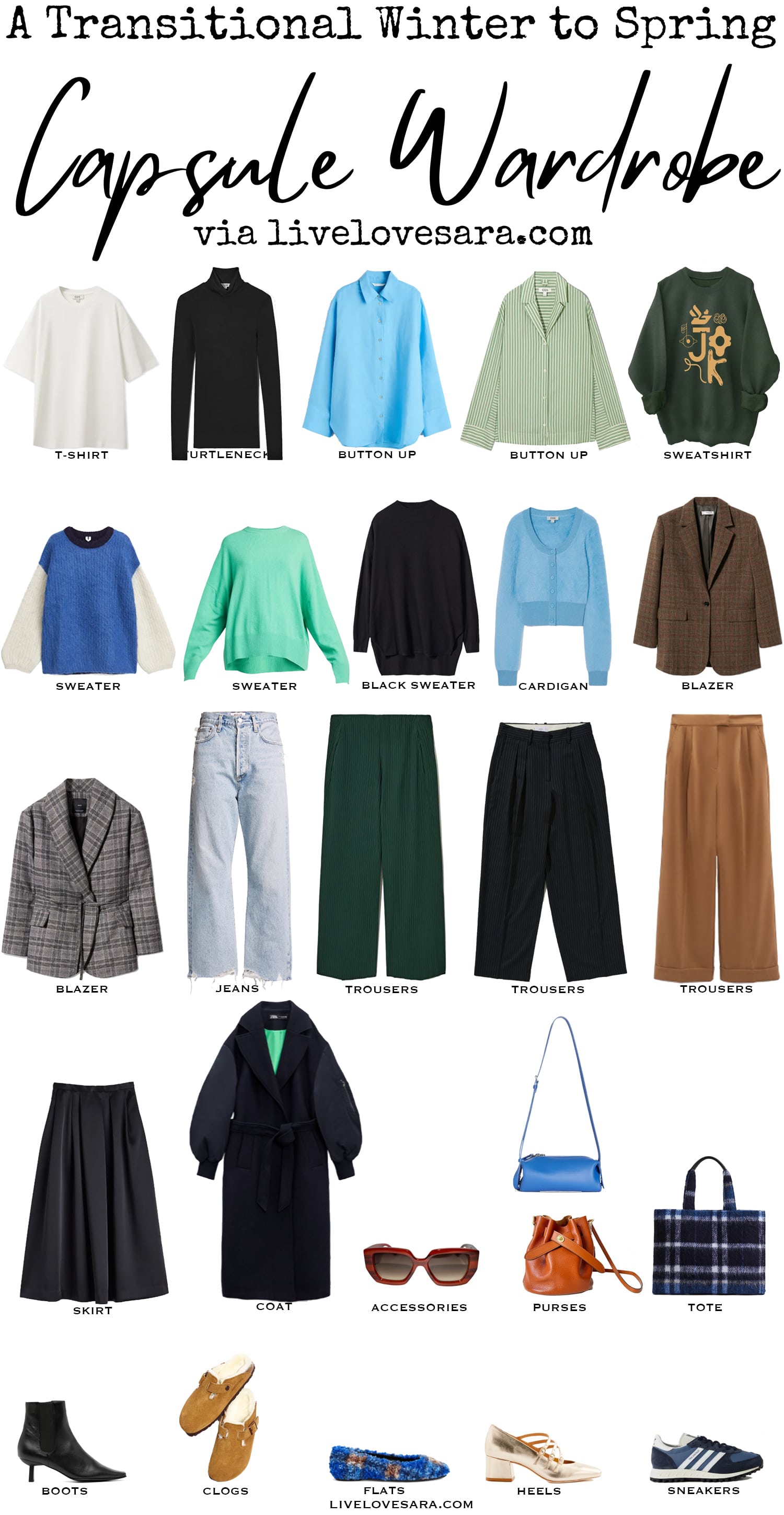 T-shirt | Turtleneck | Blue Button Up | Green Button Up | Sweatshirt | Blue Sweater | Green Sweater | Black Sweater | Cardigan | Brown Blazer | Grey Blazer | Jeans | Green Trousers | Navy Striped Trousers | Brown Trousers | Skirt | Coat | Sunglasses | Blue Purse | Brown Purse | Tote | Boots | Clogs | Flats | Heels | Sneakers

Let's start the new year off with a wardrobe overhaul and a Transitional Capsule Wardrobe. This is the time of year when we make resolutions or goals, purge and clean, and reevaluate our lives which often leads to reevaluating our wardrobes.
This is also the time of year when we are in the thick of winter, but are seeing spring pop up in stores.
I put together a transitional capsule of items that will move you from winter to spring with ease.
There are also mix-and-match outfits at the bottom of the post that may help you through this transitional season.
Some spring-like colours, items that can be layered in winter but worn alone in spring. Blazers as light jackets, shoes with and without socks. Socks and heels are a great way to elevate a look.
You should try it.
Versatile pieces that reflect your style are what really build a long-term wardrobe, and I am about to get into how we get there.
In order to start this new year off in a positive mindset I want an uncluttered and cohesive wardrobe.
To help guide me there I am going to lay out the steps that I take in a wardrobe overhaul.
You have to invest some time, especially if this is your first time doing so.
But trust me, it will be so worth it.
Once you overhaul your wardrobe it gets much easier to keep things under control.
Anything after that you should just be periodic seasonal upkeep.
Which you should be doing anyway. Otherwise, your wardrobes will get overwhelming again.
I have spent the greater part of the last decade curating my wardrobe.
Before that was a period of uncertainty that was a weird fashion point for me.
There was a pivotal turn when I realized that getting dressed was for me, and not for anyone else.
I had to reflect on why was I concerned with what their preconceived idea of style was instead of my own.
That was a revelation for me.
Before we start going through our clothes we need to determine what our style is.
Do you know yours? Do you have your adjectives (and modifier) that you use to describe your style, or the style you want to achieve?
If not, head over to this post first and read a bit about finding your style. You can't move into any of the next steps without this knowledge.
Otherwise, there won't be any reasoning behind your choices.
At this point you will fall into one of two categories:
You will be either, a) You will know and be comfortable with your style adjectives and will notice how these apply to your current wardrobe.
Or, b) This will be new for you. You know how you want to dress but don't feel that your current wardrobe shows that.
This will also include you, if you have chosen your adjectives based on how you want to dress, OR have absolutely no idea what they are.
If this is you than your work is going to be a bit harder.
I would suggest setting up a Pinterest board and start putting together pictures of outfits and pieces that you are drawn too.
After you have a small collection going you will notice underlying themes or similarities. This will help to narrow down your adjectives and style.
Once you are comfortable in the style adjective department we move on to the big project.
How to Purge your Wardrobe
Remember not to just toss everything and start from scratch. I know that sometimes that almost feels like it would be easier.
Especially if you feel like you hate your wardrobe, or are completely lost in your style, but don't do it.
You really need to sit down and go through everything. You need to understand what you like, and what were the reasons for buying certain pieces.
If you are an impulse shopper you need to get to the root of why, and figure out how you can avoid those shopping behaviours that brought you there in the first place.
When you just toss everything, you miss opportunities to find love again for certain items, or even wear things that you have never worn before.
Before we get to the why behind these things, we need to start at step one.
Take Everything Out of Your Closet
Everything. BUT not all at once.
So make sure you have a good amount of time to do this, and you are in the right mindset.
You don't want to rush through it or be tired, hungry, or moody.
You are about to get real honest with yourself.
First Remove Your Regular Wear Pieces
These are all the items that you wear on repeat. They might not be your most treasured or favourite items but they are the ones that get the most use.
This includes, shoes, bags, and accessories.
Examine what you have pulled and look for a common theme. You are wearing these over and over for a reason.
Do they have a similar cut, fabric, colour?
Find the theme and this will help you to understand your style and your closet.
Next Pull Out Anything That You Never Wear
These are the items that you never grab. You may love them, hate them, they don't fit your lifestyle or body. These might be items that you like but just don't know how to wear, so you never do.
Set them aside and note whether there is any common theme here too.
Understanding why you never wear these pieces can give you some good insight and in the long run help you to break some bad shopping habits.
Maybe you have a collection of cable knit sweaters that you never wear. For some reason, you are drawn to them enough to keep buying them, but they never get worn.
We need to figure out why.
Take The Never Wear Pile and Separate it into Piles
Yes, we are doing piles within piles. But by doing this we may actually get to move some of these into a wear pile.
Straight of the top we will have a No Pile.
This is where all the items that you are certain you no longer want will go.
Some of these will be easy, some will be much more difficult, so it is okay to think about it or maybe try it on. If you don't feel good in it, then it is a no.
If you are still not certain, then put it in the Not Now pile. The Not Now Pile are the items that you just aren't ready or certain that you want to get rid of.
They might be sentimental, event pieces, and even your old maternity clothes.
I usually say go with your gut. If I pull it out and instantly think NO, then it goes. If you can't give a definitive answer then it goes in Not Now.
Not Now pieces should be kept separate from your main wardrobe, or a least as much as you can keep it separate.
You don't want the visual clutter of them, so either put them away in another area entirely or if you don't have the extra room, then just move them to the back of the closet.
Often times when something is out of site for a while, it is easier to purge later.
The third pile is the How Do I Wear This pile.
These are going to be the pieces that you love but never wear because you don't know how to wear them or style them.
This can be a frustrating pile that we will work through in a bit.
Sell, donate, or give the No pieces away. There are a lot of people who are struggling and would really appreciate your items, so check out your local Buy Nothing Facebook Group or a shelter.
Always call the shelter first because for safety reasons, especially in women's shelters, you can't just drop stuff off.
You should be left with two piles now. Your regular pieces, and how do I wear this pile. Now we move on.
The Wardrobe Recovery Step
In this step we introduce the Never but How Do I Wear It pieces to the Regulars.
By pairing something that you never wear, with pieces that you are comfortable in and wear regularly, makes the transition smoother.
It is not so out of your comfort zone that you don't feel like yourself.
It is a little step into wearing these items more. The more that you wear it, the more comfortable you will be which will expand the use of this formerly never worn item.
And honestly, if worse come to worse, then just Google the item + outfit and see what comes up to help guide your styling.
Now that you have gone through these last few steps you may have some things still sitting in your closet.
This is where you will determine if these will fit within your regular wear, and your new integration of the items that you loved but never wore.
If they integrate then keep them in. If you find any No's then they can go now too.
These items are often just filler type pieces so determining the keep or go should be relatively easy.
The last step is the most fun for me.
Organize Your Wardrobe
To make everything as streamlined as accessible as possible I suggest attempting to organize by category, and colour within each category.
While you were going through everything you may have noticed some wardrobe holes.
Make note of these items and add them to a wardrobe list.
These will be items that you will not impulse buy but will make thoughtful purchases when and if the opportunity arises.
There is no expiration date on these lists and they may be new or secondhand, so it is okay to keep searching until you find the perfect piece.
The end result should be a closet that is pleasing to look through and not overwhelming at all. There should be a sense of ease and purpose when you look through your wardrobe.
There will now be joy instead of dread or frustration. And the work will all be worth it.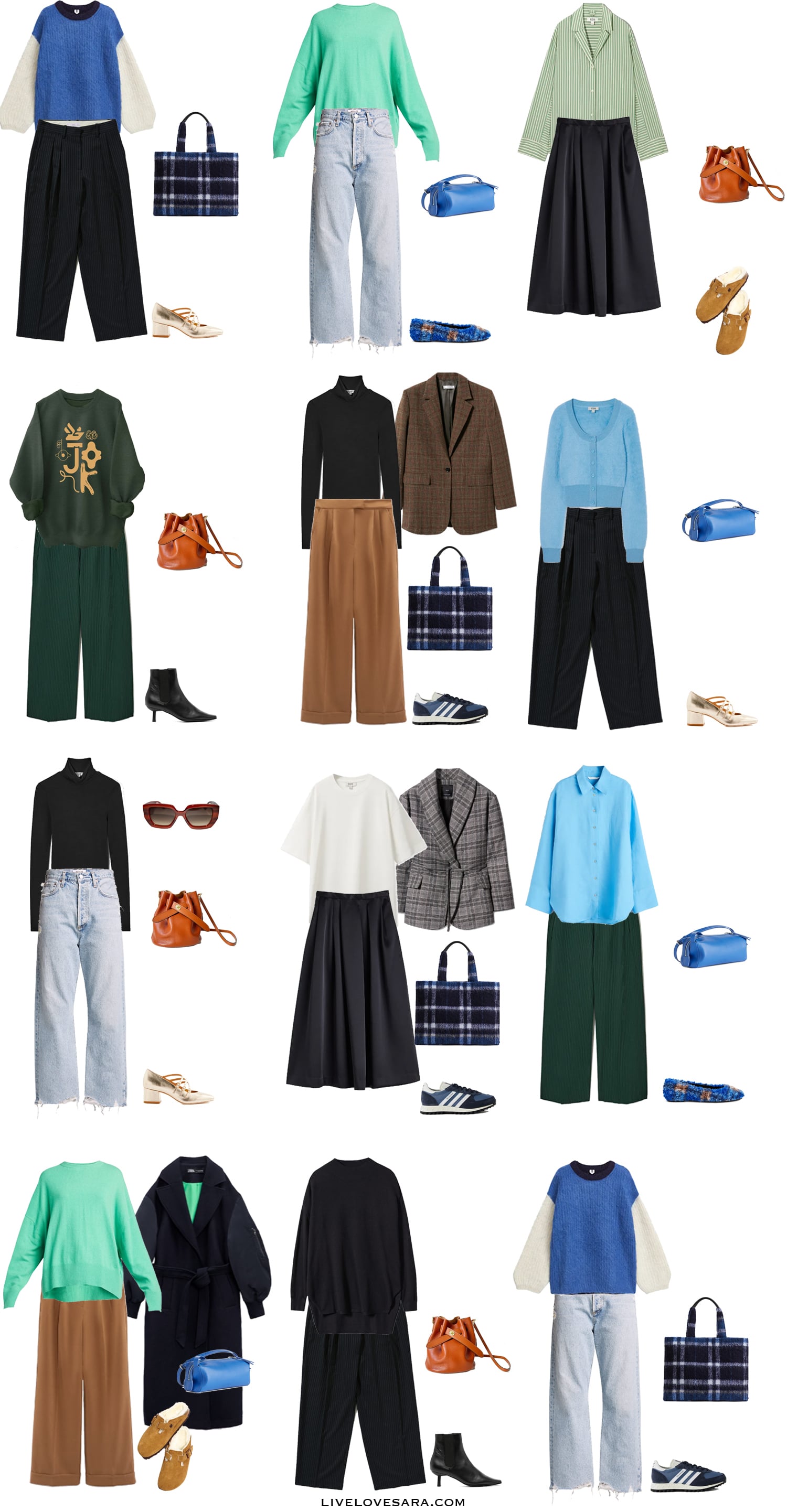 T-shirt | Turtleneck | Blue Button Up | Green Button Up | Sweatshirt | Blue Sweater | Green Sweater | Black Sweater | Cardigan | Brown Blazer | Grey Blazer | Jeans | Green Trousers | Navy Striped Trousers | Brown Trousers | Skirt | Coat | Sunglasses | Blue Purse | Brown Purse | Tote | Boots | Clogs | Flats | Heels | Sneakers

You might also like:
The Art of Dressing Like Yourself: A Personalized Capsule Wardrobe
A 90s DKNY Inspired Winter Capsule Wardrobe
A Cool Palette Winter Capsule Wardrobe
A Winter Capsule Wardrobe on a Budget
The Better Than Basic Capsule Wardrobe for Winter
How to Build a 90s Winona Ryder Capsule Wardrobe
How to Build a 90s Kate Moss Capsule Wardrobe
Styling Navy and Black in a Fall Capsule Wardrobe
A 90s Minimalist Fall Capsule Wardrobe
SHOP THE UK LINKS


I am now offering digital styling guides, and personal styling services. If you are looking for some styling help that is inexpensive and easy, check out my digital styling guides. If you want some one-on-one help shopping, building and editing your wardrobe, or packing for a trip, I can also assist. Check out all the styling services that I offer here.
This post contains affiliate links. By using my links to shop I may receive a small commission (at no cost to you). Thanks for supporting what I do