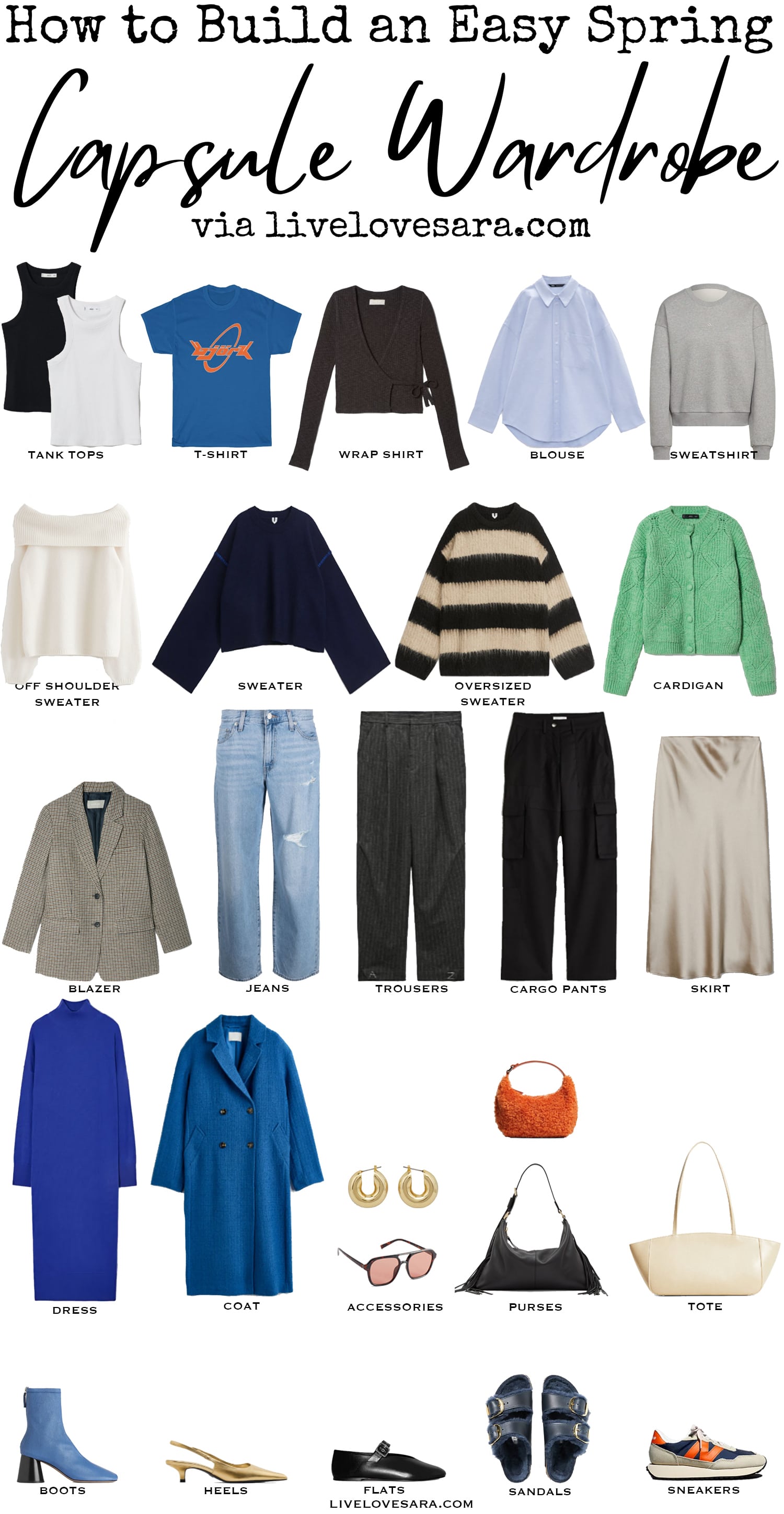 Tank Tops | T-shirt | Wrap Top | Button Up | Sweatshirt | Off Shoulder Sweater | Navy Sweater | Striped Sweater | Cardigan | Blazer | Jeans | Trousers | Cargo Pants | Skirt | Dress | Coat | Earrings | Sunglasses | Orange Purse | Black Purse | Tote | Boots | Heels | Flats | Sandals | Sneakers

I live in an area where the spring weather can be weird, therefore building a spring capsule wardrobe can be a touch difficult. The weather is so unpredictable and can fluctuate into such extremes that you need to be able to have the proper mix-and-match wardrobe to cover it all.
My spring capsule wardrobe needs to be able to handle rain and sleet, but also heat and humidity.
I know I have shared this story, but it was a long time ago and new people haven't heard it.
When I was in college it was during the ancient times of needing to actually watch the TV to see what the weather forecast was.
There was no cell phone to let you know that the cute outfit that you were planning on wearing out that night would become a huge regret that you will remember over 20 years later.
It was spring, and we had a freak very hot day.
People were sitting on the patios eating and getting drunk, there were people suntanning (people still did that), and our apartment was really hot because all we had were fans.
Everyone was taking advantage of the weather that day and towards evening we decided that we wanted to go out to the bar.
It was 30 °C when I left the house wearing a long skirt, tank top, jean jacket, and platform sandals.
When we stepped out of the bar 3 hours later it was snowing.
That's how fast it can change during that season, and I was woefully unprepared. So unprepared that I had to walk home 2.5 km in the cold wearing sandals in the snow.
I don't think that I have ever been that cold.
If that occurred today, I would have been much better prepared and left the house with layerable pieces and close-toed shoes, or at least a pair of socks in my purse.
That long-winded story was my way of explaining how in many places a spring capsule wardrobe needs to have enough versatility that it can handle the winter to summer weather fluctuations that can happen in a single 24-hour period.
When you build any capsule wardrobe you need to have a foundation of basics.
What I do first is carry over every single item from the previous season's capsule wardrobe that will work for the current season.
That's always step one. Next is to do the inventory of the basics and see if anything needs to be replaced or if I need anything new and fresher in that area.
Uniqlo is one of my favourite places for great basics.
I hit up both the men's and women's sections because men often get a nicer array of colours to choose from, and their pieces are more relaxed fit which I am drawn to.
One of my Uniqlo secrets is the men's button-ups, they not only fit well, but many of them are non-iron which is huge for me because I won't iron something unless I prepare ahead.
I will just put it back and pull something else, so no iron is a game-changer for me.
On Instagram the other day I talked about how your style adjectives will dictate what basics look like in your closet.
You can read it here, but the gist is that basics come in all shapes and sizes. The other day I was wearing strictly pieces that I consider basics from my wardrobe.
They are transitioned from season to season and don't fall into any trend category, so there isn't going to be an expiration date for them. The basics that I wore were a black cashmere sweater, tan trousers, a leather jacket, and black boots.
These are pretty standard basics but if I was to take a group of women and hand them that list to pick out for themselves, everyone's picks and end result would be different.
That's the fun thing about style. The generic idea of the pieces are all the same, but your own style will dictate which pieces you pick.
Mine lean towards an oversized or relaxed fit. They are considered classic pieces, and they are all extremely versatile.
Those are my style adjectives, chill, classic, and versatile with the modifier unexpected.
As for every capsule wardrobe that I put together, those adjectives are going to subconsciously influence the pieces I choose even when I don't intend it because they are what I am drawn too.
So, that being said you can look at these pieces in the generic form like I talked about above, and select items that you are drawn to that will work in their place.
I also sprinkled a few easy-to-wear spring trends like ballet flats which are actually more Mary Janes, but those are also a spring trend.
Balletcore is another which is represented in the wrap shirt and soft, off-the-shoulder sweater. I introduced metallic with the heels, cargo pants, and fringe.
Fringe can be a bit hard to wear but an easy way to wear it is via accessory like the purse. You can find it on sweaters and cardigans as well if you are feeling more confident with that trend.
I am a firm believer that not every trend is for everyone, but bringing in a few trends that you are drawn to each season is a good way to freshen up your wardrobe.
Especially if you wear the same pieces every season.
And when it comes down to it, your capsule wardrobe does not have to be new items every season. Thrifting and secondhand shopping are imperative for being sustainable and we all need to do our part.
Easy Spring Outfits for Women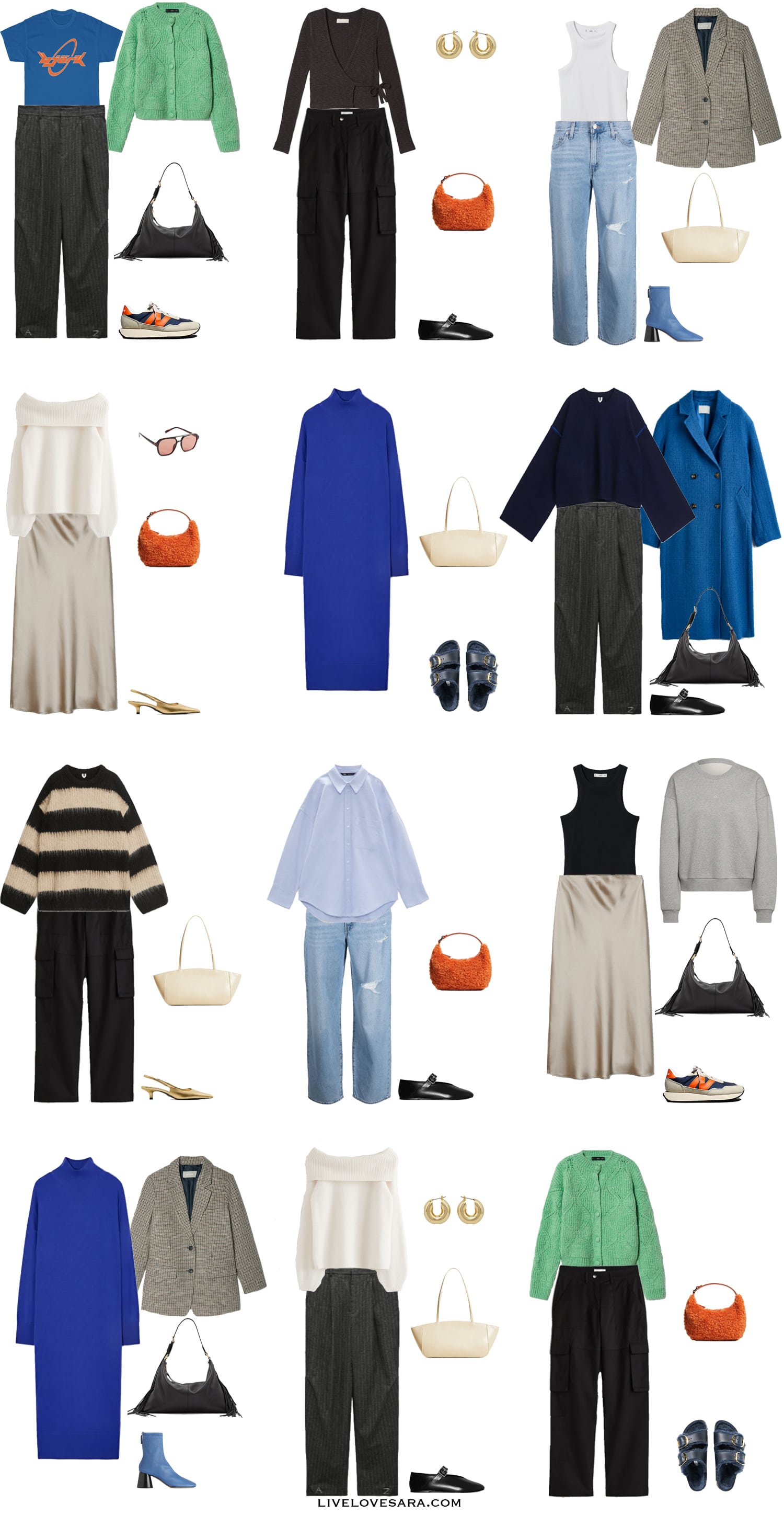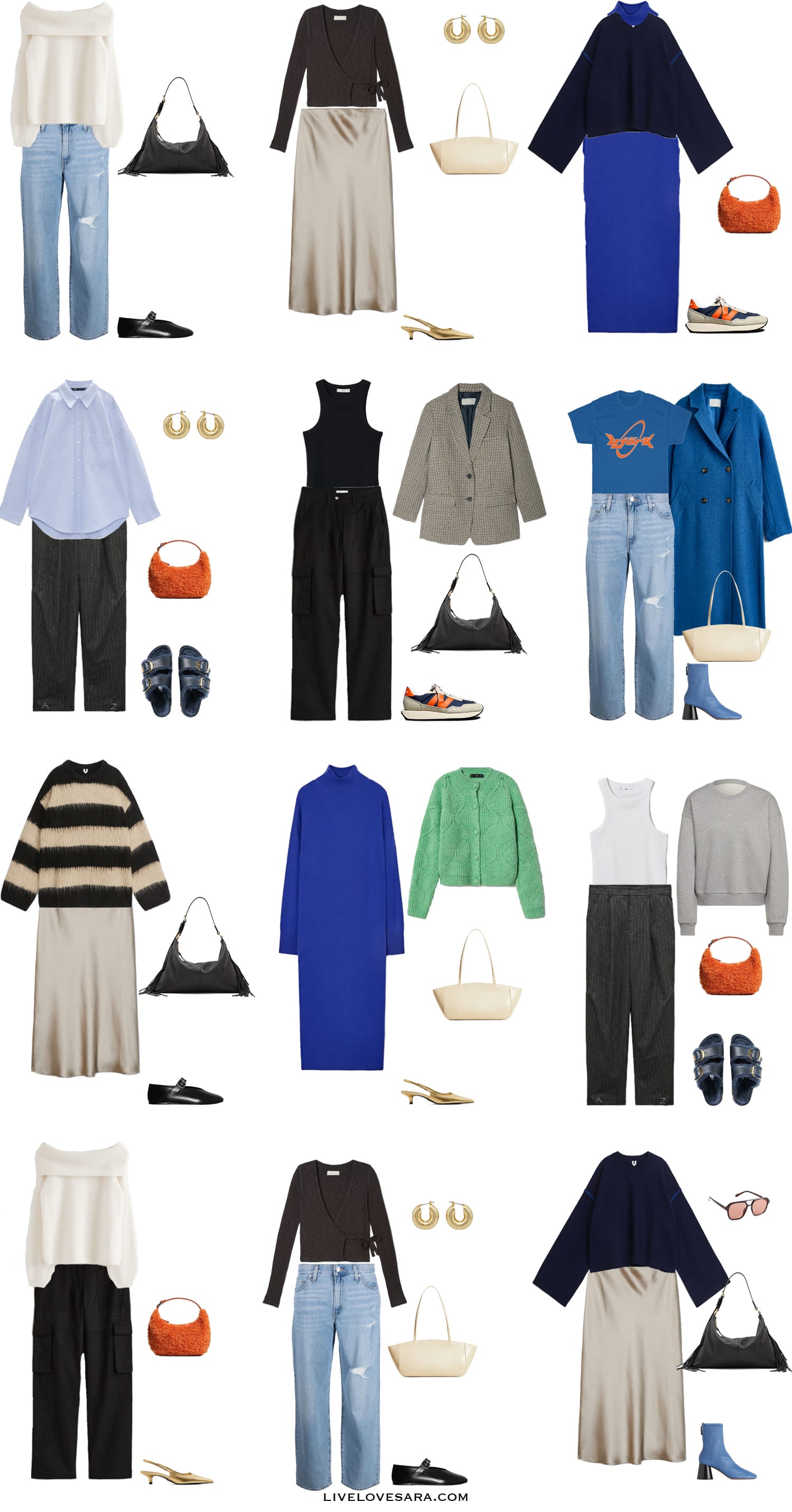 Tank Tops | T-shirt | Wrap Top | Button Up | Sweatshirt | Off Shoulder Sweater | Navy Sweater | Striped Sweater | Cardigan | Blazer | Jeans | Trousers | Cargo Pants | Skirt | Dress | Coat | Earrings | Sunglasses | Orange Purse | Black Purse | Tote | Boots | Heels | Flats | Sandals | Sneakers

You might also like:
The New Year Wardrobe Overhaul and a Transitional Capsule Wardrobe
The Art of Dressing Like Yourself: A Personalized Capsule Wardrobe
A 90s DKNY Inspired Winter Capsule Wardrobe
A Cool Palette Winter Capsule Wardrobe
A Winter Capsule Wardrobe on a Budget
How to Build a 90s Winona Ryder Capsule Wardrobe
How to Build a 90s Kate Moss Capsule Wardrobe
Styling Navy and Black in a Fall Capsule Wardrobe
A 90s Minimalist Fall Capsule Wardrobe
SHOP THE UK LINKS


I am now offering digital styling guides, and personal styling services. If you are looking for some styling help that is inexpensive and easy, check out my digital styling guides. If you want some one-on-one help shopping, building and editing your wardrobe, or packing for a trip, I can also assist. Check out all the styling services that I offer here.
This post contains affiliate links. By using my links to shop I may receive a small commission (at no cost to you). Thanks for supporting what I do