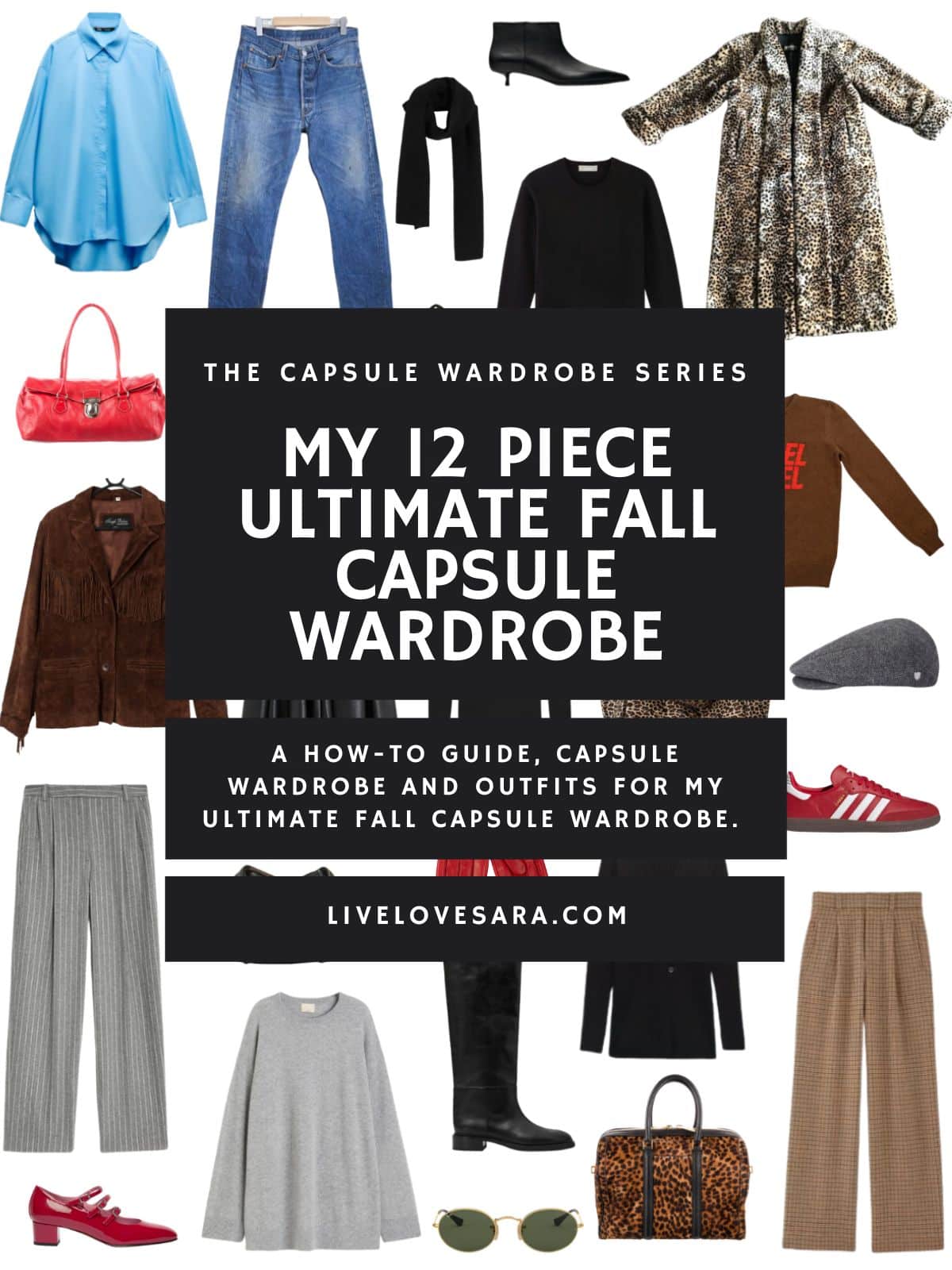 I get a lot of questions about personal style, finding your style adjectives, and how my style adjectives are reflected within my personal wardrobe. To demonstrate that I thought I would centre this fall capsule wardrobe around my own personal wardrobe.
This is going to have all the pieces that I wear the most often and that reflect my style the best.
These are what I would include in my fall capsule wardrobe if I picked 12 items that centred around my personal style.
These are my go to pieces.
The ones that I consistently gravitate to wear or visualize when I am planning out an outfit.
Some pieces are new, some pieces are really old, and the whole collection is a mixture of thrifted and vintage as well.
I am also going to give the reasoning behind my choices.
When I shop, first and foremost I go with my gut.
Never is my first thought whether something is in style or trendy. That thought is way farther down the line.
It is always how I feel about the item.
Do you ever get that small thrill or stomach flip when you see the perfect piece for your wardrobe?
That is what I look for.
This most often occurs when I shop secondhand, consignment, and vintage pieces. There always seems to be something just a tad bit more special about them.
Every single piece that I own that is designer was not purchased new except for one pair of shoes that my husband bought me for Christmas about 5 years ago.
And a pair of sunglasses also bought by my husband even though I am trying to guide him into how to find these types of things secondhand.
I don't ever seek out the newest it bag or shoe of the season.
Instead, I seek out the ones that excite me because building your wardrobe should be an exciting adventure into self-discovery.
When someone tells you that you should be wearing this, not this for the upcoming season you lose a bit of your wardrobe authenticity and almost revert to a metal checklist of trendy or not trendy.
Because you are focusing on being trendy first versus personal style which is what we want to avoid if we want wardrobe longevity and for it to reflect who we are and how we want to be seen.
You want to be bringing in items that mirror your personal style regardless of trend, or it-factor.
Then, once you are comfortable with that you can add trends that work with that style to round out, modernize, enhance, and freshen up your wardrobe each season if you so choose to.
Sound easy? Probably not, and I know from conversations with many of you that this is an area that you struggle with.
It's not easy, nor is it fast.
It is a slow continuous work in progress, but I will promise that it does get easier over time once you start to figure things out.
My 12 Piece Ultimate Fall Capsule Wardrobe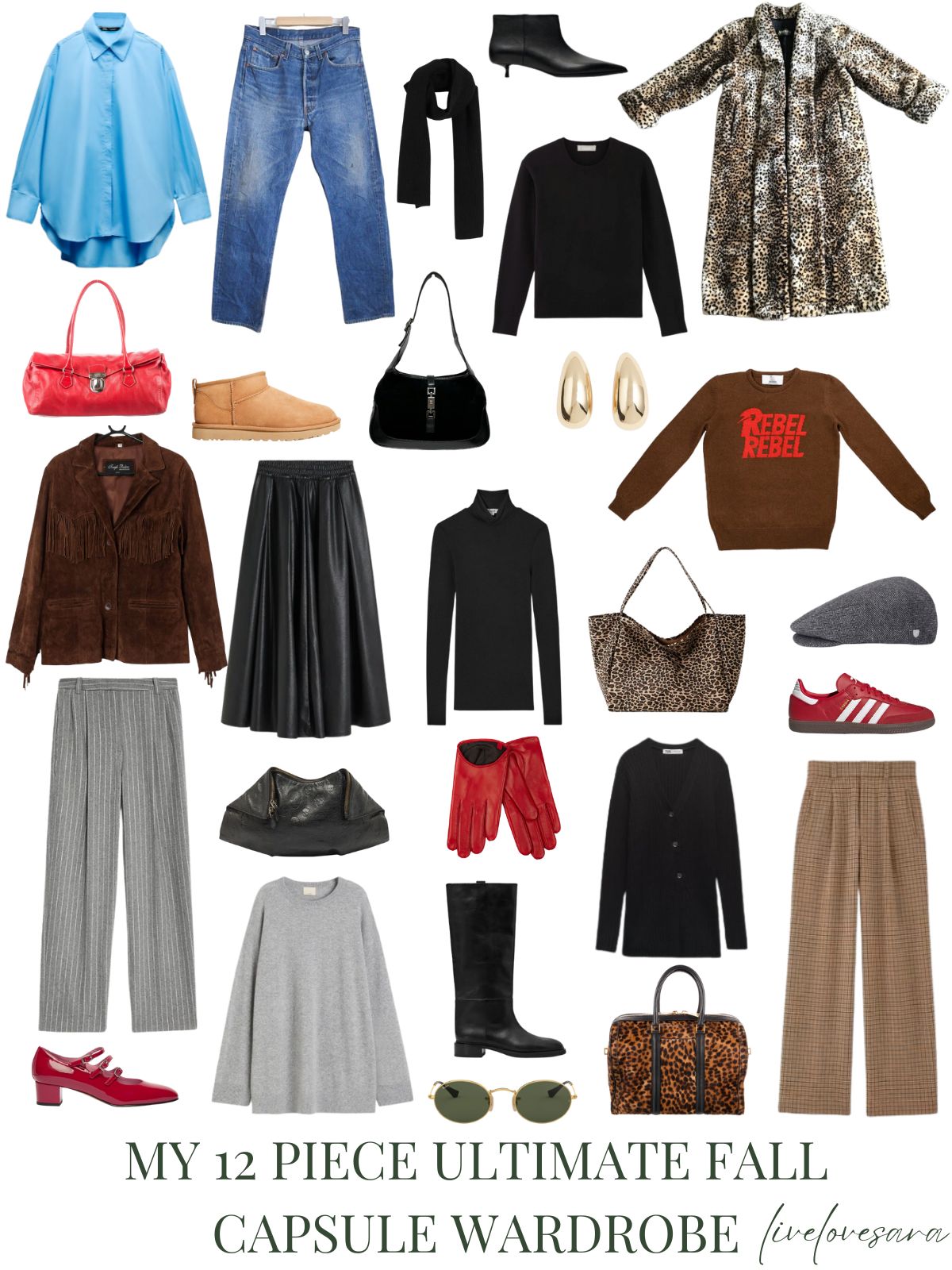 Blue Button Up | Jeans | Scarf | Black Booties | Black Sweater | Animal Print Coat | Rebel Rebel Sweater | Earrings | Black Handbag | Ugg Ultra Minis | Red Handbag | Fringe Jacket | Skirt | Turtleneck | Animal Print Tote | Flat Cap | Red Sambas | Houndstooth Trousers | Black Cardigan | Animal Print Handbag | Sunglasses | Riding Boots | Red Gloves | Large Clutch | Grey Sweater | Grey Trousers | Red Mary Janes

What are style adjectives?
Style adjectives are descriptive words or phrases used to characterize and define a particular style or look.
They help convey the overall aesthetic, mood, and vibe of an outfit or fashion trend.
These adjectives are often used by fashion designers, stylists, and enthusiasts to communicate and understand different fashion choices and aesthetics.
And most recently they have been used to help develop one's own personal style.
Previously the fashion world would try to box us into one style category and if you were a true believer you tried really hard to stay within that box even to your own style detriment.
We have broken free from that ideal and have started adopting the three word method which can be more than three words, but that is a good number to start.
The "Three-Word Method" is a simple approach often used in fashion to help define and communicate a specific style or look concisely.
It involves selecting three descriptive words or adjectives that encapsulate the essence of the desired style or outfit.
These three words help clarify and focus the fashion choices and convey the overall aesthetic and mood.
Finding your style adjectives can be a creative and introspective process that helps you better understand and express your personal style.
These adjectives can be used to describe your fashion sense, interior design preferences, writing style, or any other aspect of your creative expression.
It is a strong tool that is not just used in fashion.
My three style adjectives are classic, casual, and unexpected and I wrote about it a bit more last winter which you can read here.
If you struggle with finding your adjectives there are some steps that you can take to help get you there which I will take you through.
Start by taking some time for self-reflection. Think about the things you enjoy, your interests, and your personality traits. Consider what makes you unique and how you want to express yourself through your style.
Look for inspiration from various sources, such as fashion magazines, blogs like mine, Pinterest boards, or even social media platforms like Instagram.
Collect images, articles, or examples of styles that resonate with you and save them in a way that you can access them easy so that you can to analyze them
Examine your current wardrobe or the items you own for clues about your style. What colours, patterns, and textures do you gravitate toward? Are there any recurring themes or elements in your clothing choices?
Once you start pulling things out and putting them next to one another you will often start to notice themes or similarities.
I also suggest jotting down any words that come to mind while you are looking through these. They may come in helpful when coming up with your style adjectives.
Consider your hobbies, interests, and lifestyle. Are you drawn to a particular era, culture, or subculture? Do you have a passion for nature, minimalism, vintage, or preppy aesthetics?
Ask someone because sometimes, friends and family can offer valuable insights into your style.
Get them to describe how they see your fashion sense. Their input can help you see yourself from a different perspective.
This goes back to where I suggested writing words down as they came to you.
Start jotting down adjectives that come to mind when you think about your style. These adjectives can be descriptive words like casual, elegant, vintage, minimalist, eclectic, edgy, preppy, bohemian, or any other words that resonate with you.
Review your list of adjectives and narrow it down to the ones that best capture your style. Try to keep it concise, focusing on the most essential descriptors.
You can go with more than three or add an extra word that you feel adds to or completes your looks. We often call them modifiers.
Don't be afraid to experiment with your style based on the adjectives you've chosen. Try new clothing combinations that align with your style adjectives and keep playing with them until they feel right.
You aren't tied to these words, preferences, lifestyles, and styles change and evolve and so may your words.
Over time, you may notice certain style adjectives consistently appearing in your choices and preferences. These are likely the ones that best represent your authentic style, so don't rush it.
Once you've identified your style adjectives, embrace them and use them as a guide for when you are shopping or seeking new wardrobe items.
Remember that personal style can evolve, so stay open to growth and change.
Finding your style adjectives is a fun and ongoing process that allows you to express your uniqueness and creativity. It helps you make choices that align with your personal taste and values.
Now I am going to discuss my 12 pieces and why I chose them.
I want to start with outerwear. Outerwear season is my favourite season and I just feel more like myself when I am wearing a statement coat.
These two coats that I wear are both vintage so I can't find an exact version but I searched for ones with a similar vibe.
One is a faux fur animal print, and the other is a chocolate brown suede fringe jacket. I consider animal print as something that never goes out of style.
My coat is from the 60s and it just adds that extra something to every outfit.
Chocolate brown is a big fall trend this year so I get the added bonus of being on trend with this fringe coat which isn't something that I seek but often plays out when you buy for what you love versus trends.
I bought both of mine off of Etsy, and they consistently have vintage animal print coats, and fringe coats that will appeal to anyone's tastes.
Now, on to sweaters. During this season sweaters are often my first choice and in this instance, I included a couple of cashmere knits, as well as a band knit.
My black cashmere sweater I bought from Everlane 4-5 years ago. It is my go-to sweater always. I suggest buying an inexpesive fabric shaver to keep them fresh looking.
I always look for a low-cost one with a high amount of ratings. This one is $14 with 120K ratings.
My grey sweater I bought on consignment. Both are slightly oversized fit which is my preference and I achieve this in a few ways.
I either buy a style that is intentionally oversized in fit
go up a size or two until I get the desired fit
or I get my women's size in a men's sweater
So if I wear a women's medium in a fitted style then I will get the men's medium in a similar fit which will give me the more relaxed feel that I get by going up in women's sizes.
Men's sweaters are often more relaxed in the shoulders, and have a bit more length, so they have my preferred look that gives slouchy versus fitted and allows me to layer over t-shirts, turtlenecks, and button-ups easily.
My band knit is from Hades Wool. Mine is The Cure and is black with red font, but is sold out. You can see it here. I tucked it up a bit to make is slightly cropped here.
The one I included is also by Hades Wool and has the same vibe. It is just a nice statement knit. Plus it is handmade by a small business.
For tops, I lean towards a small variety. I need a turtleneck, button-down, and either a t-shirt, a long sleeve or a fitted minimalistic cardigan during this season.
This cardigan from Zara reminds me a bit of this spectacular one for Raey but in a much more affordable option. It is also a wool blend that is not itchy.
For a button down I often prefer blue over white because I feel that white can be a little too uniform-like when paired with black which is something that I wear a lot of.
Blue adds a nice punch of colour.
For bottoms, I think that it is really important to have at least one great pair of jeans and for me that is my vintage men's Levi's 501s.
When choosing men's jeans it is important to pay attention to the measurements because men's sizing is not the same as women's when it comes to waist size measurements.
I usually wear a women's 27 or 28 jean, a men's accurate fit to this for me would be a 30. I often lean between 31-34 for the looser more casual "borrowed my husband's jeans" kind of look that I currently gravitate towards.
I am over skin tight, suck it in jeans.
Last night I found two pairs from this Etsy shop. One dark blue, and one faded black. They are a great price for vintage jeans.
The other two pants I chose are both wide leg trousers in wool/wool blend. I have a grey pinstripe, and brown houndstooth for colour variation.
My last bottom is a faux leather skirt. I went with a skirt over a dress because I get more versatility and use out of skirts during this season.
I have a long leather maxi that I love, but maxi skirts while still popular are not the front runner for fall and winter. That goes to a fuller midi skirt that has that circle skirt sort of vintage vibe.
It is looser and easier to walk in than a maxi as well which is important as the weather changes.
Those are my 12 pieces which I round out with a variety of handbags, shoes, and accessories.
The shoes include my go-to red Sambas, a kitten heel boot, my low Uggs, a riding boots, and my red Mary Janes.
As you can see I love the colour red as an accent which works well in my favour this season since red is a huge trend.
My handbags are all my collection of secondhand designers.
My vintage 90s Gucci suede and leather Jackie bag is my favourite. It is from the Tom Ford Gucci era and is my absolute minimalist go-to bag.
Then I have a red Prada barrel style bag, an animal print Ferragamo for something fun, and my large Alexander McQueen De Manta clutch.
I round it out with my animal print tote from Etsy that I bring everywhere because it is huge and carries so much when I am running errands.
My fall accessories are my favourite flat cap (which we are actually starting to see trend for spring/summer 24), my leather low scoop gloves, and 90s-shaped sunglasses.
The earrings have a similar vibe to the Bottega Veneta drop earrings but are like 1% of the cost which is a no-brainer because I don't wear tons of accessories and spending over $1000 for earrings is not going to happen.
So there you have it, the collection and breakdown of my 12 pieces. I hope that this helps to guide you toward finding your own personal style and style adjectives.
Sorry that this was so long.
I have been working at my style for years, so you can believe me when I say that it is so worth it to try.
The impact it makes both mentally and financially once you stop buying things that don't work for you is so freeing and that alone is worth the effort.
Fall Outfit Ideas for Women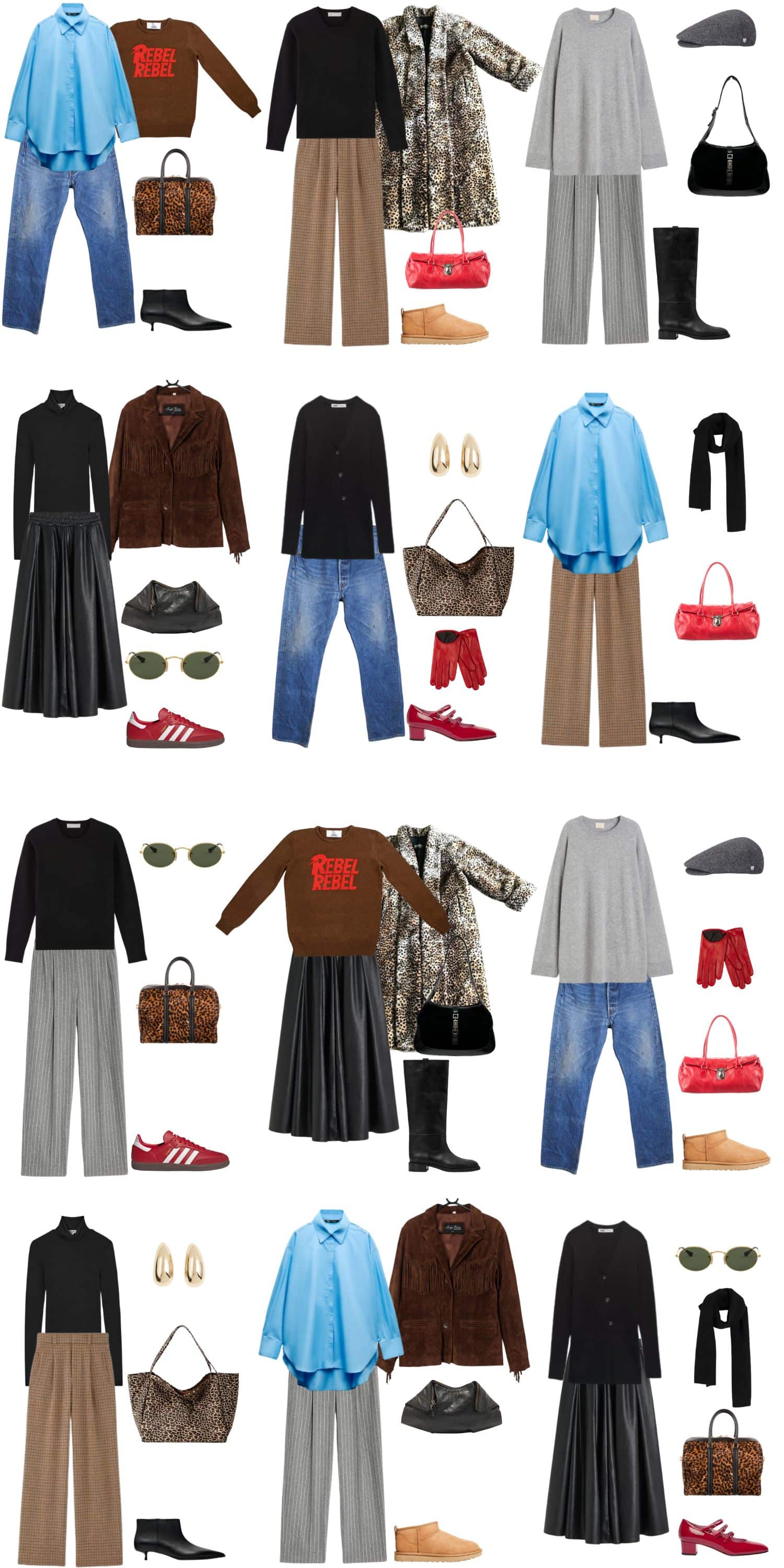 Blue Button Up | Jeans | Scarf | Black Booties | Black Sweater | Animal Print Coat | Rebel Rebel Sweater | Earrings | Black Handbag | Ugg Ultra Minis | Red Handbag | Fringe Jacket | Skirt | Turtleneck | Animal Print Tote | Flat Cap | Red Sambas | Houndstooth Trousers | Black Cardigan | Animal Print Handbag | Sunglasses | Riding Boots | Red Gloves | Large Clutch | Grey Sweater | Grey Trousers | Red Mary Janes

You might also like:
A 12 Piece Carolyn Bessette Inspired Fall Capsule Wardrobe
A 12 Piece Romantic Fall Capsule Wardrobe
A 12 Piece Ralph Lauren Inspired Fall Capsule Wardrobe
A 12 Piece New Preppy Style Fall Capsule Wardrobe
A 12 Piece Minimalist Fall Capsule Wardrobe
A 12 Piece 90s Fashion Fall Capsule Wardrobe
A 12 Piece Quiet Luxury Fall Capsule Wardrobe
SHOP THE UK LINKS


I am now offering digital styling guides, and personal styling services. If you are looking for some styling help that is inexpensive and easy, check out my digital styling guides. If you want some one-on-one help shopping, building and editing your wardrobe, or packing for a trip, I can also assist. Check out all the styling services that I offer here.
This post contains affiliate links. By using my links to shop I may receive a small commission (at no cost to you). Thanks for supporting what I do