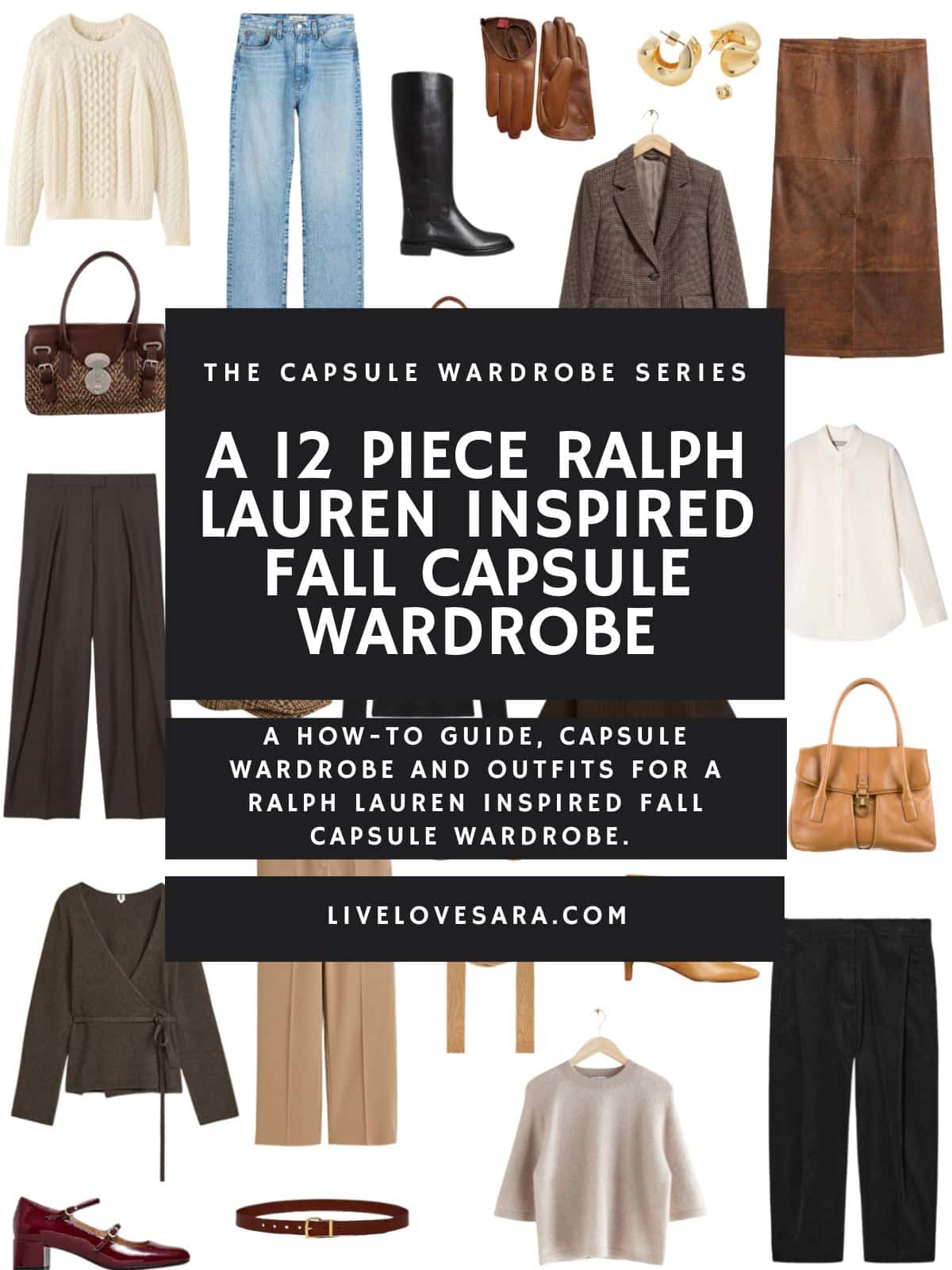 I often find myself dressing in something and someone will comment that it reminds them of a vintage Ralph Lauren outfit, and I love that because 90s Ralph Lauren is a huge fashion inspiration to me.
I always find that I gravitate towards old Ralph Lauren ads when I am making my fall mood boards and I believe that autumn is when Ralph Lauren really shines.
The colours, the fabrics, the layering, it's just the epitome of perfect fall dressing.
The 90s truly had beautiful tailoring and that was something that I talked about last week with my 90s minimalist wardrobe.
You can just see how well everything fits, and how lush the fabrics are if you watch these old fashion shows like the F/W 98/99 Ralph Lauren show.
A 12 Piece Ralph Lauren Inspired Fall Capsule Wardrobe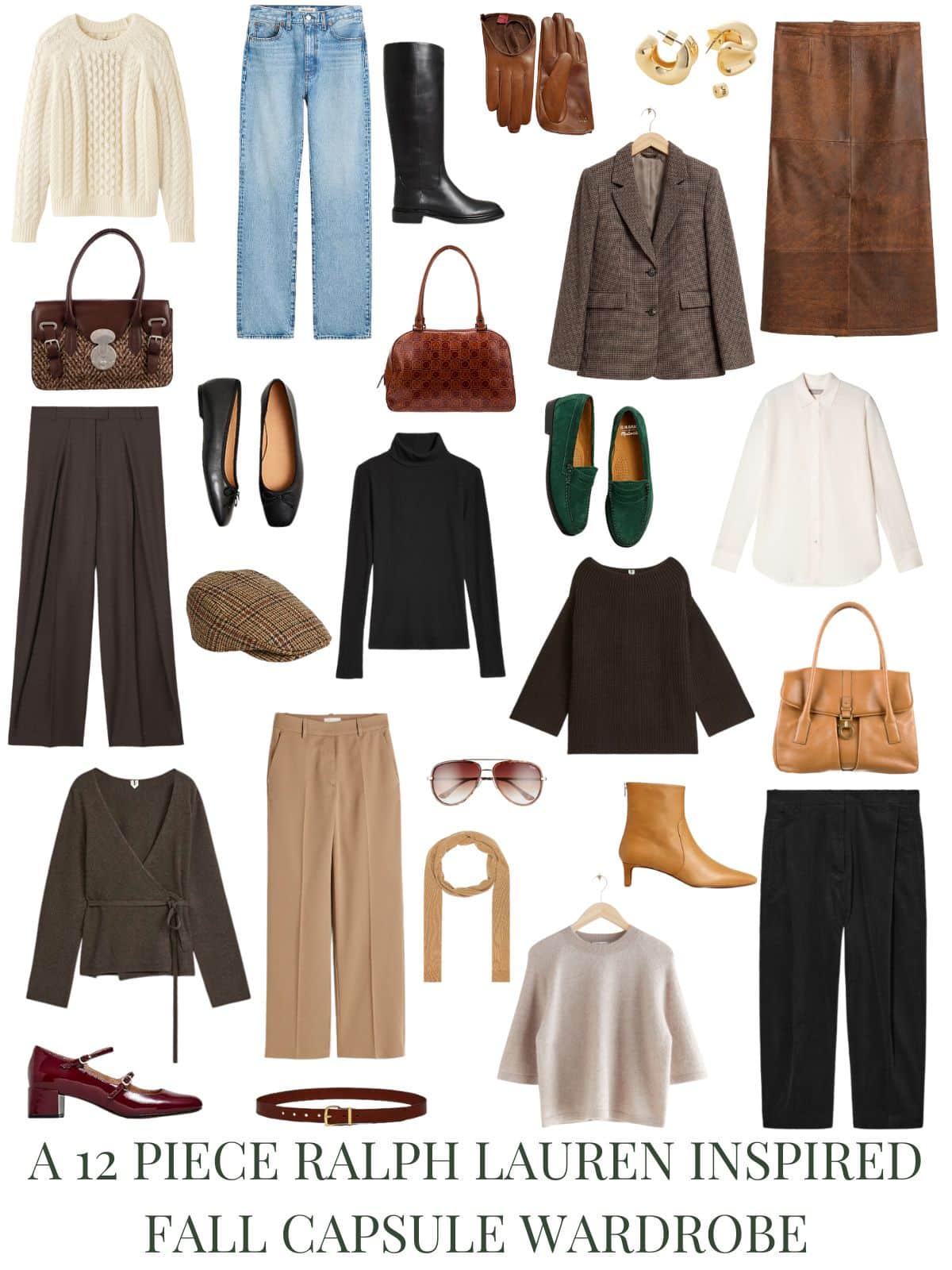 Cable Knit Sweater | Jeans | Riding Boots | Leather Gloves | Earrings | Leather Midi Skirt | Blazer | Cognac Handbag | Ballet Flats | Tweed Handbag | Chocolate Brown Trousers | Flat Cap | Turtleneck | Green Penny Loafers | Silk Blouse | Caramel Handbag | Chocolate Brown Sweater | Sunglasses | Tan Trousers | Wrap Sweater | Mary Janes | Belt | Cashmere Scarf | Short Sleeve Sweater | Caramel Boots | Black Corduroy Trousers

What is the 90s Ralph Lauren's Style?
First and foremost, did you know that he dressed Diane Keaton in Annie Hall? He used her eclectic style as a guide and the result was a masterpiece. Talk about iconic.
Ralph Lauren is a lifestyle brand that is like a hybrid between the old money style and the Ivy League preppy style which some would argue are the same, but there are definite differences.
I did versions of both of these wardrobes previously.
The old money which is referred to as the Quiet Luxury trend, and a modern twist New Preppy style wardrobe.
His brand also has a huge association with the American east coast and reflects a very coastal style.
Ralph Lauren said that the principles of the company are based on preserving legacy, heritage, timelessness, and style — not fashion.
He leans to the traditional English country style with an adaptation to the American east coast.
But when it comes down to it, it is quintessentially Americana making it, its own style.
Ralph Lauren is timeless, refined, and luxurious, but it is unpretentious and laid back which is where it differs between the quiet luxury old money aesthetic and preppy collegiate which both lean heavily on class and elitism.
Ralph Lauren focuses on fabrics and textures and in fall we see a lot of brown tones, wool, chunky knits, and tweeds but in a more casual way.
Like it is unintentionally chic.
To get the Ralph Lauren look we are seeking out high quality pieces, comfortable, and laid-back while still being stylish and well put together.
The fabrics we are looking for are tweeds, checks, herringbone, cotton, denim, wool, cashmere, silk, and leather.
This applies to your accessories as well.
A leather belt, cashmere scarf, and leather gloves will take you far in the accessories department.
The vibe is to have a sense of effortlessness with traditional and timeless pieces without the adoption of short-lived trends.
You heard me, trends are what can be added to style if you so choose.
They are not necessary when you have a strongly developed personal style.
Wearing all the trends is not meant to be a style on its own.
You need a foundation of a personal style before you can add trends to it to complement and build on it.
Ralph Lauren is classic style not a trend.
Stick with neutral colours like black, white, beige, cream, navy, dark green, grey, and brown.
Then take inspiration from the Ivy League and preppy style.
Mix textures and use layers to build your look.
And a key piece is outerwear.
Ralph Lauren is known for its outerwear and this season we are really focusing on long coats in heritage fabrics, so this is perfect for this look.
I bought a vintage Ralph Lauren brown houndstooth wool coat that is very long.
My tip to find one in an extra long length? Search for men's coats.
They give that perfectly oversized look we are seeking. And if the shoulders are too broad then you can remove the shoulder pads to lessen it.
One nice long coat will carry you through the season.
90s Ralph Lauren Outfit Ideas
Ralph Lauren in the 1990s was known for its classic and preppy American style, often characterized by a blend of elegance and casual comfort.
Women's outfits from that era typically featured a mix of iconic pieces that have become synonymous with Ralph Lauren's brand identity.
When I was putting this fall capsule wardrobe together I really tried to bring in the authenticity,
I included secondhand Ralph Lauren handbags and handbags from that era.
I stuck to the footwear and then added a couple of modern variations. The ballet flats, riding boots, and penny loafers are all iconic pieces.
The shorter boots bring in some modern chicness and the Mary Janes is a trend both past and present.
I included a cable knit sweater, silk, cashmere, tweed, 90s fit denim, corduroy, chinos, a leather skirt, and wide-leg trousers.
I want to point out that the skirt is very expensive. Not thousands of dollars designer expensive, but still way pricier than I like to include.
But it was exactly what I was looking for to complete this capsule. It is from Banana Republic which often has big sales, so would hold out for that.
Or I would use it as an inspiration to search for a vintage version because there are a lot of beautiful leather skirts on the secondhand market.
With riding boots, you no longer need to have strictly skinny denim to wear them. Try the vintage look of a baggier fit pant tucked in and ballooning out over the knee a bit.
It is very 80s and 90s versus our typical 00s skinny jeans and riding boot pairing.
We need to learn how to embrace alternative ways to wear things that may be a bit out of our comfort zone.
I pieced together 24 outfits from this capsule wardrobe to show you what you can do with it.
But I also have some written examples of other outfits that were worn during that time and are typically Ralph Lauren.
These are some 90s Ralph Lauren outfit ideas to help inspire you. You can probably find a lot of these pieces in your wardrobe already.
For truly authentic looks search out vintage Ralph Lauren on Poshmark, eBay, and Etsy and you will be amazed at the incredible pieces that are out there.
Polo Shirt and Chinos
A classic combination often seen in the 90s was a Ralph Lauren polo shirt paired with chinos or khaki pants. This look epitomized the preppy, sporty aesthetic of the brand.
Cable Knit Sweater and Pleated Skirt
A cable knit sweater worn with a pleated skirt created a timeless and slightly dressier look that is perfect for fall and winter. Earthy tones and rich textures are a good choice for this style.
Denim on Denim
Ralph Lauren embraced the 90s trend of denim on denim. You might find a denim shirt worn with jeans or a denim jacket paired with a denim skirt. This double denim look was popular and versatile and is till today.
Equestrian-Inspired Attire
Ralph Lauren's equestrian-inspired designs were also a highlight of the 90s. Riding boots, jodhpurs, and tailored blazers were combined to create a sophisticated yet slightly rustic look.
Sweater Dress with Belt
Sweater dresses are a cozy and stylish option in the colder months. Women often belted these dresses at the waist to add definition to the silhouette.
Nautical Stripes
Nautical stripes were a timeless trend in the 90s, and Ralph Lauren embraced this style with striped tops, sweaters, and dresses. Navy blue and white were common colour choices.
Tweed Blazer and Turtleneck
If you only get a couple of things make it a tweed blazer and a turtleneck. Ralph Lauren's take on the traditional tweed blazer often featured a turtleneck sweater underneath.
This ensemble exuded sophistication and was a popular choice for professional or slightly dressy occasions but is still absolutely casual and perfect for everyday wear.
Layered Knits and Scarves
Layering was a key aspect of 90s fashion. Layer different knit pieces like cardigans, sweaters, and scarves to create a cozy and stylish look.
Plaid and Corduroy
Ralph Lauren incorporated plaid patterns and corduroy fabrics into many of their designs. Plaid skirts, shirts, and blazers paired with corduroy pants or skirts are fashionable choices.
There are so many options for plaid/check patterns and colours, and I would suggest sticking with the more subtle collegiate versions versus lumberjack or grunge.
Monochrome Looks
Try a monochrome outfit, where various pieces in the same colour family are combined. This creates a cohesive and polished look.
Remember that fashion is always influenced by individual preferences and trends can vary.
The 90s Ralph Lauren outfits I broke down for you showcase the brand's iconic style during that era, but personal interpretation and creativity played a significant role in how these pieces were worn and will be worn by you.
Take your style into consideration first, and then influence it with a little flair of vintage Ralph Lauren.
And most of all, have fun with it.
More Classic Ralph Lauren Outfits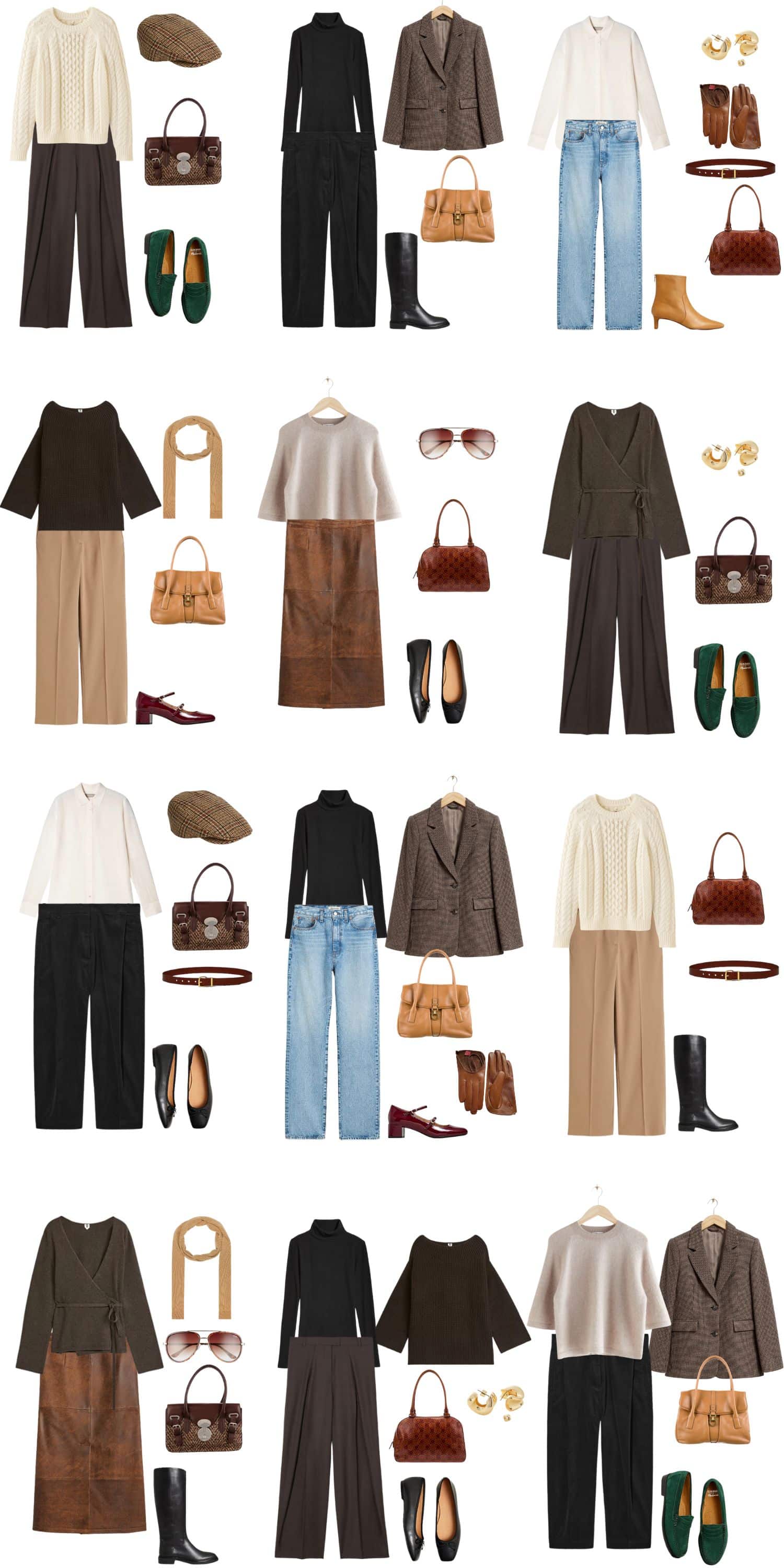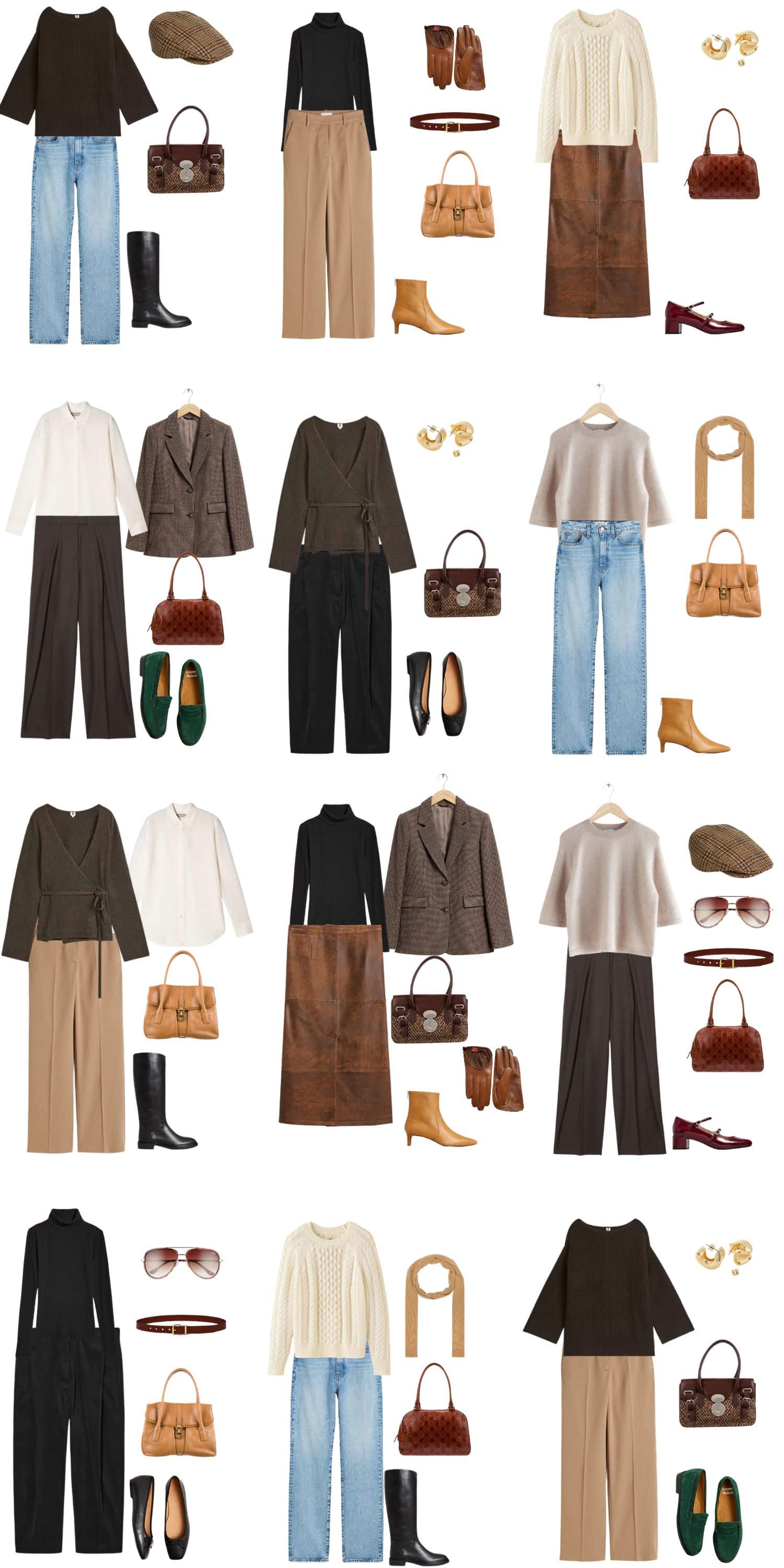 Cable Knit Sweater | Jeans | Riding Boots | Leather Gloves | Earrings | Leather Midi Skirt | Blazer | Cognac Handbag | Ballet Flats | Tweed Handbag | Chocolate Brown Trousers | Flat Cap | Turtleneck | Green Penny Loafers | Silk Blouse | Caramel Handbag | Chocolate Brown Sweater | Sunglasses | Tan Trousers | Wrap Sweater | Mary Janes | Belt | Cashmere Scarf | Short Sleeve Sweater | Caramel Boots | Black Corduroy Trousers

You might also like:
A 12 Piece Scandinavian Street Style Fall Capsule Wardrobe
A 12 Piece Indie Style Fall Capsule Wardrobe
A 12 Piece New Preppy Style Fall Capsule Wardrobe
A 12 Piece Minimalist Fall Capsule Wardrobe
A 12 Piece 90s Fashion Fall Capsule Wardrobe
A 12 Piece Quiet Luxury Fall Capsule Wardrobe
A 12 Piece Rock Inspired Falls Capsule Wardrobe
A 12 Piece Dark Academia Capsule Wardrobe
SHOP THE UK LINKS


I am now offering digital styling guides, and personal styling services. If you are looking for some styling help that is inexpensive and easy, check out my digital styling guides. If you want some one-on-one help shopping, building and editing your wardrobe, or packing for a trip, I can also assist. Check out all the styling services that I offer here.
This post contains affiliate links. By using my links to shop I may receive a small commission (at no cost to you). Thanks for supporting what I do