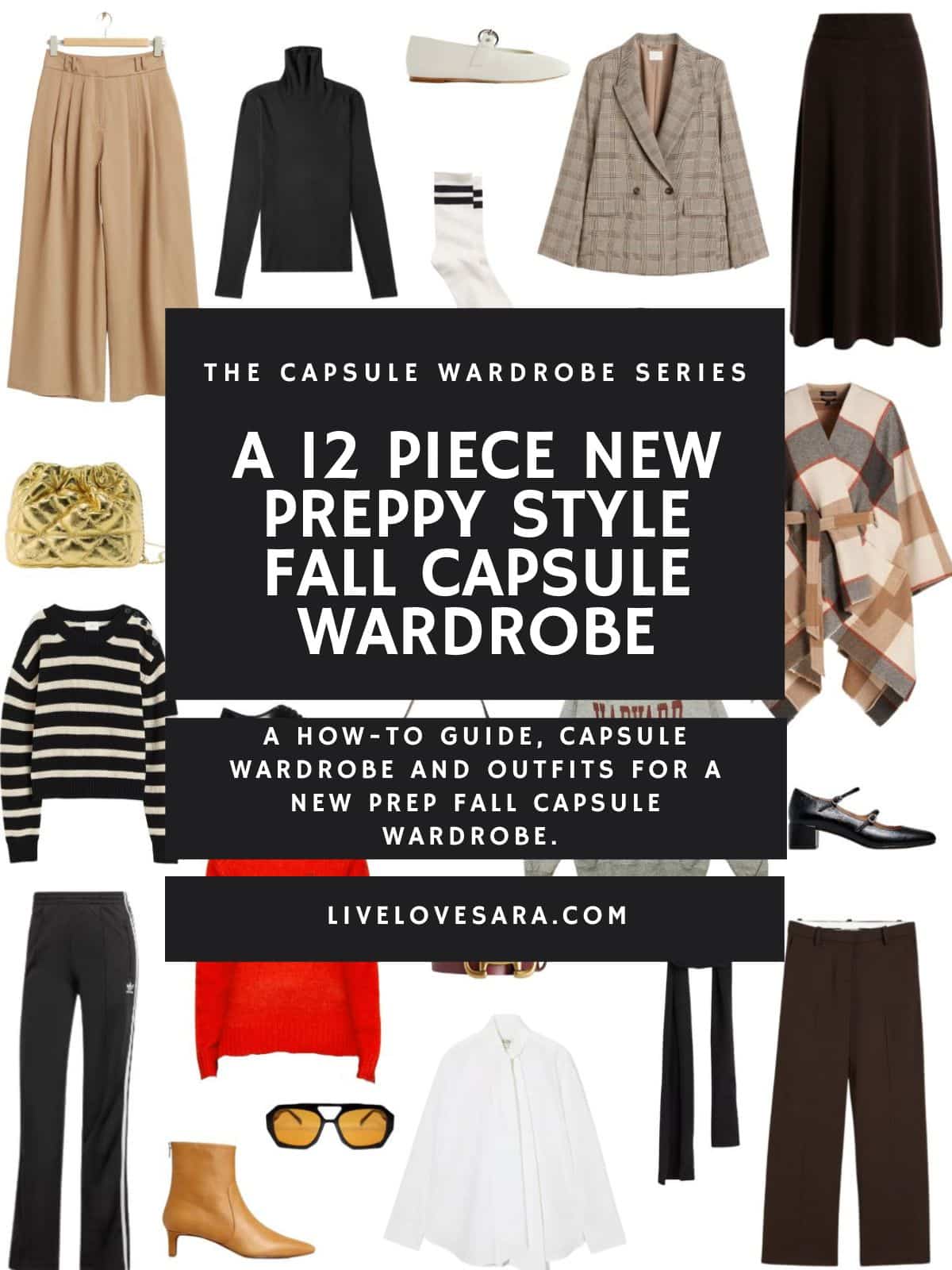 In the age of old money and the quiet luxury stealth wealth trend that is prominent this fall, it is only natural that preppy style should come roaring back into fashion. Many may argue that it never left, and I would agree with that.
So throw out your copy of The Preppy Handbook and let's get started, because the rules have changed.
We have noticed that things are shifting towards classic, traditional or heritage looks. Rumour has it this is the reason that Alessandro Michele left Gucci last year.
But that is neither here nor there because it is no longer the prep of yesteryear.
This is a bit darker, a little twisted (in the extreme levels), like prep meets street. It is a complete revitalization of the uniform of the lady who lunches.
Case in point, Miu Miu with its sweater sets on top, and hot pants style underwear below.
Seriously though, I love Miu Miu. The show was delightful and inspiring, but I would opt for trousers myself.
Although I do love a good sweater set.
I will also say that Miu Miu dared to bring back the sports legging for this season, but worn in an outfit to not look like exercise gear.
Intentional is the vibe.
There were a lot of rugby stripes and wide leg chinos in the fall/winter shows where everything screamed a bit country club with an edge.
This is where I will slide in to tell you to keep an eye open for fishermen sweaters at the thrift store. They are always there and are usually of fantastic quality.
These are the quintessential preppy sweater.
A 12 Piece New Preppy Style Fall Capsule Wardrobe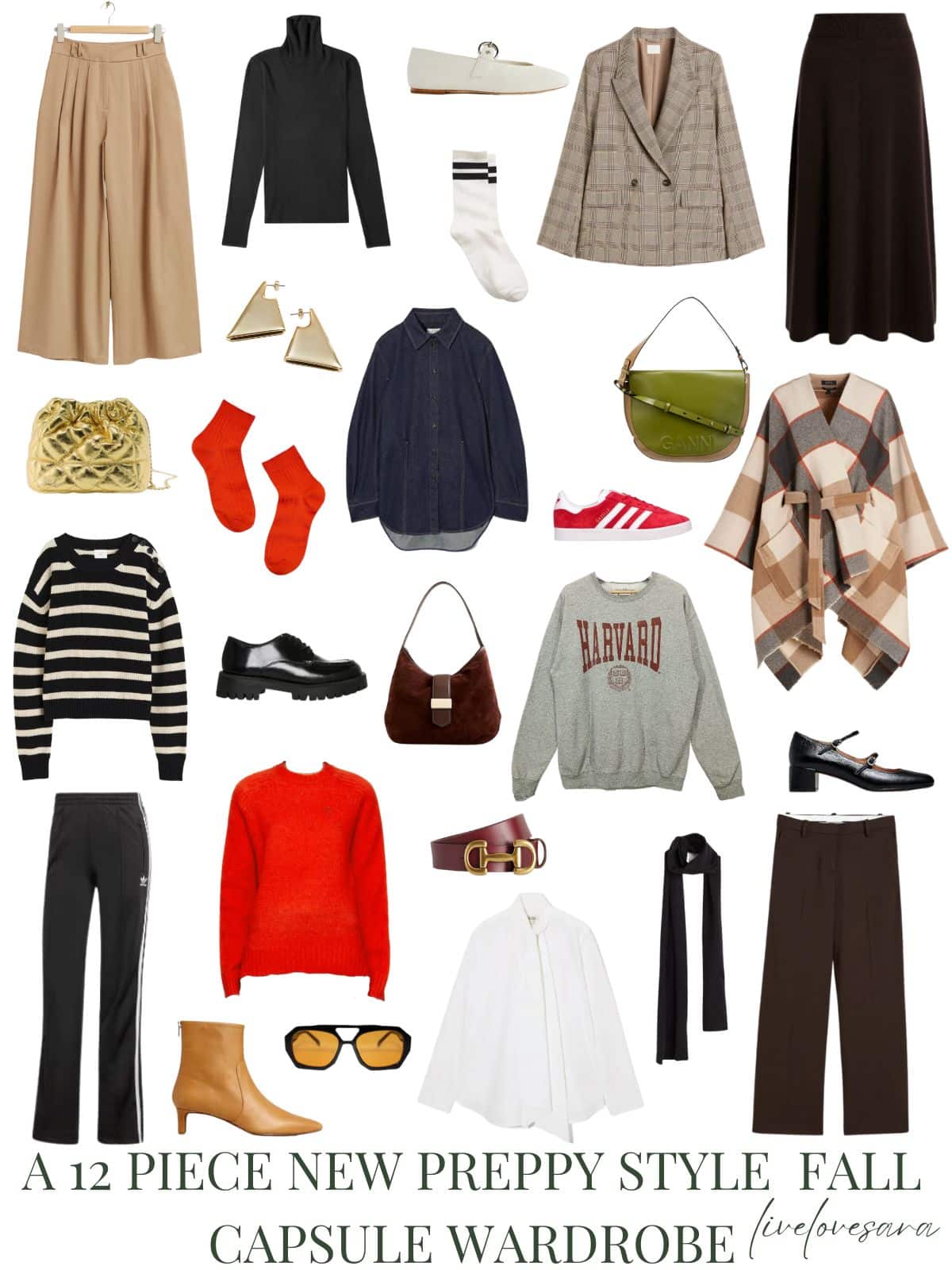 Tan Trousers | Turtleneck | White Ballet Flats | Striped Socks | Blazer | Skirt | Cape | Green Handbag | Sneakers | Denim Shirt | Earrings | Red Socks | Gold Handbag | Striped Sweater | Oxfords | Brown Handbag | Harvard Sweatshirt | Mary Janes | Brown Trousers | Skinny Scarf | White Blouse | Belt | Red Sweater | Sunglasses | Boots | Track Pants

Preppy fashion never really truly goes though, especially in North America, specifically the U.S. where it is like the foundation of American style and the clothing of Ivy League schools.
Which is where it draws us in with its close association to wealth and privilege.
It's like if you wear it, you can live that life too, and forget that we live in a society of extreme income inequality.
The "If you build it, they will come" thought process.
Prep is such a classic ideal that to wear it is like denying all things trendy, but in this case this would be the trend.
Make it make sense, screams the fashion world.
But it is timeless, dependable, usually well-made. It is for everyone, and it never looks bad.
We all love trousers, tweed blazers, sweater vests, crisp button-downs, and sweater sets which are all the foundation of preppy clothes.
How could you not? We have seen variations of these pieces every single season for years now.
I guarantee that you already have some of them in your wardrobe.
If that doesn't give you a sign of their being classics than I don't know what will.
But this season is New Prep.
This means that we are putting our own spin on it.
Some Preppy Outfit Styling Ideas
We aren't sticking to the same trusty formulas, or maybe we are, but we are making it a bit more twisted or edgy.
This is where your personal style will come into it.
We are going to take the basics of prep and make it our own. This will look different for each of us but here are some ideas to get your brain thinking creatively.
Some may feel off the wall but trust me. Give it a try, or at least a subdued version. You will see what I mean.
Maybe try to tuck your trousers into cowboy boots, motot, or tall boots, but keep everything else complete preppy clothes.
Are you still with me?
Try grey jogging pants tucked into slouchy socks, worn with loafers, then pair it with a knit turtleneck and a tweed blazer for a casual preppy look.
Belts as accessories not utilitarian.
Use your knee-length, button front coat like a dress, and paired with tights and Mary Janes.
Balance menswear and women's wear by pairing a midi skirt with a men's sweater, and loafers or boots. Add visual interest with a belt bag or quirky jewellery.
Layer a shirt dress under a skirt with a high slit, so the dress shows through the slit, and the top looks like a button down. Pair it with sports socks and sneakers.
Keep it collegiate on top with a blazer over a university sweater or sweatshirt, and party down below with a tulle or flouncy skirt for the extra vibe.
An oversized rugby shirt paired with wide leg trousers, bold accessories, and ballet flats.
Try layering a sweater over a sweater. Put the more fitted sweater underneath then slouch the sleeves of the more relaxed sweater on top to see the underneath sweater. Confused?
Wear long leather gloves under a button down or sweater with the sleeves pushed up.
Add a bit of retro with a track jacket zipped up and layered under a blazer, with trousers. Or go the opposite and wear track pants with otherwise completely preppy clothes.
Bold shoulder pads in menswear inspired coats.
A pretty print cardigan buttoned up and worn as a shirt over loose fitting trousers.
Everything is just a tad more relaxed, exaggerated, dishevelled, or slouchy.
When in doubt, go one size larger.
Take a tie, and use it as a belt, or tie your sweater or cardigan around your waist to mimic a skirt.
Hold on, I'll get you a link for that so you can see what I am talking about.
Do you see what I am getting at? Now we have preppy but slightly eccentric looks that are injected with personal style.
Are you still with me? Back on track.
The need to keep buying trends to maintain an up-to-date modern wardrobe is such a waste. Trying to stay on top of the trends and all the micro trends is exhausting and expensive, and sucks your personal style away.
Women get stuck in this buying cycle in order to try to improve or evolve their style, but yet they never actually find their style because they are chasing trends.
This often leads to buying cheaply made, inexpensive pieces that are only worn a handful of times before they become dated.
Preppy style lasts. It is meant to be quality, and you can easily find items secondhand for affordable prices.
If you want to learn how to use your wardrobe really well, Amy Smilovic is a great follow, she is who did the shirt as a skirt tutorial I linked above.
She has so many creative ideas to get you out of the mindset that your wardrobe needs to be broken into different sections for different uses.
Who remembers having a full range of tops that were just your specific "going out tops"? We don't need to do that anymore.
Your entire wardrobe is meant to be worn. Wear that special occasion dress to go run errands.
New Preppy fashion is more relaxed, a bit slouchy, more contradictory, and often with a balance between menswear and women's wear.
You should never feel like you aren't rich enough or fancy enough to wear a particular piece. This isn't about social class anymore, you can wear whatever the hell you want.
It is said that Andy Warhol and his boyfriend wore preppy clothes not as a sense of personal style, but as a kind of costume. Something to make them fit in and live openly in a society that had animosity toward LGBTQ+ people.
This modern prep is about perverting the typical ideals of the traditional world of preppy fashion.
It is like the person wearing these classic pieces is taking the ideals that are typically associated with it and messing with them.
Sounds fun to me.
Let's embrace the quirkiness of Diane Keaton whose style has always been nothing but authentically herself and who is now a J.Crew model for their anniversary campaign.
You can't get much preppier than that.
Side note: follow lostjcrew on Instagram for some old school preppy style inspiration.
In order to embrace this new prep it is important that you used this classic style in ways that feel unusual, exciting, and provocative.
Check out the current season of Gucci, Louis Vuitton, Stella McCartney, and Tory Birch to see this implemented really well in some of their looks.
Want to look like you live in a Ralph Lauren fantasy world? There has never been a better time, so get on it.
Preppy Outfit Ideas for Women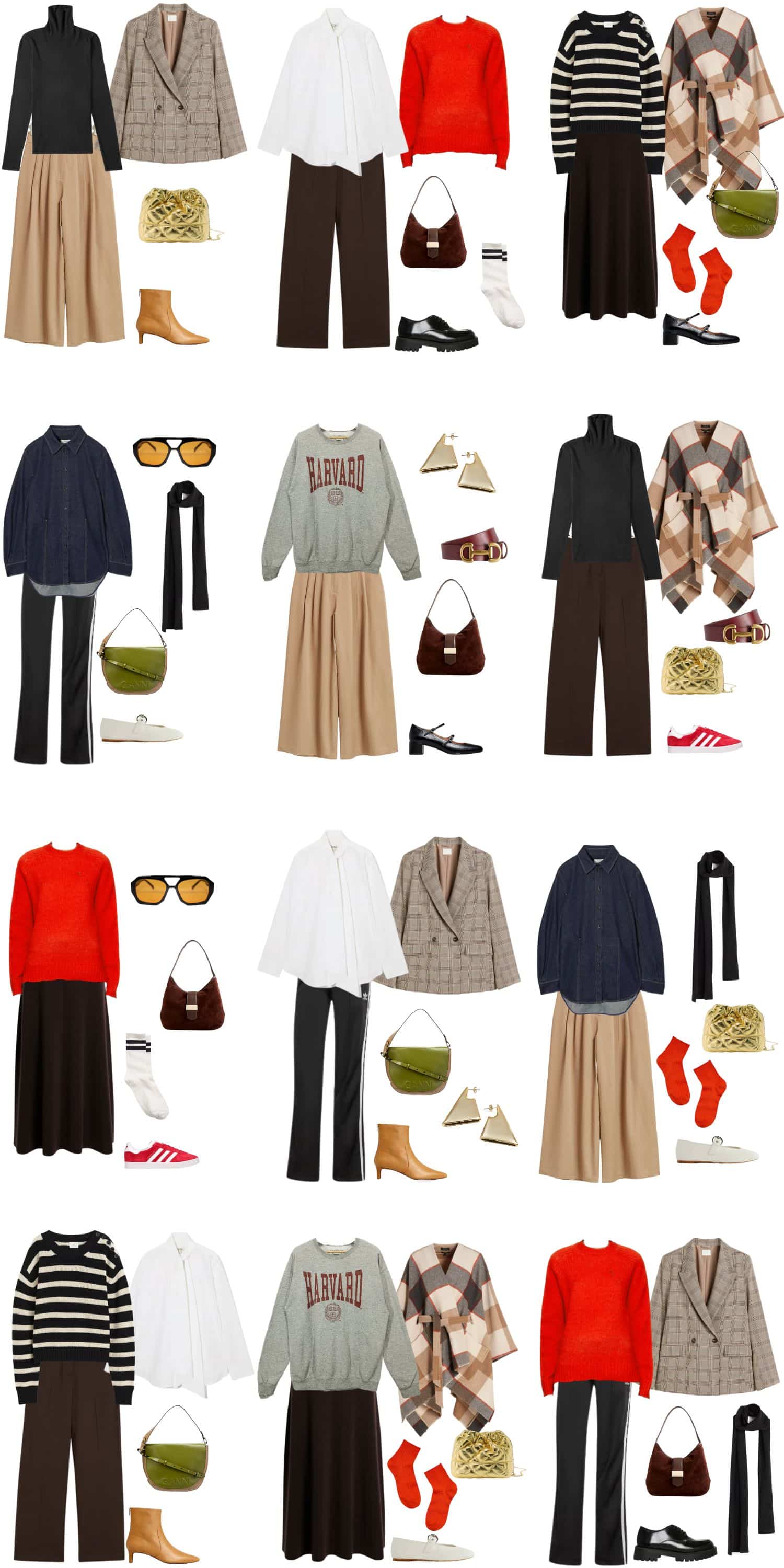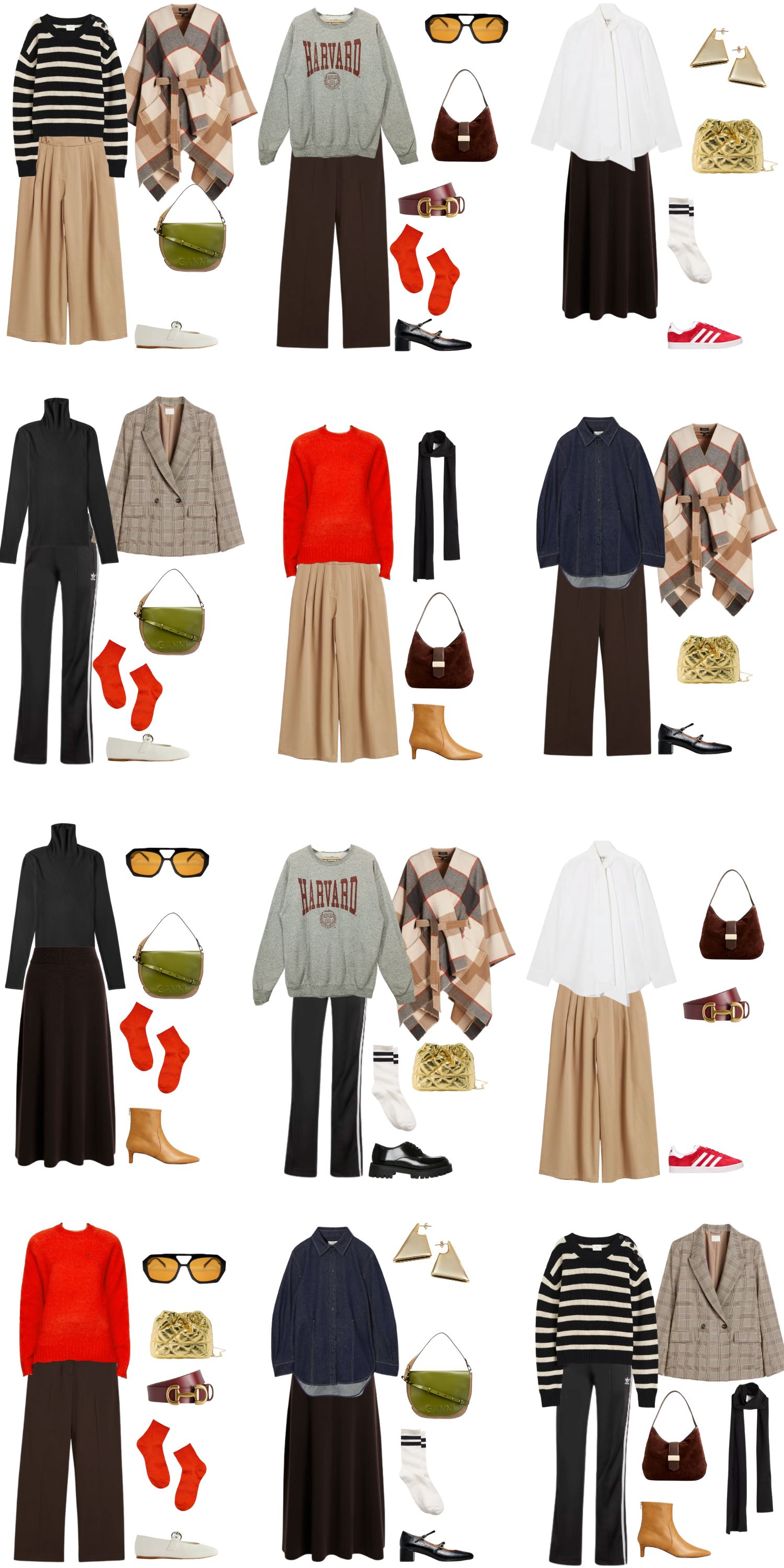 Tan Trousers | Turtleneck | White Ballet Flats | Striped Socks | Blazer | Skirt | Cape | Green Handbag | Sneakers | Denim Shirt | Earrings | Red Socks | Gold Handbag | Striped Sweater | Oxfords | Brown Handbag | Harvard Sweatshirt | Mary Janes | Brown Trousers | Skinny Scarf | White Blouse | Belt | Red Sweater | Sunglasses | Boots | Track Pants

You might also like:
A 12 Piece Minimalist Fall Capsule Wardrobe
A 12 Piece 90s Fashion Fall Capsule Wardrobe
A 12 Piece Quiet Luxury Fall Capsule Wardrobe
A 12 Piece Rock Inspired Falls Capsule Wardrobe
A 12 Piece Dark Academia Capsule Wardrobe
A 12 Piece Minimalist Summer Capsule Wardrobe
A 12 Piece 90s Minimalist Summer Capsule Wardrobe
SHOP THE UK LINKS


I am now offering digital styling guides, and personal styling services. If you are looking for some styling help that is inexpensive and easy, check out my digital styling guides. If you want some one-on-one help shopping, building and editing your wardrobe, or packing for a trip, I can also assist. Check out all the styling services that I offer here.
This post contains affiliate links. By using my links to shop I may receive a small commission (at no cost to you). Thanks for supporting what I do