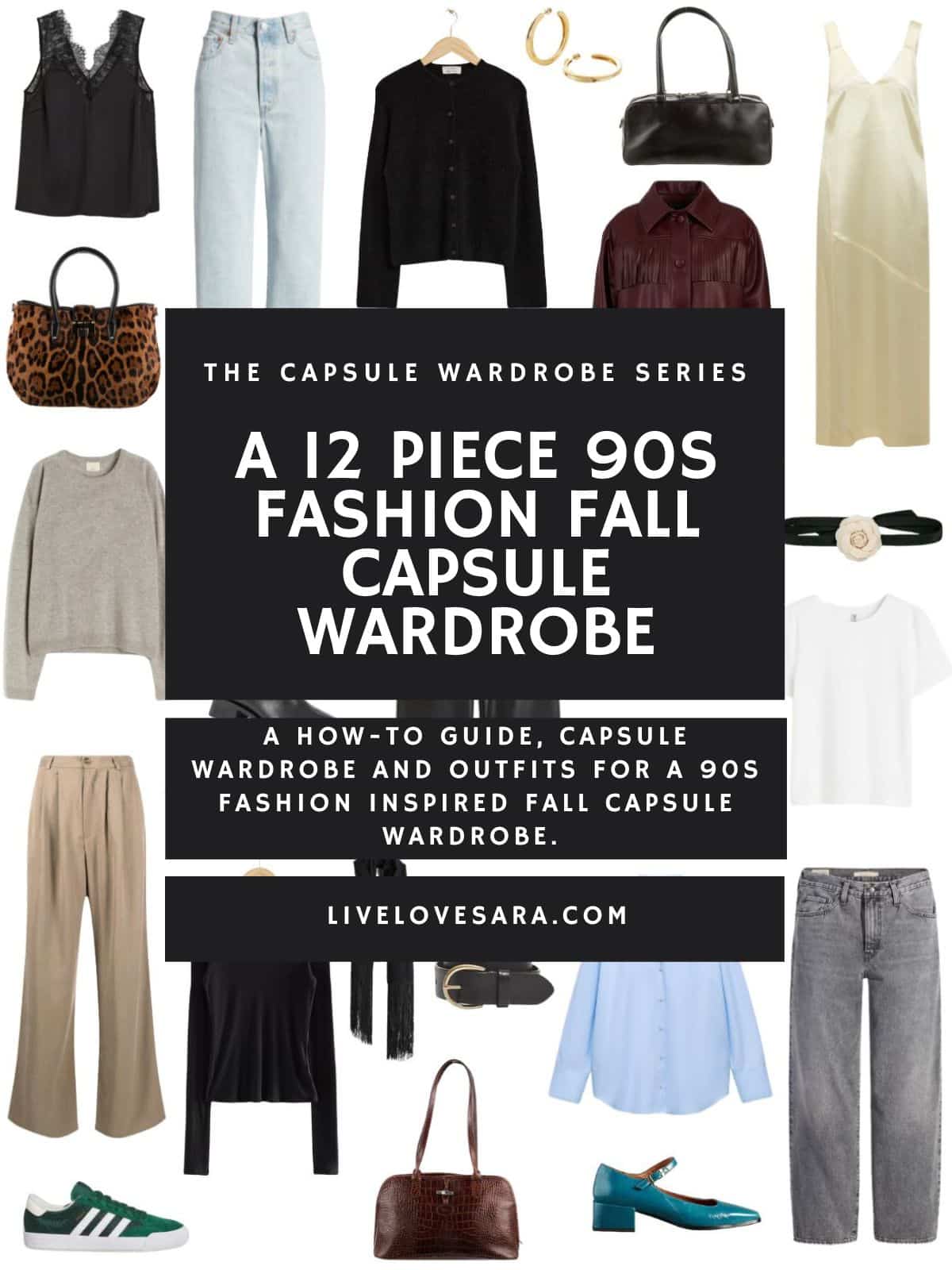 For the last few seasons when I cycle through updated seasonal capsule wardrobes I have been producing a 90s minimalist version. I love it, and it is one of my favourites that I make because it is so classic yet nostalgic at the same time.
I was working on one this week, and then I noticed that I was gravitating away from the 90s minimalism aesthetic and producing more of a 90s fashion version of this fall capsule wardrobe.
The direction that it was going was working for me, so I decided to just go with it. And I ended up building it around the fringe jacket.
I bought a 1970s fringe jacket back in the winter off of Etsy. They have a large selection on there at any given time, so it takes some patience to go through them all if you are in the market for one.
It was really pulling me back in time, and if I haven't mentioned it before, the 90s is one of my favourite decades for fashion if we are not counting the 17th-18th centuries.
Even though they are hindering and completely unrealistic, I really love a wide set of panniers.
But if we are talking about realistic fashion, then yes 90s clothes are probably my default.
It is funny because as the century came to a close, fashion reached its most casual level yet, but it is one of the most hugely impactful eras in fashion that we see today.
It is classic, has tons of personality, and is comfortable for me both physically and style-wise.
A 12 Piece 90s Fashion Fall Capsule Wardrobe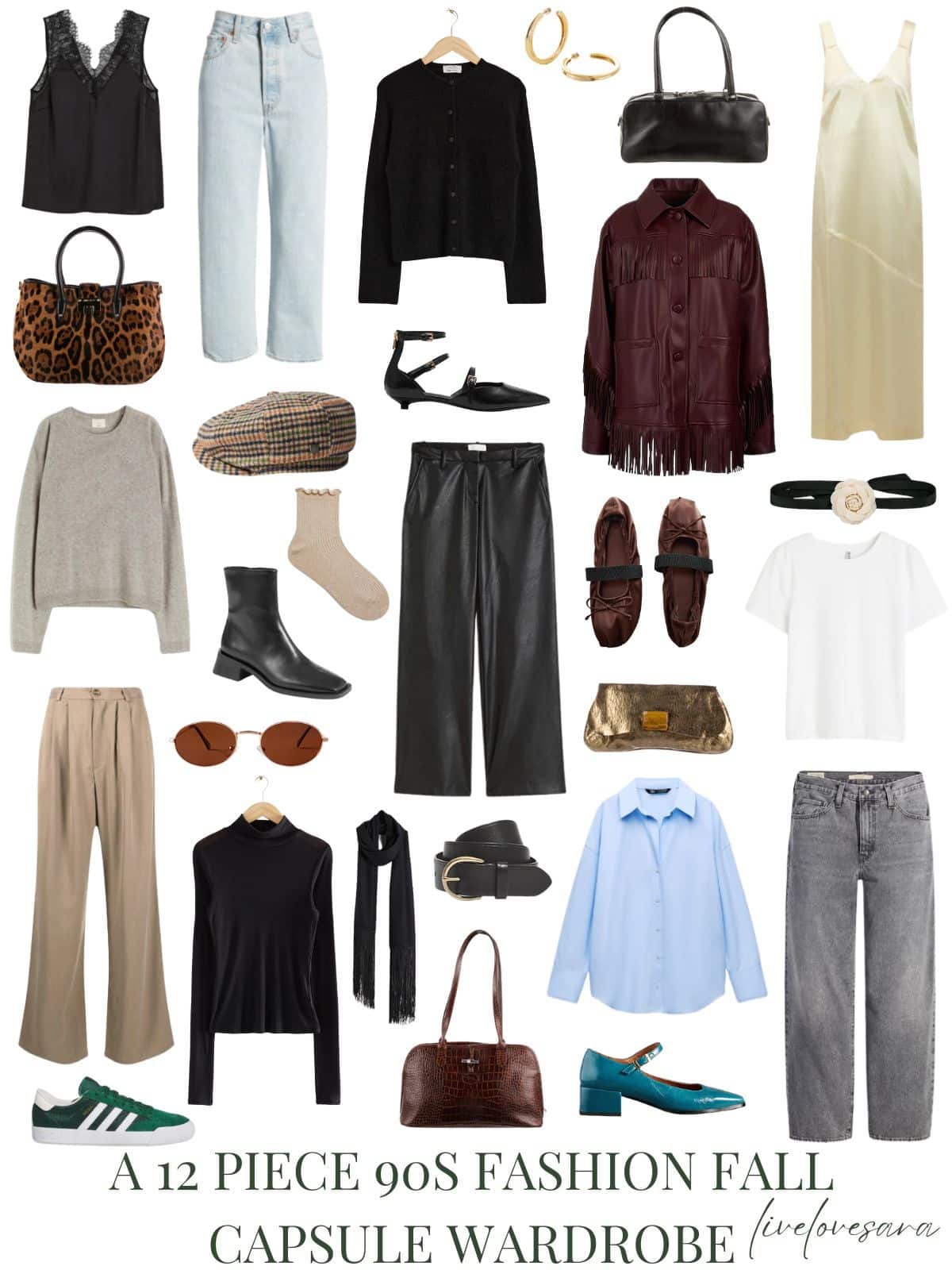 Black Camisole | Blue Jeans | Cardigan | Earrings | Black Handbag | Slip Dress | Fringe Jacket | Black Heels | Hat | Animal Print Handbag | Grey Sweater | Boots | Socks | Leather Pants | Ballet Flats | Choker | White T-shirt | Clutch | Grey Jeans | Blue Button Up | Blue Mary Janes | Brown Handbag | Belt | Skinny Scarf | Sunglasses | Turtleneck | Trousers | Sneakers

I wanted this fall wardrobe to have outfits that you would see if you turned on any 90s Romcom.
I also wanted outfits that you could visualize a 90s Drew Barrymore wearing while walking into a smokey bar to watch a band play.
90s Drew Barrymore is one of my fashion ideals.
There was just something so authentic and attainable about it.
Even celebrity red carpet looks weren't the crazy designer parade that they are today with everyone trying to outdo the others.
They looked like they dressed themselves, and they often did.
It made such an impact that the 90s aesthetic is still running strong in the trends that you see today.
And what came back as nostalgic trends have quickly become wardrobe staples, like our relaxed jeans and shoulder bags.
The thing with the 90s is that they had a very diverse range of fashion influences. Everything from grunge and hip-hop to preppy and minimalistic looks.
What were 1990s fashion trends?
Here is a breakdown of some of the key styles and trends that the 90s era had. It will give you some ideas on what you could include in a 90s style capsule wardrobe depending on your personal tastes:
Grunge is one of the most notable when we think about 90s fashion.
The 90s grunge fashion trend was heavily influenced by the music scene. It featured a rebellious and unkempt aesthetic, with elements such as flannel shirts, ripped jeans, band T-shirts, combat boots, and beanies.
Minimalism which we now call 90s minimalism. This minimalistic aesthetic gained popularity in the 90s, emphasizing clean lines and simplicity.
This style included neutral colours, oversized and boxy silhouettes, slip dresses, plain T-shirts, high-waisted jeans, and tailored blazers.
It is very similar to the modern minimalist vibe, but the style leaned more towards classic, and less basic.
The rise of hip-hop culture had a significant impact on 90s fashion.
Baggy pants, oversized jerseys or T-shirts, athletic sneakers (such as Air Jordans), tracksuits, bucket hats, and gold chains were iconic elements of this style.
The preppy look continued to influence fashion during the 90s after a strong presence in the 80s.
It featured clothing items like polo shirts, khaki pants, pleated skirts, blazers, loafers, and sweater vests. Brands like Tommy Hilfiger and Ralph Lauren were popular in this category.
The early 90s saw a resurgence of bright and bold colours. Neon shades, in particular, were popular in clothing items like windbreakers, tracksuits, T-shirts, and accessories.
Colour-blocking and contrasting vibrant colours were common.
Denim was a staple of 90s fashion, and it continues to be a staple today. Acid-washed jeans, baggy denim overalls, denim jackets, and skirts were popular choices.
Distressed and ripped jeans were also fashionable.
The iconic Levi's 501s were immensely popular during this time, and they carry on that popularity today, except Levi's now has expanded their range into different cuts and washes so we can have an extremely versatile denim wardrobe.
I have had some version of a slip dress in my wardrobe since the 90s.
Slip dresses were a key trend, and these delicate, often silk or satin dresses, were worn either alone or layered over each other or vintage lacy slips for a more feminine look, or layered over T-shirts for a grungy vibe.
They were often accompanied by combat boots or chunky shoes. Today we pair them with a variety of footwear to garner different looks.
This is where The Wrong Shoe Theory would come in. Which is actually something we have been practising forever but has since gained a title due to its resurgence across TikTok.
There was always something a little carefree and unpolished with 90s fashion which is what makes it so realistic.
Maybe it was because we didn't always feel like we had to be "camera ready" at all times like we do now.
While social media is our current source for outfit inspiration, I feel like visiting older images, magazines, movies, and TV are the best sources of inspiration for me.
It really shows us the personality and power of vintage clothing. Which can help us to retain our style and not assimilate to the style of others which we often do when we are scrolling through social media fashion feeds.
And because fashion is cyclical we know that we are inevitably going to see some form of these vintage looks in upcoming fashion shows and collections.
Did you ever notice how throwback style has a sneaky way of sliding into our closets?
It rarely dives in, where suddenly you will have a whole outfit that just screams vintage at you. It is much slower and subtle so you may not notice.
Maybe it starts with an earring, next comes a handbag or shoes, and before you know it someone will point out that they wore something similar in the 90s, then sigh with nostalgia.
That is how you know that you are building something that is in tune to your personal style.
It is often sneaky and subtle and until someone points it out or you spend the time to sit and analyze it, you often won't see it.
When it comes to the 90s, you need to remember, that it encompassed a wide range of styles, so you can mix and match elements to create your own unique 90s-inspired wardrobe.
If you are looking for inspiration try reading old fashion magazines, TV shows, movies, and music videos from that era.
There are so many elements to try.
Except, I am not going to wear a bucket hat. I just can't do it.
90s Outfits Women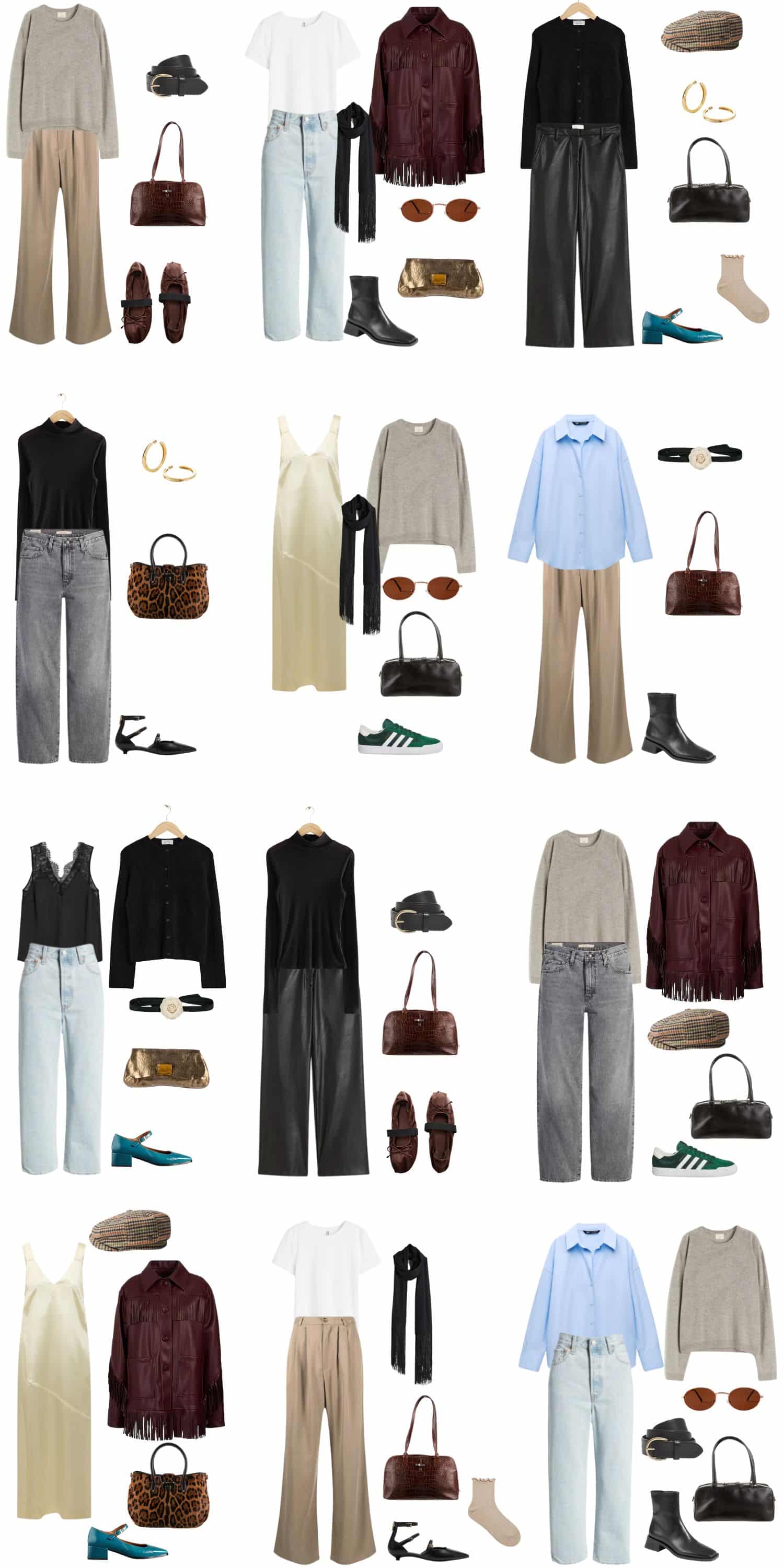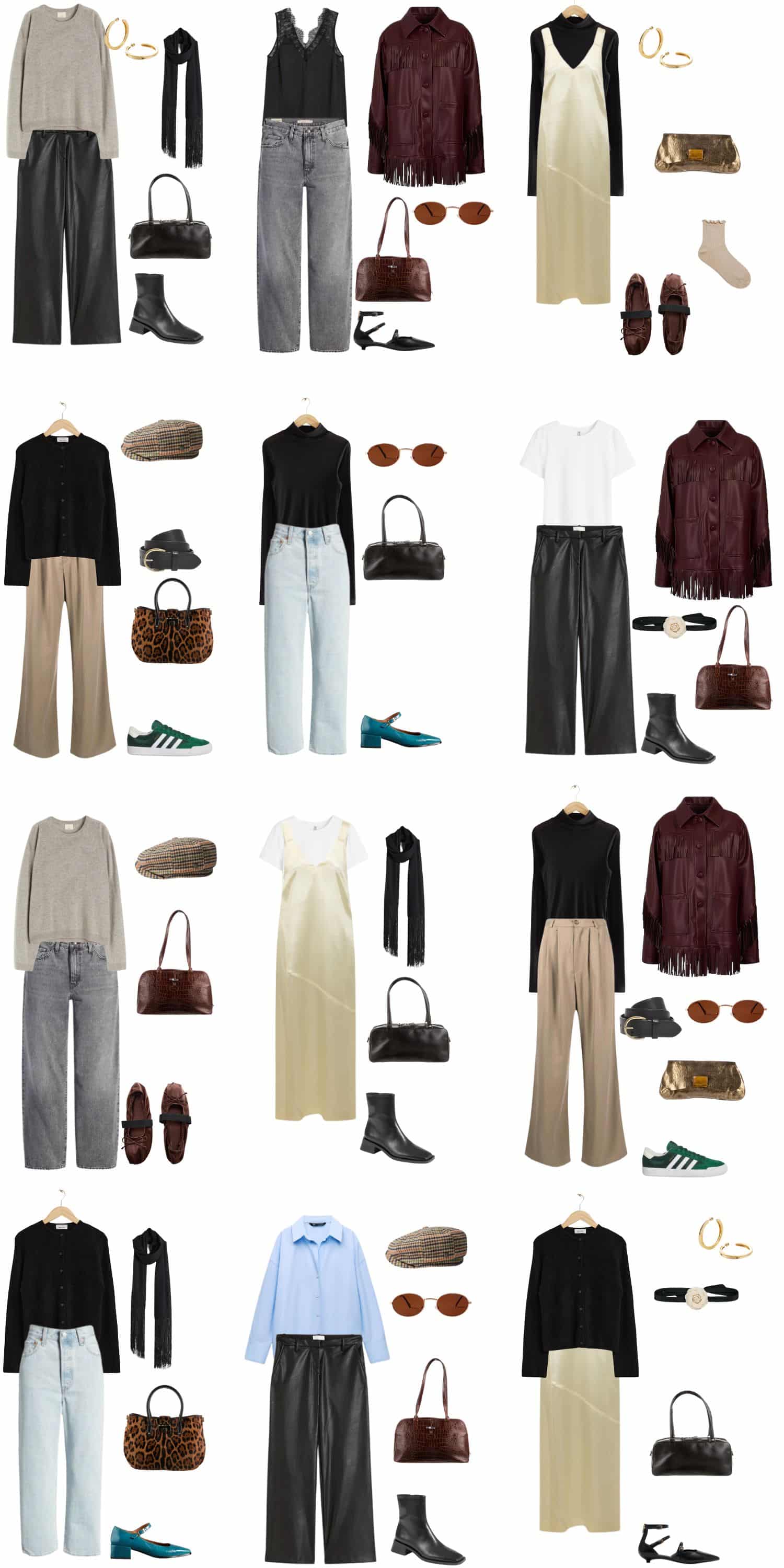 Black Camisole | Blue Jeans | Cardigan | Earrings | Black Handbag | Slip Dress | Fringe Jacket | Black Heels | Hat | Animal Print Handbag | Grey Sweater | Boots | Socks | Leather Pants | Ballet Flats | Choker | White T-shirt | Clutch | Grey Jeans | Blue Button Up | Blue Mary Janes | Brown Handbag | Belt | Skinny Scarf | Sunglasses | Turtleneck | Trousers | Sneakers

You might also like:
A 12 Piece Quiet Luxury Fall Capsule Wardrobe
A 12 Piece Rock Inspired Falls Capsule Wardrobe
A 12 Piece Dark Academia Capsule Wardrobe
A 12 Piece Minimalist Summer Capsule Wardrobe
A 12 Piece 90s Minimalist Summer Capsule Wardrobe
SHOP THE UK LINKS


I am now offering digital styling guides, and personal styling services. If you are looking for some styling help that is inexpensive and easy, check out my digital styling guides. If you want some one-on-one help shopping, building and editing your wardrobe, or packing for a trip, I can also assist. Check out all the styling services that I offer here.
This post contains affiliate links. By using my links to shop I may receive a small commission (at no cost to you). Thanks for supporting what I do