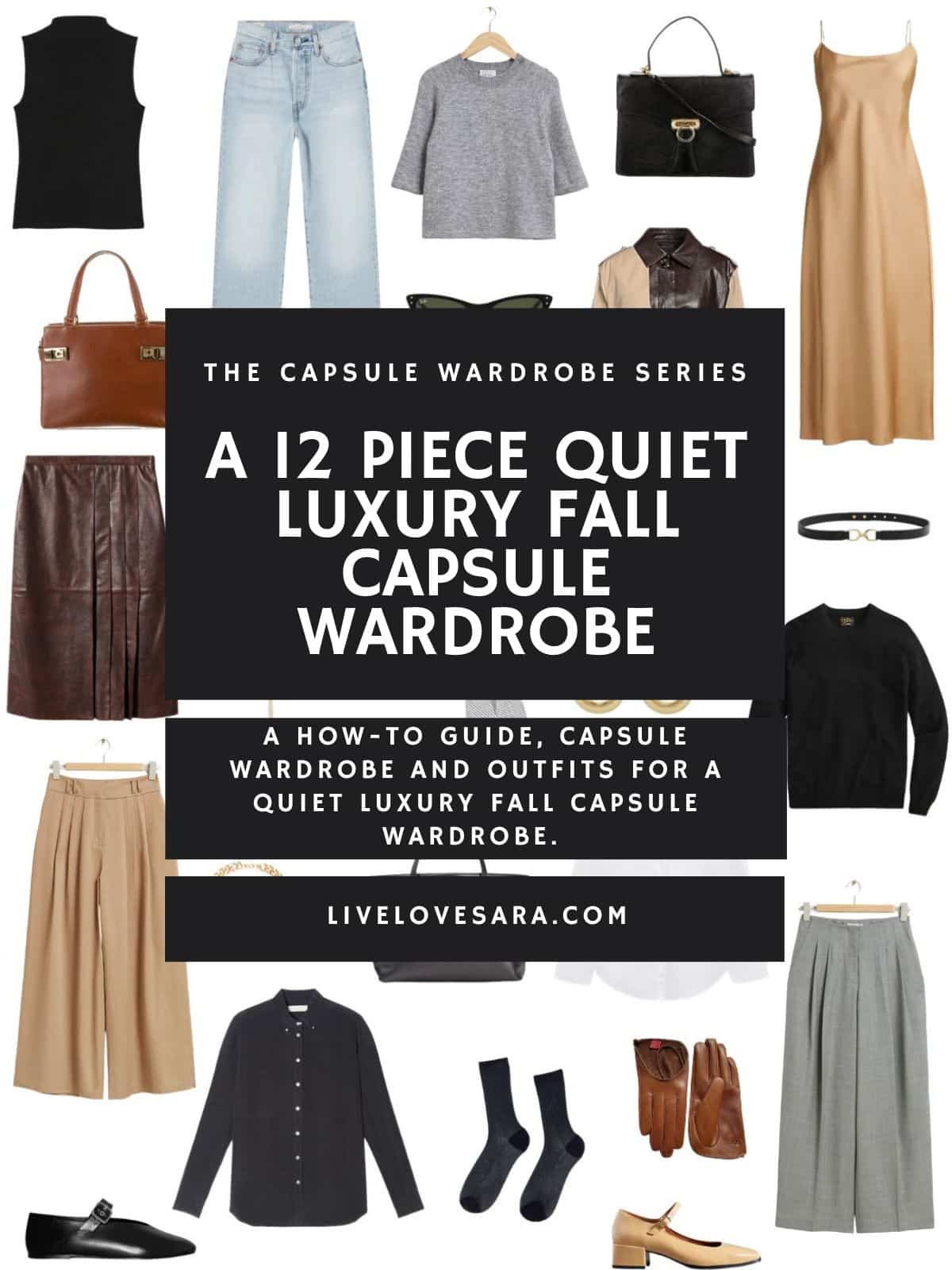 I actually am not a big fan of the term quiet luxury, but it is a huge fall 2023 trend and that is what it is called so I have to go with it. I do prefer to think of it more as elevated wearability though.
This makes it more accessible to everyone and keeps the focus on the clothes while steering us away from the problematic history and classism that goes with the old-money aesthetic, where this trend comes from.
That was important for me to note before jumping in.
What is Quiet Luxury?
Technically Quiet Luxury isn't a trend, but over the last little while it has been trending.
What it refers to a refined and understated approach to luxury, focusing on elegance, quality, and subtlety rather than overt displays of opulence.
It is a more subdued and minimalist aesthetic that values craftsmanship, attention to detail, and the use of high-quality materials.
And it is about prioritizing timeless designs and classic silhouettes over trends and flashy logos.
They embrace simplicity and sophistication, favouring clean lines, minimalist embellishments, and a muted colour palette.
The emphasis is on the quality of the garments and the craftsmanship behind them, rather than relying on overt branding or conspicuous logos.
A 12 Piece Quiet Luxury Fall Capsule Wardrobe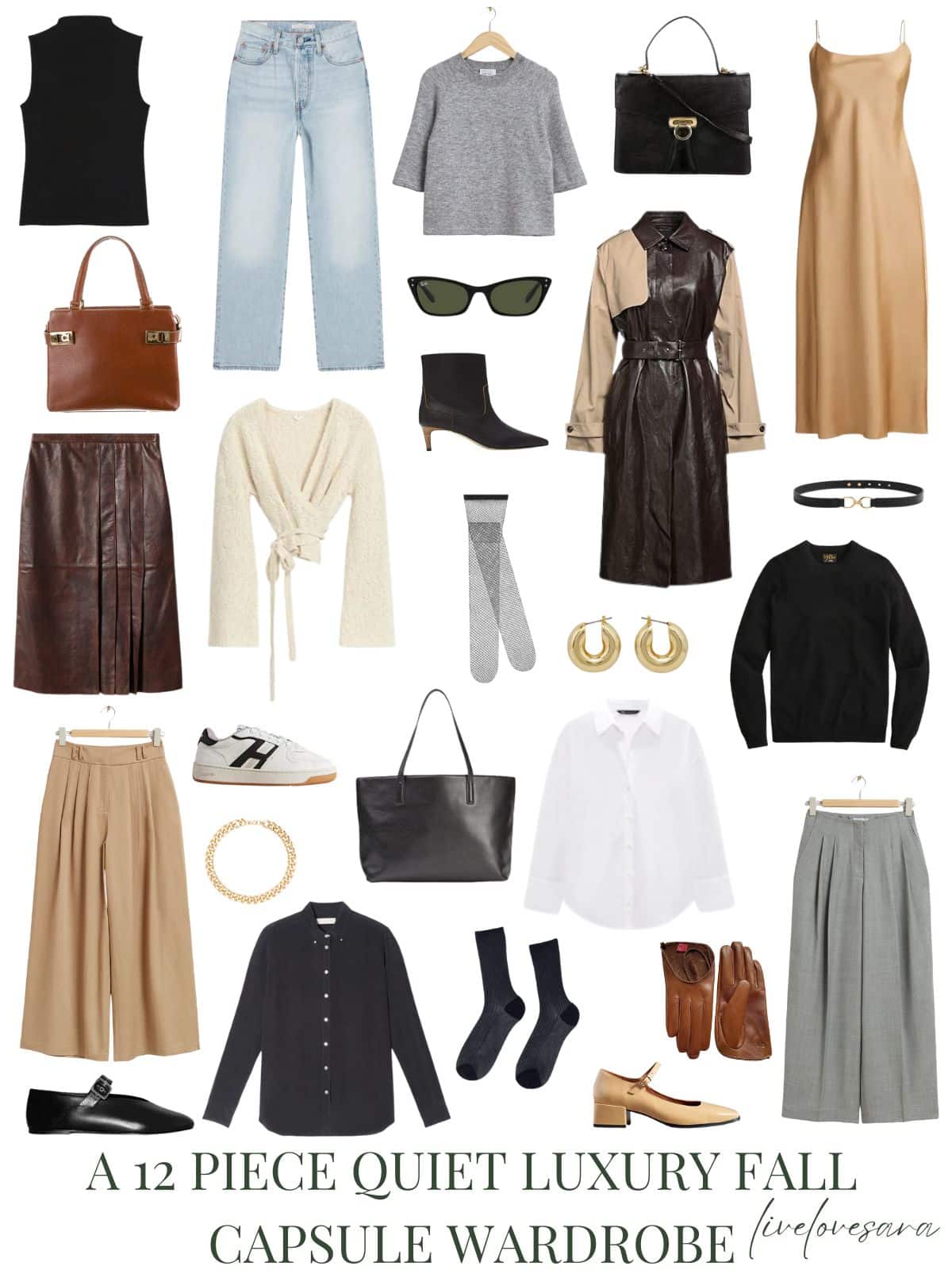 Black Tank | Brown Handbag | Jeans | Grey Shirt | Sunglasses | Boots | Trench | Black Handbag | Slip Dress | Belt | Black Cashmere Sweater | Earrings | Fishnet Tights | Wrap Cardigan | Leather Skirt | Tan Trousers | Sneakers | Necklace | Black Tote | White Button Up | Grey Trousers | Leather Gloves | Mary Janes | Socks | Black Silk Blouse | Ballet Flats

But first we will get into the why's.
What I really like about making these 12 pieces capsule wardrobes is that they give accessibility to people who are looking to streamline their wardrobe.
One of the best things that you can do for your wardrobe is to pair it down and really focus on only including things that reflect your personal style.
We all spent too many years with wardrobes full of filler items. These filler items are pieces that you bought on impulse, it was on sale, or because you thought it was cute.
All these reasons except the right ones, which are that you bought it because you felt great in it, and it works with your personal style.
When your wardrobe is full of "filler items" you may wonder what is wrong with you because you have a closet full of things, and can never find anything to wear.
This is why paring down with a strong focus is so important.
It weeds out all the items that do not serve you best, and you will be left with fewer items but more to wear.
It can be such an overwhelming process and 12 pieces is a small amount to put together that it makes it doable and less stressful or frustrating.
Do I expect people to work strictly from a 12 piece wardrobe?
No, but I think having a small collection of well thought out pieces that work together for each season is something that everyone can benefit from and is a great jumping-off point for this.
Even if you take that small collection and integrate it into a larger wardrobe.
Because if you build this collection with your specific style in mind, and have done the work to make sure your main wardrobe reflects your style, then every piece will work regardless of how many mini-collections you add.
While some people will be content to have the ease of 12 items, because even with 12 it will give you enough outfit options you won't have to repeat a look for weeks (which is also why it makes a good packing list)
Others need a bit more variety.
When I made my first capsule wardrobe I didn't have this website yet. I actually had a homeschool blog which I started in 2007/2008 which was my first venture into blogging.
It's so funny how things work out and pivot.
It makes me laugh because sometimes I'll post something either here or on Instagram and I will get a message to stay in my lane.
What is my lane exactly?
I have a lot of interests, experiences, and viewpoints, and opinions, and they don't all revolve around fashion. I am "allowed" to talk about education as well.
Anyway, when I made my first capsule wardrobe it was a very financially difficult time in my life. I didn't even intentionally make a capsule wardrobe.
It was more out of necessity.
At that time, I really developed my thrifting skills. I had been thrifting for as long as I can remember, way back to being young enough to barely remember going with my mom.
I wanted to have an extremely well thought out wardrobe, that was small, but both functional and versatile, and at that time I needed it to be very budget-friendly.
My finished capsule at that time was around 12 pieces, and it worked really well for me for years, so I figure with this series it may resonate and work well for others.
I think the number one important thing when building a capsule wardrobe is to know your personal style and style adjectives. I posted about it last week here, and previously here if you need guidance in that area.
But I also think it is important to know and acknowledge the current fashion and trends.
Does this mean to drop your style and go all trend in order to be considered "fashionable"?
Absolutely not.
Being aware allows your wardrobe to expand in its potential. By being aware of the current styles and trends you will give yourself inspiration and guidance into wearing things in different ways.
If we noticed anything over the last few years, is that after we got out of the habit of wearing our leisurewear daily, we noticed that fashion was pivoting towards colour.
It was like a breath of fresh air after that period of boring clothes and neutrals.
This fall 2023 we notice a pivot in a different direction.
We are noticing a shift to wardrobe necessities and wearability.
It is a more simple way of dressing, and realistic for most of us because not everyone wants to run out and jump on the Y2K trend. It could be a bit much even when I experienced it the first time.
We are looking for clothes that can be worn by anyone, anywhere and that is where this quiet luxury fall capsule wardrobe comes in this week.
Real world fashion versus typical runway fashion.
If you are wealthy these pieces would be comprised of logoless designer, quality items.
But since the majority of the world doesn't fall into that category of wealth, we are going to mimic the same concept without the designer prices, because seriously, who can afford to buy their wardrobe from The Row, or Khaite, which are two of the top quiet luxury brands.
I mean, I love me some Mary Kate and Ashley Olsen and I consider their style impeccable.
Their brand The Row is something to strive for but the realist in me knows that I need to emulate what I love from them because I will never be in Mary Kate or Ashley's income bracket which is comfortable enough to buy a Hermes Kelly and let it get worn-in to hell.
This is actually something that I love about them though. For all their money you will see them rewearing their clothes and carrying the same bags for years.
They use their wardrobe the way it is meant to be used. They buy with the intent for it to last forever, which is the way it is supposed to be.
What are we trying to achieve from this wardrobe?
The concept is to build a capsule wardrobe with clothing that will get you through your day, but are also part of a functional and long-lasting wardrobe.
Characteristics and looks that we are trying to achieve:
Oversized Tailoring: Think loose fitting and slouchy, but not sloppy.
Model Off Duty: Basics like jeans, a t-shirt, flats, and a large tote.
Staples that translate to night looks: Make your trousers and sweater day look into night by removing the sweater and just wearing the camisole underneath with the trousers. Tie the sweater around your shoulders.
Chic Woman on the go: Simple and comfortable, light layers, sensible shoes, big bag.
Classics paired with standout accessories: a classic jeans and button-down outfit becomes more when paired with low-cut leather gloves, an interesting handbag, and chunkier jewellery. Try a pair of fishnet tights or socks to amp up your look as well.
Juxtaposed Pairings: Blend styles like an edgier leather skirt with a feminine top. Mix up your fabrics and textures as well. The more, the better.
Remember, the key to a successful capsule wardrobe is to focus on quality, versatility, personal style, and timeless appeal.
By carefully curating your collection and selecting pieces that embody the principles of quiet luxury, you can create a wardrobe that is both elegant and enduring.
Quiet Luxury Outfit Ideas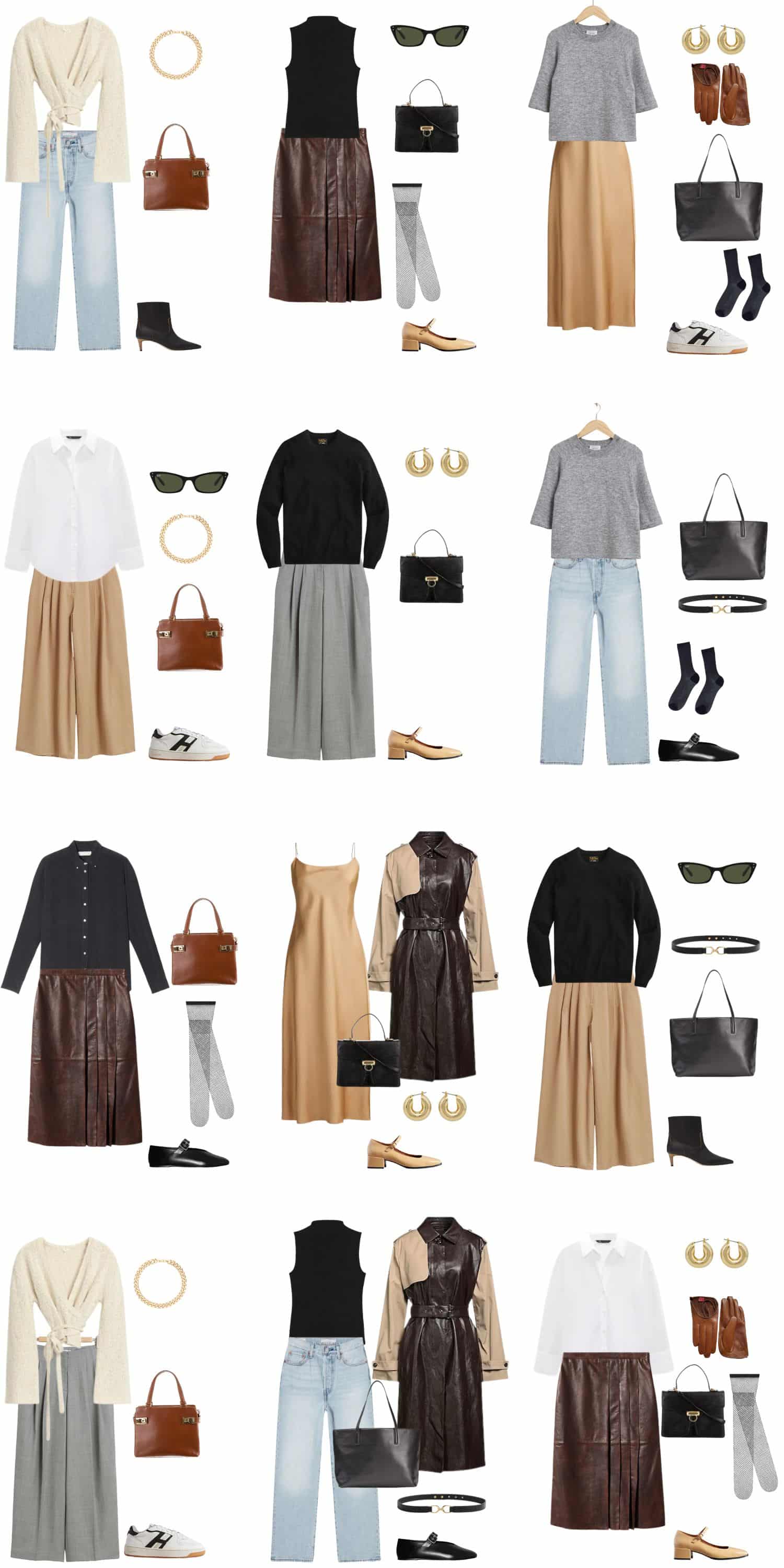 Black Tank | Brown Handbag | Jeans | Grey Shirt | Sunglasses | Boots | Trench | Black Handbag | Slip Dress | Belt | Black Cashmere Sweater | Earrings | Fishnet Tights | Wrap Cardigan | Leather Skirt | Tan Trousers | Sneakers | Necklace | Black Tote | White Button Up | Grey Trousers | Leather Gloves | Mary Janes | Socks | Black Silk Blouse | Ballet Flats

You might also like:
A 12 Piece Rock Inspired Falls Capsule Wardrobe
A 12 Piece Dark Academia Capsule Wardrobe
A 12 Piece Minimalist Summer Capsule Wardrobe
A 12 Piece 90s Minimalist Summer Capsule Wardrobe
SHOP THE UK LINKS


I am now offering digital styling guides, and personal styling services. If you are looking for some styling help that is inexpensive and easy, check out my digital styling guides. If you want some one-on-one help shopping, building and editing your wardrobe, or packing for a trip, I can also assist. Check out all the styling services that I offer here.
This post contains affiliate links. By using my links to shop I may receive a small commission (at no cost to you). Thanks for supporting what I do