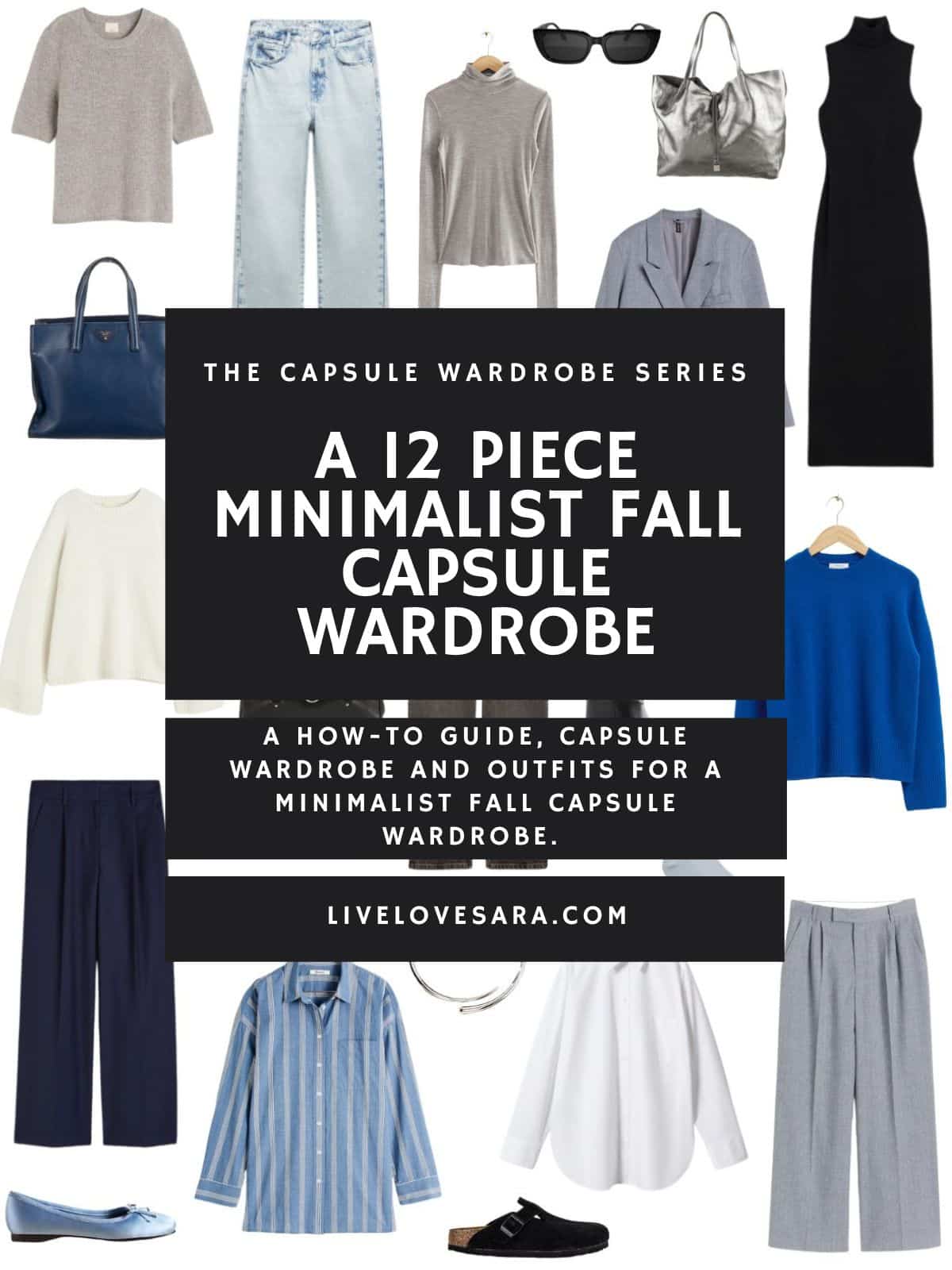 We all have those times when we are standing in front of our closets and think how much easier everything would be if we just had a minimalist wardrobe. I do it often.
Even after years of understanding and getting real with my personal style. It happens to the best of us.
Especially, in the world we live in where we are seeing perfect wardrobes all over the place. The envy factor kicks in.
I follow a lot of fashion accounts on Instagram, many of them are over 40 because I feel we need representation in a lacking demographic.
Women of my age are confident, stable, and usually have more disposable income than the younger people that these companies are advertising and trying to target.
It doesn't make sense at all.
So I follow lots of these account and one of my favourites is Anna Cascarina who has that modern but minimal closet that is fresh and polished in a way that we would all envy.
Her posts always make me want to embrace that minimalist capsule wardrobe vibe and I feel like there are aspects of it that I already have, especially when it comes to my fall wardrobe this year.
Which makes sense because this fall brings in the return of wearability as a huge fashion shift, and we are seeing wardrobes that are focused on basics, and classic pieces in a more relaxed manner than previous years.
Outfits are a little less polished, bringing out a much more wearable vibe hence the title of wearability.
The focus is on outfits that look put together but have an obvious ease.
They are just a touch dishevelled and slouchy, and they are outfits that you can easily put together and throw on without much thought.
I think that if you are starting the capsule wardrobe process, a minimal style would be the easiest to begin with for ease of wear.
A 12 Piece Minimalist Fall Capsule Wardrobe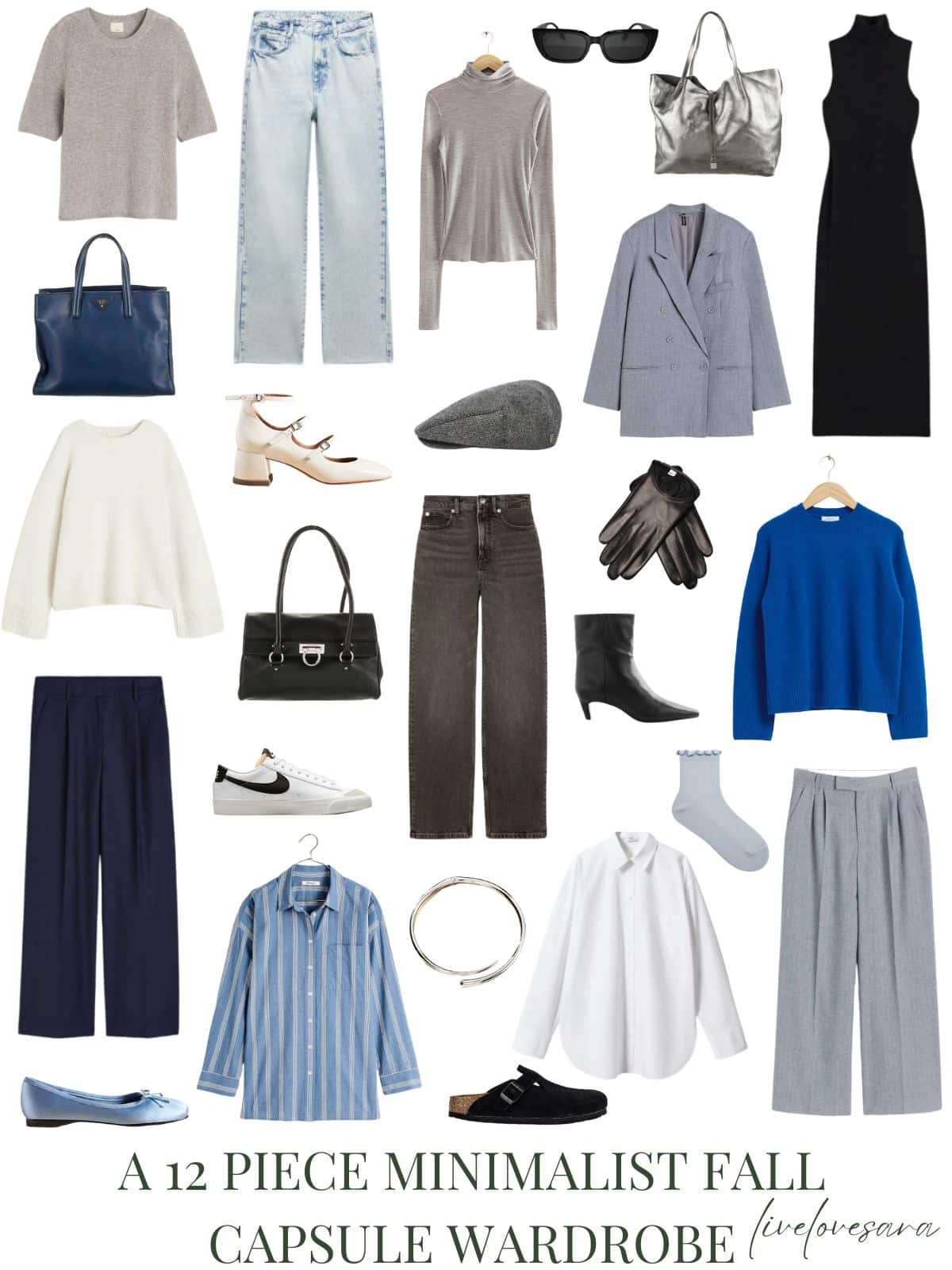 Grey Sweater | Blue Jeans | Turtleneck | Sunglasses | Silver Tote | Black Dress | Blazer | Hat | White Mary Janes | Blue Handbag | White Sweater | Black Handbag | Black Jeans | Gloves | Boots | Blue Sweater | Grey Trousers | Socks | White Button Up | Birkenstock Boston Clog | Necklace | Blue Striped Button Up | Sneakers | Navy Trousers | Blue Ballet Flats

How to Build a Minimalist Wardrobe
The process can be confusing and overwhelming, and I know that many people think in order to embrace this kind of wardrobe they need to jump in with both feet and get rid of everything.
Don't do it.
Consider that my warning to you. It will be a mistake and you will regret it.
The only time to get rid of items in your wardrobe is if they no longer are serving where you are in life. This can be anything from fit, size, or old lifestyle that you are no longer part of.
Any other reason will usually lead to purging remorse. I still suffer from the great purge of 2005.
So if you are a visual person and need to eliminate the visual clutter in your wardrobe, just pack it away, move it to another closet, or even just put up a hanging divider in your closet to keep it separate if the other two are not viable options.
Creating a minimalist wardrobe involves curating a collection of versatile, high-quality, and timeless pieces that can be mixed and matched to create a variety of outfits while reducing clutter.
We all love a good breakdown of steps so here are some easy ways to help you build a minimalist wardrobe:
Declutter your current wardrobe. Remember what I said about purging? Decluttering and purging are not the same thing.
Anything that you do choose to get rid of should be given away, donated or sold.
Identify your personal style. I talk about this often, and we discuss using three words to help you.
Yes you can have more than three words, just three is an easy number and many people have trouble coming up with just three, so more than that might feel frustrating and overwhelming if you are trying to nail them down.
So aim for three as a starting point. You can read this post and this one for more details about finding your three words.
Determine the style that resonates with you the most.
Consider what colours, patterns, and silhouettes you feel most comfortable and confident in. Sticking to your preferred style will ensure you get the most wear out of your chosen pieces.
Focus on timeless basics, but make sure they align with your personal style. For example, all striped shirts are not the same and all will look different on each person based on how they pair it in an outfit.
Just because someone you know looks preppy in a striped shirt doesn't mean you will if prep isn't one of your words. Remember that Kurt Cobain wore striped shirts, and he was the antithesis of preppy.
Invest in high-quality, classic pieces that never go out of style.
Some examples include a white button-up shirt, a well-fitted pair of jeans, a little black dress, a blazer, and a versatile trench coat. These timeless basics form the foundation of your wardrobe.
Stick to a neutral colour palette. That doesn't mean just black and white or brown. You can add a colour to round it out a bit. I chose blue in this cpasule.
Keeping the base neutral will make things easier because neutral colours (black, white, gray, navy, beige, etc.) are easy to mix and match, allowing you to create various outfits with a minimal number of items.
Choose versatile pieces. Opt for items that can be dressed up or down and are suitable for various occasions.
For example, a classic white shirt can be worn casually with jeans or dressed up with a skirt and heels.
Consider quality over quantity. Invest in well-made clothing that will last longer and maintain its shape and colour. I always suggest getting the best that your money can buy.
For everyone's budget that will be different, and don't sleep on secondhand. You can find gorgeous cashmere knits for a fraction of the cost new.
Although these pieces may have a higher upfront cost, they often save you money in the long run as you won't need to replace them as frequently.
Limit the number of items. Aim to keep your wardrobe small and manageable. You don't need a lot of clothes to have a stylish and functional wardrobe.
The number of items will depend on your lifestyle, but a good starting point could be around 30-40 pieces for some people.
For this wardrobe I am using 12 which seems like a low number but when you see how many outfits you can get from it, it may surprise you.
Start small and slowly add pieces in, that way you will make your purchases with intention and not impulse.
Dress for your lifestyle. Focus on items that suit your daily activities and the climate you live in. If you rarely attend formal events, you may not need multiple formal dresses, for example.
Avoid fast fashion trends. Trends come and go quickly, and following them can lead to a wardrobe filled with short-lived pieces. Stick to classic styles that transcend trends.
You can add a couple of trends each season if you are so inclined. It will help to keep things feeling fresh and modern.
Just choose your trends with care. Pick something that you know you will get lots of use from and makes sense with your style and life.
Organize your wardrobe.
Honestly, a good closet reorganization will help things to feel so much better.
Arrange your clothes neatly, making it easier to see all your options at a glance. Organizational tools like hangers, dividers, and storage boxes can help keep your wardrobe tidy.
Remember, building a minimalist wardrobe is a personal process, and it's essential to choose items that reflect your style and lifestyle.
It's okay to start small and gradually build your collection over time.
Don't rush. It is not a race, it is a journey.
Fall Minimalist Outfit Ideas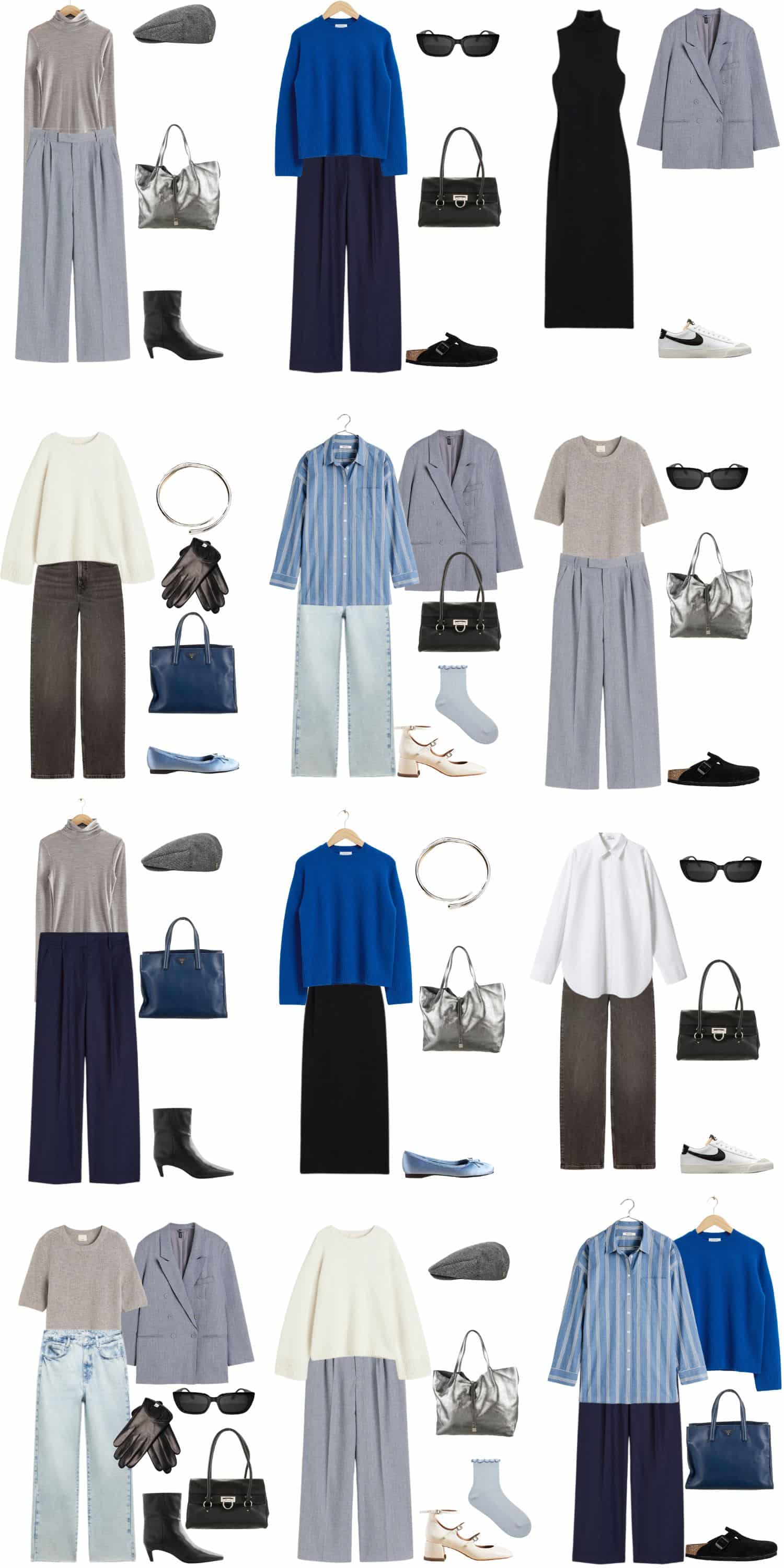 Grey Sweater | Blue Jeans | Turtleneck | Sunglasses | Silver Tote | Black Dress | Blazer | Hat | White Mary Janes | Blue Handbag | White Sweater | Black Handbag | Black Jeans | Gloves | Boots | Blue Sweater | Grey Trousers | Socks | White Button Up | Birkenstock Boston Clog | Necklace | Blue Striped Button Up | Sneakers | Navy Trousers | Blue Ballet Flats

You might also like:
A 12 Piece 90s Fashion Fall Capsule Wardrobe
A 12 Piece Quiet Luxury Fall Capsule Wardrobe
A 12 Piece Rock Inspired Falls Capsule Wardrobe
A 12 Piece Dark Academia Capsule Wardrobe
A 12 Piece Minimalist Summer Capsule Wardrobe
A 12 Piece 90s Minimalist Summer Capsule Wardrobe
SHOP THE UK LINKS


I am now offering digital styling guides, and personal styling services. If you are looking for some styling help that is inexpensive and easy, check out my digital styling guides. If you want some one-on-one help shopping, building and editing your wardrobe, or packing for a trip, I can also assist. Check out all the styling services that I offer here.
This post contains affiliate links. By using my links to shop I may receive a small commission (at no cost to you). Thanks for supporting what I do