Early Autumn Packing List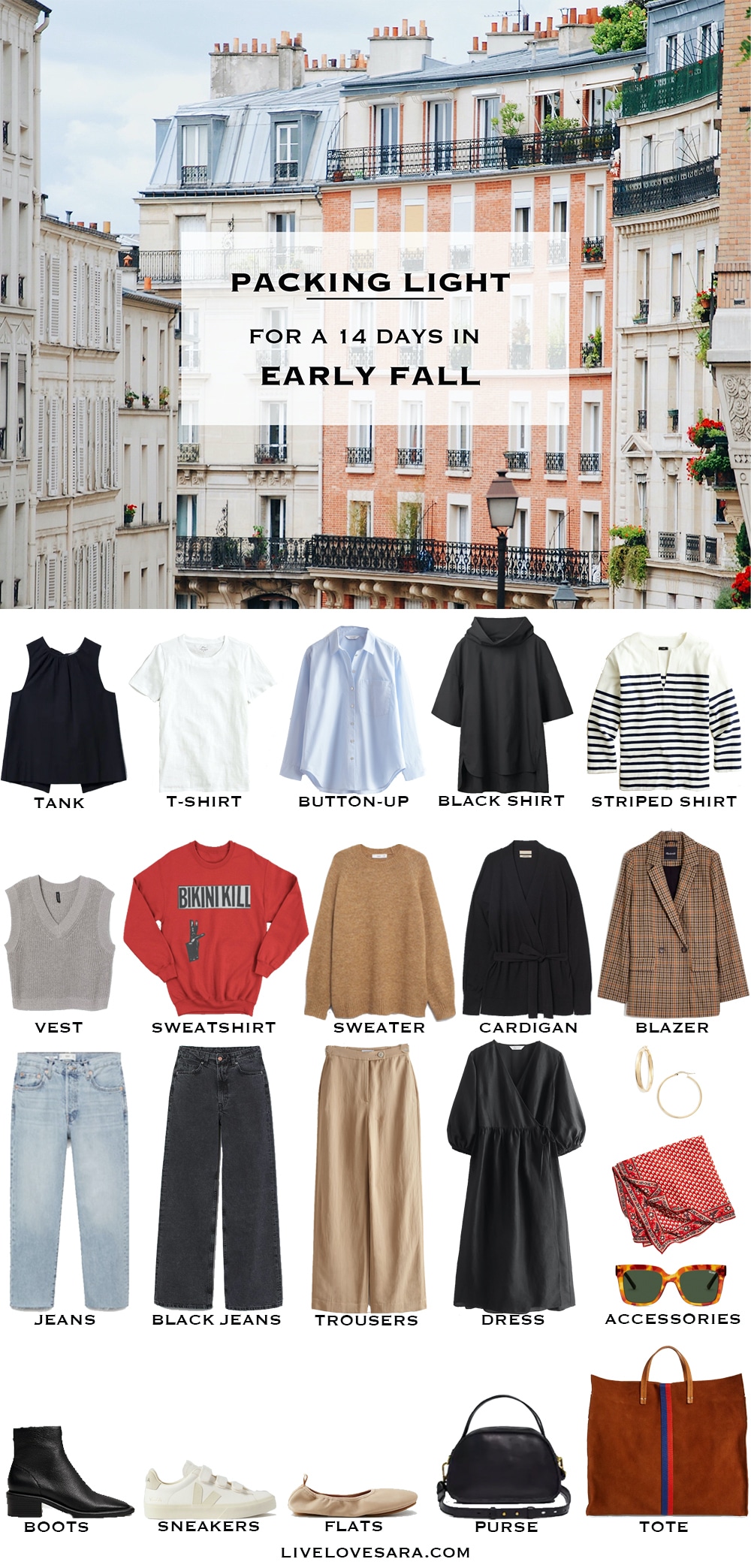 Tank | T-shirt | Button-Up | Black Shirt | Striped Shirt | Vest | Sweatshirt | Sweater | Cardigan | Blazer | Jeans | Black Jeans | Trousers | Dress | Earrings | Scarf | Sunglasses | Boots | Sneakers | Flats | Purse | Tote |

It definitely didn't feel like early fall today when I was walking in the sweltering heat carrying a case of Bubly lime carbonated water, but fall is going to be rolling in soon.
And before we hit full-blown fall we get that transitional period that is one of my favourite times of the year both temperature-wise and to dress for.
It's the time of year that still can have hot days that tend to start with a cool morning and even cooler evening. When it is overcast you might need a sweater or light jacket.
This my friends is early fall and it is one of the weirdest times to dress and pack for because the temperature can fluctuate so much even within a 24 hour period that you may struggle with what to pack for a trip.
A day in early fall might look like this: A sweater in the morning, a t-shirt in the afternoon, and a blazer or lightweight jacket layered over the top at night.
If you pack pieces that are easily layered then you have basically mastered the early fall packing list.
When packing for any vacation a few things to keep in mind that will directly affect what you need to bring are the length of your trip, the weather, and any non-standard activities that you may be doing that will require special items.
Once you have that figured out then it will be much easier to puzzle together what items you need to pack in order to have a well-rounded travel capsule wardrobe.
Make a list to add things to as you think of them. That way you won't forget anything if you are doing last-minute packing…like a swimsuit for an island vacation.
My main goal is to always try to keep what I bring to a minimum so that I can fit everything into a carry-on suitcase.
I was reading a blog the other day and it was what the author was bringing on her two-week trip.
Omg. So. Many. Clothes.
It was giving me anxiety just looking at it and thinking about the logistic of how you would actually bring that much stuff with you.
It doesn't matter how rich you are, you are never, ever going to need 10 dresses, 10 pairs of shoes, 6 handbags, 3 hats, plus swimsuits, swimsuit covers, and regular everyday clothes like shorts and t-shirts.
Holy crap that is almost more than I own.
There are a couple of "rules" when it comes to packing for a vacation and those are
1. never bring anything that you have never worn before because you don't know how well it will work. (give it a trial run if necessary).
2. Pack half of what you think you will need.
The second one is one I stand by, because how many times have you gone on a trip and when you get back home and unpack your suitcase you notice how many items you never actually wore?
That is why I am a huge proponent of packing light and pre-planning your outfits. That way you already know before you leave whether an item will be worth bringing or not.
Keep it simple. Do go crazy with bold patterns and colours…not that there is anything wrong with that because I love both, but it is just easier to pack light if you keep your colour palette relatively simple.
Some neutrals as a base with a sprinkle of colour to break up and monotony. Once you get proficient with packing light then you can try bolder travel capsules.
Keep accessories simple too. You don't need multiple pairs of anything. A few accessories are all you will need. I will say that sunglasses are a must though.
Or the sunglasses and facemask hybrid that I have been sporting a lot.
The most pairs of shoes that you will ever need will be three. Pack two and wear one. Also, keep in mind that if you plan your travel outfit to include some of your bulkier or heavier items you can keep your travel bag even lighter.
It's all about the planning.
Remember that if you are going to have access to laundry while on vacation then you can pack even less. Save room for all the good shit you are going to buy and bring back with you.
That right there is enough motivation for me.
I also want to say that I am absolutely in love with that Bikini Kill sweatshirt. I have been looking for one FOREVER. It is men's sizing but I like the fit of men's sweatshirts anyway.
I think that I am going to have to buy it.
Scratch that. I just did.
Stay safe.
Easy Fall Travel Outfit Ideas

Tank | T-shirt | Button-Up | Black Shirt | Striped Shirt | Vest | Sweatshirt | Sweater | Cardigan | Blazer | Jeans | Black Jeans | Trousers | Dress | Earrings | Scarf | Sunglasses | Boots | Sneakers | Flats | Purse | Tote |

You might also like:
How to Build a Summer Weekend Cottage Packing List
What to Pack for 10 Days in Summer
What to Pack for a Weekend Trip in Summer
What to Pack for a Week in Summer Packing list
The Ultimate Summer Packing List
What to Pack for Summer
A Summer Weekend Packing List
SHOP THE UK LINKS
Black Jeans | Vest | Cardigan |

This post contains affiliate links. By using my links to shop I may receive a small commission (at no cost to you). Thanks for supporting what I do