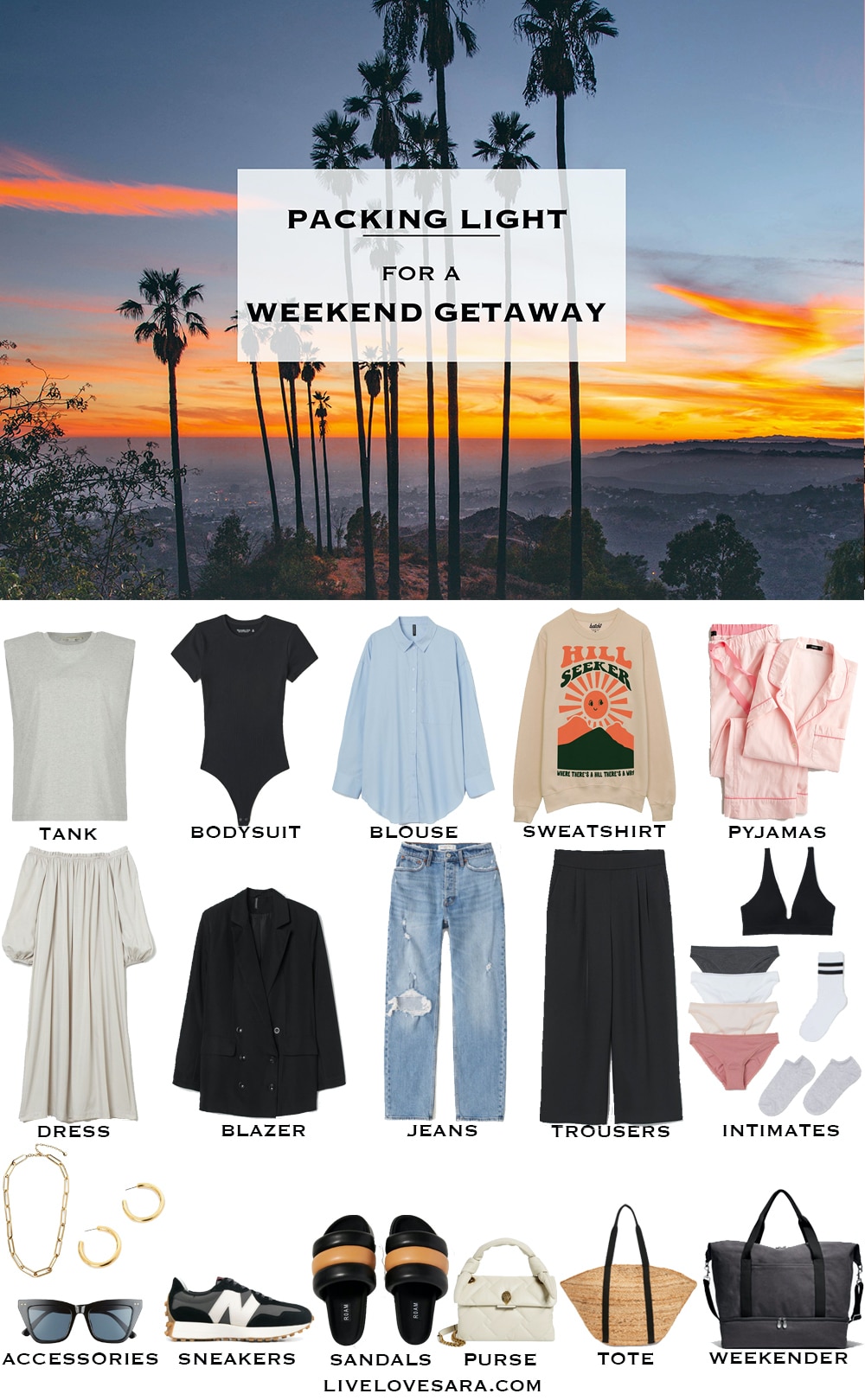 Tank Top | Bodysuit | Blue Blouse | Sweatshirt | Pyjamas | Dress | Blazer | Jeans | Trousers | Bra | Underwear | Striped Socks | Short Socks | Necklace | Earrings | Sunglasses | Sneakers | Sandals | Purse | Tote | Weekender |

I am starting back small. I don't want to startle anyone away with the packing lists resurgence, but in reality, when I look at my blog analytics, it shows a growth in people searching for packing ideas.
I am assuming this means that a lot of people are starting to see a light at the end of the tunnel to the last year+, and are planning out some travel ideas.
We are still locked down. It seems so normal now that it's almost scary how used to it I have become. But for those that live in areas that are opening up I have noticed a trend for mini-vacations.
A couple of days a few hours from where you live to get out and have a change of scenery.
I know a family who went to Niagara Falls last week (is it even open?), one who went to Banff, a few who went to larger cities (mostly US and UK), a couple of Mexico trips, and one family that went to a "cabin" for the long weekend.
I put cabin in quotes because it was fancy and located kind of like on a resort-style property with activities, restaurants, and amenities. In other words, a cabin that I could get on board with.
My mother-in-law has a cabin that my husband loves to go to. He usually does boys weekends out there though because I don't enjoy it. It's a little too remote for my tastes, and he has more fun on his own there.
I don't fish, sunbathe, boat or swim…especially in large bodies of water. That's where the Kraken lives.
I did notice a huge uptick in my 10 day packing list from day to night. It's a really old one. One that needs a do-over, and someone actually emailed me to ask for that so I will have that coming up soon as well.
It's funny how much your tastes can change and evolve, and that post shows it. I've also got a lot better at packing light. It was a slow skill and is a constant work in progress.
We just had a long weekend and the US has one coming right up so I thought that I would start back with a weekend packing list for summer.
Even though it is still spring we have had a sprinkle of heatwaves. Today is quite cool though so packing can be tough because of these types of weather fluctuations.
Many places have extreme heat, while others are more temperate with warm days and cooler evenings.
Regardless of where you live or are vacationing you can use this as a template and just swap out pieces that will work better for the predicted weather.
Like shorts, for instance, I get a lot of "why don't you include more shorts?" simple answer? Because I hate them. Like, really, really dislike wearing shorts and I don't even own a single pair anymore.
I finally was honest with myself, gave in and donated them. I didn't wear them in 8 years so it was a safe bet that I would never wear them again.
I tend to stick with 100% cotton jeans and linen or cotton blouses as my go-to summer wear, which I included in this summer packing list.
But to start it off you need a good weekender bag, and the Lo & Sons bags that I love are on sale this weekend. I really like the separate shoe section in the Catalina Deluxe model.
What Should I Bring on a Weekend Getaway?
The easy answer is:
3 tops
two bottoms,
one dress
a light jacket or blazer
maybe a sweatshirt or sweater. I'm always cold so if I was staying someplace with a/c I would need one. Use your discretion.
two pairs of shoes (sandals, and sneakers)
pyjamas, socks, underwear, bra
1-2 bags
accessories
The harder answer depends on whether or not you have a special occasion to dress for, and whether you need to bring a swimsuit and exercise clothes on top of that. Not that a swimsuit takes up a lot of room.
Just roll it and put it in a shoe.
Adjustments are easy though and you should be able to tweak it and still fit everything into a weekender bag…unless of course, you have a massive nightly beauty routine.
Then you may need to reevaluate your bag size 😉
Stay safe.
What to Pack for a Weekend Getaway

Tank Top | Bodysuit | Blue Blouse | Sweatshirt | Pyjamas | Dress | Blazer | Jeans | Trousers | Bra | Underwear | Striped Socks | Short Socks | Necklace | Earrings | Sunglasses | Sneakers | Sandals | Purse | Tote | Weekender |