Summer Packing List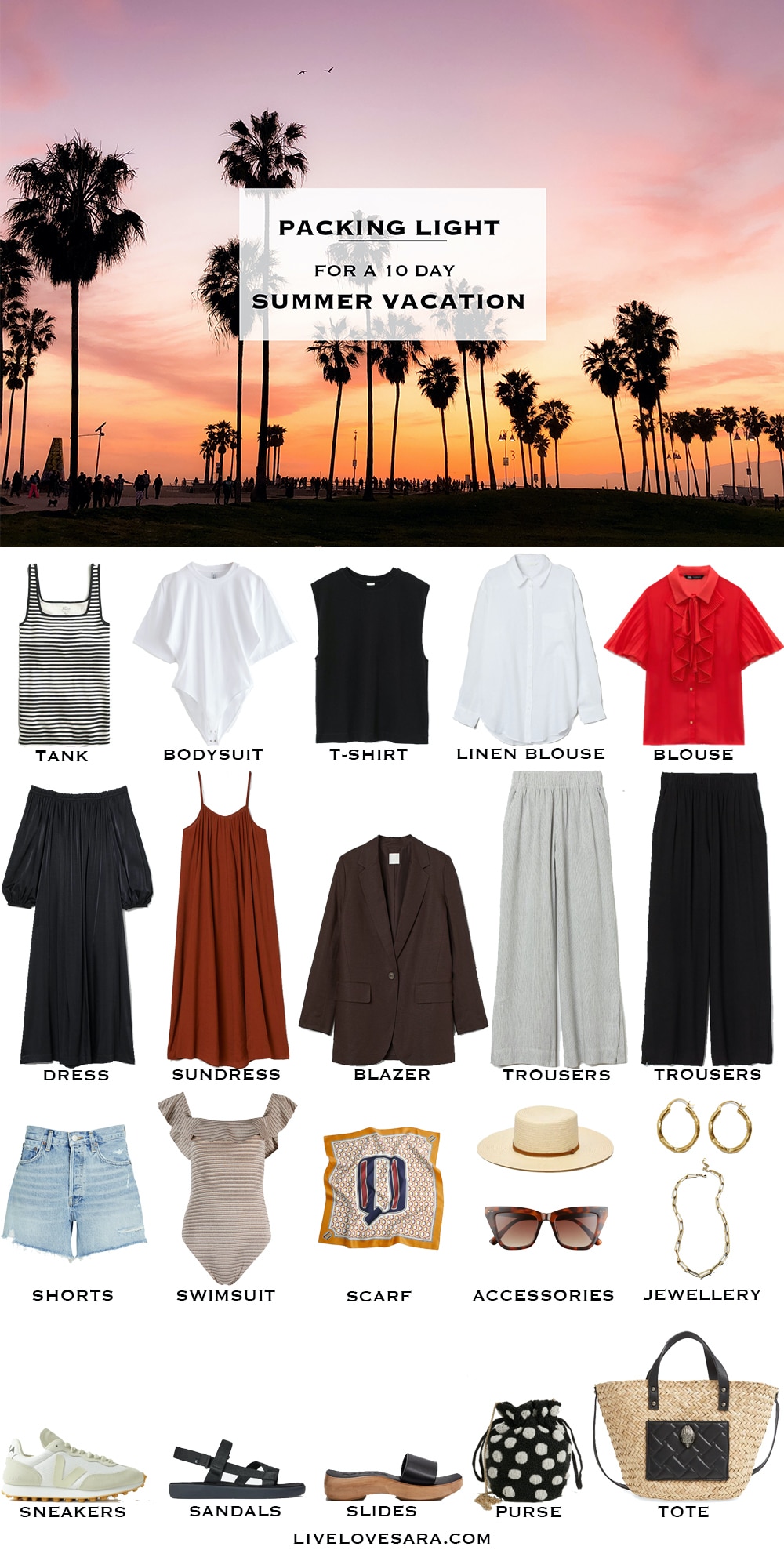 Tank Top | Bodysuit | T-shirt | Linen Blouse | Blouse | Black Dress | Sundress | Blazer | Striped Trousers | Black Trousers | Shorts | Swimsuit | Scarf | Hat | Sunglasses | Earrings | Necklace | Sneakers | Sandals | Slides | Purse | Tote |

It is late again and I was just lost in a world of researching and making a list of some of my wishlist items. Most are older pieces or vintage so I'll have to make a point of searching often just in case I miss something. I'll share the list with you once I nail it down.
Last week I had a post about what to pack for a weekend trip in the summer, and this week it is focused on a longer vacation when it is hot, hot, hot.
As a person who doesn't wear shorts, I decided to include a pair because I know many of you really love wearing shorts when the weather gets hot.
It is my least favourite season to dress for so bear with me.
I have a handful of pieces that are summer must-haves for me in constant rotation. My go-to is generally a lightweight cotton denim jean and a long sleeve linen shirt.
The more oversized the better. It's loose, breathable, and so very versatile. You can tuck it, untuck it, half tuck it, tie it, cuff the sleeves, or leave it open.
Want to dress it up?
Just slick back your hair in a low bun, put on some gold hoops, red lipstick, nice shoes, and a clutch. An easy update that takes less than 5 minutes.
It is simple, easy to wear, and a classic wardrobe staple that you will wear year after year.
This is starting to sound like a summer capsule wardrobe post, and in reality, you could easily use these pieces as a summer capsule, and always have something to wear.
Since I don't love shorts, I also decided to include two linen-blend wide-leg pants. Loose, breezy, and comfortable in the heat. They also have an elastic waist for those of us that aren't quite comfortable in wearing "real" pants yet 😉
I currently have both those wide-leg pants, the linen blouse (mine current one is on it's last legs after 5 years of wear), and the black sleeveless tank on order to top up my summer wardrobe.
I will report back on their fit.
I am hoping the black tank gives the vibe of a shoulder pad shirt without the shoulder pads because the shoulder pad trend doesn't suit me.
What to Pack for a 10 Vacation:
5 tops in various styles
3-4 bottoms
2 dresses
Swimsuit (optional*)
2 bags
3 pairs of shoes (pack two, wear one)
1 Light outerwear
accessories
Yes, I know. It's hot so why do you need or want to bring a blazer or any lightweight outwear with you. It's definitely unnecessary, but it is nice to have something to throw over a casual day outfit to make it more dressy for nighttime.
It often cools at night, or you will be in air conditioning. These are the reasons that I include it. I don't expect you to be sporting a blazer outside unless of course, the weather has cooled considerbaly.
It should be noted that the blazer is also linen.
For summer footwear I like to include a sneaker for walking, a sandal that is also good for walking, and something that is a tad bit dressier.
Keep the accessories to a minimum.
You don't need a separate carry pouch for all of your earrings. One pair will suffice, a nice necklace or bracelet, and a scarf. A scarf can be used in so many different ways that it is the ultimate versatile accessory.
Don't forget the sunglasses.
*I say swimsuit optional since not everyone goes on a summer vacation with the intent to swim. Although it is an easy piece to bring just in case, so why not.
Summer Vacation Outfits

Tank Top | Bodysuit | T-shirt | Linen Blouse | Blouse | Black Dress | Sundress | Blazer | Striped Trousers | Black Trousers | Shorts | Swimsuit | Scarf | Hat | Sunglasses | Earrings | Necklace | Sneakers | Sandals | Slides | Purse | Tote |

You might also like:
What to Pack for a Weekend Trip in Summer
What to Pack for a Week in Summer Packing list
The Ultimate Summer Packing List
What to Pack for Summer
A Summer Weekend Packing List
SHOP THE UK LINKS


This post contains affiliate links. By using my links to shop I may receive a small commission (at no cost to you). Thanks for supporting what I do