Weekend Packing List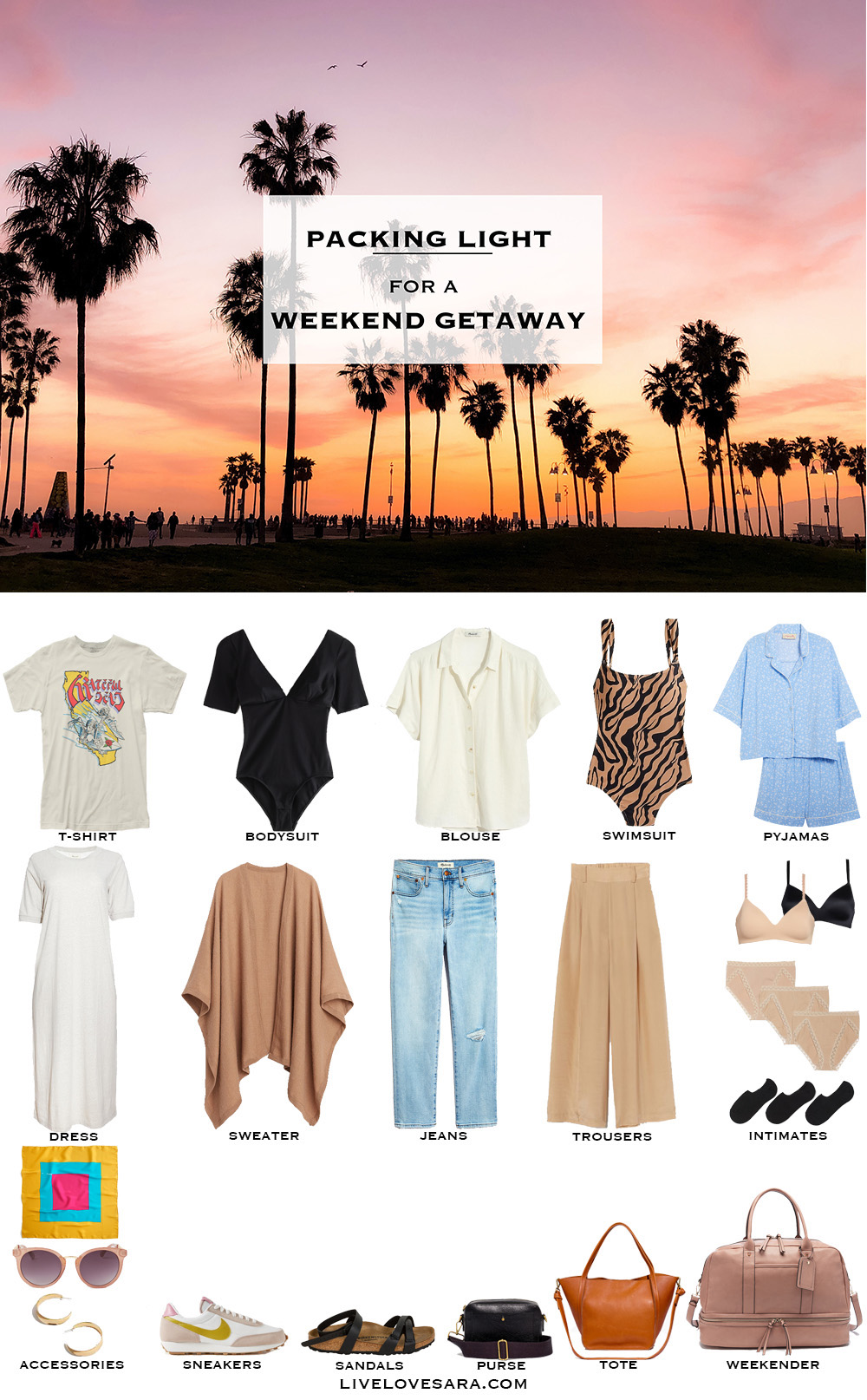 T-shirt | Black Bodysuit | Blouse | Swimsuit | Pyjamas | Dress | Sweater Cape | Jeans | Trousers | Black Bra | Nude Bra | Underwear | Socks | Scarf | Sunglasses | Earrings | Sneakers | Sandals | Black Purse | Tote | Weekender Bag |
---
SHOP THE POST


---
Throwing some stuff into a weekender bag and taking off for a few days is one of my favourite things.
This weekend trip packing list could take you from 2 days through to a week if you wanted.
Right now with the state of how things are in the world, most people aren't looking for extended travel.
Oh, we are dreaming about it for sure, but realistically we know that it is too much of a gamble to plan anything that extensive.
I just saw an influencer that I follow tried to go to Greece the day they were supposed to open the borders to all countries.
She made it as far as the airport only to be told that Greece changed their mind and people from the US can't travel there at the moment.
Sorry but your trip is cancelled.
That would be so disappointing after being cooped up this long, but honestly, I think it was wishful thinking on her part because that outcome doesn't surprise me in the least.
And what was my point to that story?
My point is that most people are looking to travel within their country, state, province, and even cities for a few days instead of taking a chance with international travel.
Even going to your cottage seems like a big vacation at the moment.
The safe bet is the best bet at this time until we actually see the light at the end of the tunnel.
Which means you don't need a full summer packing list, because you will only be packing for a weekend trip.
We started phase 2 of reopening in my city today so instead of going down to the pharmacy to drop off my packages to be mailed, I went to the mall post office instead and it was like a mini-vacation.
Most of the stores were not open in there today, many will be opening through the weekend but it was still a nice change.
I have the weekender that is in the packing list but mine is grey. I have had it for about 5 years now and I love it and recommend it.
The zippered shoe section at the bottom is awesome and holds much more than shoes, especially for shorter trips.
There weren't as many colours when I bought it and I kind of really love the oxblood.
The blush is really nice as well.
I showed two bras in the packing list but realistically we ladies know that you will probably only pack one and wear one for a trip of this duration.
Not many people I know would pack any more than two bras.
Generally, it is one black, and one nude…or you can be like me and just wear a black one regardless of whether or not you can see it through my shirt…
I do have one of those Wacoal T-shirt bras on my wishlist though because I have heard some great things about them.
Let me know if you have one and if you like it. I'd rather not spend that much unless it is a really good one.
This packing list is for a summer weekend getaway. All of the visuals in this post are meant as a guideline to aid you in creating your own weekend packing list based on your own clothing, colour preferences, and personal style.
If you are looking for some packing ideas for a weekend getaway and enjoyed my Summer Weekend Packing List, please feel free to share it via Pinterest, Facebook, or Twitter. Thank you.
This post contains affiliate links. By using my links to shop I may receive a small commission (at no cost to you). Thanks for supporting what I do 🙂
You may also like:
The Ultimate Summer Packing List
What to Pack for Summer

What to Wear on a Weekend Trip

T-shirt | Black Bodysuit | Blouse | Swimsuit | Pyjamas | Dress | Sweater Cape | Jeans | Trousers | Black Bra | Nude Bra | Underwear | Socks | Scarf | Sunglasses | Earrings | Sneakers | Sandals | Black Purse | Tote | Weekender Bag |
---
SHOP THE POST


---
Follow me on
FACEBOOK || INSTAGRAM || PINTEREST || LIKEtoKNOW.it