Summer Packing List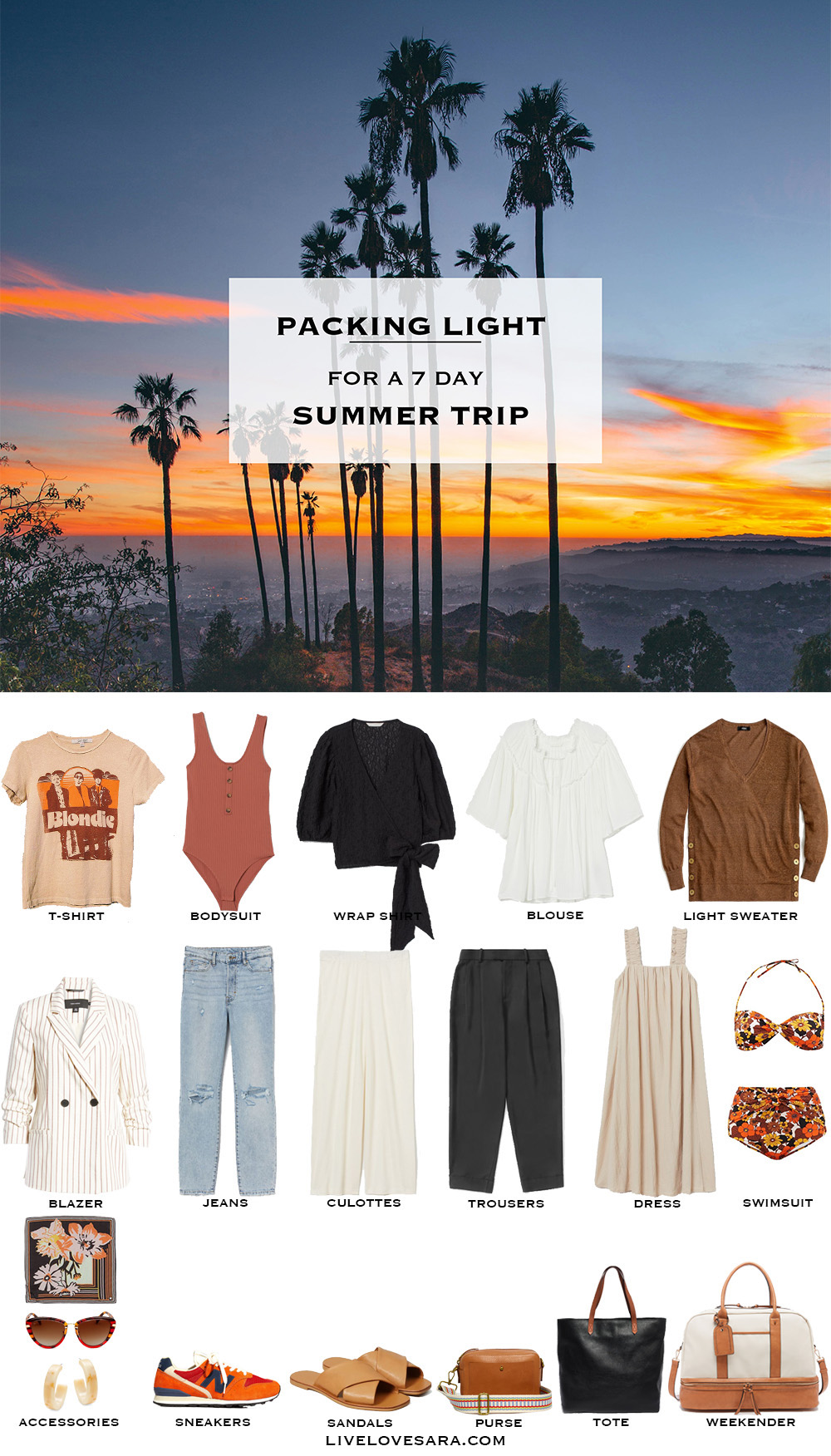 T-shirt | Bodysuit | Wrap Shirt | Blouse | Sweater | Blazer | Jeans | Culottes | Trousers | Dress | Swimsuit (Top, and Bottom) | Scarf | Sunglasses | Earrings | Sneakers | Sandals | Crossbody | Tote | Weekender |
---
SHOP THE POST


---
It's only Wednesday.
Canada Day actually.
And all day I thought it was Saturday.
It's been a long week.
So it's late and I am trying to now complete blog post after putting my closet back together since its quick and efficient demise last week when all the shelves decided to fall off the wall.
It was more like the domino effect.
One shelf went and decided to bring everything else along with it.
Now it's fixed with this piece from Ikea on one wall (we had to do two poles on one side though because my closet is too narrow), and this shelf/bookcase on the other.
It is a very odd-shaped closet, and it is tiny so that was the best we could do with it.
On a positive note: everything is no longer in a pile on the floor.
I received a lot of positive feedback about last week's Summer Weekend Packing List for a Weekend Getaway post.
This week I decided that I would do something similar but for a 7 day packing list for those that are venturing out for a little bit longer trips.
The EU announced yesterday that they were opening the borders to 15 (I think 15) countries around the world.
They plan to reevaluate every two weeks and add or take off any country that are, or no longer are hitting their criteria.
I have a feeling that a lot of people might start booking trips, and honestly, it is making me nervous.
As much as we all would love to jump on a plane and go somewhere, especially after how this year is going, I think sticking around your country/state/province/city is a much better decision for everyone.
So whether you are going to take your chances with international travel, or whether you are sticking closer to home, small duration trips are what people seem to be planning for.
The future is way too uncertain to be thinking long term.
So this week I have what to pack for a week in the summer packing list.
I feel like this might be my favourite colour palette to date.
I bought that cream sundress and I was shocked how lovely it is. It's from H&M and honestly, the quality of it seems so much more.
You know how every once and a while you truly find a jewel of a piece in these less expensive retailers?
This was my jewel.
They have it in black and bright pink on the Canadian and US sites, but I saw the cream on someone I know who lives in Spain and I decided that I wanted it in that colour if it ever became available here.
I wasn't sure if we would get it since they tend to get a lot of things we don't, so when I saw it listed under the new releases I bought it right away.
It arrived yesterday and I LOVE it.
It was a great purchase.
I sold some old dresses that I don't wear anymore, on Poshmark this week so it all balances out.
Right? 😉
And if you are travelling anywhere, don't forget the most important part; your face mask.
This packing list is for a 7 day summer trip. All of the visuals in this post are meant as a guideline to aid you in creating your own summer packing list based on your own clothing, colour preferences, and personal style.
If you are looking for some packing ideas for a short summer getaway and enjoyed my A Week in Summer Packing List, please feel free to share it via Pinterest, Facebook, or Twitter. Thank you.
This post contains affiliate links. By using my links to shop I may receive a small commission (at no cost to you). Thanks for supporting what I do 🙂
You may also like:
The Ultimate Summer Packing List
What to Pack for Summer
A Summer Weekend Packing List
What to Wear on Summer Vacation

T-shirt | Bodysuit | Wrap Shirt | Blouse | Sweater | Blazer | Jeans | Culottes | Trousers | Dress | Swimsuit (Top, and Bottom) | Scarf | Sunglasses | Earrings | Sneakers | Sandals | Crossbody | Tote | Weekender |
---
SHOP THE POST


---
Follow me on
FACEBOOK || INSTAGRAM || PINTEREST || LIKEtoKNOW.it