Summer Packing List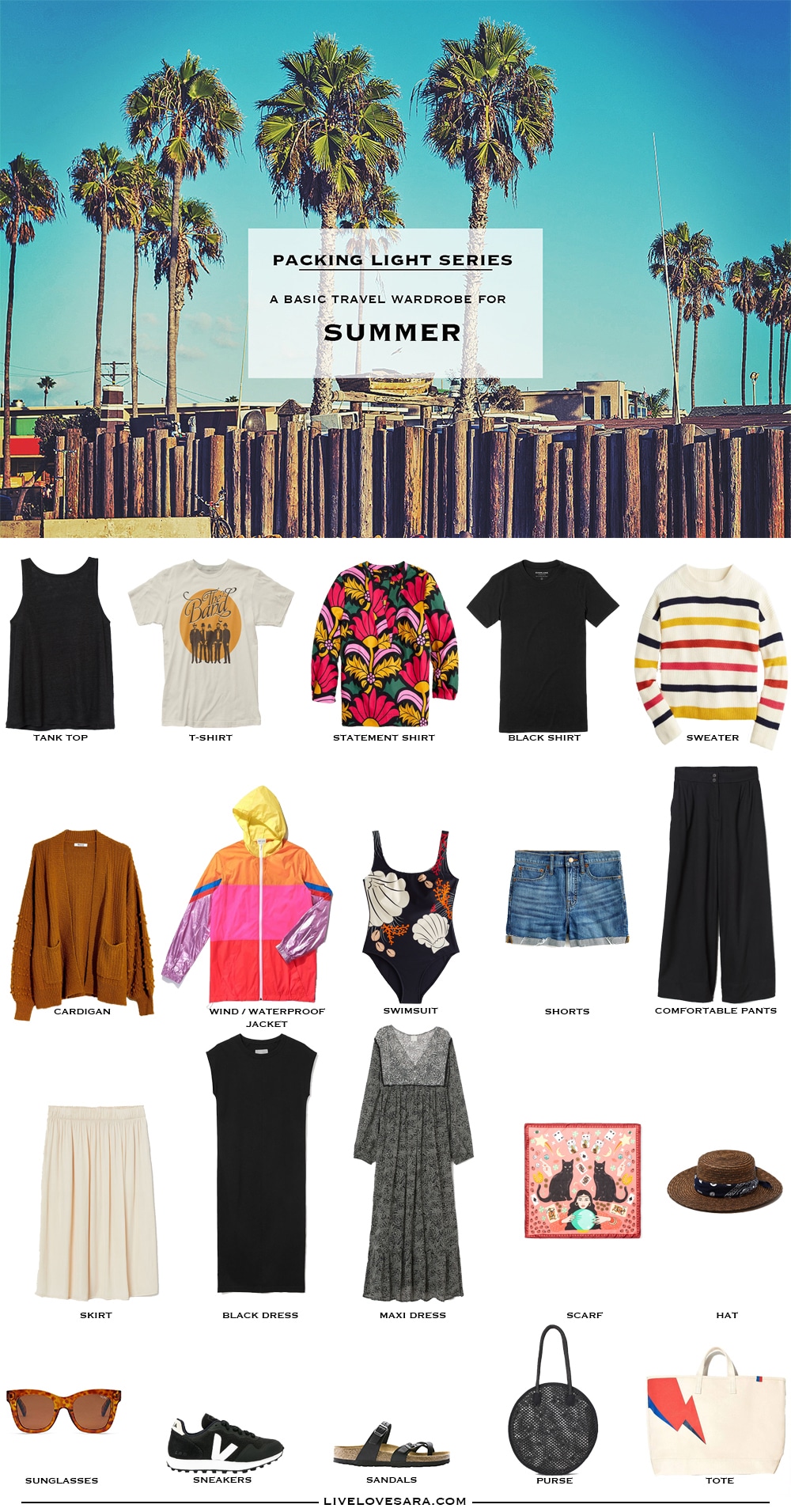 Black Tank Top | Band T-shirt | Statement Shirt | Black Tee | Striped Sweater | Cardigan | Windbreaker* | Swimsuit | Denim Shorts | Black Pants | Skirt | Black Dress | Maxi Dress | Scarf** | Hat | Sunglasses | Sneakers | Sandals | Black Purse | Tote |
---
SHOP THE POST


---
Summer is slowly wrapping up and this is around the time when people are starting to realize that they don't have much time left to squeeze in more vacation time.
Packing for a holiday hasn't been easier. The above packing list is one that can be tweaked to work for almost any summer travel destination. Are you going on a weekend beach vacation getaway? Visiting your cabin for a week? Planning a road trip? Taking a city break? The above basic summer travel wardrobe will work for many types of trips with some small changes for each destination.
A small variety of shirts in different colours, prints, and styles. A couple of cute summer dresses that are lightweight and breathable, some shorts (or skirts if your preferences lean that way), and a pair of comfortable pants preferably in black so that they will still look chic even though they are casual.
Consider this like a summer capsule wardrobe, a variety of pieces that will take you through the season, and work for almost any occasion. All the colours flow together giving you a cohesive palette to pick and choose your holiday wardrobe from. Here are some examples of how I would use the above selections on three completely different trips:
Weekend Beach Vacation Packing List
one t-shirt
one tank
sweater
shorts
one dress
swimsuit
hat
sandals
and everything would probably fit in that white tote.
A Week at the Cabin Packing list
two t-shirts
one tank
sweater
cardigan
two shorts
cozy pants
both dresses
swimsuit
windbreaker
sneakers and sandals
everything would fit in to a weekender bag.
A City Break Packing list
I would include all the above clothes.
Swap the windbreaker for a dressier lightweight option.
Add a pair of flats or nice slides depending what my itinerary is.
Add some easy to wear accessories.
Summer time is full of last minute trips and weekend getaways so it's always a good idea to have a preplanned versatile carry on packing list in your mind. Something that you can throw in to the perfect weekender bag, and leave at a moments notice if necessary.
Since I know exactly what my wardrobe consists of, the types of styles and combinations that I like to wear, and what looks work on me; I could easily pack for a last minute vacation in under 15 minutes. Except I need a new travel bag/suitcase to hold all of my essential things for travelling because the zipper in mine recently split :/
It's important to familiarize yourself with what you have in your wardrobe each season so that you can make the most of what you already own. This not only makes building a travel capsule easy, but it also will inspire you to get creative in your everyday wardrobe.
*expensive windbreaker but so much fun.
**I'm fairly certain that this Karen Mabon scarf is my favourite one that I have ever come across. This print is just so me. The swimsuit is pretty fab too.
You can find more packing lists and what to wear guides in my:
Packing List Series
Travel Outfit Ideas
If you enjoyed my What to Pack for summer packing light list, please feel free to share it via Pinterest, Facebook, or Twitter. Thank you.
SUMMER TRAVEL OUTFITS


Black Tank Top | Band T-shirt | Statement Shirt | Black Tee | Striped Sweater | Cardigan | Windbreaker* | Swimsuit | Denim Shorts | Black Pants | Skirt | Black Dress | Maxi Dress | Scarf** | Hat | Sunglasses | Sneakers | Sandals | Black Purse | Tote |
---
SHOP THE POST


---
Follow me on
FACEBOOK || INSTAGRAM || PINTEREST || BLOGLOVIN'