Cottage Packing List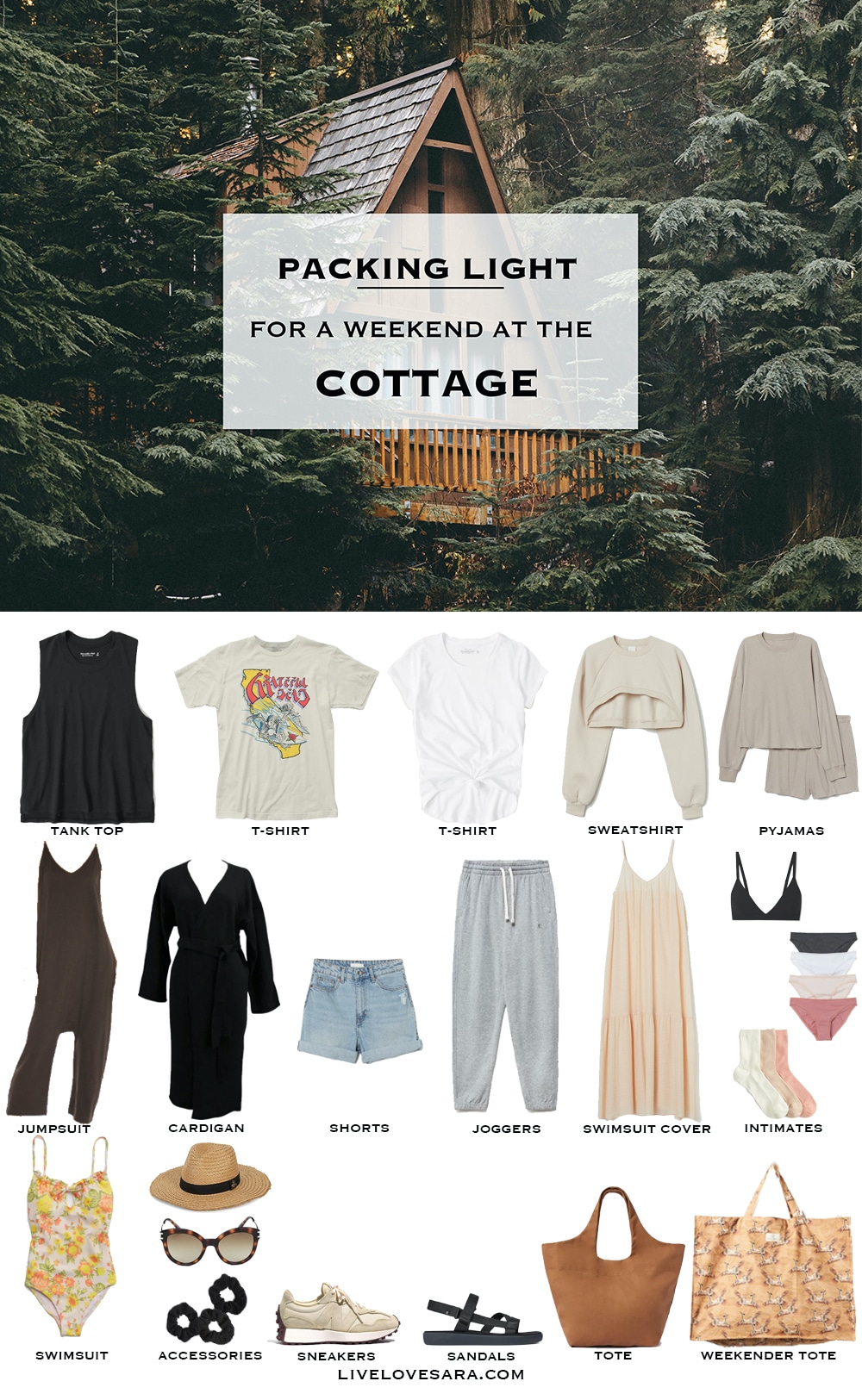 Tank | Band Tee | White T-shirt | Cropped Sweatshirt | Pyjamas | Jumpsuit | Cardigan | Shorts | Joggers | Swimsuit Cover | Bra | Underwear | Socks | Swimsuit | Hat | Sunglasses | Scrunchies | Sneakers | Sandals | Tote | Weekender Tote |


I will preface this by admitting that I am absolutely not a cottage or camping type of person. I don't think that is shocking to anyone that knows or is familiar with me.
Although I probably wouldn't pass up a luxury cottage that has good wifi, tv, and great bathroom facilities.
That being said, my mother-in-law has a cabin way up north. She has had it for many, many years, and Tom loves to go down there for a least one long weekend every summer.
He usually does a boys weekend because the girls and I just don't have as much fun there as he always does, so he might as well be with some people who will fish, boat, and drink with him.
It's a standard wood cabin, and when you go up there for the weekend you are truly signing off from everything since there is no cell reception unless you are in the middle of the lake for some reason.
I don't do lakes in small boats or floaties. Just no.
I caused my mother to throw out her back once when I was in a small boat. We weren't very far from shore when a wave splashed over the side and I freaked the F out.
I somehow managed to jump out and my mom turned quick to grab me and hurt her back. I somehow made it back to shore without the ability to know how to swim.
Apparently, I can walk on water.
Over the years I have done the obligatory cottage weekends to mil's and friends cottages, so I know what to bring, I just don't like going 😉
For a summer cottage packing list, it is really going to come down to weather and activities.
Chilling in a hammock drinking beer, and splashing about in the water will not need as much as if you plan on doing nature things like hiking, biking, canoeing.
For those, you will need to bring appropriate clothing for those particular activities.
This cottage packing list is more for a weekend of grilling, chilling, swimming, and fire pits. The only extra things you might need clothing-wise is a rain jacket and/or rain boots depending on the weather.
What to Pack for the Cottage:
A t-shirt or two, and a tank top
Shorts
A jumpsuit or dress. I just bought that jumpsuit and you can see it here. I love the drop crotch and simplicity. It comes in a few different prints and colours.
Jogging pants. Comfortable, casual, and practical. Great for travelling in and good to have if it gets chilly. I have this pair and you can see them here.
Pyjamas and or/loungewear.
A sweatshirt, and cardigan. Once again for warmth at night when you are hanging outside. I have the cropped sweatshirt in black and I use it all the time (see it here). It's easy to just throw over a t-shirt, tank, jumpsuit, or dress.
Swimsuit
Sneakers, and sandals. You might want a water shoe or flip flop for around the water as well. Here is an inexpensive pair.
Socks, and undergarments. If you can go without I would leave the underwire at home and wear a more comfortable bra or bralette.
Swimsuit cover. This can be something as simple an oversized blouse, or a kaftan. Both are great options.
Hat, hair ties, and sunglasses.
Tote and a larger tote. Leave the suitcase at home. You should be able to fit your clothes in a large tote, and extras in a smaller tote. I have the Everlane bag in black and it is great (see it here). It is a heavy canvasy fabric that is both durable and holds a lot.
A weekend away at the cottage can be a great way to decompress and escape from your city life. This cottage packing list should be able to help guide you into how to keep it light enough that all you need is a tote bag.
Get rid of the worry of what to pack and just enjoy your weekend.
What to Wear at the Cottage
Tank | Band Tee | White T-shirt | Cropped Sweatshirt | Pyjamas | Jumpsuit | Cardigan | Shorts | Joggers | Swimsuit Cover | Bra | Underwear | Socks | Swimsuit | Hat | Sunglasses | Scrunchies | Sneakers | Sandals | Tote | Weekender Tote |


You might also like:
What to Pack for 10 Days in Summer
What to Pack for a Weekend Trip in Summer
What to Pack for a Week in Summer Packing list
The Ultimate Summer Packing List
What to Pack for Summer
A Summer Weekend Packing List

SHOP THE UK LINKS


This post contains affiliate links. By using my links to shop I may receive a small commission (at no cost to you). Thanks for supporting what I do