Summer Packing List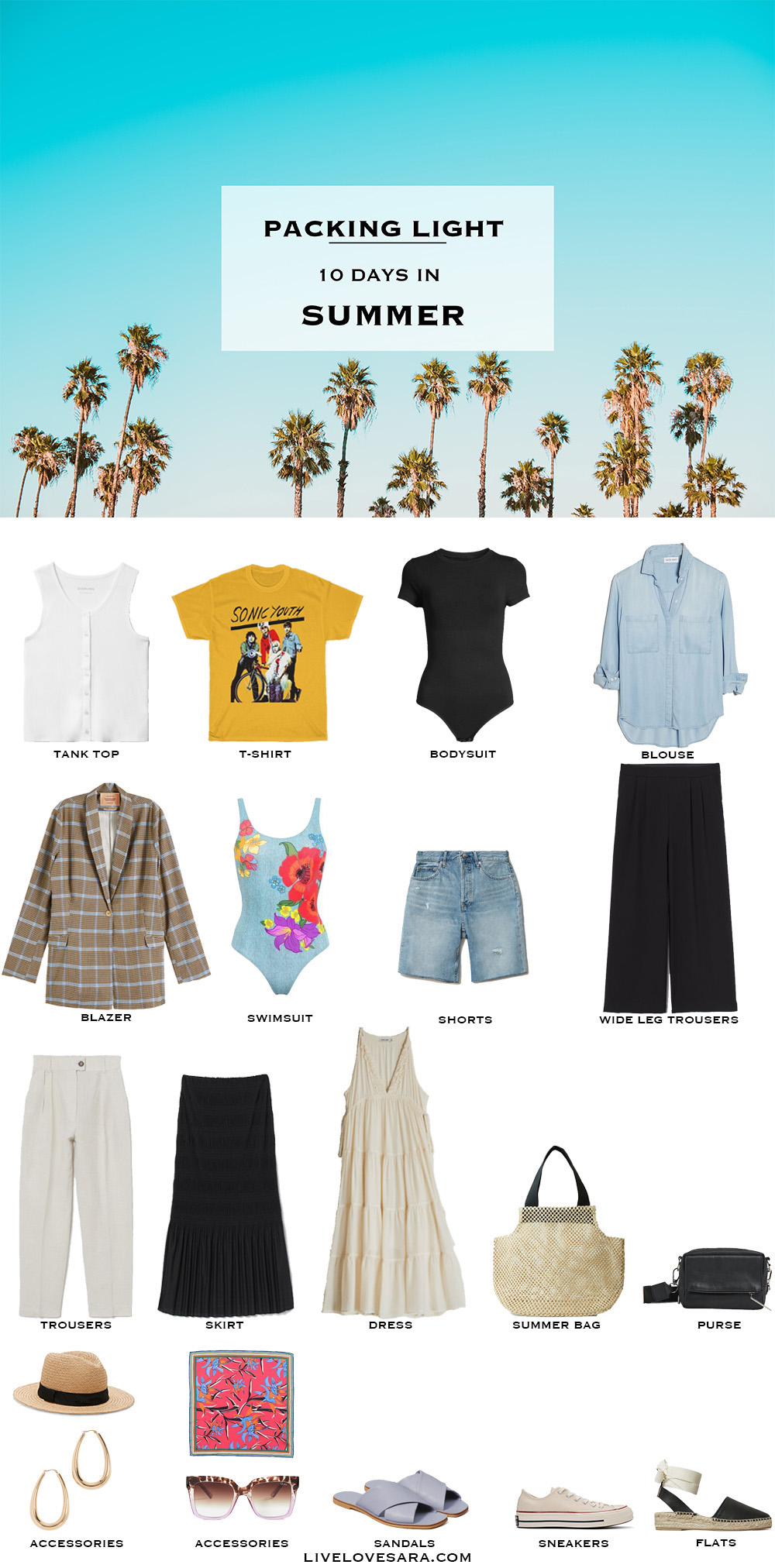 Tank Top | Sonic Youth Tee | Black Bodysuit | Chambray Shirt | Blazer | Blue Floral Swimsuit | Denim Shorts | Wide Leg Trousers | Trousers | Black Skirt | Cream Dress | Summer Bag | Crossbody | Straw Hat | Hoop Earrings | Scarf | Sunglasses | Sandals | Converse Sneakers | Espadrilles |
---
SHOP THE POST


---
I know that travel isn't getting back to what it once was any time soon, if even at all. But I have noticed that since restrictions have started to ease around the world that people are starting to want to get away.
Even if it is just to the next town for a bit.
Not that we all didn't want to get away before.
I think there were more than a handful of times that I literally want to run out of my house and down the street as fast as I could just to get away for a few minutes break.
Staycations are where people are staying in their own cities/countries and exploring them, is also a popular thing.
This would make an excellent staycation packing list.
Although I don't understand people not discovering what their cities have to offer before this. *shrug* They seem to be embracing it hard right now.
Don't mind the dramatic title of "Ultimate Summer packing list". The search engine gods love that kind of SEO so I am giving it a shot to see how it works out 😉
I see these types of claims in blog post titles all the time, and honestly I don't think there is such a thing.
No packing list, capsule wardrobe, itinerary, and even recipe is the ultimate one fits all; everyone will like it deal.
I will say this is a fun summer travel capsule that will work more for city touring.
If you are camping, glamping, beach vacationing this won't be for you.
Since I don't camp, glamp, or like beaches very much then this is perfect for me…minus the shorts.
This would also make a good mini summer capsule wardrobe like my post from last week.
Toronto and the surrounding GTA hasn't opened back up completely yet.
We are still at a small list of places that are allowed to open. A lot of place across the country are at a stage ahead of us though because they weren't quite as affected which is exciting to see.
It's the whole "light at the end of the tunnel" thing.
Here are 13 countries that are reopening this month.
With places starting to reopen people are once again starting to talk about travelling. My sister-in-law booked a trip to the Dominican Republic recently.
Which was actually pretty brave of her.
And apparently Sicily is offering vouchers to pay half the flight costs, and a third of the hotel costs to encourage tourism once their borders open completely.
I'm sure there will be stipulations like only from EU countries or something, but it would be worth a look if you are itching to book a trip and Sicily is on your shortlist of destinations.
All in all, I am looking forward to seeing how the future of travel plays out.
I have a feeling we are going to see some interesting things to entice tourism.
Are you thinking about travel yet?
This packing list is for 10 days in summer. All of the visuals in this post are meant as a guideline to aid you in creating your own summer Packing List based on your own clothing, colour preferences, and personal style.
If you are planning to tour some cities this summer and enjoyed my Ulitmate Summer Packing List, please feel free to share it via Pinterest, Facebook, or Twitter. Thank you.
This post contains affiliate links. By using my links to shop I may receive a small commission (at no cost to you). Thanks for supporting what I do🙂
You may also like:
What to Pack for Summer
What to Pack for Spring
Summer Outfit Ideas
Tank Top | Sonic Youth Tee | Black Bodysuit | Chambray Shirt | Blazer | Blue Floral Swimsuit | Denim Shorts | Wide Leg Trousers | Trousers | Black Skirt | Cream Dress | Summer Bag | Crossbody | Straw Hat | Hoop Earrings | Scarf | Sunglasses | Sandals | Converse Sneakers | Espadrilles |
---
SHOP THE POST


---
Follow me on
FACEBOOK || INSTAGRAM || PINTEREST || LIKEtoKNOW.it