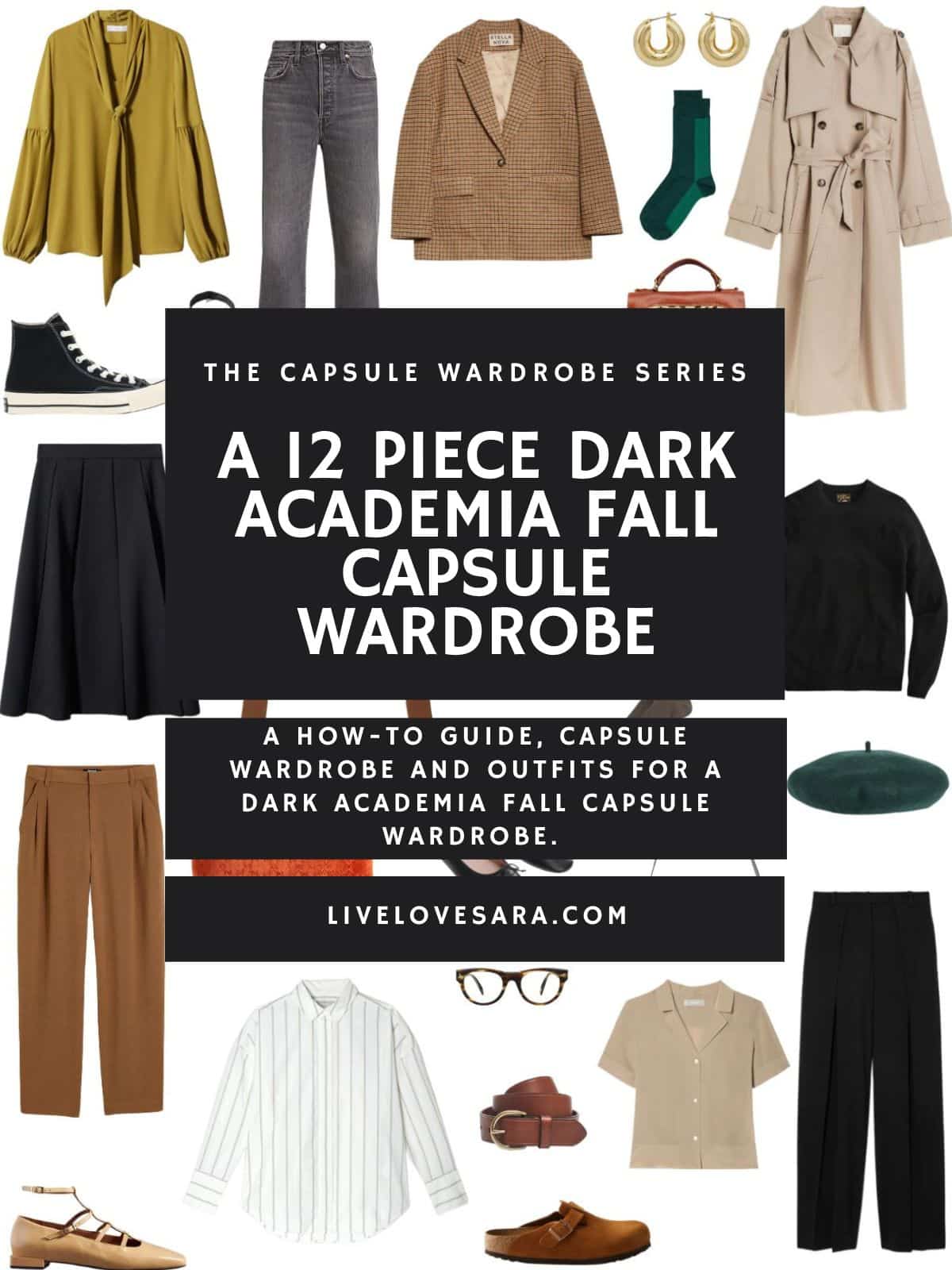 I am stepping away from summer wardrobes this week to share a Dark Academia Capsule Wardrobe. The Dark Academia aesthetic has a very back to school, crisp fall vibe so it is actually a great time to talk about it.
My youngest daughter and I were planning out her wardrobe this past weekend to determine her wardrobe holes, and since a Dark Academia aesthetic is her style, I figured I would go with that this week while I was searching for items that she may like.
The only time of year that we clothes shop for her is during the seasons when fall and winter merchandise are in the stores because she hates summer and refuses to shop for summer clothes.
Literally refuses. She won't wear sandals or shorts, and has a very particular colour palette preference.
And while it makes things difficult, I am also pleased to see her have such strong opinions and feelings about her style and wardrobe.
Brown Dr. Marten boots are on her wardrobe list.
Last year when I put together my first Dark Academia Capsule Wardrobe it was after my daughter and I spent some time trying to determine her personal style.
This brought me back to my teen years when I was figuring this out as well.
When I was in high school the September back to school issue of Seventeen magazine was something that I looked forward to the whole year.
During that time everyone went back to school shopping in August and those clothes were meant to take you through the whole year, with some small purchases here and there.
It was something that I always looked forward to and that issue is where the planning began for what I wanted my aesthetic to be for that year based on style and trends.
It also probably helped to solidify my love for fall fashion.
I would love to find some of those old magazines to flip through and see if it gave me the same sense of excitement and inspiration that they did almost 30 years ago.
A 12 Piece Dark Academia Capsule Wardrobe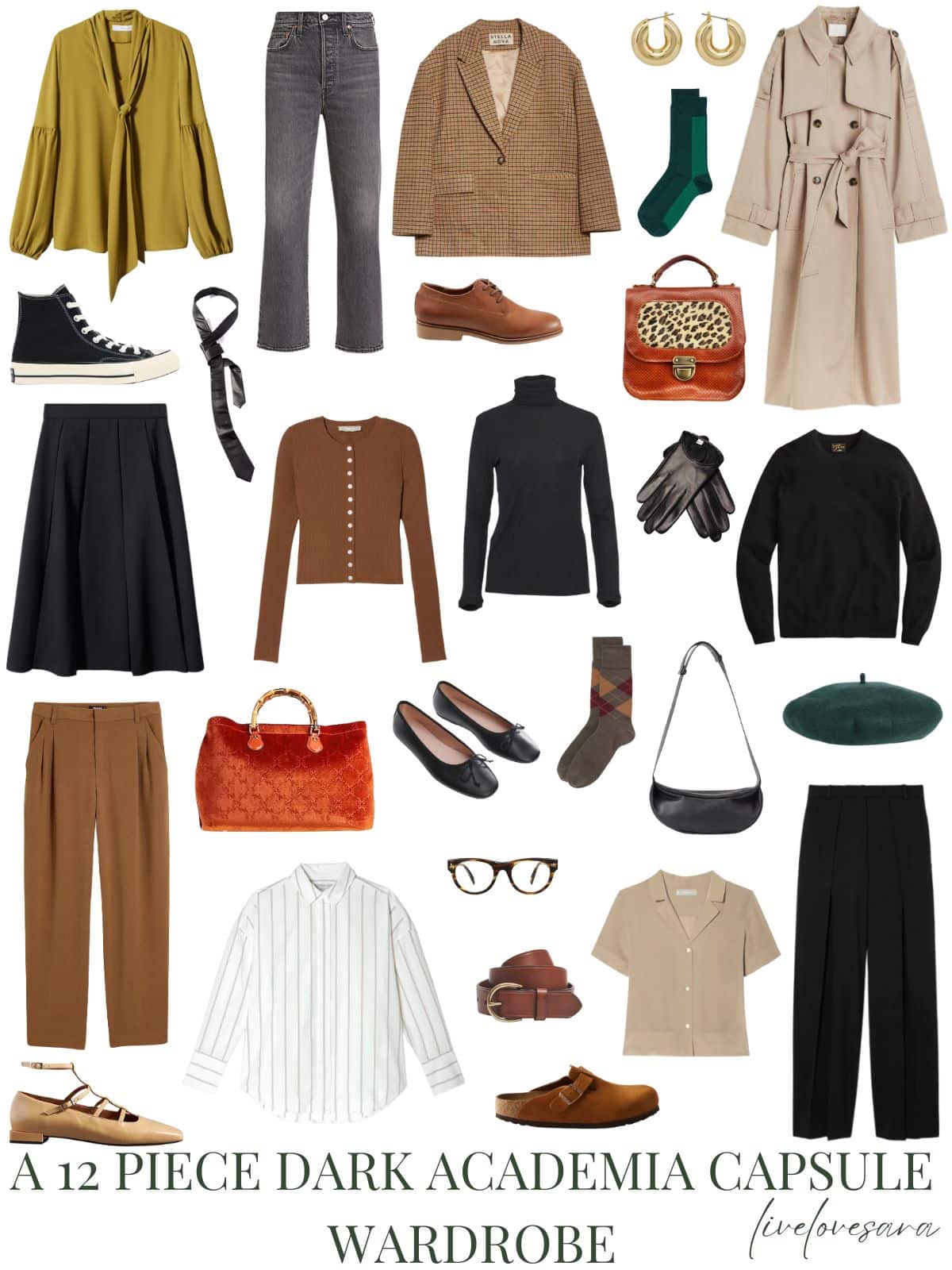 Tie Blouse | Jeans | Blazer | Earrings | Green Socks | Trench Coat | Satchel | Oxford | Leather Tie | Converse | Skirt | Cardigan | Turtleneck | Gloves | Cashmere Sweater | Beret | Black Bag | Argyle Socks | Ballet Flats | Orange Bag | Brown Trousers | Buckle Flats | Button Up | Glasses | Belt | Clogs | Short Sleeve Blouse | Black Trousers

What is the Dark Academia Aesthetic?
To make it easy, Dark Academia is an aesthetic as well as a subculture that is heavily influenced by traditional universities and colleges, as well as the Gothic aesthetic.
Think of the classic university attire from Oxford, Cambridge, Harvard, and Yale, with a touch of Mary Shelley sombreness.
This aesthetic is centralized on the appreciation for academia, classic literature, art, and intellectual pursuits that also touches on darkness and morbidity.
It often draws inspiration from the aesthetics of old libraries, universities, and vintage fashion.
Which is right up my alley.
And a dark academic wardrobe typically consists of a combination of timeless and vintage-inspired pieces that create a scholarly and slightly mysterious look.
How do you build a Dark Academia Wardrobe?
Since I am focusing on the 12-piece wardrobe lately, the pieces I have selected for this wardrobe are what I consider the most important and what I needed to make it as versatile as I could.
If you are looking to take this aesthetic and build on it, there are so many options.
Take the base that I provided here and build and expand on it by adding more blazers, a dress/dresses (I chose a skirt based on versatility factors), multiple button-ups, and more sweaters.
And don't forget the tried and true essential, turtlenecks. These are so important.
I also want to mention that Dark Academia also goes really well with the quiet luxury aesthetic.
There are a lot of crossovers between the two, so if you gravitate toward one, you will also most likely appreciate the other.
Besides shopping secondhand and vintage for those Dark Academia treasures, there are some retailers that have the right palette and aesthetic for this look as well.
Try Madewell, Banana Republic, J.Crew, Sezane, Aritzia, and of course Ralph Lauren.
There are many key items and characteristics that are commonly found in a dark academia wardrobe, so I will give you a breakdown of them.
First stop, colours. Dark academia embraces a muted and earthy colour palette. Think deep shades of brown, black, navy, olive green, burgundy, and ivory.
You can't complete this wardrobe without a blazer or tweed jacket, and a trench coat. These are essential items in a dark academia wardrobe, so opt for traditional fabrics like wool or tweed.
And if you can find something with elbow patches, even better.
Sweaters and cardigans are a must.
Chunky knit sweaters, cardigans, and turtlenecks are great for layering and adding texture. Look for cable-knit designs, argyle patterns, or simple solid colours in quality knit if you can afford it.
A letterman sweater is iconic and if it is vintage from one of those schools, you have hit the Dark Academia wardrobe jackpot.
Any and all button-up shirts are important in a wardrobe but are a Dark Academia staple.
Crisp white or neutral-coloured button-up shirts are versatile and lend a scholarly vibe. You can pair them with blazers, wear them tucked into skirts or trousers, or layer them under sweaters and sweater vests.
Trousers and skirts are the basis to a Dark Academia style. They often incorporate high-waisted trousers or pleated skirts.
Opt for classic cuts like wide-leg pants, tailored trousers, or A-line skirts in neutral tones or traditional patterns like houndstooth or plaid.
If you want to add dresses, then Dark academia dresses often have a vintage-inspired look.
You can choose dresses with Peter Pan collars, pinafores, or modest silhouettes in rich colours or floral patterns.
Accessories play a crucial role in completing the dark academia aesthetic, and can really make the outfit complete.
In these 12 piece capsule wardrobes, the shoes and accessories are not included in the 12 pieces since shoes and accessories are separate from the clothing portion of your wardrobe.
They are the finishing touches and are added in different combinations to elevate your look and change it around.
So it is important to never skip out on accessories, they are an integral part of any well-rounded wardrobe.
Look for accessories like berets, leather gloves, scarves, ties, brooches, and vintage-inspired jewellery.
These low scoop gloves are so chic and fabulous. They are on my fall wardrobe wish list.
And don't miss a huge accessory opportunity with socks. Utilize this wardrobe necessity to bring in Dark Academia influenced colours and prints.
Add a touch of sophistication with a classic leather satchel or a structured tote bag. If it is vintage, or looks vintage it is even better.
To round it out we'll talk about footwear.
Oxford shoes, loafers, brogues, and ankle boots are popular choices for dark academia footwear.
But I also feel Mary Janes, ballet flats, Converse, and even an earthy clog are great choices as well.
The focus should be to opt for classic styles with minimal embellishments in leather or suede materials.
Remember, dark academia is more than just a dress code.
You are not playing a part, you are embracing a lifestyle.
It is about cultivating an intellectual and academic atmosphere. So, embrace reading, literature, and the pursuit of knowledge to fully immerse yourself in the dark academia aesthetic.
Dark Academia Outfit Ideas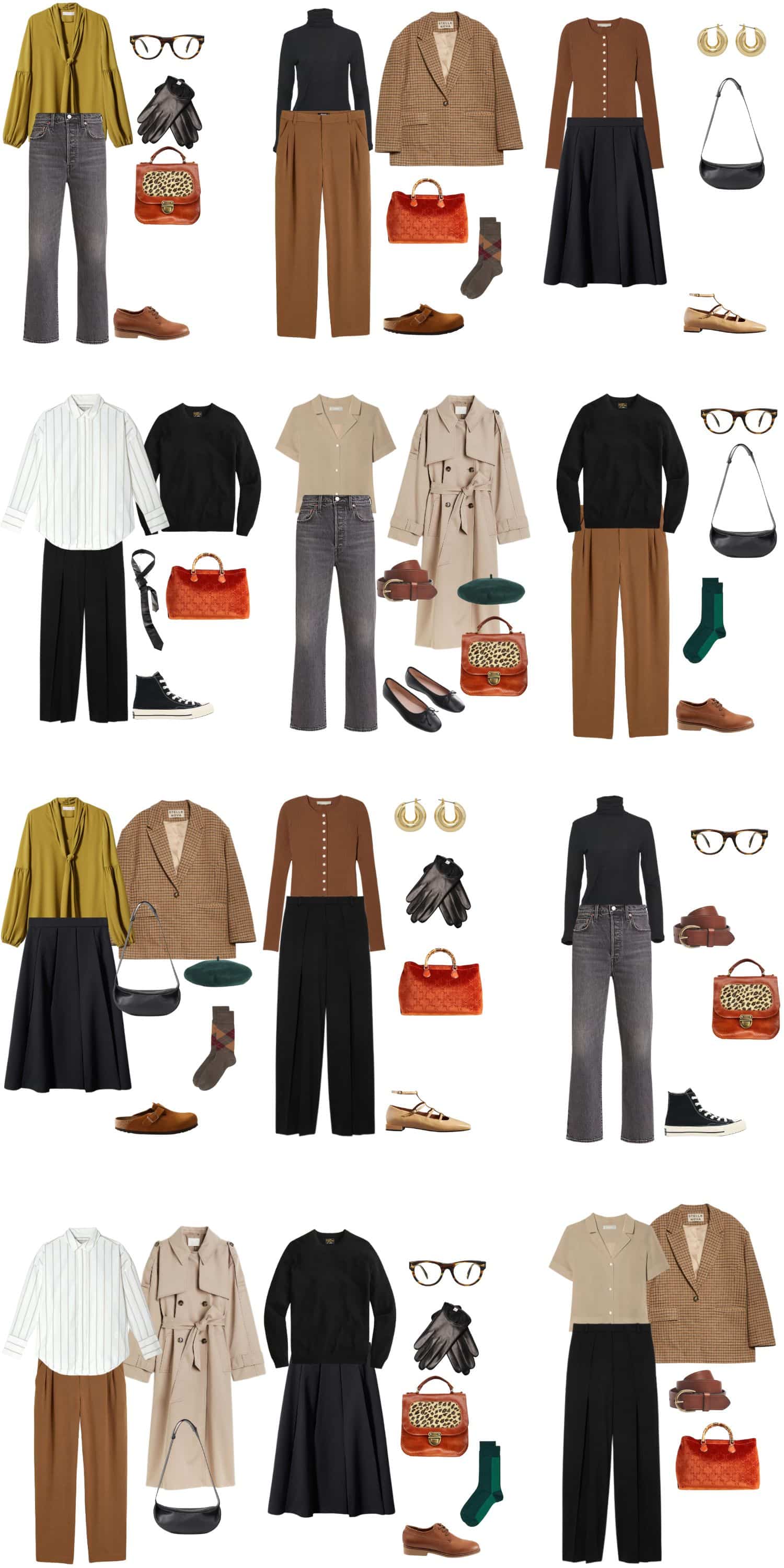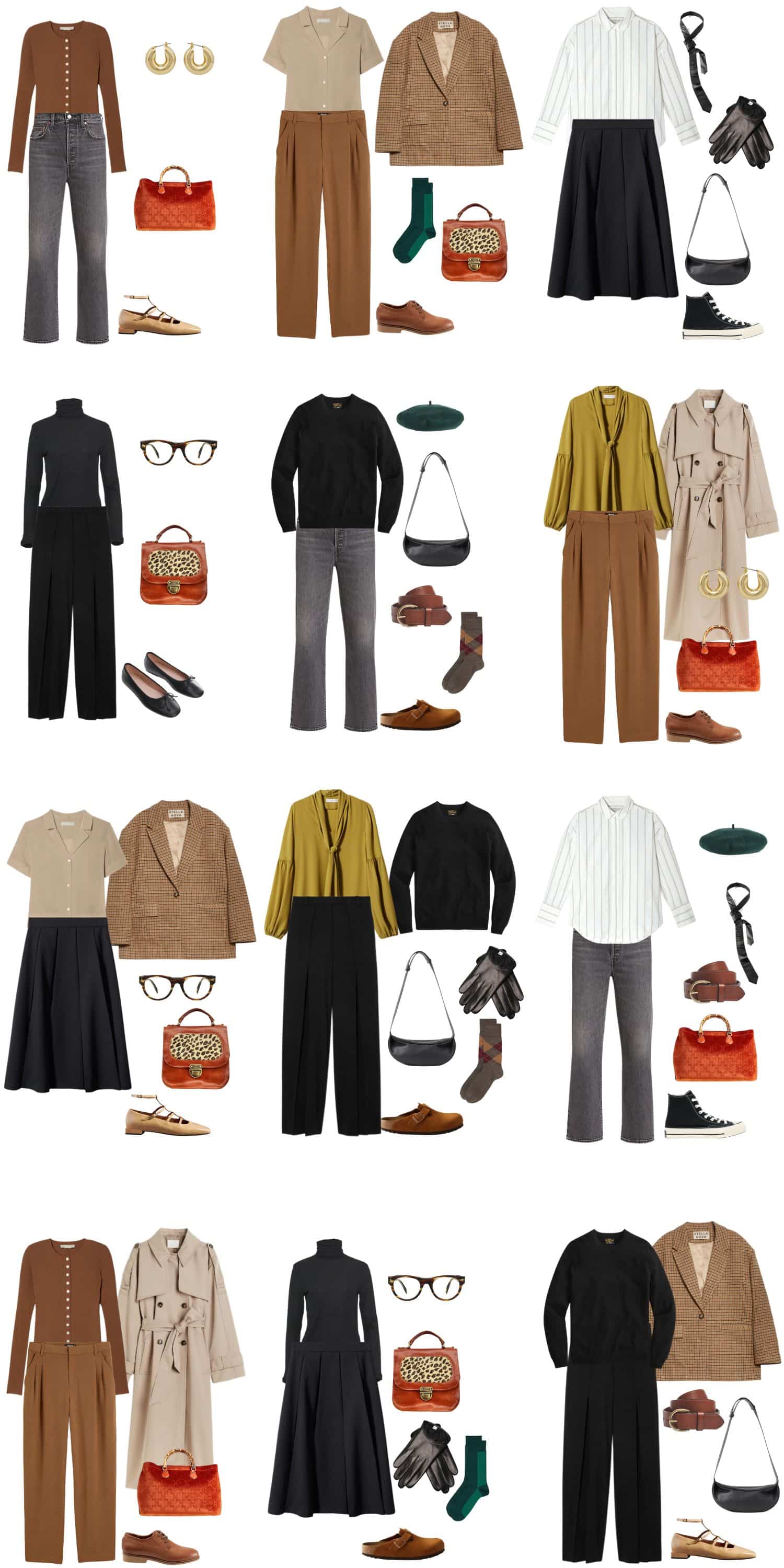 Tie Blouse | Jeans | Blazer | Earrings | Green Socks | Trench Coat | Satchel | Oxford | Leather Tie | Converse | Skirt | Cardigan | Turtleneck | Gloves | Cashmere Sweater | Beret | Black Bag | Argyle Socks | Ballet Flats | Orange Bag | Brown Trousers | Buckle Flats | Button Up | Glasses | Belt | Clogs | Short Sleeve Blouse | Black Trousers

You might also like:
A 12 Piece Stay At Home Mom Summer Capsule Wardrobe
A 12 Piece Colourful Summer Capsule Wardrobe
A 12 Piece Warm Palette Summer Capsule Wardrobe
A 12 Piece Cool Palette Summer Capsule Wardrobe
A 12 Piece Edgy Summer Capsule Wardrobe
A 12 Piece 90s Minimalist Summer Capsule Wardrobe
A 12 Piece Budget Summer Capsule Wardrobe
A 12 Piece Romantic Summer Capsule Wardrobe
A 12 Piece Maximalist Summer Capsule Wardrobe
A 12 Piece Minimalist Summer Capsule Wardrobe
SHOP THE UK LINKS


I am now offering digital styling guides, and personal styling services. If you are looking for some styling help that is inexpensive and easy, check out my digital styling guides. If you want some one-on-one help shopping, building and editing your wardrobe, or packing for a trip, I can also assist. Check out all the styling services that I offer here.
This post contains affiliate links. By using my links to shop I may receive a small commission (at no cost to you). Thanks for supporting what I do