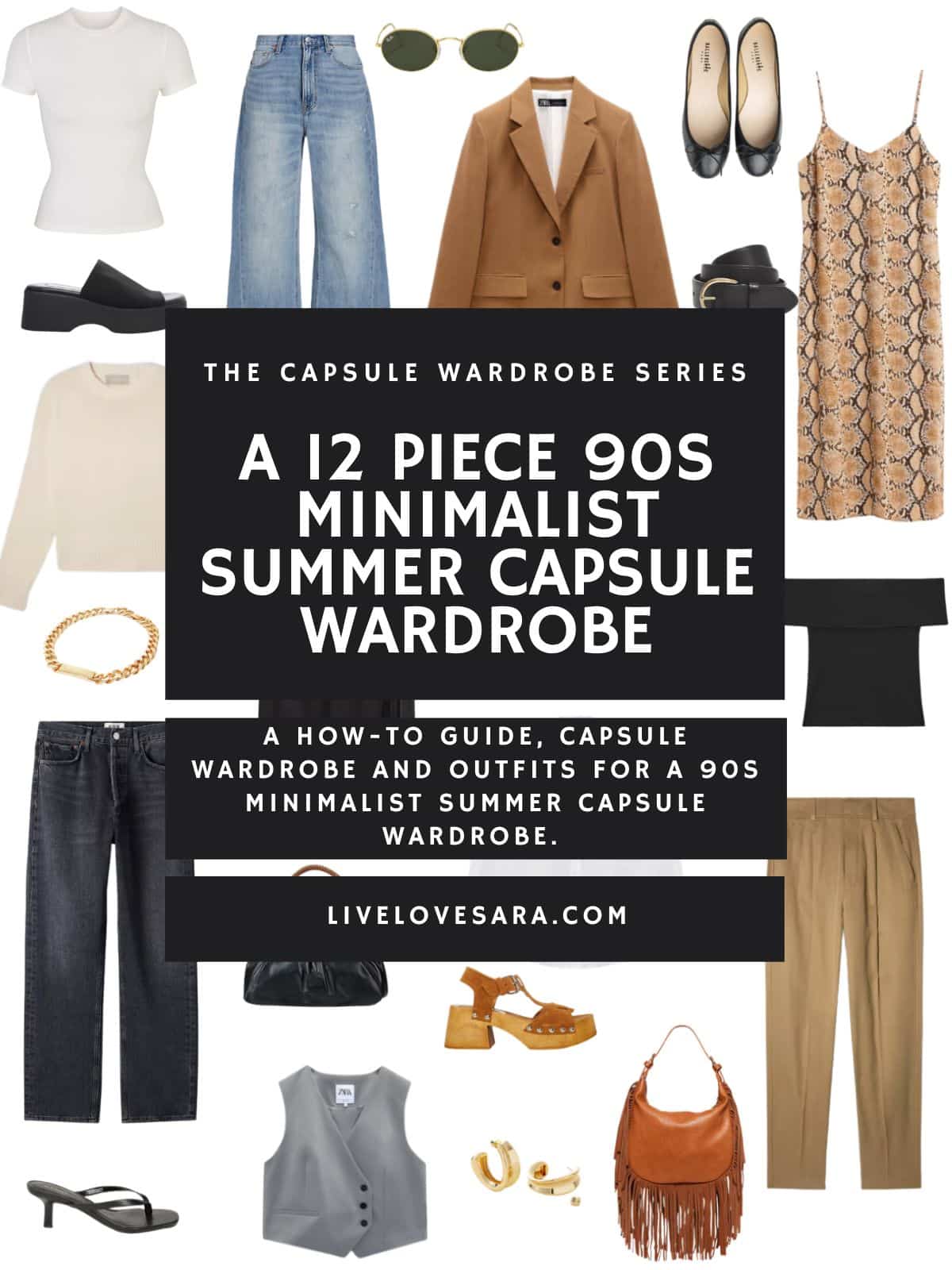 When it comes to different style aesthetics some are flash in the pan while others have longevity. The 90s minimalism aesthetic has been around so long in varying levels of popularity that I would argue that it is no longer an aesthetic and is an actual style of dressing.
Even labelling it as an aesthetic always kind of annoyed me, because why does everything have to be an aesthetic?
90s minimalism is not in the same level of kitschy dressing as say, the Barbiecore aesthetic, even cottagecore, and Coastal Grandma.
They just are not at the same level.
Which is why I put together a 12 Piece 90s Minimalist Summer Capsule Wardrobe today.
I just want to quickly point out that the 12 Pieces only include the clothes. All shoes and accessories are extras added to complete and change the outfit.
A 90s Minimalist Capsule Wardrobe for Summer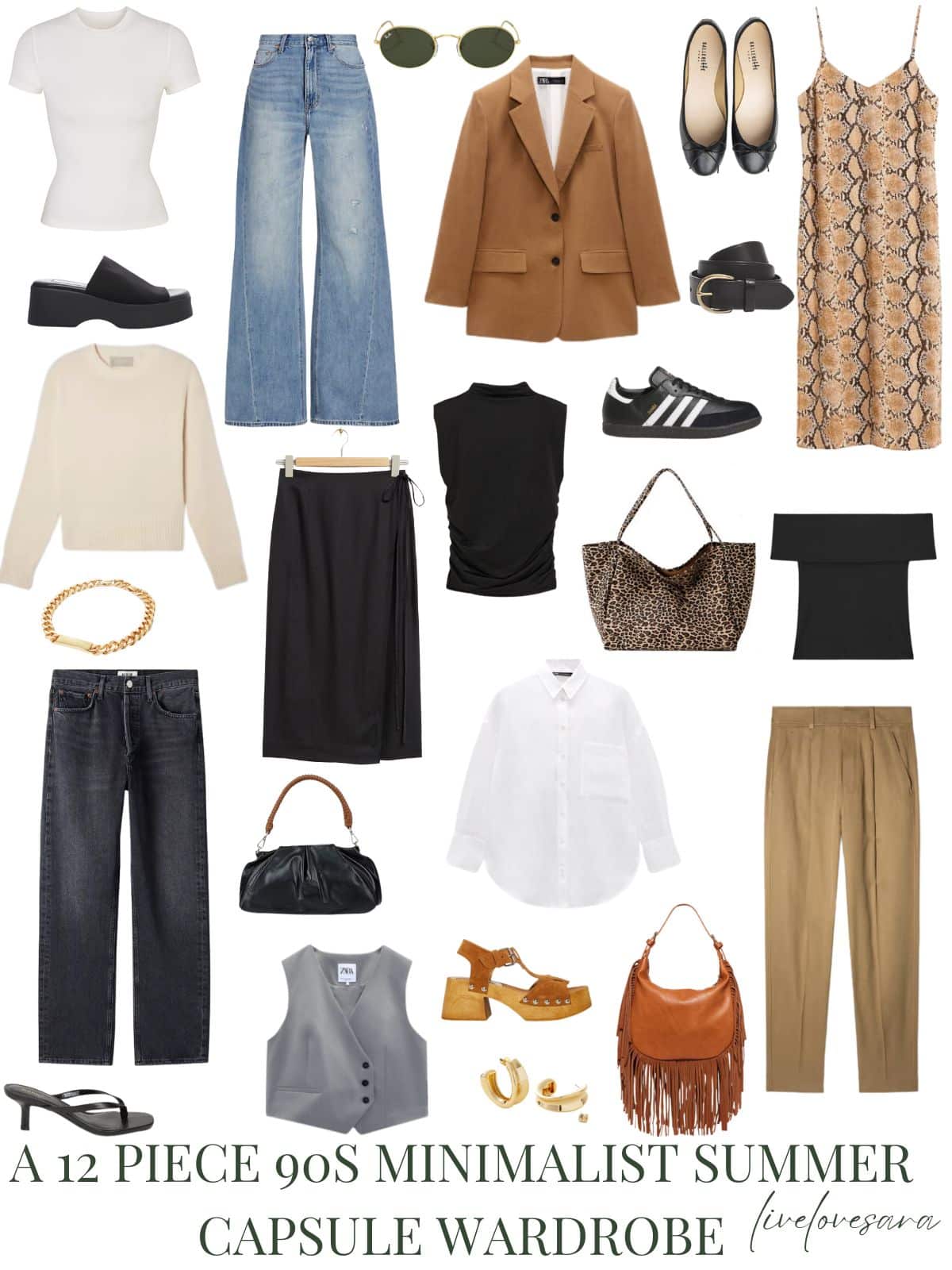 White T-shirt | Wide Leg Denim | Sunglasses | Blazer | Ballet Flats | Belt | Slip Dress | Black Slides | Sweater | Skirt | Black Sleeveless | Sneakers | Animal Print Tote | Off Shoulder Top | Necklace | Black Jeans | Black Handbag | Linen Shirt | Tan Trousers | Heels | Waistcoat | Wood Platform | Earrings | Fringe Bag

What is 90s Minimalism?
In a way to fight against the excess fashion of the 80s, 90s minimalism came forth as a way to cleanse your palette.
It focused on clean lines, simple silhouettes, functionality and understated elegance. Some key elements were slim tailoring, neutral palettes and the use of simple accessories.
It was very much a similar feel that we have to the modern day capsule wardrobe since it focused on timelessness, staples, and buying your pieces with the intent to keep wearing them.
Even supermodels didn't need 50 pairs of jeans because they understood the power of the perfect pair.
And even though 90s minimalism is listed as a current trend that will continue through fall and winter 2023, I urge you to consider it as rising above the trend cycle since this look is just as fresh today, as it was in the 90s.
And will continue to be fresh 10 years from now.
While this capsule wardrobe is focused on the warmer seasons, the idea behind these pieces are that most of them will easily be carried forward to the cooler seasons with some minor tweaks.
I love to keep pieces in my wardrobe through the whole year, and just find ways to adapt them to the current season.
Because I like to see what I have at all times, plus I don't have the space to pack up and store items that are deemed seasonal.
When I make purchases it is with the thought of wearability through all the seasons in mind.
What are the key features of 90s minimalism?
1. A Neutral colour palette: Minimalist fashion embraced a more subdued colour palette than the 80s focusing on shades of white, black, grey, beige, and earth tones.
Colours were often monochromatic or used in subtle combinations to get that minimalist vibe.
2. Clean lines and simplicity: Clean, sharp lines and simple shapes were ideal. The silhouettes were often relaxed, with loose-fitting and unstructured garments being favoured over tight and body-hugging styles.
So you would see a sheath dress instead of a bodycon.
3. Minimal embellishments: Minimalism emphasized a lack of unnecessary embellishments or decorative elements as opposed to the excessive use of embellishments from the previous decade.
Clean and unadorned designs were favoured over frills, ruffles, and any excessive details. Less is more.
4. High-quality fabrics: Minimalist fashion really brought in to attention the magic of high-quality materials and craftsmanship.
Fabrics such as silk, cashmere, linen, and wool were favoured over synthetics, but you can still do 90s minimalism with more affordable fabrics.
Also, remember that these fabrics have longevity and you can find quality pieces secondhand that still look in incredible condition.
5. Layering: This would be more focused on the cooler months since layering is not feasible in the summer.
Layering was a common technique used in minimalist styling. Building multiple layers of simple and lightweight garments create visual interest, and using different fabrics and textures really elevates the look as well.
Companies like The Row do this really well.
6. Minimal accessories: Accessories were usually kept to a minimum, and they leaned towards more understated pieces.
Choosing simple jewellery, such as delicate necklaces or stud and small hoop earrings we preferred. While clean-lined no fuss bags and shoes complemented the minimalist aesthetic.
I would argue to add a bit of modernism to 90s minimalism that you could also try chunkier jewellery for more of a statement.
Large thick hoops, or a heavy linked necklace look great paired with the more understated pieces without looking like too much.
Plus, animal print was really a strong vibe in the 90s, and you would often see animal print bags, coats, and accessories. Since it is thought of as neutral it integrates seamlessly while adding a lot of visual interest.
I wanted to talk briefly on how you can transition your wardrobe to each upcoming season so that your clothing gets used to its maximum potential.
Let's start with a slip dress. On its own, it feels very lightweight and summery, but as the season cools you can take this snakeskin print slip dress and pair it with knee-high or over the knee (A fall trend) boots in brown or black.
But you could go the opposite way and get a black or brown slip dress and pair it with a snakeskin knee-high or over the knee boots.
Layer a turtleneck or fitted button down underneath, and throw a blazer over top for the perfect layering.
You can pair the skirt with a tank or t-shirt in the summer and in fall wear a button-down, a cashmere sweater, or both together.
Sometimes tucking anything into a skirt can be difficult so a bodysuit version of a button down is often easier.
Traditional 90s minimalist jeans are straight leg, and I included one pair of those in a washed black colour, and for the blue denim I opted for a different silhouette to modern it up.
Any well-rounded wardrobe has a variety of jeans in different washes and styles for maximum versatility, and I thought a wide leg would work well with this wardrobe.
I wanted to include a silk blouse (I have this one) which feels nice in the summer and would also be a great option for fall, but I went for a waistcoat instead.
But if I had an extra piece it would be to add the silk blouse.
Also, a white linen button-up shirt could be swapped for a white 100% cotton button-up instead in order to make it work for cooler months.
As for footwear, I tried to really stick to a authentic 90s feel with the Adidas, flats, thong toed kitten heels, and the black slip-on that is reminiscent of a very popular shoe that we all had a version of.
Remember those ads of Jenny McCarthy wearing mules sitting on a toilet from the 90s?
I remember that ad from Seventeen Magazine.
I also included a pair of sandals that gave me a similar vibe to those wood sole mules, but If you want total 90s authenticity you can search Etsy for some secondhand vintage 90s Candie's mules.
And apparently, Candie's are coming back and will be sold at Nordstrom. I wonder if they will be rereleasing their classics.
Memories.
So if you are interested in a 90 minimalist capsule wardrobe just focus on fabrics, cuts and fit, while still keeping it simple, and you won't go wrong.
And don't forget to put on your Toast of New York Lipstick to complete the look.
90s Minimalist Outfits Ideas for Summer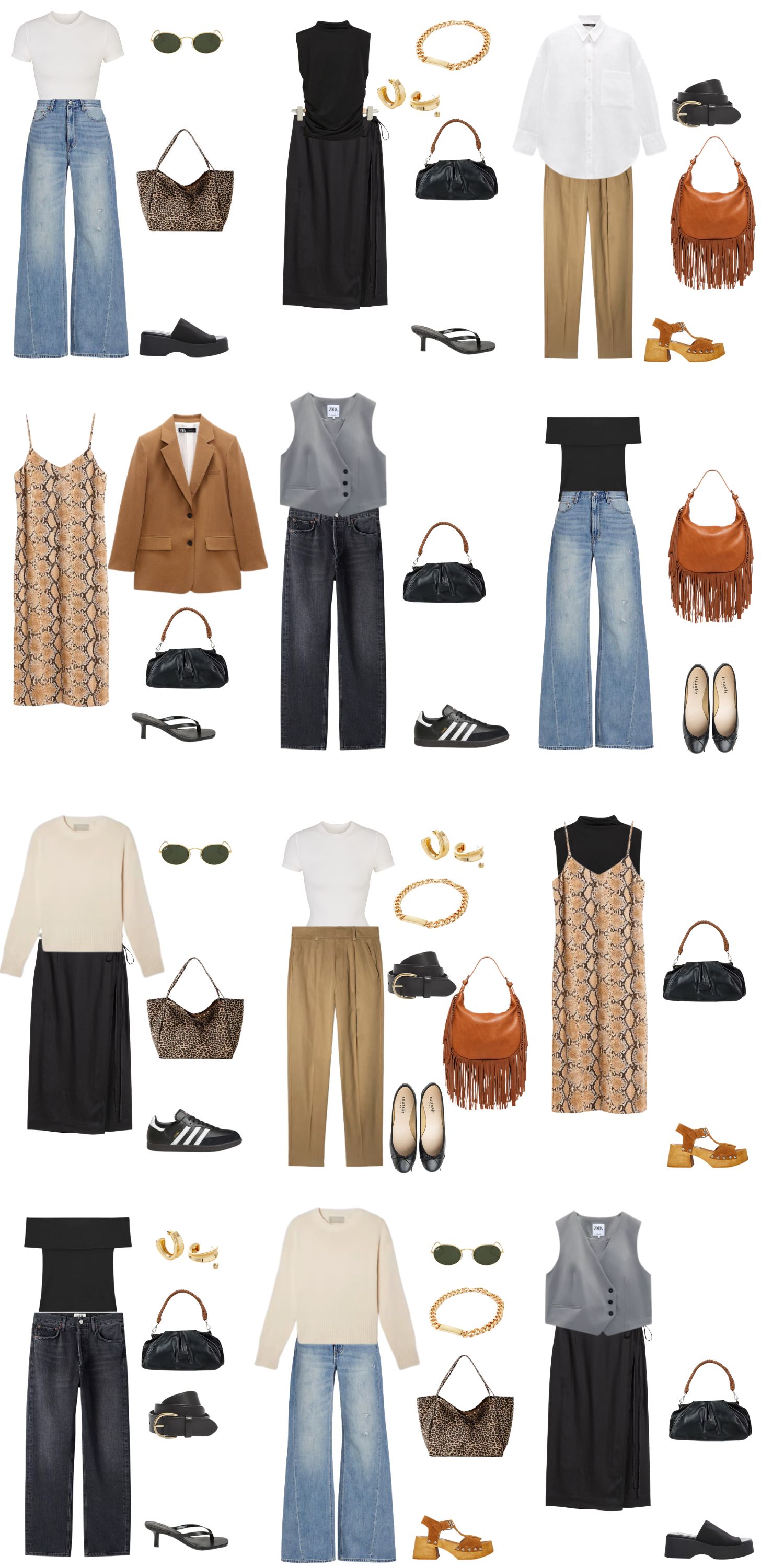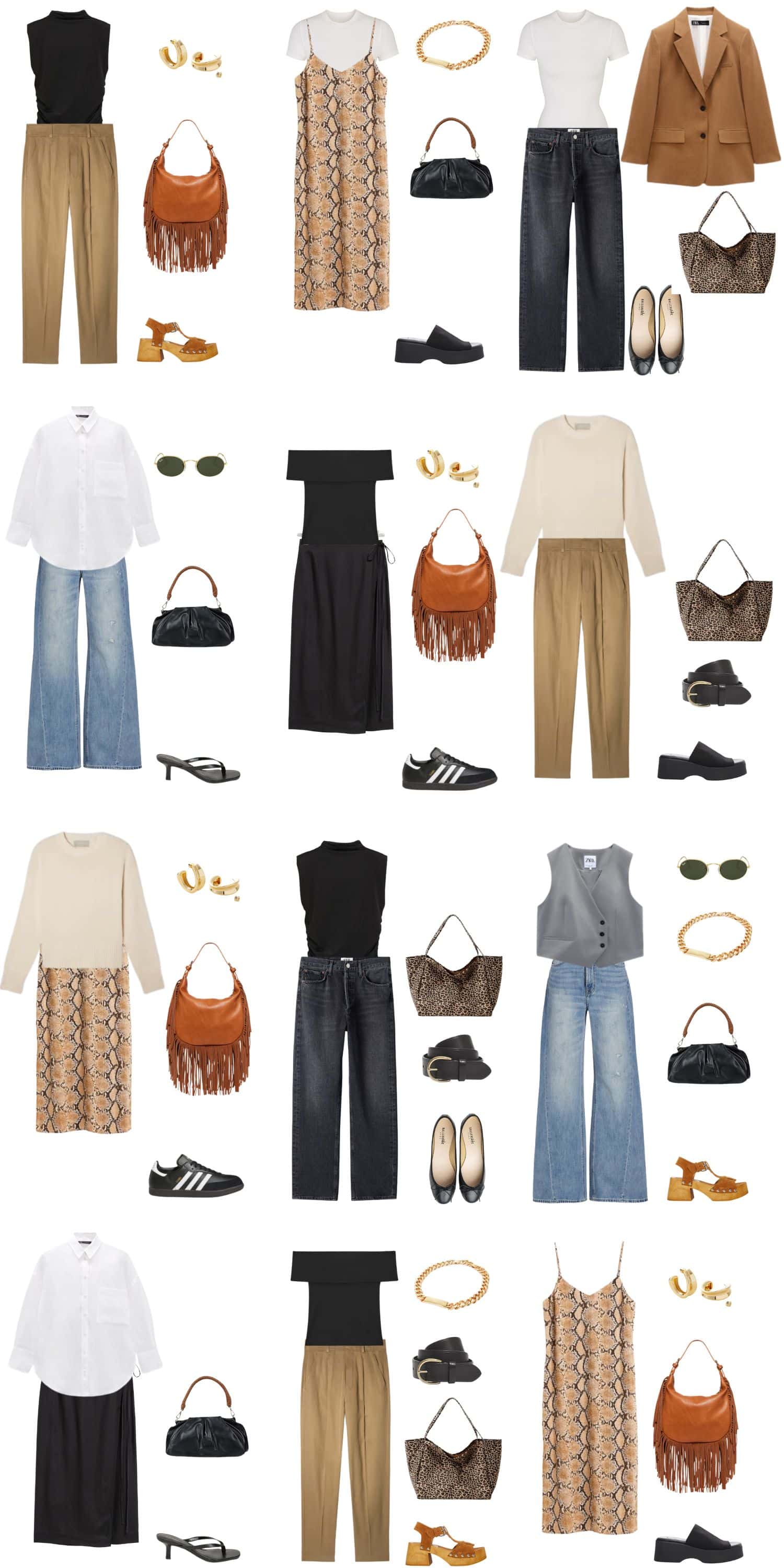 White T-shirt | Wide Leg Denim | Sunglasses | Blazer | Ballet Flats | Belt | Slip Dress | Black Slides | Sweater | Skirt | Black Sleeveless | Sneakers | Animal Print Tote | Off Shoulder Top | Necklace | Black Jeans | Black Handbag | Linen Shirt | Tan Trousers | Heels | Waistcoat | Wood Platform | Earrings | Fringe Bag

You might also like:
A 12 Piece Budget Summer Capsule Wardrobe
A 12 Piece Romantic Summer Capsule Wardrobe
A 12 Piece Maximalist Summer Capsule Wardrobe
A 12 Piece Minimalist Summer Capsule Wardrobe
A 90s and Y2K Inspired Summer Capsule Wardrobe
A Transitional Spring to Summer Capsule Wardrobe
SHOP THE UK LINKS


I am now offering digital styling guides, and personal styling services. If you are looking for some styling help that is inexpensive and easy, check out my digital styling guides. If you want some one-on-one help shopping, building and editing your wardrobe, or packing for a trip, I can also assist. Check out all the styling services that I offer here.
This post contains affiliate links. By using my links to shop I may receive a small commission (at no cost to you). Thanks for supporting what I do