Typically, when I think of romantic clothes or romantic outfits my mind automatically gravitates towards soft pinks, flowers, and flouncy pieces.
With this romantic capsule wardrobe I opted for a different palette. One that uses other soft hues while also focusing on fabrics, textures, and details to give a romantic and feminine feel.
The romantic style wardrobe may appeal to you if your style adjectives include any of the following: romantic, refined, feminine, elegant, timeless, polished, chic, classic, soft, and any similar or equivalent.
How those adjectives come out in your outfit depends on the combination of the style adjectives that you use.
A Romantic Summer Capsule Wardrobe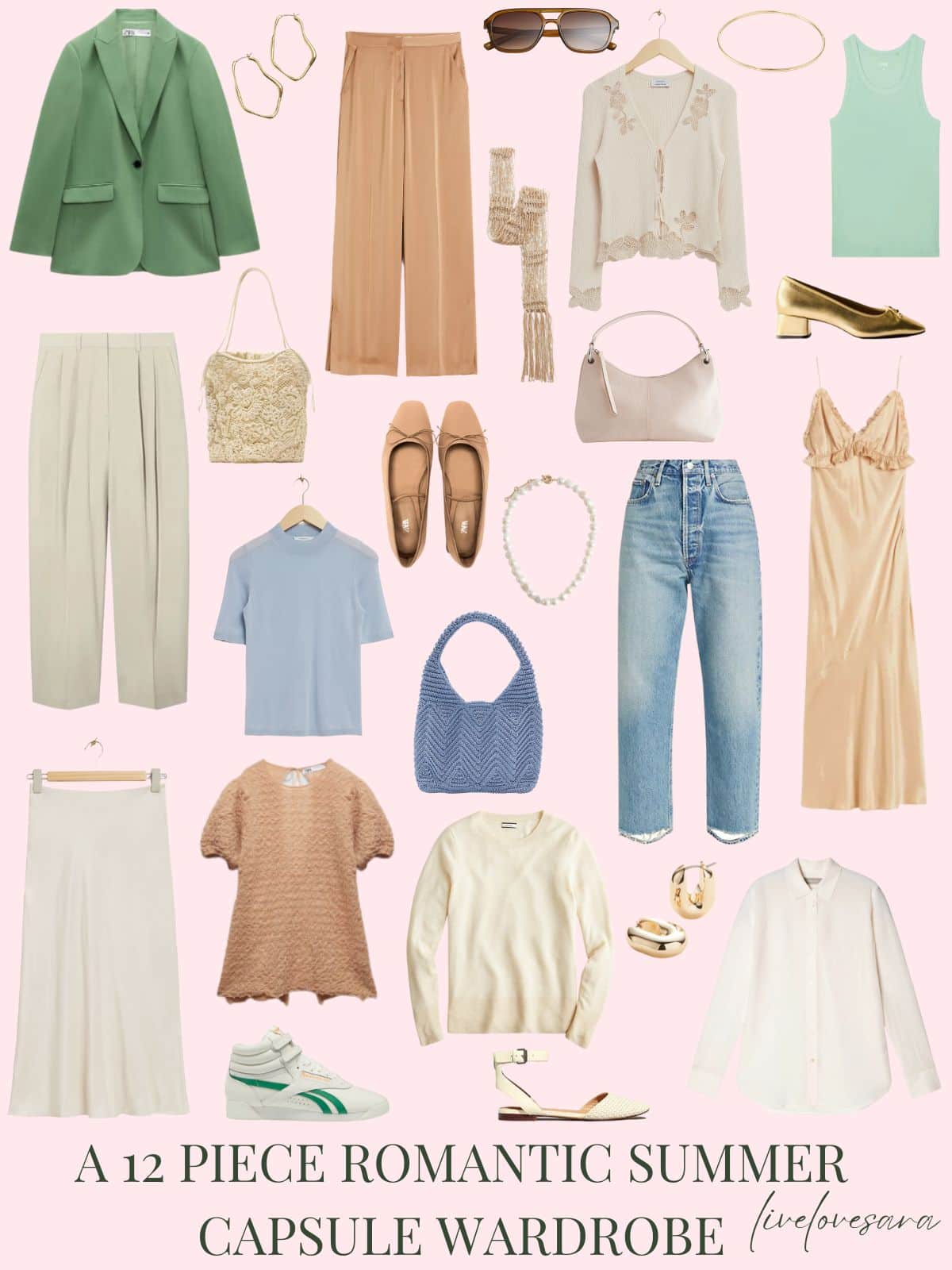 Blazer | Large Hoops | Blush Trousers | Sunglasses | Skinny Scarf | Cardigan | Circle Necklace | Tank Top | Gold Heels | Cream Purse | Ballet Flats | Crochet Tote | Tan Trousers | Blue T-shirt | Blue Handbag | Pearls | Jeans | Slip Dress | Silk Blouse | Small Earrings | Sweater | Blush Top | Skirt | Sneakers | Ankle Strap Sandals

Someone that has style adjectives that consist of three from the above list I mentioned, is going to display much more romantic style outfits than someone who has only one or two from that list combined with other style adjectives like casual, or fun for example.
This is the best part of honing in on your personal style so that you really understand who you are fashion-wise.
It is the combination of adjectives that you identify with your style that are going to be the factor that separates your version of romantic style from someone else's so that it is a true reflection of you.
Determining your style can be hard and sometimes we get stuck in a rut or just don't even know where to begin. This is especially true with moms and new moms.
Your identity often gets sucked out during this time and along with it goes the sense of style that you once felt confident in.
This is why I made a Moms Digital Style Guide with some outfit formulas to help guide you back into finding yourself and your personal style again.
How to Build A Romantic Capsule Wardrobe
A romantic wardrobe typically consists of clothing that is soft, feminine, and delicate.
I chose creams and beige (some lean towards peach) as the base colours because this is a spring to summer wardrobe and then added light blues and greens to round it out.
I looked for pieces with lightweight fabrics, textures, silk, cashmere, and satin. Pieces that are light, soft, and flowy and will all work well together.
The little cardigan has two small front ties as closures, and some peekaboo lace applique that makes this piece both sweet and sexy depending on how you wear it.
The peach-coloured bubble sleeve top has a great texture, and the back of it ties with small bows. It is deceptively sexy and will look great paired with the satin trousers that are in the same tone family.
When doing a monochrome or tonal outfit it is important to play with texture to give the outfit depth. In this instance, it is satin trousers and a visibly textured blouse in a delicate fabric.
This 12-piece capsule wardrobe series that I have been playing with these past few weeks is my way to show you how you don't have to make your style suffer when building a small wardrobe.
You can inject as much or as little personal style as you would like, and it is all about creativity, versatility, and understanding your personal style.
The smaller the wardrobe the more creative you need to become to put together new looks.
It is with this creativity that you will begin to truly get a feel for what you like and don't like which is why I think that everyone should try a small capsule wardrobe for a period of time.
Even if it is just for a month, it is a great exercise in style creativity.
It also helps to cut down on impulse shopping, and finding out what works and doesn't work in your wardrobe.
Summer is a great time to experiment with a capsule wardrobe because typically you need fewer clothes and layers than in other seasons, so it isn't quite as challenging.
When building these 12-piece capsule wardrobes I do not include the shoes or accessories in this total.
They are the extras that you use as tools to build your outfits and bring them to the next level.
Small changes in accessories and shoes can completely change the vibe of an outfit which is something that I also talk about with small packing lists.
They both work within the same parameters.
So with accessories, I feel like a romantic vibe needs to lean towards dainty, delicate, and maybe even somewhat whimsical.
Like small chains, bracelets, anklets, and bands.
As for the whimsical aspect, I am thrilled that the late 90s early 00s skinny scarves are back because they are such a simple yet impactful accessory.
They are also easy to find in thrift stores and if you want you can use a men's tie instead. Just wrap it instead of tie it. Such a fun look.
For a romantic wardrobe, I chose a scarf in a weave with some fringe and beading. I feel like it gives it a lightness and some motion which ties in with the soft, delicate, and feminine feel, if that makes sense.
The bags include two woven/crochet style bags. One is a large tote with floral designs, and the other is smaller and much more structured but in a delicate blue.
The third bag is a very modern and minimalist cream leather handbag. No extras, no fuss, just minimal perfection.
For the selection of shoes I made sure to include four different shoe categories to cover all bases.
We have a heel, ballet flat, sandals, and sneakers. Each is in a different colour as well to make the most of limited options.
So my suggestion to you, if you made it this far, is that if you are struggling to find your style, try out a small capsule wardrobe this summer.
When you are working with a bare-bones wardrobe it kind of exposes who you are style-wise. It will show you what you don't like, and what is working or not working.
The best part of this is that you don't need to commit to every piece.
If something isn't working then swap it out. Keep doing this until you get a fully workable capsule wardrobe that understands who you are and reflects what you want to be seeing.
You may be pleasantly surprised with what you find out about yourself and your style at the end of this period.
Below are 24 outfit options that I built to show you how versatile this 12 piece romantic capsule wardrobe is.
Romantic Summer Outfits Ideas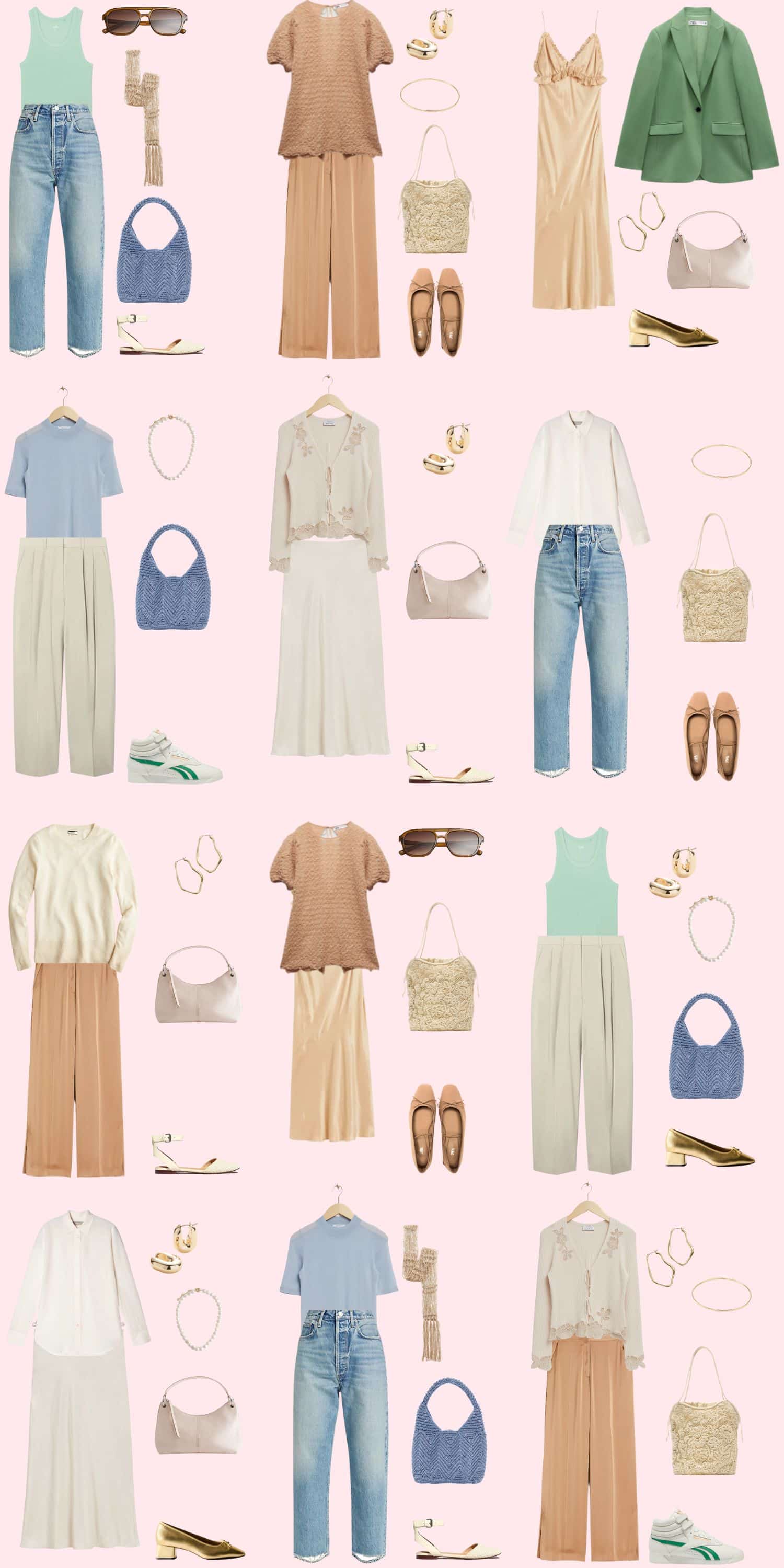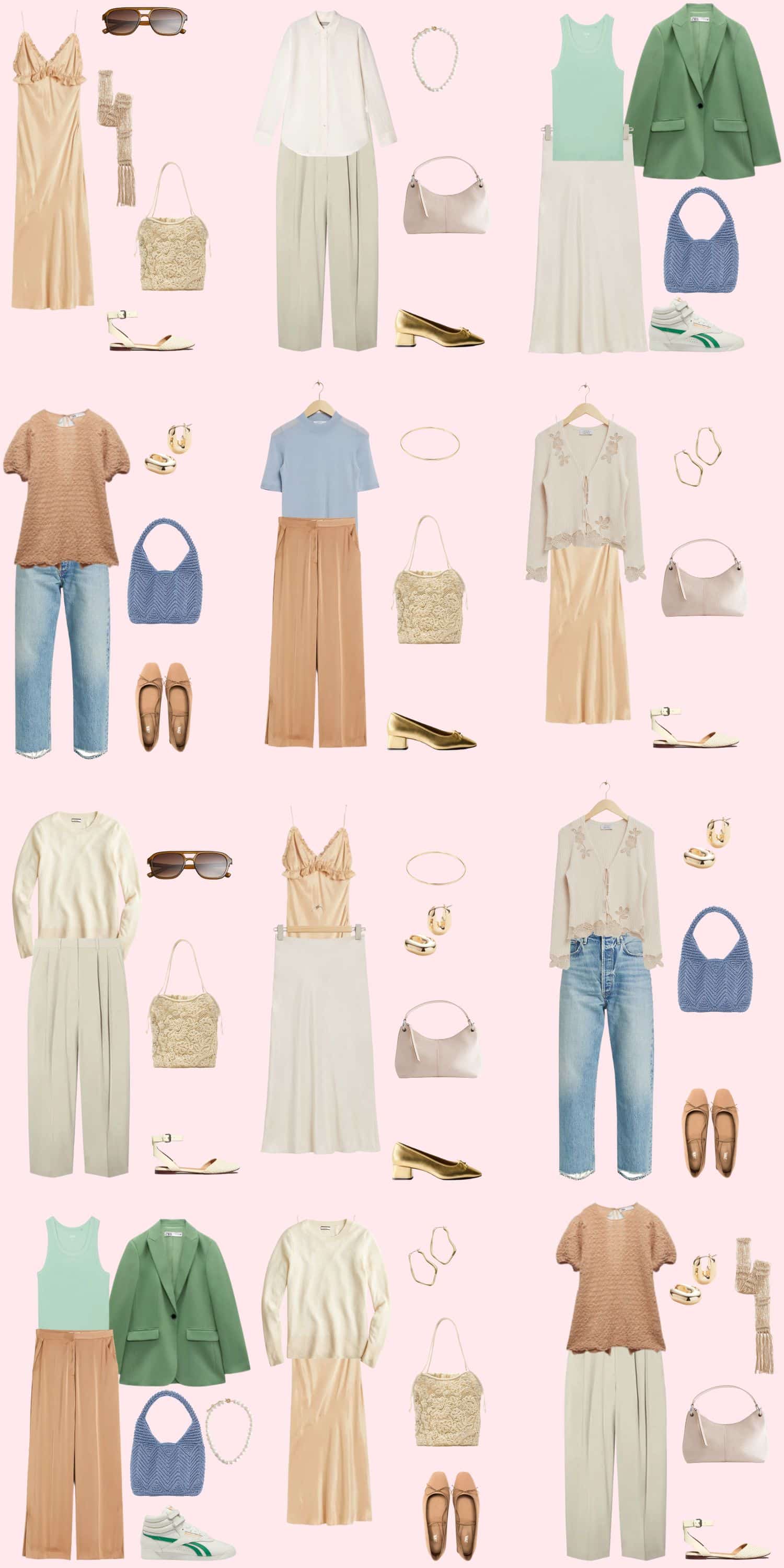 Blazer | Large Hoops | Blush Trousers | Sunglasses | Skinny Scarf | Cardigan | Circle Necklace | Tank Top | Gold Heels | Cream Purse | Ballet Flats | Crochet Tote | Tan Trousers | Blue T-shirt | Blue Handbag | Pearls | Jeans | Slip Dress | Silk Blouse | Small Earrings | Sweater | Blush Top | Skirt | Sneakers | Ankle Strap Sandals

You might also like:
A 12 Piece Maximalist Summer Capsule Wardrobe
A 12 Piece Minimalist Summer Capsule Wardrobe
A 90s and Y2K Inspired Summer Capsule Wardrobe
A Transitional Spring to Summer Capsule Wardrobe
The Spring Starter Capsule Wardrobe
A Spring Capsule Wardrobe on a Budget
A Romantic Capsule Wardrobe for Spring
The Modern 90s Minimalist Capsule Wardrobe for Spring
SHOP THE UK LINKS


I am now offering digital styling guides, and personal styling services. If you are looking for some styling help that is inexpensive and easy, check out my digital styling guides. If you want some one-on-one help shopping, building and editing your wardrobe, or packing for a trip, I can also assist. Check out all the styling services that I offer here.
This post contains affiliate links. By using my links to shop I may receive a small commission (at no cost to you). Thanks for supporting what I do